Wild Range Wheat Beer
| World Brews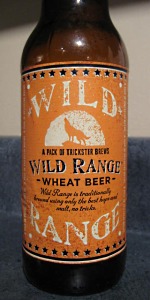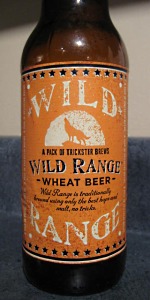 BEER INFO
Brewed by:
World Brews
California
,
United States
wineryexchange.com
Style:
Witbier
Alcohol by volume (ABV):
6.30%
Availability:
Year-round
Notes / Commercial Description:
No notes at this time.
Added by mithrascruor on 09-10-2010
HISTOGRAM
Ratings: 7 | Reviews: 5
Reviews by biboergosum:
2.35
/5
rDev
-13.3%
look: 3.25 | smell: 2 | taste: 2.25 | feel: 2.75 | overall: 2.5
12oz bottle, and 4.5% ABV by the label.
This beer pours a hazy medium golden straw hue, with two fingers of foamy, somewhat bubbly off-white head, which leaves nothing in the way of lace around the glass as it quickly sinks away.
It smells of neutered grainy, cereal malt, sweet, very plain and indistinct savoury spice, and a subtly plastic astringency, a common thread through all the offerings I have yet tried from this 'brewer'. The taste is more soft, wheaty, I suppose, malt, the sort stripped of any particular graininess that might make you think of said food product, a weak, kind of perfumed orchard fruitiness, a very timid earthy, drying hoppiness, and some of that metallic/plastic essence that hasn't quite burned off from the nose.
The bubbles are pretty much AWOL, as to suggest a certain Great Plains flatness, the body medium-light in weight, and generally smooth, with a slight pithiness. It finishes off-dry, the bland wheat malt just letting things play out, the fruit/spice essence having a very short distance to fall, and that PVC unpleasantness thankfully petering out, mostly.
I don't know what the hell they do to these beers to make them all taste the same, when the purported styles are so varying. The whole experience of this beer is like a whole lot of reverb, where all you get is a heavily dampened version of the real deal. And I'm not fully convinced that World Brews, uh, brews, aren't made in the same manner as Duff/Duff Light/Duff Dry are depicted as being 'separately' produced on the Simpsons.
1,540 characters
More User Reviews:

2.63
/5
rDev
-3%
look: 3.5 | smell: 3 | taste: 2.5 | feel: 3 | overall: 2
Cloudy golden colored beer with a tall white colored head.
Smells slightly spicy with a medicinal funk a little like Alka-Seltzer with some vitamins thrown in. There is a little wheat smell here and that is about it.
Starts out mostly wheat malt. Not a lot of flavor here, a little bitterness in the aftertaste. Can't say it tastes bad, mostly it doesn't taste.
Mouthfeel is OK.
Drinkability is OK, but mostly this is a beer that doesn't taste like much. Not much to recommend here go for the amber instead.
511 characters

2.88
/5
rDev
+6.3%
look: 3 | smell: 2.5 | taste: 3 | feel: 3 | overall: 3
Picked up another 6 pack of these this week. The price was just too good to pass up and the amber was decent enough.
This beer is solidly drinkable. Nothing to write home about, but a potential "conversion" beer to bring to a party or something to convert the non craft people. Kind of reminds of a Blue Moon with a bit more malty/bready taste. Other than that, typical wit character with some citrus and wheaty, yeasty finish. Aroma is kind of fain and nondescript, which is my only complaint.
An ok drinkable beer, but nothing special. Alright for the price, but in the overall scheme of things just average.
612 characters
2.41
/5
rDev
-11.1%
look: 3.5 | smell: 2.5 | taste: 2 | feel: 3 | overall: 2.5
12 oz. bottle poured into a pint glass.
Appearance: Pours a totally cloudy/hazy pale orange color. Off-white head dissipates fairly quick, but leaves a hint of lace. Can't tell from the bottle or look if this is going to be a Boulevard Wheat or Blue Moon knock-off.
Smell: Really minimal aroma. Not exactly sure what I'm smelling, but it seems to be trying to be a witbier. Slightly chemical.
Taste: Very light flavor with hints of lemon and orange. I suppose there's a hint of pepper in there somewhere. Some really weird flavor at the finish, a bit harsh, and then an unpleasant aftertaste.
Mouthfeel: Very light bodied and almost too smooth. Virtually no carbonation.
Drinkability: Honestly a bit tough with that finish and aftertaste.
0 for 2 on these Wild Range beers from Fresh & Easy. I don't think I'll be trying their third one, the amber ale. Blue Moon rip-off, and it fails horribly. Not sure what the deal is with this line of beer; the URL on the bottles turns out being a parked domain! There's a strong similarity to their IPA here... similar aftertaste, same ABV, and neither one tastes real.
1,126 characters

3.21
/5
rDev
+18.5%
look: 4 | smell: 3 | taste: 3 | feel: 3.5 | overall: 3.5
Look - Moderately cloudy, light golden color with about 2 fingers worth of off-white froth that dissipates somewhat slowly. Nice carbonation.
Smell - Lightly hoppy with a slight zest to it as if it had lemon or orange peel in it.
Taste - Hoppy taste, being fairly bitter throughout the entire run of the taste from beginning to aftertaste. Low in maltiness. Aftertaste doesn't linger too long. Fairly well-balanced in texture, maybe staying a little more on the creamier side.
Drinkability - not a very complex beer at all, but decent enough for just have a few casual beers with friends.
591 characters
Wild Range Wheat Beer from World Brews
Beer rating:
2.71
out of
5
with
7
ratings