Wild Range Amber Ale
| World Brews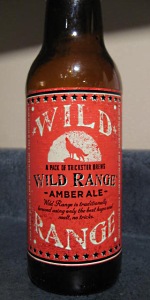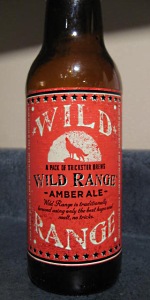 BEER INFO
Brewed by:
World Brews
California
,
United States
wineryexchange.com
Style:
American Amber / Red Ale
Alcohol by volume (ABV):
4.50%
Availability:
Year-round
Notes / Commercial Description:
No notes at this time.
Added by Zorro on 09-12-2010
HISTOGRAM
Ratings: 6 | Reviews: 5
Reviews by Nerudamann:

2.97
/5
rDev
-12.6%
look: 2.5 | smell: 3 | taste: 3 | feel: 3 | overall: 3
Poured from a bottle into a mug/stein.
Look - golden in color, clear, with about half a finger's worth of egg-white colored foam that dissipates quickly. Good carbonation.
Smell - not much of a smell at all. A little bit of a "cereal" malt smell typical of cheaper adjunct beers.
Taste and Mouthfeel - mild taste in general. Fizzy and carbonated-feeling at the beginning, a bit sweet, almost like a soda. Texture is fairly watery.
Drinkability - easily drinkable because it's mostly sweet but with not much taste otherwise.
527 characters
More User Reviews:
3.19
/5
rDev
-6.2%
look: 3.5 | smell: 3.25 | taste: 3 | feel: 3.5 | overall: 3.25
12oz bottle. The last sub-sibling, for me, from this pseudo-brewer, obfuscated beyond belief in my local market in terms of production origins.
This beer pours a clear, medium golden amber colour, with two fingers of foamy, mildly bubbly dirty white head, which leaves a few thin streaks of bridge-like lace around the glass as it quickly bleeds into the ether.
It smells of musty caramel malt, semi-sweet orchard fruit, a bit of overripe black berries, and some mildly funky earthy, leafy hops. The taste is grainy caramel malt, a touch of sour breadiness, bland earthy fruitiness - peaches and apples, mostly - and dead-eyed (anthropomorphized, apparently) leafy hops.
The carbonation is quite neutered, and barely noticeable, the body a so-so medium weight, and too pithy and cloying to be deemed all that smooth. It finishes on the sweet side, the grainy caramel malt still buoyed by a stale fruitiness, as the hops seem to be truly absent by this point, replaced by a small, finally evolved plastic twinge.
I'm not getting that unpleasant from the get-go impression that its colleagues seem to engender, so colour me surprised, I suppose, but its overall essence still gives me the minor willies, only if there's really nothing else on offer to make me change my mind.
1,277 characters
3.4
/5
rDev 0%
look: 3 | smell: 3 | taste: 3.5 | feel: 4 | overall: 3.5
Picked these up in six pack form at fresh n easy. I liked the label on the bottle, and at 4.99 per six pack, its cheap. I enjoyed the sweetness, and it tasted nice for a Saturday afternoon beer. I will buy again. Not overly complex but I like that sometimes. At the cheaper price point, this beer is hard to ignore.
315 characters

3.33
/5
rDev
-2.1%
look: 3.5 | smell: 3 | taste: 3.5 | feel: 3 | overall: 3.5
Another of these Fresh and Easy beers.
Clear light amber colored beer with a small white head. I must emphasize "light" the color is closer to gold really but I guess you could call it amber.
Smells sweet and malty with a toasted grain aroma. There is some caramel and tea aromas here and that about sums up the scent.
Taste starts out a little sweet and malty. Tastes a lot like it smells mostly a malty beer. No real hops tasted not much in that department. Pretty much what I would call a "middle of the road ale."
Mouthfeel is OK.
Drinkability is good, a pleasant beer with no real faults.
608 characters
3.03
/5
rDev
-10.9%
look: 3.5 | smell: 3 | taste: 3 | feel: 3 | overall: 3
Picked up a 6 pack of this at Fresh and Easy for like 6 bucks. Not a bad deal.
Poured from the 12oz bottle into a large pint glass.
A: The beer is a clear dark reddish orange, rusty or amber colored, as the name would imply. Head is 2 fingers thick and light tan with good retention.
S: Sweetish fruity aroma with a lemony twang over berries and apricot. Light malt holds things together in the background. Almost pilsner like in aroma but with a bit more malt character and a slightly more diverse fruit profile. Not quite what I expected from an amber, but not unpleasant.
T: Light taste with predominantly malty character over some fruity notes. Fairly sweet overall. Nothing really stands out here, but it goes down pretty smooth.
Overall: As far as cheap beers go this one is a good buy. As an amber, or as a good beer overall, it's pretty mediocre. Worth the price but nothing more.
893 characters
Wild Range Amber Ale from World Brews
Beer rating:
3.4
out of
5
with
6
ratings