Barrel Trolley Amber Ale
| World Brews
BA SCORE
78
okay
13
Reviews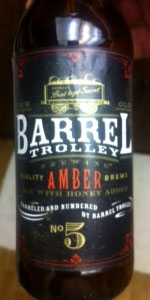 BEER INFO
Brewed by:
World Brews
California
,
United States
wineryexchange.com
Style:
American Amber / Red Ale
Alcohol by volume (ABV):
4.50%
Availability:
Year-round
Notes / Commercial Description:
No notes at this time.
Added by Portertime on 02-21-2012
Reviews: 13 | Ratings: 52
2.52
/5
rDev
-21.3%
look: 2 | smell: 2.5 | taste: 2.5 | feel: 2 | overall: 3
Botttle ino dimpled mug. (what is it about the dimpled mug that appeals to me so much lately?!)
Very clear orangey amber body. Weak head, low retention, and virtually no lacing.
Smells like grainy malts with a big honey sweetness--- like reminding me of honey flavored cough syrup. The flavor has virtually no noticeable hop presence, and no bitterness. Very sweet finish.
The body feels rather syrupy.
Overall-- this is a very unimpressive amber. People tend to be overly generous in their ratings on this site... While there is nothing offensive in this beer, it is certainly in the lower echelon of amber ales. Perhaps just slightly below average.
657 characters
2.65
/5
rDev
-17.2%
look: 2.75 | smell: 2.75 | taste: 2.5 | feel: 3.25 | overall: 2.5
Pours a clear honey orange with a foamy beige head that settles to an oily film on top of the beer. Small streaks of lace form around the glass on the drink down. Smell is of malt, grain, and biscuit aromas. Taste is much the same with malt and apple cider flavors on the finish. There is a very mild amount of hop bitterness on the palate with each sip. This beer has a low level of carbonation with an almost flat mouthfeel. Overall, this is a pretty poor beer that has a fairly decent smell but the apple cider like flavor I am getting is weird.
548 characters

2.8
/5
rDev
-12.5%
look: 3.75 | smell: 3 | taste: 2.5 | feel: 3 | overall: 2.75
Barrel Trolley Amber Ale pours a clear, light-amber, golden color with a large off-white head. Head has okay retention and leaves moderate/low lacing. Smells of musty grain and malt, with just a hint of fruit and hops.
Taste starts with stale bread, grain, and malt, moves on to a strange metallic-ness, with a fruity sweetish, slightly bitter, more rounded finish. Greatly hurt by the metallic note here, without that it would have an okay/good taste, but is kinda ruined by the cloying metallic bite. Mouthfeel is lighter than average with average carbonation for an Amber Ale.
580 characters

2.85
/5
rDev
-10.9%
look: 3 | smell: 3 | taste: 3 | feel: 2.5 | overall: 2.5
This beer poured out as a clear orange color with a white soapy head on top. The retention was minimal and the lacing was lightly scattered on the glass. The smell of the beer was of sweet grains, some caramel and honey. The taste of the beer was light with the honey notes coming on pretty strong in the forefront. The mouthfeel was a bit on the watered down side which was disappointing. There wasn't much in the way of any complexity at all. Overall this beer was sessionable but not something I would personally choose. It's a bit too one dimensional to me and not enough balance.
584 characters

2.97
/5
rDev
-7.2%
look: 3.5 | smell: 2.75 | taste: 3 | feel: 3.5 | overall: 2.75
Served in a Lagunitas mason jar.
The last of the never-vaunted Barrel Trolley series, and something tells me Binny's is as thrilled to see it leave its store as I am to try it out. It pours a clear amber (how thoroughly appropriate) topped by a short finger of lightly off-white foam. The nose comprises flaky biscuit, very light flowers, and a kiss of butter. The taste brings in more of the same, but with a bit of orange zest, helping to bring some semblance of balance to the proceedings. The body is a light medium, with a light moderate carbonation and a sorta/kinda drying-ish finish. Overall, a mediocre amber. 'Nuff said, really.
639 characters

3.05
/5
rDev
-4.7%
look: 3 | smell: 3 | taste: 3 | feel: 3.5 | overall: 3
Medium-bodied with a complex malt flavor, this Amber Ale exhibits a subdued malt character elevated by a subtle citrus aroma.
Alcohol by Volume: 4.5%
Prev. text was from web site.
color is a orange with half finger head. small amount of lacing. has a tad citrus taste but a nice malt feel to it. does seem a bit heavy. a tad warming finish but al in all a fairly good all purpose beer.
387 characters
3.17
/5
rDev
-0.9%
look: 3.5 | smell: 3.25 | taste: 3 | feel: 3.25 | overall: 3.25
12oz bottle. Since my assertions of repetition amongst the World Brews recently made available under multiple labels in Alberta have gone wholly unheard (or at least, not once responded to) by the retail store, the local rep, the World Brews contractor, and Genesee themselves, I am just going to straight up assume this is the exact same beer as any number of their other 'American Amber Ale' offerings.
This beer pours a clear, medium golden amber colour, with two fingers of foamy, mildly bubbly dirty white head, which leaves a few thin streaks of bridge-like lace around the glass as it quickly bleeds into the ether.
It smells of musty caramel malt, semi-sweet orchard fruit, a bit of overripe black berries, and some mildly funky earthy, leafy hops. The taste is grainy caramel malt, a touch of sour breadiness, bland earthy fruitiness - peaches and apples, mostly - and dead-eyed (anthropomorphized, apparently) leafy hops.
The carbonation is quite neutered, and barely noticeable, the body a so-so medium weight, and too pithy and cloying to be deemed all that smooth. It finishes on the sweet side, the grainy caramel malt still buoyed by a stale fruitiness, as the hops seem to be truly absent by this point, replaced by a small, finally evolved plastic twinge.
I'm not getting that unpleasant from the get-go impression that its colleagues seem to engender, so colour me surprised, I suppose, but its overall essence still gives me the minor willies, only if there's really nothing else on offer to make me change my mind.
1,539 characters
3.35
/5
rDev
+4.7%
look: 3 | smell: 3 | taste: 3.5 | feel: 3.5 | overall: 3.5
I poured this beer into my tumbler at 45 degrees. The beer poured a nice amber color and the beer had a pretty decent head that was really white looking to be on a amber ale. Anyway, the beer had a bit of a bitter aftertaste but not too bad. Not as prevalent as say in a English bitter or something like that. Overall Liked the beer and think it worthy of buying again.
369 characters

3.44
/5
rDev
+7.5%
look: 4 | smell: 3.75 | taste: 3.25 | feel: 3.5 | overall: 3.25
Poured a amber body with two finger head that dies quick with no lace and the aroma is slightly bready and caramel malt but mostly a artificial sweet (I guess this is the honey) edge. It goes down easy and smooth, I'll say that. Other than that there is really nothing here except minimal bitter hops, a mediocre malt presence that is somewhat breadlike and a bit of sweetness. Had one and that was enough...good enough for mainstream consumption.
447 characters

3.55
/5
rDev
+10.9%
look: 3.5 | smell: 3.5 | taste: 3.5 | feel: 4 | overall: 3.5
12 oz bottle of "ale with honey" served in a snifter.
Appearance: clear and bright copper-amber color. Pours with 1 cm of white head but this quickly reduces despite a good bit of visible carbonation.
Smell: caramel with toasted malts.
Taste: toasted caramel malts dominate. Honey seems evident; in any case, this is a bit sweet. 3.75
M: medium body; medium+ carbonation that is well chosen; slightly dry and very smooth.
O: A pleasant, relatively malty amber with a nice finish. Attractively inexpensive.
513 characters

3.73
/5
rDev
+16.6%
look: 3.5 | smell: 3 | taste: 4 | feel: 4 | overall: 4
This was surprisingly really good. I'd seen it at the store dozens of times, but always thought it was some cheap swill. It has a delicious amber flavor, with refreshing spring water. A little bit of caramel in there. I'm going to be drinking more of this.
The appearance isn't anything special, but it's not bad either. It looks like am amber with that bright copper red color. Not a lot of head, but I don't come across too many ambers that does.
449 characters
3.9
/5
rDev
+21.9%
look: 3.5 | smell: 3.5 | taste: 4 | feel: 4.5 | overall: 4
12 oz. bottle poured into a tulip glass.
Appearance: clear, dark-ish orange-amber color. ~1 cm head which dies down quickly. Extremely minimal lacing.
Nose: Malty with distinctive honey notes in the mix.
Taste: Sweet malty flavor with, yet again, a very prominent honey flavor to it. I like it!!
Mouth: Light carbonation doesn't disrupt the flavor at all. Dry finish. Very easy to drink.
Overall: I like this one!! A tame, relaxed beer which is easy to drink and went well with my sweet pork ribs.
502 characters
4.17
/5
rDev
+30.3%
look: 3.5 | smell: 4 | taste: 4.5 | feel: 4 | overall: 4
Barrel Trolley can be found as a "direct to you " beer at ABC Fine Wine and Spirits in Florida.
Appearance: striking bright orange color with a fluffy head and quick fizziness.
Smell: nice melting caramel with piney hops in the background.
Taste: well balanced with brown bread, burnt caramel malts, pine resin hops and wicked smoothness.
A nice, well rounded amber and very drinkable.
397 characters
Barrel Trolley Amber Ale from World Brews
3.2
out of
5
based on
52
ratings.