R.J. King Wingwalker Belgian Style Wheat Ale
| World Brews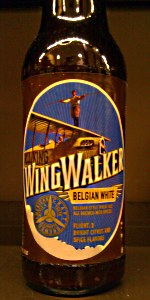 BEER INFO
Brewed by:
World Brews
California
,
United States
wineryexchange.com
Style:
American Pale Wheat Ale
Alcohol by volume (ABV):
4.60%
Availability:
Year-round
Notes / Commercial Description:
No notes at this time.
Added by dansmcd on 05-30-2012
Reviews: 7 | Ratings: 19

2.31
/5
rDev
-18.7%
look: 3 | smell: 2 | taste: 2 | feel: 3.5 | overall: 2.5
Bottle: brown 355mL bottle, funky and classically styled label.
Appearance: standard hazy straw, but the head dissipates super-quickly.
Aroma: this beer's worst feature. Sweet banana without much backing it up - almost like a banana lollie. An off fug also.
Taste: an awkward witbeir. Banana and yeast, no cloves or spices. Not bad, but certainly not good.
Aftertaste: still the banana sweetness.
Mouth feel: the lower carbonation and fuller body do suit the style. They got something right.
Overall: if you want a cheaper witbeir, here it is. If you want something worth while, go elsewhere.
598 characters

2.39
/5
rDev
-15.8%
look: 3.5 | smell: 2 | taste: 2 | feel: 4 | overall: 2.5
A - Pours a pale cloudy pineapple juice colour, capped by a thin creamy white head and streks of lacing.
S - Big yeasty aroma, some spice, wheat and banana.
T - Sweet musty yeast, banana, kiwifruit, wheat and ginger. Over the top imitation Belgianness.
M - Full creamy body, moderate carbonation.
O - Just comes across as artificial in it's attempt at Belgian flavours.
381 characters
2.53
/5
rDev
-10.9%
look: 3 | smell: 2.5 | taste: 2.5 | feel: 2.5 | overall: 2.5
Into a nonic:
A: exceptionally light yellow with a decent one finger white head that lasts a mere thirty seconds, fast rising carbonation is seen. There was no lacing.
S: dull banana, and that's it
T: some clove and/or spices, but felt really bland on my tastebuds
M: medium with a light crispness on the tongue, but mostly watery.
O: well every now and again I get this urge to check out something cheap and I guess I pay for it. I probably won't have this again other than the ones I might try to down quickly in big gulps or give it to people I don't like.
564 characters

2.63
/5
rDev
-7.4%
look: 3.5 | smell: 3 | taste: 2 | feel: 4 | overall: 2.5
From Danno's No BB.
Pours a pale hazy straw. The one finger head dies too quicky. Good lace.
Aromas of yeast, honey. Subdued.
Taste - oh no!!! Metallic and it really shouldn't be. Some dry yeast and wheat flavours. Hint of honey.
Moutfeel is all OK, light and zesty, well carbonated, medium bodied.
Not a good import choice from Danno's. Other reviews note Wit - which is not. It it truer to style to a Pale Wheat Ale, a somewhat uninteresting style all in all in a crowded market..
487 characters
2.96
/5
rDev
+4.2%
look: 3.25 | smell: 2.75 | taste: 3 | feel: 3.5 | overall: 2.75
355ml bottle, 5.3% ABV. Yet another duplicate-seeming offering from this Rochester, NY-based contract brewery, operating at the retail level under more names than I care to count, most of which seem to have captured the numb minds at Alberta's chain liquor store purchasing group.
This beer pours a hazy medium golden straw colour, with three fingers of puffy, silken foamy ecru head, which leaves some low-lying coral reef lace around the glass as it steadily recedes.
It smells of wheaty, somewhat acrid pale malt, muddled coriander, overripe lemons, neutered yeast, and a bit of herbal, weedy hops. The taste is softly sweet bready malt, with a touch of doughy pastry character, tame breakfast cereal wheatiness, ethereal savoury spice, a stale orange fruitiness, and more sedate herbal, earthy hops.
The carbonation is quite laid-back, and hardly noticeable, the body medium-light in weight, and actually pretty smooth. It finishes mostly off-dry, the wheaty, sugary, and fruity malt holding on the tightest, as the fruit and hops melt away into the approaching night.
A beginner's witbier slash pale wheat ale, and agreeably wrought at that rate, with very little to none of the, well, not quite skank, but rather cheapness of its familial ilk. Too bad it's 5 bucks a sixer more expensive than Hoegaarden around here, which leads to the obvious question - why bother?
1,376 characters

3
/5
rDev
+5.6%
look: 3 | smell: 3 | taste: 3 | feel: 3 | overall: 3
Poured from a bottle into a goblet
Hazy, orange-yellow color with one finger of head that quickly dissappated. Persistnat lacing.
Smelled fruit and yeast, some spice hiding underneath.
Lots of carbonation, picking up all the classic flavors, bannana, yeast, cloves and some citrus.
It's light and goes down easily. The flavors are balanced without any one standing out.
I agree this isn't the best example of the style, BUT at under $7 a six pack it can't be beat! It is a cut above shock top and cheaper. I'd recommend this to budding BA who find the transition from $10 a case to $15 a piece for 750 ml abit hard to swallow.
629 characters

3.97
/5
rDev
+39.8%
look: 3.5 | smell: 4 | taste: 4 | feel: 3 | overall: 4.5
Pours a cloudy straw yellow with 1cm of creamy head that's lacing the glass. Smells yeasty, spicy with some banana notes. Just about right for a wit. The taste is very creamy and sweet and a little sour. Some yeast and banana flavors there too. Mouthfeel is heavy with a little tingling, not too bad. Overall, it's a nice one-off beer, good flavor and pretty true to the style.
377 characters
R.J. King Wingwalker Belgian Style Wheat Ale from World Brews
2.84
out of
5
based on
19
ratings.