R.J. King Wingwalker India Pale Ale
| World Brews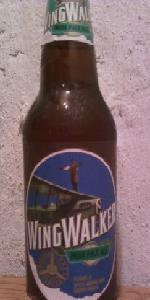 BEER INFO
Brewed by:
World Brews
California
,
United States
wineryexchange.com
Style:
English India Pale Ale (IPA)
Alcohol by volume (ABV):
5.90%
Availability:
Year-round
Notes / Commercial Description:
No notes at this time.
Added by BeerKangaroo on 06-04-2012
Reviews: 9 | Ratings: 22
2.11
/5
rDev
-17.6%
look: 3.5 | smell: 2.5 | taste: 2 | feel: 2 | overall: 1.5
12oz bottle. Different name, same schlock, eh, Liquor Depot...World Brews? This is getting tiring, pretending to care about this thinly veiled re-branding marketing fart.
This beer pours a hazy medium golden amber colour, with one finger of somewhat foamy, puffy, dirty white head, which leaves a low vista of rainforest lace around the glass as it steadily bleeds away.
It smells of sweet, sugary malt, not really caramel, more of a stale, sour bready sort, some watery pine and thin citrus juice notes, and a stoney, flinty character that appears where I might have been expecting some bitterness. Oh well. The taste is more indistinct, plain, and neutered generic hops, echoes of citrus, pine, and herbs wailing as from the underworld, some equally pithy bready, wet crackery malt, with a growing metallic sheen.
The carbonation is pretty sedate, the body medium-light in weight, with a growing cloyingness, and sneaky, picky sourness that precludes any delusions of actual smoothness. It finishes off-dry, the mildly sour grain doing none of us any real favour in its longevity, as the hops and alcohol don't seem able to pull up the collective socks of this offering.
Trick me once, shame on you, trick me twice or more, shame on me. After barely getting through the majority of this bottle, I assure you, I won't be making that mistake again. Not an IPA, especially one of the oft-maligned American variety. Avoid with moderate prejudice.
★
1,448 characters

2.64
/5
rDev
+3.1%
look: 3.75 | smell: 2.75 | taste: 2.5 | feel: 3 | overall: 2.25
Served in a Lagunitas mason jar.
This stuff promises "spice aroma" and a "hoppy finish". Sounds promising. It pours a clear bronze topped by a finger of lightly off-cream-white froth. The nose comprises pine needles, mild lemon zest, light grapefruit peel, and buttery toffee. The butter is quite distinct, but luckily is not able to fully impose its will upon either the backbone or the more airy hops. The taste sees the butter weave its way into everyday life, making the hardships of the war between the citrus-rind hops and caramel-y malts all the more intolerable. It's the odd, unscrupulous, and seemingly turncoat-y profiteers that both ensure the war's continuation as well as its public scarcities and infighting. And, lemme tell ya, the people on my tongue are entertaining thoughts of rebellion with increasing zeal as I continue to plod through this quagmire of a beer. The body is a light medium, with a light moderate carbonation and a drying, lingering finish that exacerbates the unpleasant flavors by inviting them to stay on for an extended furlough. Overall, this serves as a warning that all brewers should heed: do not brew an IPA like this.
★
1,164 characters

2.83
/5
rDev
+10.5%
look: 3 | smell: 2.5 | taste: 3 | feel: 2.5 | overall: 3
12 oz. bottle, with no apparent bottled on date. A seemingly unheard of beer, as it only has 7 ratings as of this writing. Picked up this six pack from the local Jewel Osco for $6.75, so I don't exactly feel ripped off. I guess I should note that the bottle claims a 6.90% abv rather than the 5.90% abv listed on BeerAdvocate.
Poured into a Firestone Walker pint glass.
A - Pours a standard normal orange IPA looking color with about one finger of frothy white head. Lots of bubbles lazily floating to the top. Sheets of fluffy lacing left over on the glass.
S - Faint muted citrus hops and a little bit of biscuity malt sweetness. Not a bad smelling beer, but there is very little action happening here.
T - Very light bodied, moderate level of carbonation. Taste follows the nose pretty well, which is nothing to brag about. Muted hops and pale bready malts. Finishes slightly sweet.
M - Feel is somewhat sticky and bitter. Not a bad feel by any means, just bland, boring, and simple.
Overall, a simple, bland, and generic IPA. Nothing complex or supremely interesting happening with this beer, and you can surely find much more worthy IPA's to be had, but considering the price tag I'm not complaining. Not as terrible as some of the others are saying, just very boring. Use it to introduce your BMC drinking friends to the realm of IPA's.
R.J. King Wingwalker India Pale Ale ---3/5.
★
1,394 characters

1.41
/5
rDev
-44.9%
look: 3 | smell: 2 | taste: 1 | feel: 1.5 | overall: 1
Not sure about who makes, or where these "Wingwalkers" come from. I've had a few of them before, but the labels were entirely different and the labels say " brewed in Rochester, New York", yet BA lists them here as products of World Brews from Novato, California. In any case, they come in 12oz brown bottles with a flight number on each label. In this case the flight number is 4, despite the fact that other flight #4 bottles I have are labeled as lagers rather than IPA's. Very confusing.
The beer poured a hazy orange/copper color with a 1-finger white head that dissipates in under 30 seconds. It does leave lots of of decent spotty lacing.
There's not much smell to this. If anything there's a faint grapefruit hop aroma and that's about it.
This is not a quality IPA. Very little malt presence, leaving only an alcoholic bitterness. Where's the hops!
Medium bodied, almost creamy with average carbonation.
Don't bother buying this one. Very disappointing.
★
967 characters
2.95
/5
rDev
+15.2%
look: 4.5 | smell: 3.25 | taste: 2.75 | feel: 4 | overall: 2
12oz bottle with no date. on sale for $1 a bottle
great unfiltered ipa look, smell is pale malts and funky sweet band-aid. taste follows with odd, off hop flavors that bring to mind Chardonnay. aftertaste that reminds me of pennies.
not something I'd ever have again or recommend
★
281 characters
3.1
/5
rDev
+21.1%
look: 3.5 | smell: 2.75 | taste: 3.25 | feel: 2.75 | overall: 3.25
Into a pint glass:
A: golden brown body with a one finger white head appeared for thirty seconds and then died. Gentle carbonation rose. Foamy spotty lacing trickled around the sides of the glass.
S: off putting English malts backed up by some hops.
T: combined very nicely between the hops and the malts.
M: bit creamy yet slightly harsh on the tongue. It doesn't seem very sessionable.
O: not a bad beer, nothing superb, but it does the trick of an English IPA
★
468 characters
1.99
/5
rDev
-22.3%
look: 3 | smell: 1.5 | taste: 2 | feel: 2.5 | overall: 2
Note: ABV% is reported as 6.9% on the bottle.
Appearance:
Poured a bright, light amber with very high clarity. Thin, light head that dissipated to a fine ring around the glass within a minute. Carbonation was very light, and few bubbles continued to effervesce.
Aroma:
Very very light IPA aroma here. Smell was mild all around, no trace of hops. Some citrus with a toasted hint as well as some mild florals.
Palate:
Very light, and very mild carbonation.
Taste:
Taste starts off nice with a quick burst of sweet citrus, but quickly fades. It becomes slightly too acidic and never gets the hoppy hit you would expect from a good IPA. Aftertaste leaves only the taste of the alcohol in your mouth and nose. Never really has much "spice" to speak of like they claim on the bottle.
Verdict:
Nothing here you can't find many times better in many other IPAs, especially considering the WingWalker is not cheap. Pass.
★
922 characters
2.88
/5
rDev
+12.5%
look: 4 | smell: 2.25 | taste: 2.5 | feel: 3.5 | overall: 3.75
if only this wasn't brewed with pennies... it is however $7. ok, lets analyze this for what it is. First of all, this beer's abv is 6.9, its clearly posted on each bottle (not 5.9), second, if you put this against the comparably priced trader joe's beers, this one is far superior. it is wonderfully bitter, mildly floral, citrusy after that, nice abv, it just has this weird metallic taste. its not overwhelming but its really the only drawback. good beer, cheap, fairly strong, everything that you want and just a touch of something you don't. all together worth the seven stupid dollars for a 6pk.
★
600 characters
1.66
/5
rDev
-35.2%
look: 3 | smell: 2 | taste: 1.5 | feel: 1 | overall: 1.5
Terrible, many companies try to pretend they have put together an IPA but really it is just horrible. No real hop taste just not good and not worth to even try it. a waste, it reminds me of taking a major brewers "lager" and adding some bitterness enough to put the IPA on the bottle for you to buy it. I will never understand how companies could lie and represent themselves as a craft brewer, this is not craft brewery. No hop anything in my opinion, maybe I am spoiled by true all star IPAs.
★
494 characters
R.J. King Wingwalker India Pale Ale from World Brews
2.56
out of
5
based on
22
ratings.