Barrel Trolley Nut Brown Ale
| World Brews
BA SCORE
77
okay
10
Reviews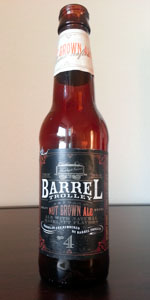 BEER INFO
Brewed by:
World Brews
California
,
United States
wineryexchange.com
Style:
English Brown Ale
Alcohol by volume (ABV):
5.30%
Availability:
Year-round
Notes / Commercial Description:
No notes at this time.
Added by TMoney2591 on 10-17-2012
Reviews: 10 | Ratings: 64

3.25
/5
rDev
+2.8%
look: 3.5 | smell: 3.5 | taste: 3.25 | feel: 2.5 | overall: 3.25
Poured from an undated 12 oz bottle (out of Rochester NY) into a Unibroue goblet.
A: Dark reddish-brown color; clear; small and mostly short-lived tan head; good lacing.
Aroma: Sweet malts. quite sweet but otherwise rather faint. Hints of hazelnuts and toffee.
T: Not a lot of flavor. Malty and sweet, but an acceptable level of sweetness that is much lower than suggested by the nose. Decently nutty.
M: Moderate to high carbonation: body is a bit thin for the style. Mild harshness.
O: Rather average if light; improves substantially with warming.
554 characters

2.83
/5
rDev
-10.4%
look: 3.5 | smell: 3 | taste: 2.5 | feel: 3 | overall: 3
Served in a Walter Payton shaker pint glass.
"Now you're on the trolley...the Barrel Trolley!" Taglines write themselves... This stuff pours a clear sunset topaz-amber topped by a finger of off-cream foam. The nose comprises hazelnut, light booze, caramel, and some strangely menthol-y hops. The taste brings in more of the same, with the hazelnut coming through as artificial and some nice rubbery plastic entering the scene as well. The body is a light medium, with a light moderate carbonation and a fluid feel. Overall, a kinda limp brown ale, one that's not necessarily offensive, but one I don't see myself ever drinking again on purpose.
647 characters
3.36
/5
rDev
+6.3%
look: 4 | smell: 3 | taste: 3.5 | feel: 3 | overall: 3.5
Poured from a brown 12 oz. bottle. has a dark brown color with a 1/2 inch head. Smell is mild, a bit of hops. Taste is light hops, a bit of nuts,a touch of malts, easy drinking and refreshing. Feels light in the mouth and overall this is a decent beer.
252 characters

3.8
/5
rDev
+20.3%
look: 4.25 | smell: 3.5 | taste: 3.75 | feel: 4 | overall: 4
12oz bottle
A- Pours a dark reddish brown color with a large light tan colored head with good retention and lacing.
S- The aroma is sweet malt, caramel, toffee and sweetened cocoa.
T- The taste like the aroma has a lot of malty sweetness up front with a dark bready finish.
M- The mouthfeel is between light and medium bodied with a good amount of carbonation.
O- Overall, this beer is pretty solid for what it is. It is an easy drinking brown ale that I could put back a few with ease.
493 characters

3.02
/5
rDev
-4.4%
look: 3.75 | smell: 3 | taste: 3 | feel: 2.75 | overall: 3
Twist off bottle poured into a pint glass, from the ubiquitious perveyors of contract brews in Rochester, NY. The pour is a dark amber though not quite brown and offers a fairly resilient cap of tan foam. Shows good clarity.
Moderate maltiness on the aroma with a pleasant nutty aroma. I don't get a sense of artificial here yet the nut character seems a bit too solitary but the liquid is quite cold. We'll see how it warms.
Taste follows with some light roast character and a sweet nutty finish. Finish is somewhat brief and offers a spicy coarseness that fits well with the carbonation level. Overall better than I expected, or should I say, feared. Mouthfeel is a bit thin but not unexpected given the lack of complexity of the malt bill. Warming exposes the beer for what it is; a decent yet somewhat boring brown ale, and with an aroma that decays a bit as well.
879 characters
1.71
/5
rDev
-45.9%
look: 3 | smell: 2 | taste: 1.5 | feel: 2.5 | overall: 1
Bottle into dimpled mug.
Reddish brown body. Small head faded quickly to a thin bubbly film providing only 30% coverage. No lacing.
Smells of big caramel malt. Little roast... Very rubbery/synthetic hazlenut flavor. Do I detect a hint of bandaid? The beer is overly sweet. Again no hops. This brewery is not a fan of using hops in their recipes.
The body is ok. Kinda light, but a little syrupy... At least is isn't crazy overcarbonated like the other beers I've had from these guys.
Overall-- meh. Again.
This is yet another beer that makes me feel as though I've been duped. I really feel as though this brewery is a front for BMC as an attempt to lure "craft drinkers" back.
Don't fall for it.
706 characters
3.84
/5
rDev
+21.5%
look: 4 | smell: 3.75 | taste: 3.75 | feel: 4 | overall: 4
Poured into Sam Adams glass and developed a great full tan head which lasted and laced well. Appearance was a clear dark / caramel amber with a sweet, malty aroma with hints of caramel. Taste was a full bodied and malty with nice caramel and toffee notes. Mouthfeel was full and creamy with a mild, lingering, caramel, toffee aftertaste.
337 characters

3.35
/5
rDev
+6%
look: 3.25 | smell: 3.75 | taste: 3.25 | feel: 3 | overall: 3.25
Pours brown with a red hue and tan head that is gone in a mini second to a thin, spotty lace skim.
Aroma: Major bread and roasty malts with notes of sweet molasses, raisins and nuts.
Taste: Sweet, syrupy with caramel and molasses and toffee.
Mouthfeell: Thin, most of the aromas seem watered down.
Decent beer, but as craft beers go this one is a bit short, and acts more like a better than average macro. Just not a solid craft brew.
436 characters
3.32
/5
rDev
+5.1%
look: 3.75 | smell: 3.5 | taste: 3.25 | feel: 3 | overall: 3.25
12-oz bottle into nonic pub glass
A - 2 fingers of light tan under a transparent body of deep ruby brown; moderate visible carbonation; laces the glass nicely
S - nuts, brown sugar, roasted malts; sweet and malty
T - nuts, brown sugar-like sweetness, roast malt flavors, bready, grassy bitterness, semi-dry finish
M - light/medium body, medium/high carbonation; thin and unimpressive
O - nothing to see here; move along
424 characters

2.99
/5
rDev
-5.4%
look: 3.75 | smell: 3.5 | taste: 2.5 | feel: 3.25 | overall: 3
Poured from a bottle into snifter.
A: Dark reddish brown with a one finger white head that dissipates to a thin ring. Good lacing.
S: Sweet malts. Molasses on the back end. Malty with no hop nose.
T: Not a whole lot of flavor. Malty and smooth. Lingering sweetness.
M: Moderate to high carbonation for the style. Thin mouthfeel.
O: This beer left me saying "eh." It was left in my fridge after an oyster roast. Not something I will seek out. Finishes too sweet for my liking. IMHO it would be a great beer for those who haven't yet ventured into the realm of craft beer; a gateway beer if you will.
603 characters
Barrel Trolley Nut Brown Ale from World Brews
3.16
out of
5
based on
64
ratings.