Tap Room No. 21 Copper Lager
| World Brews
BA SCORE
77
okay
15
Reviews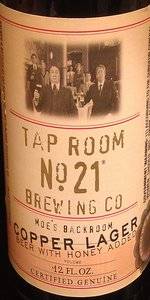 BEER INFO
Brewed by:
World Brews
California
,
United States
wineryexchange.com
Style:
American Amber / Red Lager
Alcohol by volume (ABV):
4.50%
Availability:
Year-round
Notes / Commercial Description:
No notes at this time.
Added by outdoor7or24 on 01-04-2013
Reviews: 15 | Ratings: 62
1.92
/5
rDev
-38.7%
look: 3.25 | smell: 1.75 | taste: 1.75 | feel: 2 | overall: 2
Disgusting, I was half in the bag and I still couldn't stomach this wretched brew. It had a sever case of skunkiness with an awful after taste. The best part was the appearance, everything else was horrid. Avoid at all costs
227 characters

2.65
/5
rDev
-15.3%
look: 3.5 | smell: 2.75 | taste: 2.5 | feel: 2.75 | overall: 2.5
Poured into a pint glass.
3.5 A: Clear medium orange color. Two fingers of frothy white head. Retention is about average and a short ring of lacing is left.
2.75 S: Grainy with some toastiness. Some sweetness underneath that prevents this from being clean.
2.5 T: Again grainy and toasty. The sweetness found in the nose is way more powerful than in the taste. It's like a sickly corny sweetness that makes this beer hard to drink.
2.75 M: Lighter body. Good moderate carbonation. Light creaminess without much smoothness.
2.5 D: Not a good beer. Nothing else really to say.
579 characters
2.92
/5
rDev
-6.7%
look: 3 | smell: 3.5 | taste: 2.5 | feel: 3 | overall: 3
12 oz bottle poured into sniffer glass.
A: pours a shinny copper color, medium khaki color soft foam head that quickly fades, carbonation present and bubbles sticking to sides of glass, no lacing present
S: since it is a copper lager brewed with honey, it is the first aroma that I detect, it is a an orange blossom honey aroma, caramel, bready malts
M: thin, smooth
T: sweet caramel malt, orange blossom honey, biscuit, kinda sweet finish
O: easy drinking brew, sweet finish, really enjoy the honey aroma
511 characters
2.96
/5
rDev
-5.4%
look: 2.75 | smell: 3 | taste: 3 | feel: 2.75 | overall: 3
Appearance: Pours out a crystal clear appearance, that of a shiny, new penny. No appreciable head formation, though.
Smell: A meager pale maltiness, scantly bready with a thin layer of blonde caramel and cooked apples.
Taste: Sweetish, initially, with a blend of honey and light caramel, giving you a sugary start. Touch of (baked) apple. Bready, pale malts. Near nil hop character or bitterness. Drying with a bit of the yeast on the finish.
Mouthfeel: Medium-light body. Medium-low carbonation.
Overall: Definitely lacking character, here. It could have benefited from a bit more crispness and a bit less sweetness.
621 characters
2.97
/5
rDev
-5.1%
look: 3 | smell: 2.75 | taste: 3 | feel: 3.25 | overall: 3
A - light amber with a soft, loose, white head that fades quickly
S - caramel malt, sweet
T - caramel malt, marshmallows, some sugary sweetness
M - medium bodied, crisp, a tad overcarbonated
This is identical to the Tap Room Amber Ale. My guess is that it's the exact same recipe but with different yeast strains. If there are any differences between the two beers they are subtle and I've missed them. The head retention on this beer may be 10 seconds better than the Amber Ale. So overall my final statement is the same as the Amber Ale: inexpensive and easy to drink.
574 characters
3.06
/5
rDev
-2.2%
look: 4 | smell: 3 | taste: 3 | feel: 3 | overall: 3
Sampled this evening on 10/5/15. Bottle chilled down to 36 degrees F in my beer cooler and poured in to a "It's 5 O'Clock Somewhere" pint glass.
Doesn't have the alcohol content listed so I am guessing around 5.0 -5.5% ABV. Brew pours a medium amber in color with a thin white head. Some minor spotty lacing was seen when sipped. Aroma is of sweet malts with a hint of honey. Pretty much is said for the taste with a hint of floral hops also. Pretty smooth overall. Isn't a bad brew but nothing special either. Lighter side of medium-bodied with lower carbonation.
565 characters
3.07
/5
rDev
-1.9%
look: 2.75 | smell: 3.25 | taste: 3 | feel: 2.75 | overall: 3.25
Appearance: Neither amber or copper but a nice shade of yellow that kicks up a white cap with some lacing.
Aroma: It does smell nice.
Taste: Hoo boy this stuff is smooth. No, I mean it as a complement, the flavors of malt with added honey are well integrated and there are no rough edges. Problem is it doesn't really taste like beer at all but perhaps that's the idea. Taste is sweet, finish is clean, yet it makes me want to rinse my mouth out with some IPA.
Texture: Medium.
Overall: Another one for the no hops allowed crowd. I'm beginning to think punishment in Hell for people who come up with concept brews is being forced to drink the stuff.
662 characters
3.17
/5
rDev
+1.3%
look: 3.5 | smell: 3.25 | taste: 3 | feel: 3.25 | overall: 3.25
12 oz. (twist-cap) bottle:
Pours more clear golden amber than "copper". A thin white head dissipates to a wide wispy island. Minimal trailing lace.
The smell is of grain and honey.
The taste is of honey and caramelized grain. Sweet-leaning, there is a touch of non-descript hops to balance some of the sweetness in the washed-out finish.
Thin, rather watery, not too fizzy. Smooth enough to go down quickly. A touch of honey lingers a bit on the palate.
Not the cleanest or crispest lager. It's rather bland.
513 characters

3.24
/5
rDev
+3.5%
look: 3.5 | smell: 3.25 | taste: 3.25 | feel: 3 | overall: 3.25
Poured with little head, and it seemed too clear. Smells of light malt, I can tell it's gonna be at least a little watery from the smell. Tastes like a light American lager with a little more maltyness to it. Not fantastic taste but better than macro light lagers. Really carbonated and feels light and slightly watery but with a crisp finish. Overall, not the best, wouldn't catch me with a sixer but I wouldn't turn it down if it was offered to me.
450 characters
3.27
/5
rDev
+4.5%
look: 3.25 | smell: 3 | taste: 3.5 | feel: 3 | overall: 3.25
A: Pours light, golden/copper. Minimum head and thin lacing.
S: Pretty simple smell. Sweet, almost fruity, and a little spicy. Has a bit of that light beer kinda smell. This may just be me, but I detect a hint of dog breath.
T: Mildy fruity and a bit sweet when it first hits. Follows with a light, more alcohol flavor. Tastes like a beer that belongs in a red party cup, but a little better.
M: Fairly carbonated. Not very interesting feel to this one- thin and to the point.
Overall: Decent copper lager. Thin and not very interesting, but very drinkable. If I had one at the bar I wouldn't order another one, but I wouldn't be upset. I'd just move on with my life and forget I had it.
695 characters
3.33
/5
rDev
+6.4%
look: 3.5 | smell: 3.5 | taste: 3.25 | feel: 3.25 | overall: 3.25
Dark amber body; decent white, creamy head. Nice caramel scent. Sweet, sugary flavor; touches of caramel and hop bitterness. Medium body; warm; semi-sweet finish.
There is a tad too much sweetness in this beer, perhaps too much crystal malt, yet it's definitely drinkable. It is just not something I'd want to have more than one bottle per sitting due to sweetness factor. Otherwise, a fair enough beer.
404 characters

3.48
/5
rDev
+11.2%
look: 3.5 | smell: 3.5 | taste: 3.5 | feel: 3.25 | overall: 3.5
It pours a light cooper color with a nice malty smell. The taste is of malts with a sweetness to it. Mouthful is a bit watery but still pleasant to drink. Overall a nice drink but not great.
190 characters

3.55
/5
rDev
+13.4%
look: 3.5 | smell: 3.5 | taste: 3.5 | feel: 4 | overall: 3.5
Pour: light amber with a one finger head that dissapates slowly and leaves a light lace on the glass.
Smell: heavy malt tones with a slight hint of honey sweetness.
Taste: heavy sweet malt with little or no hop taste. Lingering sweet finish.
Feel: light and crisp.
Overall: good, refreshing lawn mower beer.
317 characters

3.75
/5
rDev
+19.8%
look: 3.75 | smell: 3.75 | taste: 3.75 | feel: 3.75 | overall: 3.75
This does not really taste like a beer , the taste is very sweet especially as you get to the bottom and it warms up its very sweet..
This taste much more like a organic soda than a hoppy or malty beer..
pours with a inch thick head but quickly fades and leaves some lacing.
The smell is very odd not neccisarily in a bad way smells like over ripe bananas and malts.
Taste kind of like it smells very sweet, fruity, malty.
This is something different no doubt . I call this a fun beer tastes like soda but is a beer sounds like fun .
This beer is perfect for a party the women will love this stuff and eventually will get buzzed
636 characters
4
/5
rDev
+27.8%
This one lives up to the name in color, a reddish gold to copper tone with a nice tan had that is thick with bready bubbles that settles slowly and leaves moderate to good lacing down the glass.
The nose is a sweet malt with floral notes from the honey being evident in the mix. some bread and dryness of hops is also there but in a more subdued fashion with hints of dried grass, almost like a prairie on a hot dry day..
The taste is also a crisp one that has a dryer experience than expected from the nose that is nicely balanced with the honey adding a nice and different bit of subtle sweetness to a beer that likely would have been too dry for one so lacking in hops. Now the hops are there, just not in that over powered experience that is typical in American beers. There are peppery notes, bread, grassy tones and a nice sweet finish.
The mouthfeel is effervescent and crisp as well offering a nice continuity through this beer.
Over all it is extremely drinkable and a good flavor. this would be an excellent lager for a very hot day as the flavors and crispness are refreshing.
1,095 characters
Tap Room No. 21 Copper Lager from World Brews
3.13
out of
5
based on
62
ratings.