Paddy Long's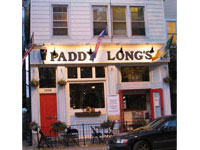 PLACE INFO
Type:
Bar, Eatery
1028 W Diversey Pkwy
Chicago
,
Illinois
, 60614-1317
United States
(773) 290-6988 |
map
paddylongs.com
Notes:
Monday - Friday: 11:00am - 2:00am
Saturday: 9:00am - 3:00am
Sunday: 9:00am - 2:00am
Brunch served on weekends
Added by quinnsi on 09-21-2009
Reviews: 12 | Ratings: 35
4.34
/5
rDev
+5.9%
vibe: 4.25 | quality: 4.5 | service: 4 | selection: 4.25 | food: 5
This is one of my all-time favorite places to drink beer and have a good time. If you are interested in beer, this is a great place to go when you're in Chicago. If you are interested in bacon, this is the ONLY place to go when you're in Chicago. They have specialty bacon menu items that include a sampler, a sandwich made out of ground pork and bacon which is divine, and the bacon explosion, which will feed 7 or 8 of the portliest, hungriest Chicagoans you will find.
Back to the beer.
Their selection is quite good, with a lot of classics like Guinness, Delirium Tremens and Trumer Pils.
They do a good job of offering great local beers like Metropolitan Krankshaft and they host plenty of phenomenal events for Goose Island, Off Color Brewing Company etc..
Overall, if you are interested in Beer and are in Chicago, the only place I would recommend before this spot is The Map Room on Armitage Ave.
If you want to check out a soccer game, this is one of the better places to do so.
If you like eating hilariously unhealthy food and drinking a good selection of beer, come here! It is pure enjoyment.
It is a tad expensive, but I'd say it's worth every penny (I have been a patron of this pub while I was an intern as well as my present job, so it's a bit more affordable now.)
1,295 characters

3.98
/5
rDev
-2.9%
vibe: 3.75 | quality: 4 | service: 4 | selection: 4 | food: 4
Home of the Bacon Bomb, in case you had not heard. Stopped in here with a good sized group for a business dinner (our owner loooves bacon). We were thrilled to go since the beer list is good too.
Nice place, rather small. We sat at a bunch of tables in the back. Servers were very nice. Beer list was quite good, heavy on the local and regional craft selections, which was alright by us.
The food, or at least the large portion of the menu we got, is bacon themed and, by and large, fried. The bacon bomb is a 5 pound meatloaf wrapped in bacon and deep fried. Sounded better than it was really but the other fried stuff was pretty good.
There are better beer stops and better food stops, and better beer and food stops in Chicago but I liked this place. And it's only a moderate walk from Local Option, a place we love.
HV
826 characters
4.89
/5
rDev
+19.3%
vibe: 4.75 | quality: 5 | service: 5 | selection: 4.75 | food: 4.75
Fun neighborhood bar with great beer and an awesome environment. I've spend many a day cozied up to the bar enjoying their always great line-up. I would put this up against any beer establishment in the city!
Paddy Long's seems to have also become a destination site for bacon lovers, having been featured on more TV shows than I can remember. So if bacon is your thing, there's another reason to stop in.
406 characters

4.18
/5
rDev
+2%
vibe: 3.75 | quality: 4.25 | service: 4.25 | selection: 4.25 | food: 4
Finally got around to stopping in here on one my last visits into the City. It's a smaller place than I expected, a relatively thin bar around the corner from Atlas and Delilah's, about a block or so from the train station. It has a bit of a soccer bar vibe, as well as a corner pub feel. The selection was pretty damn solid, including Perennial's Abraxas among other gems and solid Chicago usuals. The bartender was very friendly, conversing for a while with me and a surprise guest from Local Option a couple stools over. There was even some dessert involved, though for the life of me I can't remember what it was. I do remember the bacon platter, though, a panoply of tasty-ass bacon in a number of varieties and with a few mustards to go with them. Delish. It's the only food I've yet had, but it's had me hungry for more since. The pricing is par for the course in Chi-Town, nothing too pricey or anything, but also not bargain basement. Overall, I thoroughly enjoyed my all-too-brief time at Paddy Long's and can't wait for my return visit.
1,047 characters
4.18
/5
rDev
+2%
vibe: 3.75 | quality: 4 | service: 4.5 | selection: 4.25
Stopped by after finding Paddy Long's on a BA search. Very good list - lots of local/regional stuff and a few interesting European beers I hadn't seen. Very friendly bartender and the feel of the place was relaxed and casual. Funny patio area that's set right in the middle of the Diversey sidewalk provides some good people watching opportunities.
Overall a solid place to find good beer and not over pay.
407 characters

4.46
/5
rDev
+8.8%
vibe: 4.5 | quality: 4.5 | service: 4.5 | selection: 4.25 | food: 4.75
Paddy Longs is a great place to spend an evening. The food menu is geared around meat. I think the only thing I get there is the Bacon Bomb sandwich (it just sounds good) Also the Irish Breakfast burger is worth it having a bite.
The service is always outstanding and the bartenders and waiters are pretty knowledgeable. The tap list is always top notch with a great variety of styles. Was there 3/2 and there was Soleman Oath, FFF, Central Waters, Local Option, Metropolitan and of course one of my favorites towards the end of the night Lindemanns Framboise. The bottle list is awesome as well a whole back page. I'm always excited when we go it's a great place to either start the evening off or just hang there all night!
727 characters

4.78
/5
rDev
+16.6%
vibe: 4 | quality: 5 | service: 4.5 | selection: 5 | food: 5
Beer and bacon! That should be enough said, right? but it doesn't begin to describe Paddy's. There's always something rare and amazing on tap. This is the only place I know that serves the elusive Goose Island Bourbon County Stouts on the extremely rare occasions that they're available. Try the bacon grenades and a bacon bomb sandwich, or go crazy and conquer the bacon bomb challenge! (you can't handle it!) Stop in on Saturday or Sunday for a beer and bacon tasting! 5 different craft beers paired with 5 different types of bacon, but be warned, you won't be able to stop at that once you see the beer list and food menu.
This is, hands down, my favorite bar in the world!
677 characters
4.28
/5
rDev
+4.4%
vibe: 4 | quality: 4.5 | service: 4.5 | selection: 4 | food: 4
Little hole in the wall place not very far south of wrigley. Came on a Monday late and it was dead. Bartender was cool as hell. They had zombie dust ontap which is why I came. The other taps were thoughfully chosen it seems. A beer and bacon themed place, which is awesome. Will definitely come back to try the bacon bomb sandwich. Bartender said there are long waits for the beer and bacon tastings. Was allowed to sample tasters of a couple taps that I was curious about. Cool little place and I will be back. Nice selection of glassware. Taplines and glasses clean.
568 characters

4.13
/5
rDev
+0.7%
vibe: 4 | quality: 4 | service: 4.5 | selection: 4 | food: 4
Recently visited Paddy Longs as my brothers girlfriend bought us tickets for their "beer and bacon" tasting. I don't particularly like bacon but this whole thing was pretty sweet. They have about 15 beers on tap and the beer was fresh and the glassware was properly cleaned. Had a duvel on tap and it was poured into a duvel tulip. All of their beers were served in the proper glassware, including the bottles and the bartender knew how to pour as well. The place is in a nice area with accessible parking, which is always a concern in chicago. I would definitely recommend this pub to others, with the only downside being the prices were a little steep, but that, unfortunately, is to be expected in the "great" city of chicago.
729 characters
3.9
/5
rDev
-4.9%
vibe: 3.5 | quality: 4 | service: 4 | selection: 4 | food: 3.5
Paddy Long's is the kind of place that one stumbles on without much hope for as far as good beer goes, but once inside those thoughts are put to rest. outside it is truely a 'neighborhood' bar, with a worn in feel that blends right into its surroundings. inside, it's a typical english-feeling bar with a small patio out front containing a couple tables adorned with Hoegarden and Delerium umbrellas (probably the only indication of the solid beer list inside).
atmosphere is laid back and very relaxing (on a weekday evening). there was a comfortable amount of people there (around 15 to 20); most seemed to be watching one of two flat screens above the bar with sports playing.
quality and service are excellent. barkeeps that love beer, proper and clean glassware with prompt service. just what a great beer bar should be.
selection is great. a very well thought out list with a little bit for every type of palate. this BA had half of a Goose Island Juliet bottle (Thanks Matt!), a Metropolitan Kolsch and a Sierra Nevada Porter, both on tap. the tap beers were fresh and quite tasty.
food was solid. the regular burger was on special for $7, and was worth it; well put together, perfectly cooked, and the fries were good as well.
overall, this is a solid stop for beer on Chicagos North Side. it may be a bit different on the weekends, but weekday evenings are the perfect time to relax and enjoy a couple pints. keep an eye out though, because this place blends in well with its context. cheers!
1,506 characters
4
/5
rDev
-2.4%
vibe: 4 | quality: 4 | service: 4 | selection: 4 | food: 4
Met up with BA's Quinnsi & Botham at Paddy Long's to check it out. It turned out to be a pretty impressive place for a "neighborhood joint".
As a former 70-ish year old pub, it had that worn in charm already built in, with some modernized touches and Irish/UK decor such as an Arsenal banner and Irish Whisky signs and barrel heads. Dark cherry wood throughout the place, some tables in the back and along the wall. Two flatscreens were in 2 corners above the bar. The bar itself seats 15-20, and there was a nice little nook in the front window with a view of the street scene. A small patio had a couple tables in front, decked out with colorful Delirium and Hoegaarden umbrellas and flowerboxes.
The line of taps were towards the back end of the bar, and a chalkboard above listing the drafts. A couple Metropolitan (Flywheel & Krankshaft), Alpha King, and Imperial Brown Goose, which I did a double take at. There were some gems in the bottle selection, and solid descriptions on the beer menu. It was nice to see Cuvee Rene listed with the other Lindemans, in an accessible way. Selection was good with room to expand, with plenty of stuff for the craft novices.
Food-wise I had a Reuben, which was very tasty, and used a thick cut of good quality corned beef. Next time i'll try the corned beef and cabbage.
Crowd was laid back, there was a larger group in the back that occupied 4 tables, and an assorted mix at the bar. It was a relaxing vibe on a weekday night, which is probably different on weekends.
Thanks to Quinnsi for the tip on this beer bar!
edit: 11/09 There were 4 Metropolitan taps on for the release of their Generator Doppelbock. Selection here is great and keeps getting better.
1,713 characters
4.73
/5
rDev
+15.4%
vibe: 4.5 | quality: 5 | service: 5 | selection: 4.5 | food: 4
Stopped into this place randomly for a weekly trivia night not expecting much, when I did an old timey double take as I noticed they had duchesse de bourgogne on tap. I knew then this wasn't the average North side Irish Pub. Since then I've been back a few times. They have a good selection of rotating taps, and seem to cover the major beer regions pretty well. The staff is somewhat knowledgeable, the exception being the owner, who knows quite a lot, and is an active judge at industry events. Correct glasswear, often brewer-specific is also used. This place has flown under the radar for a while, but I think it sits firmly in the tier 2 category of beer bars, after Map Room, Hop Leaf, etc.
It's also very accessible to non beer-geek types, since they have the normal irish-american bar stuff like lots of TV's, wings, etc.
EDIT: This place has become my go-to spot for enjoying great beer in an unpretentious environment. Paddy Long's is not afraid to stray from the beer bar recipe of "simply get as many hard to find kegs as you can" and instead has several steady handles that I know will always be fresh, in addition to some of the unusual suspects. But don't get me wrong....when they want to, Paddy Long's can rare it up with the best of them. An example would be their semi-regular FFF tap takeovers - Not something very many other bars could pull off.
I also love that there will always be at least one world-class lager on draft there, and often even more. A recent check on beermenus showed Jarhundert, Trumer, Urquel, Pivo, and Gorch Fock all on at the same time...I don't ever remember seeing a better lager line-up. And this wasn't for a special event. It was just Pat wanting to put on something fun.
Oh and I have to mention the jukebox, which is becoming one of the last hand-picked selections in the ever more bland touch-tune-friendly Chicago market.
1,880 characters
Paddy Long's in Chicago, IL
4.1
out of
5
based on
35
ratings.