Cottonmouth Wit
| Swamp Head Brewery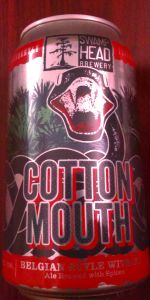 BEER INFO
Brewed by:
Swamp Head Brewery
Florida
,
United States
swamphead.com
Style:
Witbier
Alcohol by volume (ABV):
5.00%
Availability:
Year-round
Notes / Commercial Description:
No notes at this time.
Added by drabmuh on 12-23-2009
Reviews: 23 | Ratings: 104
4
/5
rDev
+5.8%
look: 4 | smell: 4 | taste: 4 | feel: 4 | overall: 4
Enjoyed during my long weekend in Tampa. I had the chance to meet some great people and try some new and some amazing new things. Had a lot of fun, but glad to be home. Enjoyed on 4/11/2011.
poured into a pint glass results in a large foamy white head and a nice and well rounded color to it. really very well put together with a light haze and good lacing stuck to the glass. aroma is light with hints of coriander, light pepper, hints of pear and light grains, needed a little more puncch but what was picked up was nicely done. flavor was more of the same, lemon, coriander, pepper, light grains, touches of apple and pear and banana. really nicely done.
658 characters

3.51
/5
rDev
-7.1%
look: 4 | smell: 3 | taste: 3.5 | feel: 4.5 | overall: 3.5
A - Pours with one finger of bone white foam on top of a slightly hazy, straw colored body. The foam settles fairly quickly but leaves nice lace on the glass.
S - Spicy wheat notes, herbal hops, and some lemon and coriander notes in the background. There is a bit of sulfur in the background which seems to imply that the beer might have been rushed into the keg without enough conditioning.
T - Creamy wheat up front with sweet pilsner malt flavor. Some spicy notes of lemon and pepper in the middle with coriander and perhaps chamomile in the background. Light herbal hop flavors appear towards the finish with more sweet malt and some vanilla notes from the wheat. The sulfur off flavor from the nose is still present, though in a smaller amount.
M - Medium-thick body, moderate carbonation, and a slightly dry finish.
D - This seems like a very nice beer, I only wish it didn't have the egg-sulfur aroma that I keep noticing. The spicing seems to be just about perfect and the body is excellent, with the creamy yet dry thickness that is only found in a well brewed example of the style. I have to assume that this batch was rushed just a bit and that is a shame because if properly conditioned it would be a very nice example of a style that is usually very poorly done.
1,279 characters

4
/5
rDev
+5.8%
look: 4 | smell: 4 | taste: 4 | feel: 4 | overall: 4
appearance: golden cloudy with a solid head retention
smell: belgian yeast, mild orange/spice
taste: mild clove spice/lemon/citrus and Belgian yeats character.
mouthfeel: medium bodied
drinkability: I tried this at the kickbacks Swamphead dinner among many others. This brewery in new and going in the right direction. Solid beer from a solid brewery. I would love to have this again.
389 characters
4.72
/5
rDev
+24.9%
look: 4 | smell: 4.5 | taste: 5 | feel: 4 | overall: 5
Served on tap @ Kickbacks
Appearance was milky golden straw color with a tight head and cap.
Appropriatte wit aromas of light wheat malts, mild clove/spice/lemon/citrus and Belgian yeast character.
Tastes as it smells with a nice balance of the spice. Supported well by the creamy mouthfeel and crisp carbonation.
I very much enjoyed this brew. It was a standout offering in my opinion, a stellar showcase of the Witbier style.
Additional info;
I attended a Swamphead Beer dinner at Kickbacks here in Jacksonville Florida 12/13/2010. The lineup overall impressed me, brews were appropriatte to style and well done across the board. I most notably enjoyed the Hoe Hoe Hoe Wit, Tupelo Cream Ale, Stumpknocker APA, and 10-10-10 Whiskey Barrel Aged as standouts for the evening. Overall a very talented brewery across the entire lineup. I had chance to meet Luke the owner who was a great guy, and Craig the brewer who was passionate and open to share his processes. Both were knowlegdable and I am very excited about this new Florida Brewery.
Here is are most of the Swamphead brews that were offered at the dinner;
Hoe Hoe Hoe Winter Seasonal - a Belgian style specialty ale with cranberries, ginger and orange blossom honey
Wild Night Tupelo Honey Cream Ale
Cottonmouth Belgian Style Wheatbier
Stumpknocker American Pale Ale
Big Nose IPA
Saison du Swamp - Florida Style Saison with rye
10-10-10 Imperial IPA
10-10-10 Imperial IPA aged in Palm Ridge Whiskey barrels
Midnight Oil Oatmeal Stout with locally roasted organic fair trade coffee
Alderwood Smoked Porter
Chipotle Smoked Porter
Stumpknocker infused with Chipotle peppers
Catherine's Inspiration - Russian Imperial Stout
Catherine's Passion - Russian Imperial Stout infused with organic cocoa nibs and Midnight Oil coffee
1,781 characters
4.12
/5
rDev
+9%
look: 3.5 | smell: 4 | taste: 4.5 | feel: 3.5 | overall: 4
On-tap at Proof in Tallahassee, FL.
Pours a hazy lemon-yellow color with a half-finger white head. The head recedes into a thin ring around the glass leaving light lacing.
Smells of light citrus - lemon and orange rind - with moderate amounts of wheat twang and spices. Also present are light amounts of floral hops and lighter still amounts of grass.
Tastes similar to how it smells, though the citrus and hops stand out more. Light malts with solid amounts of wheat twang kick things off and are joined quickly by large light citrus flavors. Midway through the sip grassy and slightly leafy hop flavors make a brief appearance. Finally, hints of spices - coriander and with something else reminiscent of grains of paradise - come into play before giving way to citrus and wheat flavors that carry through to a crisp ending.
Mouthfeel is OK. It's got a nice thickness however the carbonation is on the heavy side.
Drinkability is good. I finished my glass without a problem and could have another.
Overall this is my first beer from this brewery and I was a fan, despite the fact they're based out of Gainesville. Worth a shot.
1,134 characters

3.33
/5
rDev
-11.9%
look: 2.5 | smell: 2 | taste: 4 | feel: 3 | overall: 4
A- Cloudy yellow with hardly any head and what was there disappears quickly
S- nothing... agitation still nothing... maybe some unplaceable fruits...?
T- Decent wit. Matliness underneath with a tang that I can't really place (coriander...?) that makes this quite intriguing
M- Light body with decent carbonation which is strange based on the nose and he lack of head
D- That tang... makes me want more!
406 characters
3.73
/5
rDev
-1.3%
look: 4 | smell: 3.5 | taste: 3.5 | feel: 4.5 | overall: 4
2821
Appearance: Pours out a simple-looking, hazed, yellow body with a fine, white head.
Smell: A basic blend of malted barley and humble oats with aromatic notes of the standard whole coriander seeds and orange peel. In the background are transient, lighter hints of spicy Noble hops.
Taste: Pale pilsner malts with a twinge of wheat and faintly nutty oats. Mildly sweet. Earthy coriander, bitter citrus peelings, and a small touch of hops balance things out. Low degree of hop bitterness. Smooth, near dry finish.
Mouthfeel: Medium-light body. Medium-plus carbonation.
Drinkability: A decent witbier, a fine option to help beat the heat in Florida and give one the liquid courage needed to wrestle alligators.
716 characters
2.65
/5
rDev
-29.9%
look: 2.5 | smell: 2.5 | taste: 2.5 | feel: 3 | overall: 3
On-tap at CCB
A - It appears as a clear straw-hued wit with small white cap.
S - Aroma is slight banana wheatiness with vague spicing.
T - Its very lightly flavored, which is not to say that it is mildly spiced; it is meant to convey the lack of richness or fullness.
M - Thin, inoffensive though.
D - Good beach beer; SwampHead seems to have a knack for it.
363 characters
4.7
/5
rDev
+24.3%
look: 4 | smell: 4 | taste: 5 | feel: 5 | overall: 5
Pale yellow straw color, slightly cloudy, with lasting white head. Aroma is of orange, banana, and Belgian yeast. Taste is mainly coriander, bananas, and mild hop bitterness. They've achieved great balance with the hop flavor/bitterness. Very delicious and refreshing. You could easily drink this all night.
307 characters

3.89
/5
rDev
+2.9%
look: 3 | smell: 4 | taste: 4 | feel: 3.5 | overall: 4
Pours a straw yellow with some haze and a decent head for a wit beer.
Smell of belgian yeast, pale malt, banana and dough.
The flavor is mainly belgian yeast, Some spices, pepper and coriander flavors mostly.
Bordering on a Belgian Strong Pale Ale in flavor and definitely tasty. Light mouthfeel which is fair for the style and an all around good brew IMO. Possibly some work to be done in mouthfeel , but for a wit, this is pretty fairly done.
448 characters

4.23
/5
rDev
+11.9%
look: 4.5 | smell: 4 | taste: 4 | feel: 5 | overall: 4.5
Added updates based on a fresh sample from the brewery, original notes are still there. Apparently my original sampling was brewed in June or July and didn't hold up very well at all.
Reviewed from notes.
In to a pint glass on-tap at Stubbies & Steins.
Pours a hazy golden color with a short white head that could have had better retention. Some spotted lacing down the glass as the beer went down.
UPDATE - Beer is more on par with the style, a bit more hazy with a nice head on it and great retention and lacing.
Smell is slightly fruity and herbal with a little bit of breadiness and some very slight DMS.
UPDATE - Smell is 100x better, lots of great banana aromas with some nice balanced orange and spice. No DMS.
Taste is again fruity and herbal, well balanced and the bread and DMS from the nose are not apparent. More balanced than many examples of the style I have had that seem to dominate more to either the citrus or the spice.
UPDATE - Not as tart or citrus as the original, still perfectly balanced with some nice banana flavors in there.
Body is thin and light with nice carbonation. Very refreshing and easy to drink.
UPDATE - Gained some body but nothing else changed. Near perfect.
This is my least favorite of their beers which simply may be bad examples. I will be revisiting this one regularly and will update this review if future batches are different.
After having a new sample this moved up the ladder to be one of my favorites. Very solid offering.
1,486 characters
4.7
/5
rDev
+24.3%
look: 2.5 | smell: 5 | taste: 5 | feel: 3.5 | overall: 5
Draft Pour on 1/30/09 @ Stubbies
*Pub Review (Not a Sit-Down Judging)
First beer of the night, shared with my gf (who is an avid Wit drinker). I watched the pour, as I sat in front of the tap handle (which I might add are nicely designed). Poured Clear (No haze about it), Straw/Yellow colored (somewhere in there), C02 was low (not nec. the beers fault). Pretty much was so clear it could have been filtered (which it isn't as far as I know). The aroma was very nice - light spicy/fruity mix. The flavor was better than the aroma: lightly sweet with a dryish, tart, zesty finish. Felt medium light bodied to me. Hop aroma/flavor/bitterness was non-existent. Enjoyable to drink.
Pro's:
- Probably one of the best balances of Coriander/Citrus Zest/Sweetness in a wit I've found, at least this pour.
- Both me and my gf felt it was a tasty easy to drink, well balanced Wit. We had several other draft Wits the following days - and this was decidedly the best.
- Loved the Spicy/Dry/Tart finish.
Con's:
- Too clear for a beer geek..
- CO2 was off, should be dispensed with a little more gas on the keg.
OI: I liked the beer, enjoyed it. Likely the freshness (being locally distributed) helped with making it as good as it was - when comparing it to Belgian drafts (Aromatics/Flavors from the spicing wasn't aged). Definitely would grab another pint.
*I don't take "notes" at local pubs, so no fancy write up here, I enjoy what I drink and drink what I enjoy. I don't pretend to be able to smell taste things that are undetectable at such a location while mildly intoxicated (at least by me).
1,602 characters

2.53
/5
rDev
-33.1%
look: 3.5 | smell: 3 | taste: 2 | feel: 3 | overall: 2.5
Had this beer on draft at a local beer bar. Seems the bar has been taken over by draft beer from this particular brewery. I love seeing local business helping out local business.
Beer is yellow and slightly hazy, kind of cloudy but not like most wits. Almost no carbonation and almost no head. No lacing on the glass. I think is someone put the beer in front on me and asked what it was I would have said, "A wit?" and I would have been right.
Aroma is fine, a little weak, some grain aroma, its just fine, average.
Beer is thin and watery. There is also a strong sour / cereal aftertaste of grains. Overall there isn't a whole lot going on until you swallow. This is going to sound harsh but its almost like they wanted to make a light Hoegaarden but it turned out tasting like a blend between blue moon and coors light. I get it, you need a light beer for mass appeal. This wasn't it. Sorry guys.
907 characters
Cottonmouth Wit from Swamp Head Brewery
3.78
out of
5
based on
104
ratings.