Wild Night Honey Cream Ale
| Swamp Head Brewery
BA SCORE
81
good
25
Reviews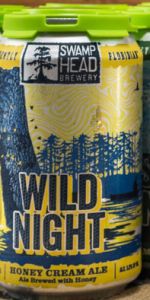 BEER INFO
Brewed by:
Swamp Head Brewery
Florida
,
United States
swamphead.com
Style:
Cream Ale
Alcohol by volume (ABV):
5.90%
Availability:
Year-round
Notes / Commercial Description:
No notes at this time.
Added by cjgator3 on 04-11-2010
Reviews: 25 | Ratings: 131
2.79
/5
rDev
-20.7%
look: 2 | smell: 3 | taste: 2.5 | feel: 3.5 | overall: 3
I love to support local breweries. I have sampled other varities offered by Swamp Head and has been very satisfied. Got this one during happy hour at Cody's Steakhouse in Gainesville. I was served in a the typical pint glass.
Appearance - very thin with a hint of pale yellow and a watered down look at the top. Almost lighter than a Corona.
Smell - a very timid nose with some honey and orange blossom notes.
Taste - Again, thin, mild honey sweetness and minimal hopping. Very one dimensional.
Mouthfeel - smooth because of the taste but the dull sweetness gets to you after a while.
I would say this is a good session beer but I don't even think it falls in those parameters. I would just stick to their Big Nose IPA, and Midnight Oil Stout. That is where the flavor is.
★
777 characters
3.58
/5
rDev
+1.7%
look: 4 | smell: 3.5 | taste: 3.5 | feel: 4 | overall: 3.5
A: clear, straw with a touch of gold. Rapidly dissipating head.
S: malty, semi sweet
T: touch of bitterness. Malty and cream and honey notes.
M: Moderate carbonation, and light bodied. Very smooth.
Overall: These cream ales always taste more lager-like to me. I really have to focus to get the cream part but for what it is, it is done well.
★
346 characters
3.56
/5
rDev
+1.1%
look: 4 | smell: 3 | taste: 3.5 | feel: 4 | overall: 4
huge thanks to frank for sending me up the barrage of ccb growlers, loving to get to try these. poured into a pint glass.
the pour was much the same as the chocolate version but with a little less head retention and a bit more of a hazed appearence. Very light aroma, nearly non existent at times with light hints of hops, light honey sweetness and a herbal note but it was all under an umbrella of grain and light grassy notes. clean and smooth again with the flavor with little in the way of aftertaste and light dryness in the finish.
overall a nice and solid beer, nothing out of the norm though.
★
602 characters
3.5
/5
rDev
-0.6%
look: 3.5 | smell: 3.5 | taste: 3.5 | feel: 3.5 | overall: 3.5
Nothing too special, guest tap.
On tap at Cigar City. A little floral honey. Rather plain cream ale, a little Hallertau hops flavour, a bit of honey.Golden colour, a little white head.A tad meady and drinkable on a hot day, like a light mead. I would rather put some New Zealand honey in hot water and skip the carbonation part.
★
328 characters

3.13
/5
rDev
-11.1%
look: 3.5 | smell: 3 | taste: 3 | feel: 4 | overall: 3
A-very pale light gold, frothy white head
S-smells like honey and grass. not too strong
T-comes in with a fresh grassy taste with just a slight hint at hops. ends with a decent taste of bitter honey. this forms a long lasting after-taste. its fairly simple.
M-medium creamy carbonation with a crisp finish
O-swamp head, i've heard much about them but i'm guessing this isn't their top beer. this is a lawn mower beer, but not a great one. there are no negative tastes but nothing to make it stand out either.
★
512 characters
3.5
/5
rDev
-0.6%
look: 3.5 | smell: 3.5 | taste: 3.5 | feel: 3.5 | overall: 3.5
On-tap at the tasting room. Amber with a finger of white foam. Smell is pale malt, cereal grains, fairly neutral. Taste is grainy, mild hopping, finishing with a sugary honey sweetness. Very slight rindy hopping. It does a pretty good job of featuring the honey, but unfortunately is otherwise boring. Inoffensive and probably useful as a gateway beer; wouldn't expect a cream ale to be particularly exciting anyway.
★
416 characters

2.55
/5
rDev
-27.6%
look: 2.5 | smell: 2.5 | taste: 3 | feel: 2 | overall: 2
notes from phone
on tap at Gator's Dockside 1-3-11
A- Straw yellow, very small, film-like head
S- Very much pilsner-like, maybe a little bit of sweetness but that could just be a little hope from the name
T- Crisp clean sweet malts carry through entire beer, not a whole lot of action going on here. Not like there's some subtle flavors playing around, just not a whole lot going on...
M- Light and watery. Some bite from the carbonation but it's not the worst mouthfeel I've every experienced
D- Dumbed down version of the style... I'd try any other swamphead before this one as I do tend to enjoy their brews
★
615 characters

3.42
/5
rDev
-2.8%
look: 3.5 | smell: 4 | taste: 3 | feel: 3.5 | overall: 3.5
appearance: golden with a solid head retention
smell: Mild aromas if any, pale malts
taste: Tastes of pale malt subtle sweetness with a hint dry tupelo finish.Very clean flavor profile, all very subtley balanced flavors.
mouthfeel: medium bodied
drinkability: I tried this at the kickbacks Swamphead dinner among many others. This brewery in new and going in the right direction. Solid beer from a solid brewery. I would love to have this again.
★
451 characters
4.12
/5
rDev
+17%
look: 5 | smell: 3 | taste: 4.5 | feel: 4 | overall: 4.5
Served on tap @ Kickbacks
Appearance is impressively clear golden straw in color. One of the most clear Ales I have seen to date.
Mild aromas if any, pale malts?
Tastes of pale malt subtle sweetness with a hint dry tupelo finish. Maybe a subtle dash of butterscotch sweetness. Very clean flavor profile, all very subtley balanced flavors.
Mouthfeel is very light bodied and crisp carbonation.
Drinkability is solid offering for a light bodied ale and/or lager alternative. Refreshing and an impressive rep of the style.
Additional info;
I attended a Swamphead Beer dinner at Kickbacks here in Jacksonville Florida 12/13/2010. The lineup overall impressed me, brews were appropriatte to style and well done across the board. I most notably enjoyed the Hoe Hoe Hoe Wit, Tupelo Cream Ale, Stumpknocker APA, and 10-10-10 Whiskey Barrel Aged as standouts for the evening. Overall a very talented brewery across the entire lineup. I had chance to meet Luke the owner who was a great guy, and Craig the brewer who was passionate and open to share his processes. Both were knowlegdable and I am very excited about this new Florida Brewery.
Here is are most of the Swamphead brews that were offered at the dinner;
Hoe Hoe Hoe Winter Seasonal - a Belgian style specialty ale with cranberries, ginger and orange blossom honey
Wild Night Tupelo Honey Cream Ale
Cottonmouth Belgian Style Wheatbier
Stumpknocker American Pale Ale
Big Nose IPA
Saison du Swamp - Florida Style Saison with rye
10-10-10 Imperial IPA
10-10-10 Imperial IPA aged in Palm Ridge Whiskey barrels
Midnight Oil Oatmeal Stout with locally roasted organic fair trade coffee
Alderwood Smoked Porter
Chipotle Smoked Porter
Stumpknocker infused with Chipotle peppers
Catherine's Inspiration - Russian Imperial Stout
Catherine's Passion - Russian Imperial Stout infused with organic cocoa nibs and Midnight Oil coffee
★
1,872 characters

3.8
/5
rDev
+8%
look: 3.5 | smell: 3.5 | taste: 4 | feel: 3.5 | overall: 4
Reviewed from notes.
A-Pours ultra light gold with ultra white head.Minimal bubbles. Short head and minimal lace.
S-Smells mildly hoppy with sweetness and some citrus.
T-Mild amount of bitterness very clean. Simple yet refined. Sweet honey flavor shows up most strong on the finish. Hints of butterscotch in there as well.
M-smooth and creamy with some fizzy carbonation that is a bit high but helps to liven up the beer.
D-A light easy drinking quality brew. All of the Swamphead beers I feel fit in to this catagory accept the 10-10-10 that guys more of a world beater. But Wild Night keeps its place as a great middle of the road drinking option.
★
654 characters

4.43
/5
rDev
+25.9%
look: 4.5 | smell: 4 | taste: 4.5 | feel: 4 | overall: 5
This is the clearest, lightest color beer I've seen with this much flavor. Pours a crystal clear, light straw color with a tall white head with a long retention. Bubbles constantly stream up from the bottom of the glass.
Smell contains the graininess of the flaked maize in the beer. A little bit of fruit and spice come through the nose as well, though not as strong.
Taste is a lot of tupelo honey with some slight citrus and graininess lingering in the background. If you've never had tupelo honey before I could understand not getting any honey flavor out of the beer but as an avid tupelo addict I get that as the dominant flavor.
Beer is thin but not watery with a fairly high level of carbonation.
Overall this beer is extremely easy to drink and extremely refreshing. The sweetness and thin body make this a perfect summer beer.
★
840 characters

3.46
/5
rDev
-1.7%
look: 4 | smell: 3 | taste: 3.5 | feel: 4 | overall: 3.5
On tap at Cigar City. This beer presents a nice eggshell head. Honey yellow with a nice carbonation.
Not much in the nose. A little sweetness and some cedar.
The taste is light ale with a little bit of cedar. Weird. I'm wondering if the line was cleamed. Oh, well. It's still pretty good. If you search for it you can pick up a little honey in the finish.
The feel is nice and creamy, while still very light. An interesting juxtaposition.
Pretty drinkable. Light and refreshing on a hot day, of which there are many in Florida.
★
531 characters
3.65
/5
rDev
+3.7%
look: 3.5 | smell: 3.5 | taste: 3.5 | feel: 4 | overall: 4
Let me preface this by saying that significant appreciation of the style known as 'Cream Ale' has thus far eluded me.
This beer is pretty good, despite the unfortunate double misnomer; Wild Night Cream Ale is neither wild, nor particularly creamy.
A - Exceptionally pale and translucent, with a small white head, and itching for a comparison to either Sprite or macro lager.
S - Not much to it, pretty clean and light, with a small alcohol tinge and a continental-Pilsener-Bohemian quality.
T - Just like the nose, everything here is pretty subdued. And again, there is much akin to a lager-style. The pale malt is lightly sweet and slightly astringent and the hop presence is bittering and balancing more than a specific flavoring element. Quite crisp and refreshing, but no great gustatory gravitas.
M - Lighter-bodied and refreshing with a dry finish.
D - A good beach beer, perhaps.
★
893 characters
3.98
/5
rDev
+13.1%
look: 4 | smell: 3.5 | taste: 4 | feel: 4 | overall: 4.5
This was featured as a guest tap at Cigar City. Poured into a 4 oz. tasting glass.
A: Crystal clear, light yellow color. Probably the clearest beer I have ever seen. Large white head, with nice retention and lacing.
A: Sweet honey, corn, light malts, and small notes of piney hops.
T: Very light for an almost 6% brew. Nice notes of honey and pine sap, with a subtle citrus hop bite. Finishes slightly dry and sweet. Absolutely no hint of alcohol.
M: Light body, good amount of carbonation. Very clean and crisp.
D and overall impression: Drinkability is super high due to the light character of the brew. Overall, I really enjoyed my sample. This would be a great session brew sitting by the pool or at a baseball game. Can't wait to try more swamphead! Skal.
★
766 characters

4.03
/5
rDev
+14.5%
look: 4.5 | smell: 4 | taste: 4 | feel: 4 | overall: 4
Pours a rich golden yellow color with a large frothy white head with great retention and lacing all around the glass. The aroma is malt, citrus, honey and a touch of hops. The taste is malt with a faint honey-like sweetness, citrus and a nice touch of hops in the finish balancing out the sweetness very nicely. Glad I finally got to try a beer from this brewery, looking forward to trying more of their lineup.
★
411 characters
Wild Night Honey Cream Ale from Swamp Head Brewery
3.52
out of
5
based on
131
ratings.