Smoke Signal
| Swamp Head Brewery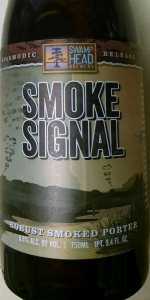 BEER INFO
Brewed by:
Swamp Head Brewery
Florida
,
United States
swamphead.com
Style:
American Porter
Alcohol by volume (ABV):
6.80%
Availability:
Rotating
Notes / Commercial Description:
Smoke Signal is an American style Robust Porter, using a generous amount of pale ale malt smoked with Alderwood, the smoke source used in the Pacific Northwest for salmon. We smoke 150 pounds of pale malt for each 10 barrel batch of Smoke Signal.
Alderwood imparts a slightly sweet smoke flavor that balances well with the residual sweetness of the beer imparted through the use of dark crystal malts; chocolate and roasted barleys combine with American hops to deliver a flavorful robust porter with just the right amount of smoked flavor.
Added by brentk56 on 12-21-2010
Reviews: 14 | Ratings: 78

3.19
/5
rDev
-20.6%
look: 3 | smell: 4 | taste: 3 | feel: 2.5 | overall: 3
Thanks to moose3285 for this bottle, one that I've been sitting on for a while per his advice. 750ML bottle with Swamp Head's typically cool label art, split with my wife.
The pour is dark with a little red along the edges. Carbonation has gone the way of Percy Harvin in a big game: vanishimo. I could count the individual bubbles if I cared to. The nose is just gorgeous for a smoked beer with light Renaissance Festival campfire circa 1989, lingering sweetness, & chocolate. Very nice.
Smoke Signal gets the balance right, not an easy task for a smoked beer (or maybe it's because the bottle has been sitting for months in a dark room, thinking about not being too smoky). Taste is a xerox (as we old people used to call photocopies) of the nose. Nicely restrained smoke malts, scampering sugary sweetness, sweet chocolate. Finish drops in the polls as the smoke turns a touch ashy, & there's a weird green woodiness that might be the final whisper of hops. Body is full but too flat, & the beer suffers from the lack of carbonation. I'd have guessed this to be a higher ABV than listed. That makes it tough to power through even half of a bomber.
This brew avoids the problem with most smoke beers, namely, that it doesn't murder you with smoke inhalation. That part of the equation is solved for nicely, but the odd aftertaste & overly heavy mouthfeel set it back. A wildly inconsistent brewery that puts out gems & dud in almost equal measure, but this is neither. Decent enough.
1,503 characters

3.56
/5
rDev
-11.4%
look: 3.75 | smell: 4 | taste: 3.25 | feel: 3.75 | overall: 3.5
Bottle share at Proof courtesy of scotchzi. Very deep brown with some tna head. Great smokey aroma. Smells like overly smoked pork. Cedar and maybe chestnut. Taste is far too smokey. I'm rarely a fan of American smoked beers. Smoke dominates the palate in this one. Good body and surprisingly high carbonation.
310 characters

3.59
/5
rDev
-10.7%
look: 4.25 | smell: 3.25 | taste: 3.5 | feel: 4 | overall: 3.75
Appearance - very dark, just a hint of light getting through this mahogany and Ruby tinged brew. A light mocha head is thin but with good lace all around.
Aroma - all roast malt, wrapped in a layer of tangy smoke.
Taste - brief mouthful of sweet malt, followed by some fairly heavy smoke. Pushy at first, but after a few sips I start to pick up some bittersweet chocolate. A nice abv warmth on the aftertaste. An ashy, fire-smoke finish.
Mouthful - full and mouth filling. Solid body, good and weighty.
Overall - great name for a beer of this style. Smoky, slightly sweet, great pitcher beer.
597 characters
3.99
/5
rDev
-0.7%
nice body. definitely smokey, like I'm sitting around a bon fire. Some coffee and vanilla in there. Smoked meat and bacon or something here. Somewhat sweet however this is balanced by the hops in the finish quite well.
218 characters
4.06
/5
rDev
+1%
look: 4 | smell: 4.25 | taste: 4 | feel: 4 | overall: 4
From BeerAdvocate Magazine #85 (Feb 2014):
Balanced, Roasty, Ashy
Very excited to run into this beer in hopes of smoky greatness. All of the traits of a Robust Porter hit the taste buds, with suggestions of charcoal, espresso and ash. Smokiness rides firm from start to finish, with a kiss of hoppiness in back. A bit of rawness keeps thing super real and drives us to take another sip.
STYLE: American Porter | ABV: 6.9% | AVAILABILITY: Year-round
452 characters
4.15
/5
rDev
+3.2%
look: 4 | smell: 4 | taste: 4.5 | feel: 3.5 | overall: 4
On-tap and in growler at Swamp Head. Near black in color with a thin cap of tan head. Smell: moderate wood smoke - more of a smoked cheese than a smoked meat, mild roast, toasted bread, caramelized sugars. Taste: starts with a dark chocolate syrup, some sugared dark fruit, then roasted grain and a toffee sweetness with a complementary smoked flavor. Crunchy bacon in the finish. Light to medium bodied. I want a little more heft, but at the same time, I'm digging how quaffable it is. Quite tasty and the smoke was integrated nicely without overwhelming the other elements of the beer. An alderwood smoked porter at 7ish%.
624 characters
4.17
/5
rDev
+3.7%
look: 4 | smell: 4.5 | taste: 4 | feel: 4.5 | overall: 4
On tap at Swamp Head's Tasting Room in Gainesville, FL.
A: jet black, nice head
S: deep roasted malt with good, but not overpowering, smoke
T: great taste!, smoke, well-balanced, very good beer
M: highly sessionable, very smooth
This was a solid smoked porter. Well done.
273 characters

4.17
/5
rDev
+3.7%
look: 3.5 | smell: 4 | taste: 4.5 | feel: 4 | overall: 4
Pours a very deep brown so dark that it appears black producing barely a finger of frothy, mocha, shortlived head that produces minimal lacing. Aroma is dark malty deep roast & smokey char with hints of chocolate, vanilla, vinous dark fruits & a phenolic undertone. Taste is smoke, char & chocolate malt with a phenolic & vinous hint that is more interesting than distracting. Only the most minor hop notes in the finish. Lingering burnt chocolate, smokey, faintly bitter aftertaste. Moderate to mildly heavy bodied with low carbonation, smooth, creamy & a little chewy.
570 characters

4.33
/5
rDev
+7.7%
look: 4.25 | smell: 4.25 | taste: 4.5 | feel: 4 | overall: 4.25
Served on draft at Kickbacks in Jacksonville.
A: dark with little head
S: bold hop presence. some citrus, and smoke of course.
T: best smoked beer I have had thus far, nicely smoked porter... Taste like bacon and smoked barbecue pork....
M: medium to full bodied...minimal carbonation.
O: great smoked beer! I would definitely have this again! :)
352 characters

4.36
/5
rDev
+8.5%
Poured from a 750 mL bottle into an enlarged snifter.
Appearance: Pours black and leaves a fluffy, off-white (light tan) head that lingers for a long time. (4.25)
Smell: Big smoked meats up front, smoked malts, cocoa, hint of coffee, hint of vanilla. (4.4)
Taste: Matches the smell to a T: big smoked meats, smoked malts, dark chocolate, coffee, vanilla. Quite moderate and well balanced, but the smoked meats and malts dominate the taste. Nice and drinkable. (4.2)
Mouth-feel: Low to med carb with a thick, creamy, slightly foamy body. Nice smoked-meats finish. (4.35)
Overall: Very drinkable, tasty smoked porter. I honestly wouldn't change anything about this beer for what it is. Nice smoked malts and meats with some cocoa and roasted malts as well. Well balanced and very nice aroma as well. (4.3)
808 characters
4.39
/5
rDev
+9.2%
look: 3.5 | smell: 4.5 | taste: 4.5 | feel: 4 | overall: 4.5
Appearance: Not the greatest looker of a beer I have seen, as the beer was virtually topless - just dark liquid and no cap
Smell: The alderwood comes through brilliantly in the aroma, with chocolate elements in the background
Taste: Black bread and chocolate, up front with a smoked woody bitterness that develops by mid-palate and persists through the finish
Mouthfeel: Medium body with low to moderate carbonation
Drinkability: Very nice - perhaps the best of the SwampHead beers I have tasted; the beer shows a judicious use of smoked malt and has a nice bitter aspect as well
591 characters

4.42
/5
rDev
+10%
look: 4 | smell: 4.5 | taste: 4.5 | feel: 4 | overall: 4.5
appearance: dark with little head
smell: very bold and assertive hop presence. pine and citrus
taste: best beer of the night. nicely smoked porter, touch of bacon.
mouthfeel: medium to full bodied
drinkability: I tried this at the kickbacks Swamphead dinner among many others. This brewery in new and going in the right direction. Solid beer from a solid brewery. I would love to have this again.
401 characters

4.42
/5
rDev
+10%
look: 4.5 | smell: 4.25 | taste: 4.5 | feel: 4.75 | overall: 4.25
Bottles were just released and it was around last year on draft. 750 ml bottle from the brewery. Pours a dark brown with some light shining through until it reaches the glass. Creamy looking one finger khaki head. Nice rich smoke aroma like firewood, roast, with some slight sweetness in the malts. Nice smooth robust silky mouthfeel on this. Huge smoke flavor balanced by some sweetness in the roasted malts, maaaaybe a hint of chocolate. Honestly this is how I envision Bruery's Smoking Wood without the whiskey barrels. This is the type of porter that would stand up well to barrels. Really really nice beer.
613 characters
4.46
/5
rDev
+10.9%
look: 5 | smell: 4 | taste: 4.5 | feel: 5 | overall: 4.5
Got a chance to try this limited brew last Friday at the tasting room at Swamp Head Brewery.
I didn't take notes while tasting this beer, so I'll just keep it short and simple.
I thought this beer was fantastic. The smokiness was ideal, in my opinion. The smoke flavor didn't mask the malts or hops of this ale, but rather provided a nice subtle underflavor. The beer itself was a beautiful dark garnet color and had a nice smokey bouquet.
HIGHLY recommended.
(Apologies for a less-then-stellar review)
506 characters
Smoke Signal from Swamp Head Brewery
4.02
out of
5
based on
78
ratings.