Sciaenhops
| Swamp Head Brewery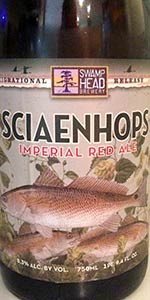 BEER INFO
Brewed by:
Swamp Head Brewery
Florida
,
United States
swamphead.com
Style:
American Amber / Red Ale
Alcohol by volume (ABV):
8.30%
Availability:
Winter
Notes / Commercial Description:
No notes at this time.
Added by GallowsThief on 02-07-2012
Reviews: 12 | Ratings: 72
4.17
/5
rDev
+7.2%
look: 4.25 | smell: 4.75 | taste: 4 | feel: 3.75 | overall: 4
Good, solid beer, bought it because of my love for catching redfish and dont regret but wont seek it out again.
Edit: I am going to seek it out again lol, at the time I wasnt used to imperial ales, now that I have grown to enjoy more of this style I am going to try this one again.
283 characters
4.12
/5
rDev
+5.9%
look: 4.25 | smell: 4 | taste: 4.25 | feel: 4 | overall: 4
Pours a clear dark red with orange edges, big fluffy cream colored head. Settles slowly to a big cap with thick continents of lace on the glass. Smell: green tropical fruit, big pine hit, citrus rind, hint of stone fruit. Taste: sugared grapefruit, resiny pine, mango, big caramel backing with red plum. Soft, creamy feel into citrus peel and caramel coated drying and sticky finish. A very tasty double red.
408 characters

4.05
/5
rDev
+4.1%
look: 4 | smell: 4 | taste: 4 | feel: 4.5 | overall: 4
Poured out of a growler into my tulip.
A – Deep ruby red pour with a finger of sticky off white head that stayed around.
S – Really nice light floral smell with a nice piney hops aroma to follow. Lemon and citrus as well.
T – Big citrus hops hit right up front. Really rolls over the tongue. Get some light sweet orange followed by a more lemon and grapefruit. Nice malt backbone. Fairly good punch of hp bitterness but it balances nicely.
M – Medium bodied with medium carbonation. Slightly drying feel at the end but is also slick on the palate.
O – Really nice offering here. The flavor is extremely balanced and works well together. Very easy drinker despite a pretty sizable ABV.
713 characters

4.04
/5
rDev
+3.9%
look: 4.5 | smell: 4.25 | taste: 4 | feel: 3.5 | overall: 4
Fresh bottle from the brewery. Pours a deep dark red color with a big fluffy off white head that just lingers. Won't go away. Nice big hop presence on the nose with pine and light citrus and a good bit of dankness to go along with earthy grassiness and a nice sweet smelling caramel backbone. Lots of dank earthiness to the flavor with pine, a caramel backbone, some light fruit to sweeten the flavor up. The mouthfeel is slick and resinous but has a nice drying finish. The only complaint here is that the carbonation is on the low side for a brew like this. A little more bubbly would have helped out an otherwise very nice red ale with a great punch of bitter hops. Worth having again.
688 characters
4
/5
rDev
+2.8%
look: 3.75 | smell: 3.75 | taste: 4.25 | feel: 3.75 | overall: 4
Appearance: I wanted to call this red or ruby or something because it is labeled a red ale, but looks brown, maybe a bit orange to me. Similar to root beer. Light tan foamy head, about an inch.
Smell: Picked up some syrupy grapefruit bitterness and certainly some hops, but the more noticeable scent is of a bitter citrus fruit. Not a strong aroma though.
Taste: First reaction was that it was very very good, but after a few sips I was able to better gauge it. Likely that after a stressful week the fact that I was having a beer bumped it up .25. In any case the most noticeable characteristic, get some piney citrusy notes and not nearly as bitter as I was expecting. Typical flavor for a red ale but the flavors are strong, which I like. Hardly noticed the alcohol, which is pretty high (8.3%). Well balanced.
Mouthfeel: Pretty dense beer, smooth carbonation if that makes sense. I describe this as syrupy. Didn't notice the alcohol until well into the aftertaste where the warmth starts to be noticeable, but not overpowering at all.
Overall: Good beer. Nothing remarkable in terms of appearance or smell but thought the flavors were appropriate and strong and worked well together. I like red ales to be a bit lighter and this one certainly is heavy but I enjoyed it. First beer for me from Swamp Head and I would try others (and not just because I'm a Gator).
1,370 characters

4
/5
rDev
+2.8%
look: 4 | smell: 4 | taste: 4 | feel: 4 | overall: 4
Pours a slightly hazy coppery red color with off-white head. Pine hop aroma, caramel malts, and grain on the nose; follows onto the palate. Finishes with a great caramel malty note
180 characters
3.99
/5
rDev
+2.6%
look: 4 | smell: 3.75 | taste: 4 | feel: 4.5 | overall: 4
Undated 750ml bottle with a label of a small school of Sciaenops or Florida's Red Fish. Behind the fish were vines of hops. To the left of the fish is all the mandatory US information. To the right of the fish is a description of the beer. Missing from the bottle is a bottled date.
When poured into a Samuel Smith Imperial Pint Glass, this Red Fish was a nice semi clear dark cherry amber with a small glimmer of orange at the bottom. On top of this amber brew was a large 1+ inch pillowy off white head of foam. Nice retention that left behind an everlasting skim of foam and a plentiful number of streaks around the glass.
This Imperial Red Ale had a slight sweet aroma. This sweet aroma started off with a little toasted caramel malt. Following the malts was the slightly bitter citrus hops. Stuck in with hops was a hint of grapefruit. The aroma then finished up with a little pine. The aroma wasn't overly hoppy. I thought it was just right for this style.
The taste was very crispy and slightly bitter. It wasn't the malt that kicked off the taste. The taste didn't want mess around so it kicked off with the slightly bitter citrus hops. Quickly following the hops was a little dry grapefruit and pine resin. When the pine said it was done, the taste then ends with the sweet toasted caramel malts.
This was a slightly dry crispy medium bodied Red Ale that had plenty of carbonation and a good malty/hoppy aftertaste. The aftertaste will filled with sweet toasted malts, a drop of pine, and bitter citrus hops. This aftertaste will linger on the roof if your mouth for a long time.
First I would thank fellow BA Lionssoccer for picking this up at the brewery. I enjoyed this beer. It wasn't overly hoppy and it had a nice solid sweet caramel malt backbone. I would pick this beer up if I ever saw it.
1,817 characters

3.89
/5
rDev 0%
look: 4 | smell: 4.25 | taste: 3.75 | feel: 3.75 | overall: 3.75
Bought this bottle at The Wetlands (Swamp Head tasting room). Reviewed from notes. Poured from the 750 mL bottle into a Russian River pint glass.
A: Deep amber in color, and has some chill haze but otherwise appears clear. One finger of off-white head forms with average retention, and moderate visible carbonation.
S: Grass, pine resin, and a bit of citrus rind hops up front, with a nice toasted malt noticeable in the background.
T: Follows the nose closely. Toasted malt with some sweet character and mild caramel flavors under a nice hoppiness up front (grapefruit, resin, grasses) but falls just on the hoppy side of balanced. Moderate bitterness with some malt sweetness in the hang.
M: The alcohol is noticeable, but stops short of being distracting. Nice full body, and good carbonation sensation.
O: This was an enjoyable drink and, while not my favorite example of style, I wouldn't hesitate to drink another if I found it on tap somewhere.
956 characters
3.77
/5
rDev
-3.1%
look: 4 | smell: 3.75 | taste: 3.75 | feel: 3.75 | overall: 3.75
750ml, Winter 2013
Riedel unmarked tulip
A: Pours a pretty deep reddish amber color. Slight hazy but it's almost clear. Finger of off white head. Tight bubbles. Nicely carbonated. Leaves some sticky lacing sheeting.
S: Piney earthy hop aroma coming from this but more nose from those big malts. Nice caramel nuttiness from those. Bready notes.
T: Big dose of those earthy hops up front. Tip of the tongue. Then you get more on the palate balanced by those malts. Sweet and caramel like. Really helps smooth the beer. Don't taste the alcohol at all. Finish is dry with lingering hop flavors.
M: It's a big medium. Malts help coat the mouth.
643 characters

3.7
/5
rDev
-4.9%
look: 3.5 | smell: 3.5 | taste: 3.5 | feel: 3.5 | overall: 4.5
Thanks to moose3285 for another bottle from a brewery I've grown fond of. And when Mike sends me a box, it's a good day, because I don't have to shop for beer for a month. 750 ML bottle with one of my favorite creatures, a game fish, on the label. Thumbs up.
The beer red pours a dark, rusty iron with a significant head. Plenty of pine & citrus in the nose, with more nuttiness than I've had outside of flat tins on a grocery shelf with the word "nut" on the label somewhere. Big malts back everything up.
Sciaenhops first impression is that I could drink this in a Big Gulp size, a first sip turns into a hefty swig; tall drinkability. The malts drive the beer more than the hops, low-country caramel, flecks of rustiness, before the hops come in the middle with middling doses of gentle pine, citrus, but mostly a warm earthiness, & a bit of salted peanuts (?). Ends on a slightly bitter note.
Drinkability is the game here. Overall the beer is good, but I'm cutting through my half of the bomber faster than can be measured by a traditional stopwatch.
1,061 characters
3.54
/5
rDev
-9%
look: 4 | smell: 3.75 | taste: 3.5 | feel: 3.5 | overall: 3.25
750 mL bottle poured into a snifter.
Appearance - Clear red body with a decent white head. Nice surface foam.
Smell - Kind of a musty hop aroma. Grapefruit. Caramel malt. Some pine hop in the back.
Taste - Pretty hoppy. Nice hop flavor. Grapefruit. Some pine. Not as musty as the nose. Caramel. A little on the sweet side. Some nutty flavors. Bitter finish.
Mouthfeel - Good hop balance and a nice hop flavor. Medium body.
Overall - Too big for my tastes. Lots of hops with an equivalent amount of malt.
509 characters
3.11
/5
rDev
-20.1%
look: 3.75 | smell: 3.25 | taste: 3 | feel: 3 | overall: 3
Bottle: Poured a murky amber color ale with a large foamy head. Aroma of resinous and earthy hops is balanced against some sweet malt notes. Taste is a mix of light grapefruit notes with some earthy and resinous hops and huge sweet malt backbone. Body is full with good carbonation. Can't say I really enjoy the hops varietal used in here and malt backbone was too sweet for the style.
387 characters
Sciaenhops from Swamp Head Brewery
3.89
out of
5
based on
72
ratings.