Whole Foods Market - Tribeca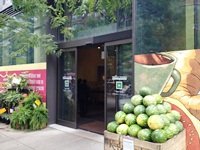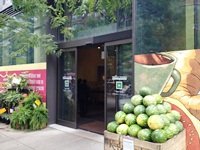 Store
270 Greenwich St
New York
,
New York
, 10007-1150
United States
(212) 349-6555 |
map
wholefoodsmarket.com
Notes:

4.57
/5
rDev
+7.8%
vibe: 4.5 | quality: 4.5 | service: 4.5 | selection: 4.75
The second best Whole Foods for Craft beer (after Bowery), staff is extremely knowledgeable and accommodating. They always have a ton of good beers and are always well stocked.
176 characters

4.15
/5
rDev
-2.1%
vibe: 4 | quality: 4.25 | service: 4 | selection: 4.25
Great selection for a food store, and an above average beer department for a Whole Foods, but not nearly as impressive as the separate beer "store" at the Whole Foods in the Bowery.
Some limited high quality stuff, limited small batch brews, popular craft and macro brands make up the sizable cold section and non-refrigerated bombers. Always some deals going on like $6.99 Evil Twin stout or some Ommegang bombers. The cold singles/mix-a-six section is pretty large with a very good variety normally in stock.
Service has always been very good when the people are around, but half the time there is no designated beer person just standing there waiting to assist. A few of the guys are solid with beer knowledge, they offer good advice and check the inventory for any special stuff not on the floor yet.
The prices are reasonable if you know your beer prices, especially for an expensive area of NYC like Tribeca. If you know your prices then you should do fine here. Growler prices are on the low side which is always a plus in NYC. My main knock is all the best stuff goes quickly, like a secret list exists to a small group that get the limited releases like Firestone Walker Parabola or Stickee Monkey...guess it's a little but of supply and demand, but I've yet to score a white whale at this store. All in all a good place.
1,334 characters
4.21
/5
rDev
-0.7%
vibe: 3.5 | quality: 4 | service: 4.75 | selection: 4.25
I take a short train ride up to WF Tribeca once a week during lunch at work. While at the talk centers around other Manhattan WF, especially (and deservedly) the Bowery loaction, Tribeca offers a really nice selection, a lot of it refrigerated. My travels in Manhattan are limited these days since moving to LI, so it is nice to have a place close to work where I can pick up brands like Crooked Stave, Westbrook and Stillwater that I cannot get close to my house. There is a small, 4 tap, growler station that usually has something interesting and 32oz fills are available which is a nice touch. Small section up by the registers, away from the actual beer aisle, allows you to build your own six pack (just be careful with the IPAs, they are usually in that section because they are past their prime)
Prices are pretty solid for Manhattan and there are some selections that are cheaper here than where I live in LI. The staff there is excellent. I have dealt with probably 4 or 5 different employees, all of whom will stand there forever talking beer, have a complete knowledge of the stock in store and on order and are willing to grab something for you from the back if it does not happen to be out on the shelf. Excellent place.
1,235 characters

4.15
/5
rDev
-2.1%
vibe: 3 | quality: 4 | service: 5 | selection: 4
A it's a grocery store so... Not much in the way for atmosphere...
Q everything was pretty fresh, nothing outdated hat I could find.
S awesome, they knew about what was in the store and got stuff out of the back for me.
S they had a lot of stuff available. Things I couldn't find anywhere else in the city.
V a little high, but not bad for manhattan. This place was great.
376 characters

4.01
/5
rDev
-5.4%
vibe: 3 | quality: 4 | service: 4 | selection: 4.5
Went there in December for the first time. Great selection - many different beers than the Whole Foods up where I live. Full range from inexpensive to 'Utopias', and common to obscure. Quite a few import brands, which allowed me to try Hobgoblin for the first (and last!) time. Staff member Aaron, I think it was, was incredibly patient, pleasant, knowledgable, and helpful.
There is a little 4 tap Growler station for those who need to fill up.
The checkout lines are long. I don't know if there is a time they are not, but judging by their unique turn-based system, I'd imagine it's a constant thing there.
Overall, if you're in the area, a very good place to stock up on your brews..
688 characters
4.28
/5
rDev
+0.9%
vibe: 4 | quality: 4.5 | service: 4 | selection: 4.5 | food: 4
I work around the corner from this shop and its always nice to browse around in when I get a few minutes break. The downside of it is that I rarely have enough time to pick out a bottle from their excellent selection and wait on the long lines - at any hour - then get back to the office in time. Nevertheless this is the place to go on the lower west side and tribeca. The main beer guy here is very well informed and clearly follows the craft scene closely. They always have a few surprises, tons of bombers and lots in the fridge in terms of both singles and sixers. I also love the fact that they will usually have unrefrigerated beers in the back they will grab for me on request if I am gonna have to carry them around for a while or if they're cellar bound.
This store has a growler station with 4 beers on tap and any one time. Also, this evening I ran into a great rep from Sly Fox who had a table set up and poured me tastes of a variety of beers and chatted very amiably. Very cool.
Definitely check this place out if you're in the neighborhood. The only downsides are the long lines and fairly high prices, which I beat regularly now that I've moved across the river to New Jersey!
1,196 characters
4.85
/5
rDev
+14.4%
Man, I love the beer section at this Whole Foods. They have a HUGE beer fridge. Both an open 6 pack area and a swing door section with bombers and Belgians etc. They always have an impressive array of hoppy American beers and impressive collection of rare Belgian and German beers. They also have a tap with a few keg beers for growlers. And for NYC, the prices are straight up awesome. Most place in NY you pay 13-15 bucks for a 6 pack that is 10 here. There are a couple of knowledgeable beer dudes too. I always am excited to talk into this whole foods as there is always a new and exciting beer or 3 to try. Awesome place for beer window shopping...
653 characters

4.35
/5
rDev
+2.6%
I stumbled upon Whole Foods Tribeca while walking around West Broadway. I decided to go in- I have visited most Whole Foods in the city but not this one.
I was surprised at how spacious it is. Your typical Manhattan Whole Foods is a cramped basement or ground floor with enormous lines and narrow aisles. Not here. This is roomy, airy, no need to wait on line... nice! The building is architecturally significant to boot, designed by the storied Skidmore, Owings & Merrill firm.
Now for the beer! I would say it probably has the best selection of all the Whole Foods in Manhattan save for the Bowery Beer Room. Plus, a lot of it is refrigerated.
There is a big cooler with tons of bombers, another refrigerated shelf with six-packs and a shelf with room-temp rarities.
Lots of stuff you won't easily find around: Mikkeller, Nogne, Cigar City bombers... tons of Belgians and Quebecois, also Italians. Baladin, Fin du Monde, even Swiss beers! ($26 for an "Abbaye de Sant Bon-Chien").
Oh, and an Orkney Dark Island Reserve for $41.99. Better be good! :-)
Among the bombers, I saw Stone Lucky Bastard, first time I spot it in NYC.
Prices were alright for some stuff (typical Whole Foods prices in six-packs and some basic bombers) and a bit crazy for others (those special bombers like Allagash? Forgetaboutit).
They sell growlers too, four taps with locals like Brooklyn Chocolate, Captain Lawrence Espresso Stout. And they also have a nice "beer guy" ready to answer questions.
I would shop here often if Tribeca were my 'hood. But it is not.
1,554 characters

4.2
/5
rDev
-0.9%
They are all differant-they are all the same. WTC area, wish this place was open during the nearly 20 years I worked about 3 blocks away! Foodie heavan, I love the range of products, the tasty salad bar, the high quality artisinal cheeses, breads, veggies, etc, etc and of course the beer. Respectable selection of BA worthy suds will be found here. As with dozens of places in NYC, this place offers a wide range of quality locals, regionals and international offerings of the good stuff. Nothing super rare, but you will be able to find plenty of beer for that session, meal or whatever. As a real nice bonus they are putting in the becoming de rigeur in the area, growler filling station. Guy working the detail, was friendly and putting in a good effort, even if I felt I was filling him in on the details, instead of the other way around. As with all the WFMs, I'd be here all the time if I was a bit more local.
917 characters
4
/5
rDev
-5.7%
Another Whole Foods in Manhattan! WooHoo!
Located 2-3 blocks from the World Trade Center PATH station as part of an rather awesome complex. Its neighbors are Bed Bath and Beyond, Barnes and Noble, Game Stop, Bank of America....
The space of the place is huge and the cafeteria area is a really enjoyable space to relax in.
The beer section isn't nearly as good as the Whole Foods on Houston but it's better than the one in Union Square. Most of their beer is in coolers which is nice to see, along with a couple stacks of six packs of seasonal offerings; lots of pumpkin themed things at the moment. There's also a pair wine style racks of various 750mL offerings; these racks are about 16 feet long.
Selection guidelines- Stone, Southern Tier, Rouge, Weyerbacher, Jolly Pumpkin, Ommegang, Chimay, the Bruery, some Southampton, as well as other varied Belgian breweries. Not a wide range from each brewery, but many breweries are represented here.
Prices are pretty Manhattan Whole Foods standard prices. $5 Lagunitas bombers, Delirium Tremens for $9.99, Cantillion for $32. This is probably the only place anywhere near the World Trade Center area where one can find any craft beer of any kind. It's the only place I know of, anyway.
Well worth a visit.
1,256 characters
Whole Foods Market - Tribeca in New York, NY
Place rating:
4.24
out of
5
with
21
ratings