Kasteel Rouge
| Brouwerij Van Honsebrouck N.V.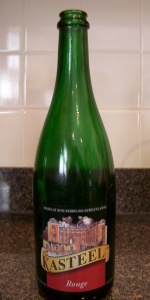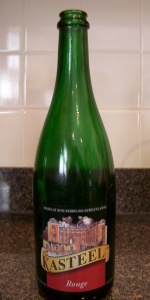 BEER INFO
Brewed by:
Brouwerij Van Honsebrouck N.V.
Belgium
vanhonsebrouck.be
Style:
Quadrupel (Quad)
Alcohol by volume (ABV):
8.00%
Availability:
Year-round
Notes / Commercial Description:
Kasteel Rouge is a blend of Kasteel Donker (Quad) and cherry liquor. The mix of these two excellent products creates an exceptional soft beer with references to the dark mother beer.
Added by KarlHungus on 09-25-2007
HISTOGRAM
Ratings: 1,077 | Reviews: 415

3.48
/5
rDev
-8.9%
look: 4 | smell: 3.5 | taste: 3.5 | feel: 3 | overall: 3.5
Pours a very clear candy apple amber in color, topped with a dense, frothy two-fingered head. The color of the head is a blend of light tan and red, for what I might best describe as a "dusty pink", and this aspect of the presentation is actually somewhat impressive; the head fills the glass nicely for several minutes befor fading to a ring of moderate lace around the edge. Compared to the visual aspect, the nose is less impressive, it's mostly canned sweetened cherries. Yes, the same kind you use to make cherry cobbler and/or scoop over cheesecake (complete with that thick cherry sauce!), so for the most part it's a sickly-sweet, concentrated, and not at all natural smell. I'm also getting cherry Life-Saver (TM), cherry Tootsie-Pop (TM), and even Cherry Sucrets! So far this is not really my bag, baby. Owing to the color of the head I had to check the label to make sure that there was no artificial color (or sweetener) in this one, but no, there is none - or at least none listed. And the taste? Throw the idea that this might be a fruit lambic -or even a sweetened fruit lambic- right out the window. What this is is a Belgian brown ale jumped-up with fructose-sweetened cherry juice. It's almost an 'either you'll like it or you won't' proposition. While this is medium-bodied and with a nice brisk feel on the tongue and palate, neither is it all that compelling, instead moving from a sweet cherry explosion to a lightly malty booziness and then fading away to a light citric tang and somewhat dull cherry aftertaste. The 8% ABV is welcome here, if only to break through the wall of canned cherry. Drinkability would be better if this were a bit more exciting. Malt profile is dominated by the unnaturally sweet cherry on one hand (bad) and the tart, tangy cherry quality on the other (good), so don't go looking for too much complexity, it's smothered. Apart from that, this is really not a bad beer. It might make an interesting ale to blend with a strong dark Belgian (like Kasteel's own Donker) and it might be an interesting choice for a 'training wheels' fruit beer (instead of Lindeman's, New Glarus, etc), but in the end I had expected more from the Kasteel brand.
2,190 characters

2.63
/5
rDev
-31.2%
look: 4 | smell: 3.5 | taste: 2 | feel: 3.5 | overall: 2
The bottle reads, Belgian Ale with cherries, and cherry juice added.
This beer pours a clear dark ruby color. The head is large and dark pink in color. It recedes rather quickly into a nice cap of foam. The aroma is of cherries. It is a nice aroma, but completely lacking in complexity. The taste is of cherries, but with a funky sour milk like aftertaste. The mouthfeel is medium bodied with a lot of carbonation. Overall, it is very noticable that this beer is an ale trying to be a lambic, and not a real lambic. I just cannot deal with that rotten aftertaste. This is a drain pour.
586 characters
Kasteel Rouge from Brouwerij Van Honsebrouck N.V.
Beer rating:
3.82
out of
5
with
1,077
ratings