ZYN - Inglewood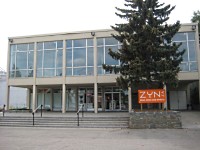 Recent ratings and reviews.
| Log in to view more ratings + sorting options.
Ratings by andrenaline:
Reviewed by andrenaline from Canada (ON)
5
/5
rDev
+17.4%
Came across this place thanks to a thread in the Canadian forum on BA while searching for the infamous Red Racer IPA. What a great establishment with a wonderful selection of hard to find beers and a very knowledgeable, friendly and passionate staff. With what appears to be a focus on hard to find, and highly rated beers, this establishment is successful at accomplishing its mission. They do of course have your regular selections as well.
One thing that I really like is the fact that they allow individuals to purchase individual beers that would otherwise be sold as 6 packs (i.e. various DDC selections), allowing the consumer to mix and match. Note that the consumer also gets a 'quantity' discount if they choose 6 or 12 of the same beer.
Just a short jaunt from downtown in Inglewood, this place will definitely become one of my favorite stops in Calgary.
The owner highlighted that they have $5 beer tastings every Saturday, which I will have to try. What a great new addition to the Calgary market and I'm excited to support such a well deserving establishment!
May 29, 2010
More User Ratings:

Reviewed by Beersnake1 from California
4.25
/5
rDev
-0.2%
vibe: 4.25 | quality: 4.25 | service: 4.25 | selection: 4.25
Always a great stop in Calgary. Very large selection of Canadian, European, and American beers. When Cantillon comes to town, they often have it. Also a good spot for Belgians that might not be common at other shops.
Jul 25, 2014
Reviewed by MilwaukeeCrusher from Wisconsin
4.27
/5
rDev
+0.2%
vibe: 3.75 | quality: 4.5 | service: 5 | selection: 3.5
First of all, I stopped here because they inexplicably still had Westy 12 bricks. That alone was a draw. Was short on time though, although staff was helpful in selecting bottles. Not sure how extensive the cooler section was... I was traveling and wanted mine room temperature. Also don't know how often they rotate their stock for freshness. Otherwise a nice stop in a nondescript location that I nearly missed. I will be back if in that neighborhood which likely means in Calgary since it is not too far from downtown.
Oct 17, 2013

Reviewed by wordemupg from Canada (AB)
4.41
/5
rDev
+3.5%
vibe: 4 | quality: 4 | service: 5 | selection: 4.5
Even Google navigator had a hard time finding this place, really though I can't see them getting much traffic off the streets at all. Once inside though all is good, well organized shop with a massive wall of beer at room temp. The cooler was mostly the big name macros that would need to be ice cold to "enjoy". Great service (thanks Patrick) and they break up 6-packs so its a tickers dream. Prices are reasonable and not needing to buy a 6 pack saves people like me a fortune. The selection is one of the best in the City for sure and worth the time looking for the place. I'll be back!!
Jun 27, 2012
Reviewed by Sammy from Canada (ON)
3.78
/5
rDev
-11.3%
vibe: 3.5 | quality: 3.5 | service: 3.5 | selection: 4.5
Great store, well organized and clean, best outside of Quebec with very good selection from Quebec and from the NW USA. As good a place as some smaller US stores, which is saying a lot. Self-service. Always changing inventory.Complete Half Pints, Garrison, Paddock Wood, many Charlevoix, trois mosquetoires, DDC, several Rogue including Eugene and others not found in the East, comprehensive Pike,
A definite mission to have interesting stuff. A MUST stop. Listing by brewery ad alphebetic. Not the greatest hours as set up to serve restaurants mostly.
May 13, 2011
Reviewed by joemcgrath27 from Canada (AB)
4.15
/5
rDev
-2.6%
Turned onto Zyn by my partner in beer crime that turned me onto BA, Andrenaline. I was immediately impressed by two things: the beer selection (especially since it advertised as a wine market) and the single bottle system. They have a great selection of Canadian craft brewers that have been tough to find elsewhere (like Charleviox, Central City, and others). But best of all for a beer lover, they open many of their 6 and 12 packs and sell single bottles. Great for those expensive 6ers that you want to try one first. The staff is generally friendly and knowledgeable. Last time I came to the till with 8 different singles, the guy looked and said excitedly "that's the way to do it!". My only complaint, but a fairly big one, is that they mostly have pricing gun price labels on the shelf, and often when you get to the till the price they scan is different (aka higher). However last time around I did see they were in the process of putting proper name & price labels on shelves. The prices of bombers and 6ers are a little higher than other places in town that carry the same. The singles can be pricey but you are paying for the convenience of singles. Overall a great spot, and they also do beer tasting most weekends that I have yet to enjoy.
Jul 30, 2010
Reviewed by CBA from British Indian Ocean Territory
4.5
/5
rDev
+5.6%
A newish place on the grounds of the old Calgary Brewing & Malting Company in Inglewood. Well run, and from what I can tell they are going after the same market as WP, with a focus on the online market. A recently expanded beer selection, and a whole host of beer events, make this one of three regular stops (the others being WP & Kensington) for me. They frequently have releases that the others do not. Excellent service and they seem passionate about what they do. I am sure they will continue to grow and become one of the top stores in Calgary. Nicely done.
Apr 16, 2010
ZYN - Inglewood in Calgary, AB, Canada
Place rating:
4.26
out of
5
with
10
ratings