Back Alley Beverage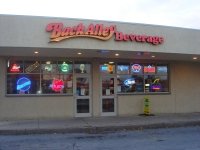 PLACE INFO
Type:
Store
2214 State Rd
Drexel Hill
,
Pennsylvania
, 19026-1501
United States
(484) 463-8518 |
map
backalleybev.com
Notes:
Located in the rear of the building.
Added by BackAlleyBev on 10-11-2009
Ratings: 10 | Reviews: 10
Reviews by beerstogie:
4.36
/5
rDev
+13.8%
vibe: 4.5 | quality: 4.5 | service: 4 | selection: 4.5
I stopped by Back Alley Beverage because a colleague of mine sent me their monthly newsletter. While in Back Alley, the staff gave me an array of Triples, Quads and Imperial Stouts just perfect for sipping. I like the fact that it's arranged by style so it makes it easy for my next visit. After my purchase, the clerks also pointed me to the glassware behind the counter that goes with my purchase. One quick note for you cigar enjoyers out there, their cigar collection is just as good as their beer collection.
513 characters
More User Reviews:
4.57
/5
rDev
+19.3%
vibe: 4.5 | quality: 4.5 | service: 5 | selection: 4.25
My go to LOCAL shop to get a 6 or 12 pack of good craft beer. Jeff, Pat and others have always given me quality selections based on my current preference. Not a huge shop and no sixtels/kegs but good selection and good advice from craft beer lovers...like myself.
263 characters
4.73
/5
rDev
+23.5%
vibe: 4 | quality: 4.75 | service: 5 | selection: 4.75
If you like beer this is your place to go. I rely on their use of the Beer Advocate tags for some of my purchases and got pairing help from the clerks. The selection changes which a huge plus for me because when its 90 degrees outside the last thing I'm looking to drink is a heavy Porter or Stout. They go as far as educating you as well with the style arranged store layout I love this feature so if I want a Yards Phila. Pale Ale or or Sierra Nevada Pale Ale I don't have to take a tour to get them.
502 characters
4.68
/5
rDev
+22.2%
vibe: 4.75 | quality: 4.75 | service: 4.75 | selection: 4.5
I've been experimenting with craft for a short while and Back Alley was extremely helpful. I was shown their Seasonals section that had some nice interesting beers from like 21st Amendment, Leinenkugel's, Bell's and Sam Adams just to name a few.
After one short conversation with one of the gentlemen who works there I am now starting to turn into someone who likes a good beer every now and then. I highly recommend Back Alley Beverage because they will go out of the way to help you and educate you.
502 characters
4.65
/5
rDev
+21.4%
vibe: 4.5 | quality: 4.75 | service: 4.75 | selection: 4.5
I agree with most statements by the other users that Back Alley is a very user friendly distributor. My experience with them is very positive. Since the weather was pleasant last week a few friends of mine had a beer a party. To make a long story short, the gentleman there was very helpful with my purchase. He even went as far as to show me some of the glasses that have in case my buddies have another beer party.
416 characters
4.75
/5
rDev
+24%
vibe: 4.75 | quality: 4.75 | service: 5 | selection: 4.5
I passed by 3 distributors over the weekend while getting a beer for an event and I found Back Alley to come to the rescue. The fact that they have an array of craft and imported beer displayed by style was helpful! I was able to get all of my beer for the event and be able to serve it right (light to heavy) made the event go extremely well.
They even gave me tips of the glasses that they had display so the next time I were to come in I was able to get the right glasses.
Keep up the good work Back Alley Beverage
520 characters
4.89
/5
rDev
+27.7%
vibe: 4.75 | quality: 4.75 | service: 5 | selection: 5
I agree with several of the comments that the store is very user friendly. When browsing distributors I look for features like that and frequent more than others. Some of their selections of hard to find stuff and the array of glassware for sale is what really separates them for the other places I've been to.
310 characters
4.86
/5
rDev
+26.9%
vibe: 5 | quality: 5 | service: 4.5 | selection: 5
This place is awesome! Every product has beer advocate and rate beer shelf talkers to better understand the beer and it's characteristics and since your buying cases this is really helpful. The prices are fair if not better than most nearby distributors and the selection is fantastic. Plus all the crafts and imports are inventoried by style so if you like IPA's they are all in front of you vs. all over the place like most beer distributors. If your a beer lover and like shopping for beer this is the place to go. Plus if they don't have something in stock they will special order for you. I pass 3 other distributors to get to this place. Keep up the good work Back Alley Bev.
681 characters
3.64
/5
rDev
-5%
vibe: 3.5 | quality: 3.5 | service: 3.5 | selection: 4
I've only visited this place a couple times, and I think that's plenty. Back Alley Beverage has a very good selection of crafts and micros...in cases. Remember, you're still in Pennsylvania. But if you do want a case of something hard to find in the area, this is a good place to go. Also for sale is a decent selection of glassware, just in case you want to get a little fancy. The joint next door is associated with BAB, and they serve basic pizzeria food (which I did not sample), and you can also browse a relatively small, but adequate selection of 6-packs and singles, with the likes of Southern Tier and Anchor readily available for take-out. Some selections are kept out of the fridge, fortunately. Kind of a rough, gritty atmosphere, but at least the lady that was running Back Alley's case shop itself was nice enough.
Also of note, even though they do have a decent selection, the list on their website tends to be criminally out of date / inaccurate, and makes the place seem way way better then it actually is.
1,024 characters
4
/5
rDev
+4.4%
Great place! I am so glad something like this has finally moved into the Drexel Hill/Upper Darby area. It is also associated with Civera's which carries 6ers and singles.
Okay the joint. Generally fresh but since its newer they have a few cases that have been sitting for a while. Temperature control on the inside so beer is pretty well control.
Its hit or miss if you get a real "beer person" behind the counter. They are all nice and try to help but do your homework before going in because they may not have an answer. On an up side they do post all BA and RB ratings.
The selection is terrific for the size and location. You won't find everything and anything but the choices are great and they will find anything. They also carry CO2 but they don't carry kegs. Kegs can be ordered however.
All in all a great place and I try to get there as often as possible to try and support them.
895 characters
Back Alley Beverage in Drexel Hill, PA
3.83
out of
5
based on
10
ratings.