Narragansett Porter
| Narragansett Brewing Co.
BA SCORE
84
good
133
Reviews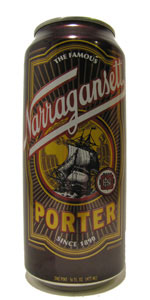 BEER INFO
Brewed by:
Narragansett Brewing Co.
Rhode Island
,
United States
narragansettbeer.com
Style:
American Porter
Alcohol by volume (ABV):
7.00%
Availability:
Winter
Notes / Commercial Description:
It is brewed with chinook hops for bitterness, simcoe hops for aroma, black malt, pale malt, chocolate malt, munich malt, crystal malt, roasted barley, and ale yeast, giving it an imperial taste.
28 IBU
Added by TheManiacalOne on 01-01-2007
Reviews: 133 | Ratings: 269

3.91
/5
rDev
+5.4%
look: 4.5 | smell: 3.5 | taste: 4 | feel: 4 | overall: 4
A - Pours with two fingers of grayish, medium-brown head on top of an opaque, black body. The head settles slowly and leaves nice, thick lace.
S - A mild aroma of roasted malt and caramel with some toffee notes. Light chocolate in the background with just a hint of spicy hops.
T - Tart malt up front with some cherry and chocolate notes. Acidic chocolate in the middle with some caramel notes. Finishes with more dark malt, lots of chocolate and cherry with the sourness continuing to dominate the flavor.
M - Medium body, moderate carbonation, and a sweet finish.
D - WTF? Really, what is going on here? There is a distinct underlying porter/stout character, but it is inexplicably dominated by slightly funk acidity and fruit notes. If this were some sort of chocolate-cherry lambic, I might be impressed, but since it is supposed to be an American porter, I can't help but think that something has gone terribly wrong. I actually kind of enjoyed this, but anyone expecting a normal porter needs to adjust their expectations and realize that it is significantly out of style.
1,082 characters
4.1
/5
rDev
+10.5%
look: 4 | smell: 4 | taste: 4 | feel: 4 | overall: 4.5
L: Pours a nice dark brown, almost black with a tall but light medium bodied brown colored head that laces the glass some on the way down.
S: Smells of sweet roasted malts, some darker burnt malts, hints of caramel, coffee, and chocolate all in the nose.
T: Really nice mix of toasted, roasted, and slightly burnt malts for a very nice malty backbone followed by hints of caramel, coffee, and chocolate. Really this is a lot more than I was expecting.
M: Very smooth, lighter bodied yet full flavored, perfect amount of carbonation.
D: Very drinkable, this is a good porter and a really nice representation of the style while still maintaining a very modest amount of alcohol.
677 characters
3.16
/5
rDev
-14.8%
look: 4 | smell: 3 | taste: 3 | feel: 3 | overall: 3.5
Serving from 12 oz bottle into 20 oz pint glass.
A: Jet black near opaque with garnet highlights. Substantial Deep tan head. Some amount of lacing apparent.
A: Roasty and malty maybe some subtle fruitiness.
T: Bready and roasty with a dry finish, Maybe even verging on a a Roquefort flavour.
MF: Medium bodied with a pleasantly smooth carbonation.
D: Could drink a couple of these, would be more if I found the flavour more agreeable.
Overall favourable, pleasantly surprised Narragansett made this.
505 characters
3.37
/5
rDev
-9.2%
look: 3 | smell: 3.5 | taste: 3.5 | feel: 3.5 | overall: 3
Serving type: Bottle
Appearance: A nearly solid opaque black mass with just a hint of dark ruby coloring around the edges. Small tan head which fades to some nice lacing.
Smell: An interesting mix of roasted, coffee and chocolaty aromas.
Taste: Rich vanilla, roasted and coffee flavors. Roasted flavors are just short of burnt. Sweet - slightly bready - slightly nutty. A bit of roasted and hop bitterness. Slightly acidic.
Mouthfeel: Medium bodied. Adequate carbonation. Finishes dry.
Drinkability: Easy to drink and flavorful. A good companion for winter nights.
Gansett Porter is an interesting beer. There are a lot of flavors competing for your palate's attention. There is also an interesting bit of acidity in this beer - I believe owing to the use of Summit and Amarillo hops - both fairly citric. The use of citric hops bitterness and chocolaty flavors works well, adding a slight sourness that offsets the sweetness of this beer.
I am slightly confused as to the strength of this beer. Gansett reports a strength of 7% on their web site. Beer Advocate reports a strength of 5.4%, which seems more appropriate. This just doesn't drink like a 7% beer. If it is, hey - good for Gansett! You can hardly tell. I would like a bit of clarification on that though.
1,273 characters
4.2
/5
rDev
+13.2%
look: 4 | smell: 4 | taste: 4.5 | feel: 4 | overall: 4
very excited to see this was contract brewed at Cottrell Brewery which makes excellent beers in IMHO. Don't particularly get the warm fuzzys about contract brewing.
Pours black as coal with a slight ruby background in bright light.
The head is deep tan and substantial with average lacing.
The nose is really nice with sweet biscuity grains and roasted malts.
The taste has a very appealing roasted malt backbone with a substantial sweetness. Not as dry as some porters but does have a somewhat dry hop finish to balance out sweetness.
For me a very nice porter with a medium mouthfeel making this a perfect session brew. I was not suprised to see a this coming out of cottrell.
CAN UPDATE: grabbed a six of 16oz cans and these are brewed in genesse brewery in rochester. I noticed a bit of flattening in flavor profile overall. It to me seems to have lost some of its complexity and have to attribute to new brewing location (or maybe i am just loosing it).
964 characters
3.48
/5
rDev
-6.2%
look: 4 | smell: 3.5 | taste: 3.5 | feel: 3 | overall: 3.5
Pours dark brown with a decent brownish head and little lacing. Some nice reddish highlights shine through this one.
Some roasted malt and chocolate scents, but not overly strong or assertive. What I smelled was inviting.
A decent surprise, but a bit too much on the thin side for me -- almost watered down in flavor. Firm roasted malt, some cocoa bitterness, a touch of sweetness in there as well, and a little hop bitter bite. Just -where's the intensity?
Fully carbonated, which actually takes away from the beer and the style. Must have done that to clear the palate of all of those "strong" flavors...
Overall, it went down easy. Had this as a sampler in a liquor store about a year ago, which prompted me to grab a quick and very cheap single now. I will not go out of my way for this beer, but if a stumble upon it again (i.e. in someone's fridge), I'd give it another go. It is missing some elements, but you won't hate it -- just don't expect it to be Sam Smith Taddy Porter either.
996 characters
3.88
/5
rDev
+4.6%
look: 4.5 | smell: 4 | taste: 4 | feel: 3.5 | overall: 3.5
From a 12 fl. oz. bottle with no date or lot code. Sampled on March 15, 2009. Under the bottle cap were the words "Cranston Street and Garfield Avenue." I haven't looked at the other beers in the 6-pack but I would not be surprised if they are doing this little marketing thing to remind us of their Rhode Island roots.
Appearance - It was a deep, dark brown pour with about a finger of foamy, tan head that fades a bit but remains at some level during the session.
Smell - The aroma is mildly smoked but little else. I don't notice much in the way of malts or hops. Maybe something bread-like.
Taste and Mouthfeel - The mouthfeel is of medium texture and rather enticing. The flavor had a little more of a hop feel to it but the mild smoky sensations were the leading essence. I think it reminmded me of a watered down, but smoky Guinness Stout if I may be so bold. For under $6.00 it was a steal for the experience that I had. Glad I bought a 6-pack so I can enjoy it again.
979 characters
4.1
/5
rDev
+10.5%
look: 4 | smell: 4 | taste: 4 | feel: 4 | overall: 4.5
A~ Black/dark brown in color. Very dark with a 2 finger head that had little retention, and minimally laced the glass.
S~ Malt with a pinch of maltyness. Chocolate-E.
T~ Crisp and smooth as hell. Good stuff. I really tasted the chocolate as it was the dominate trait. There is not really an after taste, but it left me wanting more. Really nice hops flavor to it too.
M~ Chocolate malt with great carbonation. A plus in my book.
D~ I loved this beer. Not really watery, but not thick either. It seems the more I drink, the more I like it. It is very good and complex to me. I def recommend trying it to any beer drinker, both rookies and veterans.
654 characters

3.65
/5
rDev
-1.6%
look: 4 | smell: 4 | taste: 3.5 | feel: 3.5 | overall: 3.5
Poured into a pint glass from a 12 oz bottle.
A - Dark brown to black in some spots. Decent two finger head that lasted a few minutes and minimal lace.
S - Dark roasted malt and caramel notes.
T - Medium roast coffee, a tad bitter hops coming through, roasted malty flavors.
M - Good carbonation, thinner than most in body, but a nice dry finish.
D - I could drink this a whole night by a fire on a cold night.
Overall, I enjoyed the beer. I would try this if you like stouts or porters. Worth it. Another good beer by Narragansett.
534 characters
3.73
/5
rDev
+0.5%
look: 4 | smell: 3.5 | taste: 4 | feel: 3.5 | overall: 3.5
Poured into a tasting glass from the tap
The appearance is a dark black with a brown head left a little film on the rim of the glass.
The smell was a strong malt flavor, a little hint of a burnt flavor and a little caramel.
A good smooth porter that was very warming going down. A great beer for a winter night or a cool spring or fall day.
343 characters
4.3
/5
rDev
+15.9%
look: 4 | smell: 4 | taste: 4.5 | feel: 4 | overall: 4.5
For those, like myself, that really enjoy a microbrew style porter that also is easy to drink, Narragansett Brewing Co. has truly delivered a strong result. Pouring a dark brown color, there is a strong aroma of roasted malt dominating this porter. The mouthful is also very satisfying. The bitter, roasted character is wonderfully balanced by subtle flavors of caramel, hops, and even coffee. The porter is not overly thick, making it a prime choice for those who are expanding their tastes into the microbrew/dark beer categories or those who simply love to savor a satisfying, flavorful porter on a cold winter day. Overall, I find this to be a very successful American Porter that I highly recommend to both new and experienced beer aficionados.
749 characters
3.8
/5
rDev
+2.4%
look: 3.5 | smell: 3.5 | taste: 4 | feel: 3.5 | overall: 4
I managed to actually find a place that had the elusive (at least to me) Narragansett Porter. I had this on tap at the Wild Colonial Tavern in Providence.
The beer poured a nice dark ruby/brown color with a small head that quickly disappeared. Smelled of roasted malts and nothing more really... maybe a little caramel malt in there as well. Taste was nice and roasted/toasted malt with an ever so slight hint of caramel and just enough hops to balance it out without taking away from the nice roasted flavor. The beer is not too thin and not to thick... it's just right. The carbonation is just right as well. All in all, I really enjoyed this beer. It's a great no frills porter. I had 2 of these tonight and could've kept drinking if I wasn't driving.
755 characters
3.66
/5
rDev
-1.3%
look: 4.5 | smell: 3.5 | taste: 3.5 | feel: 3.5 | overall: 4
On-tap 12/31/06 at The Celtic Pub in Pawtucket, RI, served in a US tumbler pint glass.
A: The beer is a dark brown color, with a large, dense, beige head that fades slowly and leaves a thick lace on the glass.
S: The aroma is faint but contains honey, coffee, chocolate and roasted malt.
T: The taste is malty, with a strong flavor of honey plus coffee & chocolate in the background. There isn't an over-abundance of sweetness nor is there much of an after-taste.
M: Crisp and very smooth, medium carbonation, medium body but light for the style to the point that it feels a little bit watery, very clean finish.
D: Tasty, goes down easy, not filling at all, it's a good poundable beer but its lack of flavor may hold it back. However, I still liked the beer and as long as it's available at the Celtic Pub, there's no other beer on-tap there that I'd choose above it.
888 characters
Narragansett Porter from Narragansett Brewing Co.
3.71
out of
5
based on
269
ratings.