Dismiss Notice
Dismiss Notice
Narragansett Light
| Narragansett Brewing Co.
BA SCORE
77
okay
31
Reviews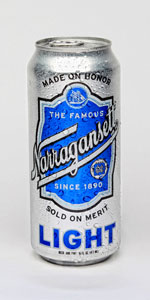 BEER INFO
Brewed by:
Narragansett Brewing Co.
Rhode Island
,
United States
|
website
Style:
Light Lager
Alcohol by volume (ABV):
3.80%
Availability:
Year-round
Notes / Commercial Description:
This lighter version of the original lager is brewed with six row malt, seedless hops, our proprietary lager strain, and the purest water around.
10 IBU
Added by Todd on 06-04-2007
Reviews: 31 | Ratings: 89

2.26
/5
rDev
-30.7%
look: 3 | smell: 2 | taste: 2 | feel: 3 | overall: 2.5
A big, rocky two fingers of bone-white head with decent retention throughout. Color was a really light, pale yellow with NE-quality clarity. Nose was really light snd almost non-existent. Mouthfeel was medium with a very light flavor. NOT Ultra Light, but pretty dang close. I liked leaded 'Gansett, but unleaded just does not do it for me.
★
340 characters
3.38
/5
rDev
+3.7%
look: 3.5 | smell: 3 | taste: 3.5 | feel: 3.5 | overall: 3.5
Out of a bottle this beer was a bright yellow color. The snow-white head was billowing at first but quickly died back to a thin skim that left moderate lacing. The aroma was of macro malt and corn mash. The flavors however were pretty good for the mass produced style, pale malt, slightly askew hops and hints of metal. The finish was dry and crisp. The body was light, the mouthfeel prickly due to high carbonation and though superior to its counterparts it's not one I would try again.
★
487 characters
3.88
/5
rDev
+19%
look: 4 | smell: 3.5 | taste: 4 | feel: 4 | overall: 4
appearance - Pours a yellow color, thin white head, with little lace.
smell - Light smell of hops here.
taste - Has a mix of a malt and hop, very low in flavor for both. I would say little bit on the malt side because it is little bit on the the sweet side.
mouthfeel - Light body, crisp and clean.
drinkability - It was one of those days, I wanted to put some cheap beer in the fridge. I was surprised, even though I enjoy all of the Narragansett beers. This is a beer that I would use first to convert a stubborn macro drinker. It is not a big change in taste, but it is still good.
★
592 characters

3.1
/5
rDev
-4.9%
look: 3 | smell: 3 | taste: 3 | feel: 3 | overall: 3.5
Pours a light yellow color with a one-finger head and seemingly ample carbonation. Aroma is light and mildly malty with sweetness and corn showing through. Taste is malty with only a tiny bit of hops or sweetness. Finishes clean and dry on the tongue. Not much else for taste to this lager. It'd make a good lawnmower beer but I wouldn't buy it again.
★
351 characters
3.6
/5
rDev
+10.4%
look: 3 | smell: 3 | taste: 3.5 | feel: 4 | overall: 4.5
appearance - perfectly clear, light, pale straw color, decent head that fizzles away rather quickly.
smell - straw, grains, light spiciness...what do ya expect from a light beer?
taste - grains, light hop spiciness, its good for a light macro. Better than Bud, Coors Light, etc....nothing notable, just better than the others.
mouthfeel - this is where its A LOT better than other macro light lagers. It actually has some body and isnt overly carbonated like Coca Cola, as per the usual suspects of this genre.
Drinkability - Very much so. I think Ill crack another on this hot summer day.
★
593 characters
3.47
/5
rDev
+6.4%
look: 3 | smell: 3.5 | taste: 3.5 | feel: 3.5 | overall: 3.5
Poured from a 12oz. bottle into a US tumbler pint glass.
A: The beer is a pale yellow color, with a very thin white head that fades very quickly and leaves very little lace on the glass.
S: The aroma is simplistic and consists mostly of light malts and a decent amount of hops for the style.
T: A thin, grainy malt character dominates the taste as you would expect from a light beer, but there really isn't much sweetness. There's a mild hops presence but it's good for the style. The after-taste is slightly bready.
M: Crisp and very smooth, light body, medium carbonation, clean finish.
D: Tasty, goes down quite easily, not filling at all, good representation of style while maintaining a bit more flavor than most light beers. Given the choice I would go with the regular version, but it's still a decent beer.
★
832 characters
Narragansett Light from Narragansett Brewing Co.
77
out of
100
based on
31
ratings.