Porter Porter (471 Series)
| Breckenridge Brewery
BA SCORE
79
okay
27
Reviews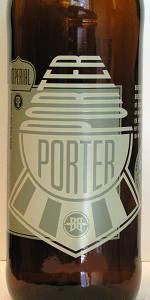 BEER INFO
Brewed by:
Breckenridge Brewery
Colorado
,
United States
breckbrew.com
Style:
American Porter
Alcohol by volume (ABV):
7.40%
Availability:
Year-round
Notes / Commercial Description:
No notes at this time.
Added by youngblood on 07-11-2009
Reviews: 27 | Ratings: 44
3.7
/5
rDev
+8.8%
look: 3 | smell: 3 | taste: 4 | feel: 3 | overall: 4.5
I drank this from a bottle into a chalice.
The beer pours a dark brown almost black with a decent dark tan head that upon settling is lighter. It looks a little oily. Poor lacing that is very runny.
The aroma is very light, nothing stands out strongly. There are notes of coffee, carmel, banana, and alcohol.
The tatse is very light and smooth. It smarts off soft you don't get much on the palate but as it finishes you get a strong taste of coffee.
It feels light on the tongue, doesn't last like it should but its very drinkable.
★
536 characters
2.38
/5
rDev
-30%
look: 3 | smell: 2.5 | taste: 2 | feel: 2 | overall: 3
A - Pours thin, brown and fizzy. Some reddish hues when held up to the light. Tan head that doesn't immediately disappear but doesn't hang around too long.
S - Nothing very strong here. A bit nutty. That distinctive porter smell that I call pool water.
T - The flavor is also very thin. Not very complex. Some roastiness. Slight vanilla.
M - Very, very thin.
D - I'm not enjoying drinking this beer. But it presents no challenge.
★
433 characters
3.24
/5
rDev
-4.7%
look: 2.5 | smell: 3.5 | taste: 3 | feel: 3.5 | overall: 3.5
Picked this up at macadoodles in Joplin, MO
Pours an effervescent brown tinged chestnut with 3 fingers of mocha colored head. Above average lacing & no head retention
S: Coffee, boozey figs, that just fade out as this warms
T: Coffee, breadyness, toasty malt & a touuch of boozeyness up front, plus a bit of licorice & dryness. Coffee, dryness, leafy hops & a bit of cocoa as this warms, plus a bit of boozey figs. Finishes dry, with coffee grounds, some vanilla, a touch of figs. Could've pulled a 3.5, but just a touch to disjointed, flavors aren't blending well at all
Medium bodied, dry with moderate carbonation, a touch too boozey, plus a bit of wateryness
Drinks okay, starts a bit disjointed & doesn't hide abv well at all. I think they were trying for a version of old London Porter, so since no one really knows what that was I will cut them a little slack. If this was judge as an IMP Porter I'd be be at least .5 lower across the board for the most part. Still, not one I'll buy again. Overpriced at $6.50
★
1,023 characters

3.65
/5
rDev
+7.4%
look: 3.5 | smell: 3.5 | taste: 3.5 | feel: 4 | overall: 4
Dark brown body. Aroma of brown sugar, maybe a touch of caramel. Aroma is not particularly complex or assertive. Nor is the flavor. Again it is mostly brown sugar with caramel, some hints of vanilla. Not much going on. Like your standard American porter, but with more booze. The feel is creamy and smooth and it is fairly easy drinking. Not all that different from the recently released Mighty Brown, actually reminds me more of a brown than a porter. I was excited to hear of this release and believed Breck may start kicking it up a notch. I have been disappointed. Nothing too special here. Also, $6.99/22oz may be a bit much for this.
★
639 characters
3.71
/5
rDev
+9.1%
look: 4 | smell: 3 | taste: 4 | feel: 3.5 | overall: 4
Pours very dark, nice and creamy head. Has some staying power, diminished after about fifteen minutes.
Has strong roasted flavors coming out. Some nuttiness also. Slight sweetness on the tail end. Probably the weakest aspect of the beer.
There is a predominant vanilla and coffee flavor coming from this although there is a nice caramel smoothness to it. Small touches of roasted nut and bread also.
Feels very smooth, but not slick. Nice carbonation to it. Not very chewy at all.
Has great drinkability as it is not that heavy and the flavors are very smooth. No alcohol bite at all. I was actually pleasantly surprised by this.
★
641 characters

4.42
/5
rDev
+30%
look: 4 | smell: 4.5 | taste: 4.5 | feel: 4 | overall: 4.5
Appearance is opaque black, topped by a lovely brown foam, excellent lacing and an aroma of Kahlua mixed with Hershey's Chocolate Syrup – honest! Everyone at our table, including non-beer drinkers who smelled the empty mug thought it was dessert! Medium carbonation, and an initial taste of dark chocolate, vanilla and hops. Finish is smooth, creamy and clean, surprisingly. We finished off two pitchers of this brew, talked and savored it for several hours – who would have thought it would be a session beer? Several non-beer lovers tasted it and said that although they didn't like beer or especially something this thick and dark, they liked it! Breckenridge only sells this one to restaurants – they need to get this stuff into bottles!!
★
747 characters

3.6
/5
rDev
+5.9%
look: 3.5 | smell: 3.5 | taste: 3.5 | feel: 3.5 | overall: 4
On tap at the Denver brewpub (limited brewing)...
Dark pour, almost black with cranberry color highlights at the bottom of the glass. Creamy dark tan head, very thick and stylish lacing. A bit of strawberry to the malty nose, no real roastiness. Mouthfeel is a little light and prickly, but the flavor meets style, with more of a smokey roast than the aroma implies and blending with a pale chocolate impression. A touch of acidity from hopping at the finish, thought the aftertaste shows some instant coffee flavors. Not a killer in my mind, pretty solid and sweetens a little as it warms.
★
593 characters
Porter Porter (471 Series) from Breckenridge Brewery
3.4
out of
5
based on
44
ratings.