Friar Tuck Beverage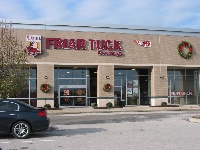 PLACE INFO
Type:
Store, Homebrew Store
4635 Highway K
O'Fallon
,
Missouri
, 63368-8690
United States
(636) 300-4300 |
map
friartuckonline.com
Notes:
No notes at this time.
Added by Vancer on 10-22-2009
Reviews: 9 | Ratings: 19

4.18
/5
rDev
+0.7%
vibe: 3.25 | quality: 4 | service: 4 | selection: 5
It's a warehouse. The beer selection is by far the best I've seen. Before I moved back to Massachusetts, I'd stop here often. You can make your own six packs here. Tons of craft beers and macros too. One of the times I went they had a very impressive selection of Southeast Asian beers. This was the place that got me interested in beer.
337 characters
4.44
/5
rDev
+7%
vibe: 4 | quality: 4.5 | service: 4 | selection: 5
The store was very clean for being well picked through for the 4th of July. They did have cases out and the workers were busy restocking the shelves. My wife and I stopped here on our way home from Kansas City to see if I can find that elusive bottle. Not sure if I found it, but I found few to enjoy! Great selection and I will add this to my stop list while traveling to Kansas City next year.
395 characters

4.5
/5
rDev
+8.4%
I used to travel through St. Louis at least once a month and would stop in every time. They have a lot of beer (according to the store clerk on one of my early visits, up to 1000 different labels at any given time). Many are from around the world as well as other craft, micro brews, local favorites, etc. It's a great place to broaden your experience with quality beers.
374 characters
4.03
/5
rDev
-2.9%
vibe: 4 | quality: 4.5 | service: 3 | selection: 4.5
Sort of a supermarket for booze. Nice place with 600 beers to choose from. A large selection of six packs from local, regional and national craft brewers are available. They have many imports including a good selection of beers from Belgium and quite a few from England. There have a section of beers to build your own 6-pack from. Nice if you want to try a beer without having to buy a whole six pack. In the back there is a large walk-in cooler of 6 packs, 12 packs, cases, even BMC offerings. There is even a section for home brewing items. Oh yeah, there is a large selection of wines and spirits, included a nice selection of single malts. Prices seem to be quite reasonable.
680 characters
4.8
/5
rDev
+15.7%
vibe: 4.5 | quality: 5 | service: 4.5 | selection: 5
Friar Tuck is a great place to go if you're new to beer or are a seasoned hophead. They have 600 beers in stock at all times, and there's no telling what you'll find. They do have a make your own six pack area. I found a lot of Asian beers to make my own sixer of all Asian brews. They have a cold section where you can find your typical selections like Bud, Busch, Miller, etc. I recommend this place to anyone who wants to venture into the world of the hop. For grape lovers, they do have an awesome wine selection; but I'm all about beer.
The checkout process is quick and efficient. The staff is knowledgeable about all things beer, wine, and spirit. If you go in there with a set beer you'd like to purchase, make sure you keep your mind open; you'll find beers that will practically jump out at you, and you'll want to take them home. That's happened to me several times.
878 characters
4.09
/5
rDev
-1.4%
vibe: 4.5 | quality: 4.5 | service: 3 | selection: 4.5
This is the second Friar Tuck I have been to, so I kind of knew what to expect. This one pretty much mirrors the one over by Grant's Farm.
The place is pretty clean and nicely laid out The beers are lined up at the left side of the store, and there is a giant walk in refrigerator that has every thing from cans, bottles, to kegs.
There was pretty much only one guy on duty at the cash register. This is likely due to it being the 4th of July
The nice thing about going over to Friar Tuck is that they have many beers I can't get here on the east side of the Mississippi in Illinois. They have beers from every corner of mainland U.S., and many import beers at a somewhat reasonable price.
It would be nice if a Friar Tuck would move closer to home, they just have a great selection no store here in the Belleville area can beat (Randall's does come close, though).
870 characters
4.15
/5
rDev 0%
Don't know what the deal is with this address, but my Garmin couldn't find it. It is in a new strip mall on the North side of Hwy K behind a Starbucks. The place in huge and spacious. They could probably cram 3 more isles into this place. In the back they have a huge walk-in cooler with craft six packs and 12 packs (plus BMC). There is a small collection of glassware in the back corner then a wall and a shelf of craft beers. Pretty much any brewery available in MO is here. Lots of good imports. Big Belgain selection with English stuff I've never seen before, too. Prices are on par with most beer stores in MO. Service was pleasant but did not offer help (the place was really empty). I use I-64 often on trips to a from friends houses in STL. One major plus...it is open on Sunday whereas some other great STL beer stores are not. Handy when leaving town after a weekend in the Lou.
889 characters
4.25
/5
rDev
+2.4%
This is on the western/northern side of Hwy K where it intersects with 40/61. It's right across the street from my work, and I'd been told good things about it, so I took my room mate and wife up here on december 29th to stock up for our inevitable New Years celebration.
First off, I have to say that just walking in is impressive. The selection of liquors and wines is the first thing you'll notice and while that selection is not the purpose of this review or website I have to inform that it's enormous. We fuond even rare things we had trouble finding anywhere else easily and everything was comparable with local liquor shops and grocery stores.
The beer selection is amazing, two giant aisles filled with all of the local varieties as well as a giant selection of imports. Limited as I was, I had to keep from really looking everything over or else I would leave with more than I could afford.
Their glassware is not gigantic, but it is comprehensive, and if Mead is something you enjoy they can cover you there as well.
The major problem I had was in the service. Both times we've shopped there, the clerks were grumpy and unresponsive. The prices and selection alone, make me more than happy to overlook this, though, and I've heard several stories of good experiences with the clerks. My visits were likely isolated.
If you're in the St. Charles County area, this is definitely the best place to visit for stocking up your home outside of crossing the river into the city. You'll even find a modest selection of homebrew equipment and ingredients.
1,566 characters
4.35
/5
rDev
+4.8%
Map doesn't work too well - it's on the north side of K about 1/4 mile from 40/64 hwy, across from the Quick Trip.
I haven't been to the other Friars, but could tell this one out by work in O'Fallon is something I should check out.
Yep, damn, a "warehouse" type setup, but on the upscale side. A great place with plenty of benefits; bright, clean, cheerful employees, wine, cigars, liquor, coffee, glassware,along with starter type home brew supplies.
And beer. And more beer. Seems to me that every beer available in Missouri is here, along with plenty of imports from every known country. I even picked up a sixer of Lion Stout from India, in CANS! Keg beer too.
The back of the place has a walk in cooler big enough for 10 people -with their carts!
Prices? Ok, they seem to either match other places, or be a tad higher. Case in point - Schlafly pumpkin is all over town at $9 a sixer, Friar had it for $9.50 Not much in the way of sale pricing - what you see is what you get.
Still, nice to have another beer store option.
1,032 characters
Friar Tuck Beverage in O'Fallon, MO
4.15
out of
5
based on
19
ratings.