Blueberry Blonde

Big Muddy Brewing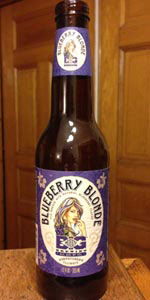 Rate It
Beer Geek Stats
| Print Shelf Talker
Style:

ABV:

6%

Score:

Avg:

3.36

| pDev:

16.07%

Reviews:

15

Ratings:

From:

Avail:

Rotating/Seasonal

Wants

Gots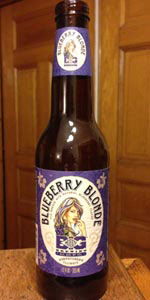 Jmsandberg17 from Missouri
2.66
/5
rDev
-20.8%
look: 3.25 | smell: 3.5 | taste: 2.25 | feel: 2.25 | overall: 2.5
12 oz bottle pours a golden yellow with a white head that dissapears quickly. Aroma is of grass and blueberry muffins. Flavor is of strange malt, with a very weird and almost gross straw-type bite to it. There's a little bit of out-of-place bitterness and some blueberry flavor too. Mouthfeel is prickly from the carbonation and surprisingly thick for the style.
Overall a mediocre beer, the flavor is just really strange and not enjoyable for me.
Aug 05, 2021
hoptheology from South Dakota
3.74
/5
rDev
+11.3%
look: 3.5 | smell: 3.75 | taste: 3.75 | feel: 3.75 | overall: 3.75
12 oz longneck, no date, into GITM glass.
Deep amber gold with 50% transparency, with a fizzling head that ends up at a fingernail.
Aroma of straw, green malt, blueberry cereal, and blueberry muffins.
Flavor is Czech Pilsner all the way, it starts sharp, dulls a bit towards the finish, and leaves some grassy elements behind. Blueberry is in there somewhere, but perhaps it had faded along the line. Not particularly bitter in the grand scheme of things, but straw-grassy hops are in abundance with piquant green pilsner malt as well. Ends on sweet blueberry cereal and lots of grassy malt. Not a great style example.
Feel is carbonated, semi-starchy (but leaves no such finish), slightly dusty/grainy/rough, and wet.
Overall, not an impressive beer from Big Muddy. I'm a fan of quite a few of their beers, but this one isn't going on the list.
$1.69 at some spirits store outside of St Louis
Jun 27, 2021
beerguy04 from Illinois
3.2
/5
rDev
-4.8%
look: 3 | smell: 4.25 | taste: 2.5 | feel: 3.5 | overall: 3.25
Pours a transparent amber with a two finger width head, very little lacing or foam. Smell is of blueberry muffins. Taste disappoints as it's a very water down blueberry. Mouthfeel is light and refreshing. Overall, it was okay for a summer day, but there's better options.
Jul 05, 2020
bankboy66 from New Jersey
3.55
/5
rDev
+5.7%
look: 3.75 | smell: 3.75 | taste: 3.25 | feel: 3.75 | overall: 3.75
Pours a semi clear gold with a nice two finger head. Smell is blueberry jam or maybe blueberry pie. Taste follows but it is more subtle then the smell and also an odd metallic taste. Goes down easy and pretty decent.
Jun 07, 2020
CaliBeerBear from California
4
/5
rDev
+19%
look: 4 | smell: 4 | taste: 4 | feel: 4 | overall: 4
I will probably rate this higher than some others, even though I don't really like FV beers unless they are aged/soured.
Appearance: dark golden copper (ish).
Aroma: Berry, and malt
Taste: Blueberry, and malt again.
Feel: Crisp, not cloying sweet
They nailed the style, which is hard to find.
Mar 23, 2018

HoppingMadMonk from New Jersey
3.52
/5
rDev
+4.8%
look: 3.75 | smell: 3.5 | taste: 3.5 | feel: 3.5 | overall: 3.5
This wasn't a great beer but for what it was trying to accomplish it pulled it off. This worked much better than some others I've tried and the blueberry was obvious without being sweet or artificial tasting. There was a background of some grain and malt which was in decent proportion with the blueberry. Actually had this with a homemade blueberry dessert and for that it seemed to work fairly well. To just have on its on May not be as enjoyable
Aug 20, 2017
StonedTrippin from Colorado
3.58
/5
rDev
+6.5%
look: 3.75 | smell: 3.75 | taste: 3.5 | feel: 3.5 | overall: 3.5
this is a little better than its ratings here if you like the fruit flavored stuff. it reminds me of this cereal that was around when i was a kid called blueberry morning, it has those tiny little "wild" blueberries in it, dehydrated or freeze dried or something, and it has such a strong aroma and flavor of blueberry, more blueberry even than a real blueberry if that makes sense, and this beer really casts the same fruit impression, even the grain is similar to the flakes in the cereal. is that stuff still being made?! it never gets too too sweet either, and even though there is some residual sugar to this, its not way out of natural balance with how forward the berries are. the blonde base is light but not flavorless, and this still tastes like beer to me. i like it far better when its ice cold, it doent warm up super well, but with a minimal body and a lot of bubbles, it has refreshment capacity when its freeing. decent overall beer from these guys, a little cheap and a little over the top tasting to me, but not bad, especially compared to similar beers. the art is pretty and its stronger than a lot of these. not trying to be anything but what it is either which is cool. appealing in small doses and the right context.
Aug 14, 2017

BlackBeerPirate from Illinois
3.49
/5
rDev
+3.9%
look: 3.25 | smell: 3 | taste: 3.75 | feel: 3.75 | overall: 3.5
Taste: big blueberry sweet taste, refreshing almost dessert ale with a mild nose.
Gold/Honey color, clear, with medium head and some lace. Medium/lite body.
Aug 30, 2016

Mark-Leggett from Missouri
4.21
/5
rDev
+25.3%
look: 4 | smell: 4.25 | taste: 4.25 | feel: 4 | overall: 4.25
Copper color with a small white head. Blueberry smell hit me when I opened the can. Solid beer with good body and not overwhelming or fake tasting with the blueberry. Very well done.
Dec 11, 2015

farrago from New Jersey
3.45
/5
rDev
+2.7%
look: 3 | smell: 3.5 | taste: 3.5 | feel: 3.25 | overall: 3.5
Loose, pure white head, the pour yields over a finger but the retention is poor and there's not much lacing as well. Light haze to the yellow-orange liquid, good amount of fat, lazy bubbles visible. The blueberry presence is dominant in the nose, followed on by molasses and orange blossom notes, tea leaf and perhaps some scone accents, dissolves nicely without excess pungency. In the mouth it's medium-bodied with light carbonation and a great deal more sweetness to the blueberry fruit, close to preserves. More of that honey to molasses aspect and even the orange citrus feels more concentrated and juice like. As it finishes gets close to milk chocolate with a mild doughiness and could pass for a slice of pie. Nothing added to the mix for contrast or balance, can't mistake it for anything but an homage to the flavor of blueberries. So, err, make sure you like blueberries before making a purchase.
Sep 13, 2015
Carrier4 from Illinois
2.55
/5
rDev
-24.1%
look: 3.25 | smell: 2.5 | taste: 2.75 | feel: 2.5 | overall: 2
should be only bought for lesser men, who enjoy the new country music scene but cannot man up to real beer. It is a compromise and should not be considered pure beer. It is a wine cooler and beer and can only be enjoyed by the masses, but not for those who love beer. No beer taste, I taste blueberry, and pours like hard cider.
Jun 13, 2015
WestHam973 from Illinois
4.25
/5
rDev
+26.5%
Great Summer refreshment! Not as sickly sweet as wild blue. Smells of fresh Blueberry, the taste is a nice subtle blueberry that gels nicely with this Blonde Lager
Oct 23, 2014
zeff80 from Missouri
3.08
/5
rDev
-8.3%
look: 3.5 | smell: 3 | taste: 3 | feel: 3.5 | overall: 3
12oz bottle. Poured out a clear, golden orange color with a small, off-white head of foam. It left very little lacing. It smelled of blueberry juice and some caramel sweetness. Strong blueberry flavor with a little caramel and toffee for balance. Light bodied.
Oct 18, 2014

Goosehunter75 from Missouri
3.76
/5
rDev
+11.9%
look: 3.75 | smell: 4 | taste: 3.75 | feel: 3.25 | overall: 3.75
A - Pours a very clear lighter amber that has a slight purplish hue with a half finger white head with better than average head retention. Very nice looking beer
S - Sweet malts with a light blueberry aroma. Very nice and what you would expect fom a blueberry beer. Its not an overpowering blueberry but it is present.
T- Pleasant blueberry taste upfront quickly fading to the malts of the beer. The malts have a nice roasted and caramel taste to them as well. The blueberry is well done. Not overpowering and not too sweet.
M - A medium bodied beer that is slick feeling in the mouth. Carbonation felt a little on the low side
O - Great fruit beer for the summer. I'll be keeping this one around. Most of the time I can only handle one fruit beer due to their extreme sweetness, but this isn't the case with the Blueberry Blonde. I could have multiples and not grow tired of it. Nicely done.
Jun 28, 2013

emerge077 from Illinois
2.55
/5
rDev
-24.1%
look: 3.25 | smell: 2.5 | taste: 2.5 | feel: 2.5 | overall: 2.5
Free sample courtesy of Aaron, served in a tulip shaped taster glass.
Pale and bright straw color, super clear. Thin layer of foam on the surface that isn't substantial. Flecks of random spotty lace in the glass.
Aroma is weak, wet grains and artificial blueberry.
Taste is similar, an insipid melange of artificial blueberry flavoring and a lifeless "wheat beer" underneath. Dull and watery feel with little redeeming value, and little in the way of authentic fruit flavor or aroma. This is an unfortunate beer, not very well put together, and weak in terms of flavor. Even if this is tailored to non-beer drinkers, it doesn't make much of an impression. Skip it.
Jun 22, 2013
Blueberry Blonde from Big Muddy Brewing
Beer rating:
79
out of
100
with
83
ratings