Bohemian Hall & Beer Garden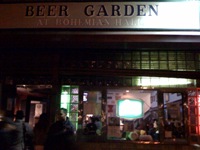 PLACE INFO
Type:
Bar, Eatery
29-19 24th Ave
Queens
,
New York
, 11102-1129
United States
(718) 274-4925 |
map
bohemianhall.com
Notes:
No notes at this time.
Added by WilliamPhilaPa
Reviews: 13 | Ratings: 23
3.8
/5
rDev
+1.6%
vibe: 4 | quality: 3.75 | service: 3.75 | selection: 3.75 | food: 4
A cool and spacious outdoor Bohemia style Biergarten in Astoria, close to the tri boro bridge and subway. A good place to get German, Czech and Eastern European style lagers. Decent selection although nothing rare or fancy. They often have live music; last time I went there was some old style bohemian folk band with costumes. The food is good if you want to have your beer with traditinional german fare such as sausages and bratwurst. A fun hang.
449 characters
3.63
/5
rDev
-2.9%
vibe: 4.5 | quality: 3.5 | service: 3.5 | selection: 3.5
a small indoor area, but then a huge outdoor beer garden, shaded. beers all served in half liter mugs. mostly european lagers on tap, plus one or two american beers.
169 characters

3.56
/5
rDev
-4.8%
vibe: 4 | quality: 3.5 | service: 3.5 | selection: 3.5
In late September:
Moderately-sized inside bar when you walk in with maybe 15 seats at the bar, along with 5 or so booths. This was mostly empty, as most people were outside in the back, which seats a couple hundred on many picnic tables.
The 20 or so taps were primarily Eastern European, mostly pilseners, some darker ones as well, and some wheat beers. It was September, so there were a handful of Octoberfests on hand, 2 or 3 (I went with Blue Point). There were some other domestic brews, including Sixpoint, but the tap lineup was dominated by the Eastern Europeans.
The bartenders seemed to not be too knowledgeable on the beer, and getting their attention (mind you, on an off night) seemed to take a bit too much effort, but once I did, they were very generous and forward with samples. I probably had an extra pint in me just from sampling, and I don't usually do that.
The beers are served in large mugs, probably 20 oz, which I must say feel quite prominent in hand. There's something just gratifying about holding a huge mug of beer. The taps all seemed to be relatively fresh and in good quality.
Even though it was September, already getting a bit cold, and a sparse crowd outside, there was still live music on the stage which the outdoor tables surround.
All in all, it was a cool place, rather mellow, and I'd definitely check it out again, and hopefully on a nice afternoon sometime. I don't remember which, but there's a train line right above, so finding it is easy, even though it's up in Astoria (so probably the N). If you're into pilseners, all the better.
1,582 characters
3.65
/5
rDev
-2.4%
vibe: 4.5 | quality: 4 | service: 3 | selection: 3.5
(From notes)
I've had the opportunity to visit this old school beer garden a couple of times before basing this formal review on my most recent visit yesterday.
Overall, this place is not a destination for beer geeks per se. Meaning that there is not a laundry list of Eastern Europe's best brews. That being said, they do offer a solid lineup of draft brews, most notably Czechvar, Krusovice, Brouczech, Staropramen, and some other standards. All mentioned provide solid beer garden drinking...meaning the brews are solid but you don't have to think too hard.
The atmosphere is pretty chill during the afternoon hours (which is when I tend to visit) with the focus on the outside picnic table seating. Decent amount of space, but it does tend to get crowded pretty quickly.
The larger crowd definitely slows up service a bit, but I have to say that the service is pretty slow no matter the crowd size. Not sure if we just caught new wait staff or what, but it took forever to have our drink order (i.e. just a couple of pitchers) filled. After a while, one and his/her friends might just have to resort to going straight to the bar to place your order.
I haven't stayed late night, so I can't comment on the less chill atmosphere mentioned in a couple of other reviews. I can recommend this place for a nice afternoon with a few friends and some solid enough brews. The traditional beer garden atmosphere is definitely there, and sometimes that's just right. Check it out, but don't expect beer nirvana.
1,513 characters
3.75
/5
rDev
+0.3%
vibe: 4 | quality: 4 | service: 3 | selection: 4 | food: 4
How my friend who organized our most recent pub crawl found this place is beyond me. We never crawled-just stayed here 8 hours.
Like sitting in a European beer garden-we were totally isolated from the streets and the rest of the city. A lot of trees and big umbrellas for plenty of shade. Mainly just picnic tables in a large courtyard but very well done.
Service was fine-we never had a waitress really. Most of the beer and sausage is self order and carry to your table. If you do want to order off the menu you just find a waitress, place your order and tell her where you are sitting. Pretty standard as far as service goes.
Beer selection isnt bad. Chechvar, Pilsner Urquell, Spaten Ofest, Hoegarden and a killer dark lager Ruskjoyvoice maybe? Yummy and dark....This isn't generally a "beer bar" per se but being a Chezc beer hall in NYC I would say you will do ok.
Food was great-several kinds of sausage at the grill stand. Great looking other menu. I had some great goulash and dessert crepes. I saw some awesome looking pierogies go by.
We had a group of roughly 10 to 15 people at any given time. The easiest thing to do was people took turns going and getting 2 pitchers at a shot. $14 a pitcher was reasonable for NYC. Food was moderately priced as well. 8 hours here cost me $80-that was beers and food included.
A great spot to spend a lazy day with friends. Off the beaten path for sure. I wouldnt make it part of a crawl per se. Get a group of friends and hang out for a while. The place was packed by 3pm and rocked till we left at 9. Never a line for the bathroom and I didnt see any of the drunken goings on mentioned in other reviews. Been there for like 100 years, hopefully it will be there for 100 more.
1,733 characters
2.33
/5
rDev
-37.7%
vibe: 3.5 | quality: 2 | service: 2.5 | selection: 2
Hey, the Astoria beer gardens are a great concept, but the execution just isn't there. The outdoor gardens is a good space, but its just all picnic tables, not too much character, When I first heard about this place I imagined an outdoor maze filled with luxurious greenery, and a tapped keg of a different beer around every bush, with flowing fountains and alike. Most of the time all I can find here is a bunch of loud and exceedingly drunk low to midlifes, all too willing to turn a misstep and a spilled beer into an all out brawl.
Most of the beer moved there is macro stuff, pilsner and stella. The more esoteric beers on tap were old and not well cared, I ordered a pitcher of Erdinger Hefe-Dunkel and I couldn't rouse a millimeter of head from it, and I was being as persuasive as possible.
If you have a huge party of people, and want to have an outdoor keg party but don't have your own space in which to do it, this is the place to go, but otherwise save yourself the trip to queens.
995 characters

3.98
/5
rDev
+6.4%
vibe: 5 | quality: 4 | service: 4 | selection: 3.5 | food: 4
I have meant to visit this place for several years. I had heard from several NYC area beer folks that it is not to be missed. For what ever reason, this evenig was the first time I have gotten my stuff together and make it for an exploratory visit, on the way to the METS game in nearby Shea stadium...It did not disappoint, great vibe, great large outgoor Beer garden area, I love places in NYC that provide a very "non NYC experience" this place puts you in eastern Europe, for beer, fresh air and sausage. Go for the wonderful outdoor garden, the sausage and pitchers of Czech and German beer...enjoy....only a few miles from Shea, making this a natural for a pre game meal and beer...
688 characters
3.85
/5
rDev
+2.9%
vibe: 5 | quality: 4 | service: 3.5 | selection: 3.5
I have lived in NY most of my life and had never visited this place until last friday. Boy was that a mistake. I even lived in Prague for about 6 months and had heard about this place but never made the tripI took the N from Union Sq which took about 20-25 minutes. When you finally get there it is a little underwhelming to behold. The Czech flag lets you know you are there. As i got a pitcher of Krusovice which is hard to find in the states but plentiful in Prague my buddy wandered outside. He came back in shocked. When i went out with my pitcher I saw why. The place is as big as a city block. Large picnic benches were everywhere and there were ample trees for shade.
It was very busy as it was around 7 on a friday so it took us a little bit to find a seat. We finally found a seat at a communal table. this was another good part, sitting at communal table sgives you plenty of opportunities to talk to people, just like the old country. This place had a definite old school vibe. I wanted some food which smelled excellent but the line was too long.
The beer selection was mostly Czech, some German and Hoegaarden. We had a few pitchers of Czechvar, Plsener Urquell and Krusvice. All were as fresh as you can get in the US. They obviously have a high turnover. My only real beef with the place was the plastic cups, though i did see some people with glasses. Next time i will qask for a glass.
I cannot recommend this place highly enough if you like drinking good beer outside and in a communal old world setting. I felt like i was back in Prague. Get there early and get a table. Oh and the pitchers are $14 which fills four cups.
Edit-If you go ask the bartender for a glass mug.
1,706 characters
3.9
/5
rDev
+4.3%
vibe: 5 | quality: 4.5 | service: 2.5 | selection: 4.5 | food: 3
I lived in New York for almost five years and it was fate's little joke that I didn't find this place until about six months before I left. I absolutely love this place. It has all of the beer styles that I love to drink, most of which are not commonly on tap. Great place for friends to gather. If you're looking for Beer and People this is the place to go. Service is slow. There are a couple of waitresses trying their best to serve hundreds of people. There is a little grill in the corner which is run by the whimsy of a little old (presumably Czech) guy. The problem is that they can hardly keep enough sausages and burgers on the grill. Also, there is a restaurant inside and downstairs from the bar. Pretty common fare. Everytime I'm back in New York. Every time. I make a point of going out to Astoria to partake.
822 characters
3.8
/5
rDev
+1.6%
vibe: 5 | quality: 4 | service: 3 | selection: 4 | food: 3.5
Um, yeah dude... this Bohemian beer garden everyone's talking about is off the hook.
You have to visit this place if you've never been. The outdoor area is like a "park". I went on a Thursday night during the summer. There were like 500 people in the joint. All different types of people frequent this place. After work people, drunk punks from everywhere in Queens, some old-timer locals, entire families that don't speak a word of English, kids, babies... Yeah man talk about Czech family pride. I went one time on a Sunday afternoon - much less crowed but still very busy. This one lady was breast feeding her kid while the rest of her extended family was pounding Pilsner Urquell. They refused to speak anything but Czech while they were in the place.
Anyway, the beer selection is good. Some solid and reliable Czech and German beers on-tap: Spaten, Staropramen, Jever, Czechvar, Pilsner Urquell. They were also serving Hoegaarden on-tap - nice little change for the summer.
Food is real genuine Bohemian grub. I ate a thick piece of fatty beef that seemed as though it just came right off the cow. Went well with my pilsner.
P.S. they now serve Spaten Oktoberfest year round... awesome brew.
1,213 characters
4.13
/5
rDev
+10.4%
vibe: 5 | quality: 4 | service: 4 | selection: 4
This place is a classic. Granted, they don't have what I generally look for in a good beer bar - a lot of domestic microbrews - but that's not what they're going for.
What they have here is an abundance of European taps - as a matter of fact - exclusively European taps - with an emphasis on Czech and German Pilsners. Luckily there are a variety of flavors as well, including some Doppelbocks, Oktoberfests, etc.
The crowd is very boisterous. Expect hipsters, locals, immigrants, and just plain ole revelers.
The biergarten is legendary, and it should be checked out during the warmer months.
You should definitely see this place just to see the enormous capacity - they empty dozens of kegs on a daily basis when it's busy.
738 characters
3.5
/5
rDev
-6.4%
vibe: 3.5 | quality: 3.5 | service: 3.5 | selection: 3.5
Uh, yeah,... what Dave said.
(and then I hit "review" but it said "Your comment length must be between 500 and 5000 characters". It was all bold faced and in red. There was attitude, you could tell).
No matter. This was a Saturday afternoon "We're at DBA, let's do something different today" sort of fact finding mission. In Queens, no less. Yes, Queens, it's true. Not the land of good beer, ohhhh noooo. In fact, I think Phil and I promised Scott that we wouldn't ever try to drink again in Queens after the Austin Street Ale House debacle, but here we were again.
It's a stone's throw from the Triboro Bridge. I mean like right there, like a block this way and then you turn the corner and park and it's that whole thing, all that, from there to there. Yeah, you go in that door and you're in the bar area. Stools for a dozen and a bunch of booths, lots of dark wood, pictures of old people, places and scenes, coats of arms, beer signs, framed ads for I really don't know what and various shit in other languages. 7 taps (Spaten Octo, Jever, Hoegaarden, Staropramen, Brouczech Porter and Pilsner Urquell occupying 2 spaces) and a dozen plus bottles (Paulaner, Czechvar, macros and malternatives). Staircases lead below to a 15 table restaurant downstairs, and upstairs to an auditorium.
We grabbed a pitcher of the Brouczech Porter and headed out back into the beer garden. It's a vast spacious yard, roughly 100' by 120', enclosed on 3 sides by large painted cinder block walls and this brick wall building on the fourth side. Roughly 9 dozen picnic tables, rows of tall old trees, an open food grill in one corner doing up burgers & dogs, and in the center towards one end,... an enclosed stage shell with an elevated 30' by 30' dance floor. There's nobody out there playin' but your head's going, "Oom pa pa, Oom pa pa, Oom pa pa, Oom pa pa".
I'm in the big yard, in a residential neighborhood in Astoria, looking out on the apartment buildings, drinking crappy porter, brought to me by a crabby serving person. What am I doing here?? I guess it's the place to be on the Eastern Euro front, German and Czech beers and the wurst, wurst and wurst and all. Not a terribly offensive way to spend an afternoon, probably somewhat pleasant in the fall months, but it's just not my scene.
2,295 characters
4.13
/5
rDev
+10.4%
vibe: 5 | quality: 4 | service: 4 | selection: 4
After an excellent session at the Southampton Publick House with djgonzalez, Rokotgirl and Rapododa; our party of 4 BA's headed back to Astoria to sample a few brews at the Bohemian Hall to meet up with some friends of dj and rokotgirl.
We parked in a nearby street and walked the last few yards to get here. Well as soon as I saw the large expansive Beer Garden my mind was immediately propelled to the spring of the year 1991, and to my 3 week backpacking tour of Europe, most specifically to a whole week spent in what was then Czechoslovakia, and the innumerate Beer Gardens that I frequented during that trip in Prague, Plzeň, České Budějovice, Olomouc, Brno, Karlovy Vary and many, many other Czech towns I visited that hot Spring.
From the high surrounding walls, small stage, the growing trees that offer shade in the Summer [though it was night-time whilst we were here] to the rows and rows of bench tables, clinking of Glasses and constant chattering banter, it had me reminiscing big style on one of my all time favorite vacations. I truly enjoyed my tour of Czechoslovakia and its Beer Gardens in 1991, long before the West really got a grip on the place. The Bohemian Hall does a great job in providing an atmosphere that most certainly draws many parallels from its homeland I have to say.
I managed to grab a seat whilst dj and Rapopoda went inside to get some Pitchers of Pivo. However as the beer seemingly flowed we had little left from the two pitchers, so I myself went inside to obtain some Pilsner Urquell. The inside is small and you have to jostle to get served but I am used to this sort of thing in England so it was perfectly cool with me. I noticed quiet a bit of inside seating and a very typical Czech Pivnice interior, lots of simple wood panelling, wooden bench tables and chairs, and some very interesting authentic Czech Breweriana. This was heaven, I loved the atmosphere that this place creates, top notch, you know for sure that this is definitely not the usual plastic American 'Las Vegas' attempt at creating a theme bar, indeed, the Bohemian Hall is run and managed by the Bohemian Citizens Benevolent Society, a Fraternal organization dedicated to preserving this precious piece of history. And it shows!! Excellent Atmosphere.
Beer range is limited in US terms, but actually pretty good for a Bohemian Beer Garden so I give it a 4.0 when set against those terms. Pilsner Urquell, Staropramen, Czechvar, Kozel, Rebel, Radegast with St Pauli and Spaten making up the Teutonic offerings and offering a dark beer for those that want it. Sadly it does some US brews if you feel the need to ask for them, shame on you if you do. Nevertheless, the Pilsner Urquell was bloody excellent, probably the best I have had in the US.
Fare is typical East European offering, basic but great drinking fodder for those all-day drinking sessions. Dumplings, Sauerkraut, Pork Stew, I even spied Fried Cheese in Breadcrumbs one of my all time favorites. Didn't notice too many pickles though, one of the few things that I noticed a lot in Czech Republic bars that was not present here.
This is definitely authentic, or at least as authentic as can be expected. I liked this place a lot, a great experience, superb atmosphere. Even a short scheduled Power Cut could not dampen the spirits of teh gathered imbibers as local the Utility Power Company worked quickly to reconnect a new power line, though having a piss in the dark in the outside Ladies toilets made for some interesting sights once the lights came back on!!
I would definitely love to come back here during the Summer and get seriously wrecked on Plzensky Prazdroj, just like the good old days!!.
Oh and if it is busy inside…..if you can shout this at the Bar...
"Dám si jedno pivo prosím"
….you'll get served much quicker !!!
That's "Damn see yedno peevooh pro-seem" It worked for me!! Funny how you remember these things.
Last Visit: Sunday 5th September, 2004.
4,012 characters
Bohemian Hall & Beer Garden in Queens, NY
3.74
out of
5
based on
23
ratings.