State & Lake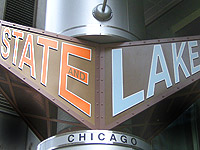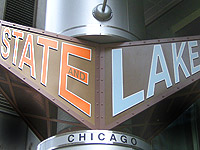 PLACE INFO
Type:
Bar, Eatery
201 N State St
Chicago
,
Illinois
, 60601-2402
United States
(312) 239-9400 |
map
Notes:
http://stateandlakechicago.com/
Added by dirtylou on 10-29-2009
PLACE STATS
Reviews:

6

Ratings:

pDev:

13.79%
HISTOGRAM
Ratings: 7 | Reviews: 6
Reviews by DCon:

4.21
/5
rDev
+21%
vibe: 3.5 | quality: 4 | service: 4.5 | selection: 4.5
Coming to this restaurant/bar twice in two days, there was only one reason I was here, FFF & Dogfish on-tap and staying @ the Wit for a wedding. Place is very classy and extremely trendy as you walk it. Marble tables, cushions on the walls to make up a modern style, and everything shines. They also had the 1/2 barrels visible from the outside of the bar underneath the tap handles with a clear screen covering it (hopefully they were temperature controlled! :). Enjoyed hanging out in here and would definitely be back as it was much better than their RoofTop bar which had NO beer selection at all present.
Easy going place, all beers poured into Pint Glasses (this is fine), and they had samples available for all their beers on-tap! I took them on this offer and enjoyed over half of them. Everything was dimly lit, romantic like, one minor problem, I'm in this place alone sampling beer! Ha! I would say its perfect for the atmosphere of a hotel restaurant and a great spot for a date.
Great service! Very attentive, always asking if I would like to sample another brew, or how I thought of the current one. The Manager, Rachael was great also! Seeing her many times throughout the hotel, we conversed about how great the beer menu was and she said it was just updated this past month. Lucky me!
You can say awesome for the selection! They had some greats from DogFish Head and Three Floyds both on-tap & in Bottle. I didn't get around trying but they had brews from Revolution, Great Lakes, and many other locals. I would come back in for a brew if around this part of Chicago! No question.
All beers were over $6 and just so happened mine were the $8 ones. Not bad prices but just a tad more than I'd pay usually. I would definitely come back to this hotel just to be able to enjoy a brew or two everyday I stayed here before seeing the rest of the city! If your around the hotel, have a date to take out, or just have time to pass, come in and check this place out!
1,978 characters
More User Reviews:

3.38
/5
rDev
-2.9%
vibe: 3 | quality: 3 | service: 4 | selection: 3.5 | food: 3
I did not love it here. I was in town for a meeting in late July and decided to stop in for dinner. I am always looking for a nicer food beer place and this seemed ok. It is a hotel restaurant that seems to be more of a cocktail place. They were out of several of the beers I was interested in. In fact, the bartender told me that they were changing distributors and would not have as craft-centered a menu. Since there was no 3F, I had a local Kolsch and a Founders Porter. Both were fine. The food was nothing special.l It seemed like typical hotel fare. In a city with so much to offer, I think this was a miss for me.
621 characters
2.71
/5
rDev
-22.1%
vibe: 4 | quality: 3 | service: 2.5 | selection: 2
I've been to this place a couple times, so far pretty hit and miss. Its in the Wit hotel fairly close to the loop so being south of the river is pretty the best and only place to actually find some decent beers. Pretty trendy inside. About 16 taps and 12 or so bottles. The taps are sometimes ok they've had Surly before, a lot of allagash and other beers. Selection is pretty weak top heavy, but lots of macros that are pretty common. Drafts are decent, the bottles are domestic garbage. The service sucks as the bartenders know very little about beer.
In short if you're close and don't want to go far to have ONE decent beer this is a good place to go, but if you want a variety of many beers its not the place to go.
721 characters
3.94
/5
rDev
+13.2%
vibe: 3.5 | quality: 4 | service: 4 | selection: 4
I was here twice in the last week. Located in the hip new Wit hotel, it is a good location for a quality beer in this part of the loop.
This is definitely more of a restaurant than a bar and the vibe is impacted a bit by that. The bar itself is "J" shaped and sits about 20. The tables are placed fairly close to the bar, so if it is at all crowded, as in the case of my visits, people standing with their friends who are sitting at the bar are constantly forced to shift position so servers and other patrons can get by.
The service I had the first night was outstanding. It was just fair the 2nd night. The will give samples so that is a plus.
Beer selection is solid. They had two tap offerings from 3Fs, 2 Brothers, Goose Island & Founders. In addition they had local favorites Daisy Cutter from Half Acre and the Dynamo Lager from Metro. Throw in some Left Hand, Alagash, Surly & Great Lakes and you have a nice list. The bottle selection is small but fairly solid. I did not see them serve any BMC products and the light beer they offer is from Abita.
The lounge on the 28th floor of the hotel is worth a stop. While a bit of a young & hipster hangout, it has a great terrace and wonderful views of the city. Beer selection is more mainstream than State & Lake.
1,274 characters
3.15
/5
rDev
-9.5%
vibe: 3.5 | quality: 3 | service: 4 | selection: 2 | food: 4
A hotel bar masquerading as The Publican Lite™...
The bar is on the ground floor, NE corner of State & Lake. Once inside, it's on the left before you hit the elevators. Swanky, posh, metrosexual type of place. A little bit overly polished and trying too hard. I was drawn by the Lynchian description in dirtylou's review, but felt it to be lacking somewhat in terms of atmosphere. The lighting was weird, the room was dim but we had a bright halogen spotlight on our table, illuminating the floating dust in the air. Ultramodern and sterile, with contrasting "midwestern" design touches like brown leather chairs, wooden menu holders, and deer head art on the wall.
Beer, let's focus. A good selection, although it doesn't seem designed to change or rotate seasonals. If you're looking for Surly Furious in the Loop (for $7), go here, or try Kasey's/Clark St. Ale House for a more laid back & affordable place. Strangely they had a couple contract brews from Atlanta on the menu "Numbers Ale" and Red Brick Ale" which they couldn't tell me where they were made. Those beers are a waste of 2 tap lines guys.
Food: Dinner entrees are in the mid 20s. We had small plates and a couple drinks, the bill was over $50. Ribs were decent, though there are many superior options in Chicago to the paltry 1/2 baby back slab here for $13. Parmesan fries were good, and a good accompaniment to beer selections. To their credit, there were a few nice bottles, like Sofie and Breakfast Stout. Overall though, it felt inauthentic, and not much of a destination for beer. Worth checking it out if you're seeing a show at the Chicago Theater or Siskel Center though, or staying downtown.
***June 2010: ***
For "some reason" (distributor freebies), they dropped Metropolitan and other smaller craft beers, in favor of bigger ones from the BMC distro...way to whore out your taps guys. They only brought Metro back after word got out via social media. Lame.
http://www.chicagobusiness.com/article/20101120/ISSUE01/311209986/pay-to-play-infects-chicago-beer-market-crains-investigation-finds
"When the Wit opened in 2009, bar managers stocked State & Lake's 16 taps with an impressive selection of microbrews, including Stone, Anderson Valley, Two Brothers and Metropolitan, a new hometown brand.
Then, in June, most of the craft beers from smaller distributors disappeared, replaced by 11 specialty brands carried by Chicago Beverage Systems LLC, a powerhouse distributor of Miller, Coors and other labels.
"We don't know exactly what went down, but we used to have beer there that was selling well and now we don't," Tracy Hurst, co-owner of Metropolitan Brewing, a microbrewery in Ravenswood, said at the time.
...
Metropolitan's Ms. Hurst was among the few to speak out. When her beer got the boot at the Wit, she posted the news on Metropolitan's Facebook page, charging that Chicago Beverage had "arranged" a contract with the Wit to carry the company's beers and was "offering $200 incentives to their (sales) reps to steal tap handles."
Ms. Hurst says she based her post on what a Windy City sales rep told her. It drew comments from friends and colleagues who spread the news on Twitter and on their personal blogs. One Metropolitan employee, writing on her own blog, called for boycotting Chicago Beverage Systems' beers and the State & Lake bar. "Keep going to these places," one Facebook post read. "Order a non-beer and tell their manager you'll not buy beer as long as they play the CBS game."
Mr. Doney denies the allegations and says the tap change at State & Lake was just business. "This happens all the time in Chicago, and small brewers lose accounts when someone else offers a deal," he says. "We had been targeting that account for a year-and-a-half. We spent a lot of time making presentations on how they could sell more beer, and I think they are happy with how much beer they are selling now."
Eric Adelman, director of purchasing at State & Lake, likewise says there was nothing underhanded about the deal, though he won't reveal the details. He says he switched beers because Chicago Beverage offered better terms. Mr. Adelman is always open to considering new beers, he adds: "We won't get rid of Chicago Beverage, but we might be able to throw in a few more craft beers."
In fact, Mr. Adelman says, Chicago Beverage initially bid for all 16 taps, but he told them he needed some "wiggle room" for beers from others. In August, Metropolitan's Krankshaft Kolsch beer reappeared on tap at State & Lake."
4,526 characters
3.23
/5
rDev
-7.2%
vibe: 2 | quality: 3.5 | service: 3 | selection: 3.5 | food: 3.5
7/26/11 Update.
I have no idea what happened to this place, but dear God, AVOID. The selection used to be solid - Surly, Founders, Harpoon, etc etc. They still have a few decent beers on tap but be prepared to pay through the roof.
$10 for a Daisy Cutter pint? F*ck off. This place blows.
---
Review from 10/29/09 (4.0 overall)
---
State & Lake is located, rather ironically, at the intersection of State and Lake right in the loop. It's on the ground level of the Wit hotel, which has to be in the running for the swankiest installment of the Doubletree series.
Located in the shadows of the infamous Chicago theatre and the El, this is right in the thick of the hotel district and a much needed oasis in a rather dry beer-region of the city.
The interior is clean and very stylish while maintaining aesthetic comfort by utilizing warm browns and reds. The taps are neatly arranged and the kegs are stored in the bar and visible through a glass window. Theres even a deerhead on the wall to maintain that midwestern charm. The whole vibe felt straight out of a Lynch movie or a strange dream.
They have beer - 16 taps to be specific, all micro. We stopped in mid-afternoon to kill a few hours and i stuck with the standby Surly Furious and had a pint of Great Lakes Nosferatu. My dad kicked back a few Founders Porters. The website has the complete taplist, which doesnt look like its designed to change that much. They have mini (3) beer flights which looked pretty cool and the servings were well sized.
The menu is on the pricy side but entrees looked intriguing and they appear to be open for breakfast/lunch/dinner.
Worth checking out...sometimes clark street ale house can be a long walk from the loop.
1,717 characters
State & Lake in Chicago, IL
Place rating:
3.48
out of
5
with
7
ratings