Whole Foods Market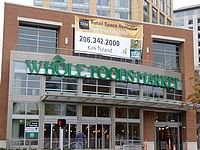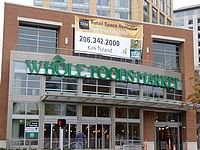 PLACE INFO
Type:
Store
2210 Westlake Ave
Seattle
,
Washington
, 98121
United States
(206) 621-9700 |
map
wholefoodsmarket.com
Notes:
No notes at this time.
Added by GJ40 on 10-29-2009
Ratings: 12 | Reviews: 7
Reviews by beer2day:
4
/5
rDev
-1.7%
Located just south of the Lake Union area and a short walk from the Needle. Pretty close to the streetcar line, too.
Beer department is towards the back of the store. WF is a pretty decent store for beer nationwide and this is one of their better locations. Nice selection of WA beers, along with OR and CA choices. Fairly evenly split between micros and imports. RR (no PtE, though) well represented, along with Angel's Share. Lots of choices from Port Brewing in San Marco.
Not a destination stop, but if you are in the area then well worth a visit.
554 characters
More User Reviews:
4.15
/5
rDev
+2%
vibe: 4 | quality: 4.25 | service: 4 | selection: 4.25
4.11
/5
rDev
+1%
vibe: 3.75 | quality: 4 | service: 4 | selection: 4.5

4
/5
rDev
-1.7%
vibe: 4 | quality: 4 | service: 4 | selection: 4
This Whole Foods is right around the corner from my new office, so I stopped in tonight to check out what was on offer in the beer department.
It's a damn good selection for a grocery store, with lots of chilled singles from a wide range of local and international brewers. There were also a small number of unrefrigerated bottles on display, but mostly those types of beer which do not benefit from constant refrigeration.
It's still a grocery store and thus not especially beer-centric, but there was a No-Li Brewery tasting going on while I was there and the cashier caught a pricing error on one of my brews, so I can't fault them for service. Definitely a place worth checking out if you're in the area.
Added 10/11/15 - After having visited this WF dozens of times, I found out there is actually a beer-bar/growler-filling station at this location. It's kind of hidden as you walk in; it looks more like a coffee counter than a place to get beer. But I discovered they have regular brewer's nights and other events, and they have about a dozen taps. Just another reason to check this place out.
1,111 characters

3.94
/5
rDev
-3.2%
vibe: 3.5 | quality: 4 | service: 4 | selection: 4
I hadn't planned on doing much/any bottle shopping on our quick (1.5 day) Seattle trip, but I spotted this Whole Foods on Google Maps. Comparing its relative closeness to where we were staying (Moore Hotel), it seemed worth the short drive (being from Portland, I forget about the inclines and 'big' city blocks!).
What I found at the Westlake/Denny corner was a wedge-shaped Whole Foods store at the base of some new-looking residential towers. As WFs go, this one's not too flashy from the outside. Inside is perfectly in line with the upscale 'organic' vernacular this chain has created... nothing wrong with it, although this store seemed confused and congested, with check out queue and departments seemingly scattered randomly. I veered right upon entering and found the 'case beer' section pretty easily, a solidly stocked cooler with some macro lagers and a fairly good range of regional and local 12-packs; a few varieties of Fremont Brewing growlers finished off one end.
Puzzled as to what may have happened to all the single beers and smaller packs, I backtracked and wandered about (not asking directions - hell no!) and eventually found the rather large wine and beer department on the opposite side of the store. The beer wall is pretty expansive (maybe 50 feet long?), a continuous wall of bottles and smaller packs on shelves 4 or 5 high. The first section is Belgian and other imports, a solid selection but I didn't see anything I couldn't get in Oregon. The next portion was for national and regional brands, with a good mix of Oregon/PacNW favorites and some British Columbia beers that were new to me. It was the last 5-10 feet at the far right I was most interested in: the Washington region. I'm an unabashed supporter of 'Drink Local', so I specifically looked only for beers I couldn't find elsewhere. And they have them!
I wound up buying 5 bombers of 'locals' (from the likes of Fremont, Odin, Silver City and Harmon, plus a 4-pack from Hilliard's. There were many others I considered, but I tried to limit spending to around $30. Kept it close...
Help was friendly... and abundant on a Monday afternoon (5pm). No doubt, I got asked 4 times in 10 minutes if I had any questions. On Tuesday (later, after 8pm), there was only 1 guy working the area, but he, too was helpful and offered up a few suggestion of barrel-aged beers and local things worth trying. I got the sense that wine-selling was a greater focus than beer-selling here (pretty sure I knew more about the local breweries than some staffers), but that didn't hinder their attentiveness, nor the solid beer selection, whatsoever. A good place to stumble on and definitely a store I'd visit again next time I'm in that part of the city.
2,730 characters
3.36
/5
rDev
-17.4%
vibe: 3.5 | quality: 3.5 | service: 3 | selection: 3.5
Checked this place out on a reccomendation by oakedcannuk, and it was worth the stop.
I only ended up get a couple bottles of Supplication, but that certainly isn't anything to scoff at! They had a huge selection of NW beers including lots of hoppy beers I've never seen or heard of before! They also had damnation but I'm just not a big fan so if you're looking RR beers it's certainly worth a stop and it's right downtown.
Otherwise, it's a regular whole foods, service and atmosphere are on par with others I've been to.
525 characters
3.59
/5
rDev
-11.8%
vibe: 4 | quality: 4 | service: 2.5 | selection: 4
I have found that whole foods is a great source of craft beer and the one on westlake is no exception.
To begin the selection is pretty good with a large variety of micros and imports including stuff from Russian river, Deschutes, Stone, and a bunch of belgians.
The staff seems non existant, but considering it's a grocery store and not a bottle shop, so I guess it's understandable, still not good though.
Prices seem reasonable nothing spectacular though.
For a grocery store this is a pretty great spot to grab some beer. It's not a bottle shop, but if you know what you want it's worth checking out.
609 characters

4
/5
rDev
-1.7%
Whole Foods is almost always a high quality beer stop when I am beer shopping. This one is no exception. A pretty new looking, multi-floor WF, with the beer and wine toward the back of the first floor.
There were two sections in the cold beverage section, as well as a bunch of floor displays of seasonal stock. Some nice Washington and Oregon locals, plenty of my locals like Victory and DFH. I was able to pick up a few bottles of New Belgium Lips of Faith beers to ship home.
Prices were very reasonable as is the norm with WF. A worthy stop.
547 characters

4.2
/5
rDev
+3.2%
I've found Whole Foods to be a pretty reliable option for beer when I travel but this location is one of the better ones. They stock a great selection of local and west coast beers as well as plenty from Europe and other parts of the US.
They regularly have RR Pliny the Elder on the shelves along with Consecration, Damnation and Temptation.
The guys that stock and manage the beer selection are always helpful and attentive; much more so than I'd expect from a market.
The Westlake Whole Foods location is a great source of craft beer in downtown Seattle.
560 characters
Whole Foods Market in Seattle, WA
Place rating:
83.3%
out of
100
with
12
ratings