Matacabras
| Dave's BrewFarm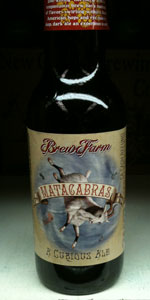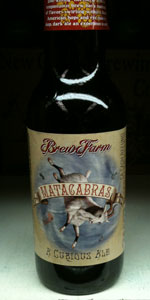 BEER INFO
Brewed by:
Dave's BrewFarm
Wisconsin
,
United States
davesbrewfarm.blogspot.com
Style:
Belgian Strong Dark Ale
Alcohol by volume (ABV):
8.00%
Availability:
Year-round
Notes / Commercial Description:
No notes at this time.
Added by darklordlager on 02-19-2010
HISTOGRAM
Ratings: 132 | Reviews: 89
3.97
/5
rDev
+3.1%
look: 3.5 | smell: 4 | taste: 4 | feel: 4 | overall: 4
Hazy amber color with a small off white head with poor retention. Smell is dark fruit, spices, brown sugar, and yeast. The flavor is very complex, and quite good. Sweet, with noticeable alcohol. Sugar, dark fruit, and the yeast are most noticeable.
Smooth, and very easy to drink. Medium bodied, nice carbonation. This is a very nice effort from Dave's Brew Farm. This is my first beer from them, and I will be back for more.
427 characters
4.37
/5
rDev
+13.5%
look: 4 | smell: 4.5 | taste: 4.5 | feel: 4.5 | overall: 4
Hazed, dark orange, creeping into brown. Slim, off-white head.
Aroma is many splendorous things, a bustle of complexity....citrus and spice starts us off, maybe the spark of lemon rind and orange peel from the American hops used, and who knows what spices. (Dave won't tell.) Enticing, and arousing.
Drinking....sweetness at first, the bread and spice of the rye, the richness of malt, we get some brown sugar, molasses, maple...a ginger cookie, with a lemon spritz. Refreshing, and undaunting, but with memorable and rewarding flavors. Long finish, medium body, ....flavor lays on the palate and sticks it out for the long haul.
I'm drinking this in a Abbaye des Rocs chalice, which is appropriate, as I am nicely reminded of some of their efforts. High praise.
Matacabras blitzes the tongue with hops and spice, then lets it fade back, as the malt takes charge and delivers the warm, and satisfying flavor. This is one that takes hold of you, doesn't let you forget it. Belgian malts and yeast make this a Belgian Strong Dark Ale, but the hopping and the rye make it a wholly American invention. A thoroughly Dave Anderson original.
This is good for food, good for drinking, and good for general happiness and well-being! I cannot wait to see this catch on, as there is no reason why it shouldn't raise a ruckus in the local beer world and become a singular sensation. At least, until the next unique BrewFarm rollout.
Here's to the Goat Killer! But, not to ...actually...goats being killed...
1,505 characters
3.9
/5
rDev
+1.3%
look: 4 | smell: 4 | taste: 4 | feel: 4 | overall: 3.5
Appearance- Apricot colored with one inch of white head. Fair amount of lacing.
Smell- Dark fruit such as figs and prunes, yeasty and bready, a touch of ash, typical Belgian spice is kept low keyed.
Taste- A lot of dark fruit in the flavor. Bready malt. Sweetness is low and kept in check by what little spice charactor there is. A bit of an astringent aftertaste.
Mouthfeel- Medium body and nicely carbonated. It does seem a little chalky though.
Drinkability- A good American interpretation of the Belgian dark ale. Do not understand why they could not can this like they do with Brewfarm Select.
603 characters
4.05
/5
rDev
+5.2%
look: 4 | smell: 4 | taste: 4 | feel: 4.5 | overall: 4
Murky orangeish brown color with a thin ring of tiny suds around the glass. Fair amount of lacing.
Yeasty bread, moderate hop, prune, apricot. Zesty fruit that stimulates the nose.
Reminds me very much of a tripel. Belgian yeast, bready, candied ginger, apricot and prune. Candi sugar? Not sure if it was used, but it tastes like it. Pretty good alcohol presence, but not overwhelming by any means. Really nice complexity, fruity and sweet. Moderate hop bite in the finish.
More than medium body, perfect carbonation that is soft and delivers a smooth feel. Dry finishing.
I really like this beer. Nice drinkability at this ABV. I could drink a couple of these and would by this one again. Great job Dave!
709 characters
3.68
/5
rDev
-4.4%
look: 4 | smell: 3.5 | taste: 3.5 | feel: 4 | overall: 4
Medium-to-light amber with a thin, white head, that fades to a thin, patchy coating with a ring around the perimeter.
Dark fruit, figs, and a hint of banana.
Figs, dark fruits, and some sugar. Prunes and raisins on the finish. Alcohol presence is moderate.
Medium body, with a nice level of carbonation. Slightly dry.
Good drinkability. Good beer overall.
355 characters

4.23
/5
rDev
+9.9%
look: 4.5 | smell: 4 | taste: 4.5 | feel: 4 | overall: 4
second offering from Dave @ the brew farm..this one in the bottle..i love the label with the wind and the goat its mid-west for sure even though it is named from a wind in spain..now to ale.the appearance is a hazy copper color its beautiful somewhere between an ipa and dark belgian or brown (really nice) with a 1 finger beige head that stays for a while and leaves a nice ring with good lacing ..the smell is clove spice rye and cinnamon with hops and malts right behind ..the taste is a clove/spice nutmeg sweet blast followed by hops and some toffee and slight biscuit/toast with some rye WOW..this is delicious its a medium-bodied but full robust brew for the taste buds ...the 8% abv is not detected at all..this guy can brew beer/ales..keep them coming dave..ill try whatever you put out
795 characters

4.07
/5
rDev
+5.7%
look: 3.5 | smell: 4 | taste: 4 | feel: 4 | overall: 4.5
Second offering from Dave's Brewfarm out of Wilson, Wisconsin. Nice label work on this one.
A: Poured into a snifter an opaque dark golden, with muted garnet highlights when held to the light. Half-inch medium-tan coloured head with a grayish tone that dies down rather quickly to a mere covering.
S: The rye pops out right away, and is kept company by a sizeable amount of fruity esters. Not much "American Hop" character as the label had me expecting. The spicy rye and esters rule the show. Light alcohol in the background as it warms, and an earthy quality emerges.
T: Mild dose of fruity hops and sweet malt up front, moving into the esters found in the nose. The fruitiness moves into an earthy character near the finish, then allowing a nice spicy rye character to take over. Light brown sugar. Mild bitterness creeps in to mingle with the rye, but is subservient. Interesting light "herbal" quality that is hard to place--could be the hops or something else. Alcohol makes its presence known after it warms, and a light breadiness emerges.
M: Medium carbonation with a light-medium body.
D: A pleasant and interesting beer from a great new brewery. Personally I would like to see the hops cranked up a bit (perhaps some late-additions or dry-hopping to add some complexity up-front). The rye character keeps it interesting and adds great depth. All and all, an intriguing and tasty beer--I look forward to see what else Dave's Brewfarm has in store!
1,475 characters
Matacabras from Dave's BrewFarm
Beer rating:
3.85
out of
5
with
132
ratings