Dave's BrewFarm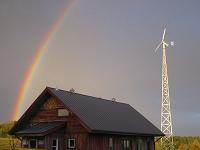 PLACE INFO
Type:
Brewery, Bar, Beer-to-go
2470 Wilson St
Wilson
,
Wisconsin
, 54027
United States
(612) 432-8130 |
map
davesbrewfarm.blogspot.com
Notes:
No notes at this time.
Added by bigreduw64 on 10-29-2009
Ratings: 12 | Reviews: 5
Reviews by lurpy1:

4.8
/5
rDev
+0.4%
vibe: 4.5 | quality: 5 | service: 5 | selection: 4.5
The back roads of Wisconsin are lined with bars, at which you buy the shittiest beer known to man. Budweiser? Check. Coors? Got it. Miller? Come to the right place. Looking for a keg of PBR in which a mouse got into the lines and died there? Somebody can help you out. In the midst of all these crimes against taste buds stands an oasis: Dave's BrewFarm, of Wilson, Wi.
The name is no misnomer, no attempt to paint a false image. It really is a farm, or at least, a barn/garage tucked into the back of a farmhouse. Actually it's kind of hard to find - and if you mistakenly go through the front, you'll set off a symphony of dogs, who freak out so righteously you think maybe you're the first person to ever make this mistake. When you finally find the, uh, tapbarn (actual name is the Labrewtory), you will notice it lacks atmosphere. But what it lacks in atmosphere it also makes up for in atmosphere. No pretenses whatsoever, you're in some guys garagey bar, drinking his beer. Total come as you are place.
As for the beer, more than any other place I've been, it's an experience. A typical weekend offers several beers available by the pint, but the tasting flight is where it's at - 8 tastes for $10.Not just any 8. The 8 Dave chooses to serve this time. Some of them will leave you scratching your head at the peculiarity. Some of the oddities will leave all but those who have achieved the highest order of BeerMason quivering in fear. No matter. The crazy, organic concoctions will come together for you. At no point will Dave ever say "hmmm....there seems to be a demand for this kind of beer.I guess I'll make it". Nope, he makes what he wants to make, and we are the richer for it.
There is no food. But you can bring in food. You can bring in games. You can probably even bring in a polka band. Dave and staff could care less, they couldn't care less. That's the beauty of the Brewfarm - it's a place where you're free to be you and Dave's free to be Dave.
Just get there. Do it.
1,995 characters
More User Reviews:

4.85
/5
rDev
+1.5%
vibe: 5 | quality: 4.75 | service: 5 | selection: 4.75
I finally made the pilgrimage to Dave's Brewfarm while on my way back to the Twin Cities from the Great Taste of the Midwest, and it lived up to all of my expectations. The scenery of the farm was beautiful, and serene. The taproom/brewery was utilitarian, yet inviting. The beer was fantastic. What was on tap leaned heavily toward Belgian farmhouse styles which seems appropriate for the surroundings. Overall, I'm kicking myself for not having visited the Brewfarm sooner, and will be greatly saddened when it will eventually be sold.
538 characters

4.33
/5
rDev
-9.4%
vibe: 4.25 | quality: 4.5 | service: 4.5 | selection: 4
4.49
/5
rDev
-6.1%
vibe: 4.5 | quality: 4.25 | service: 4.75 | selection: 4.5

4.84
/5
rDev
+1.3%
vibe: 5 | quality: 4.5 | service: 5 | selection: 5
4.5
/5
rDev
-5.9%
vibe: 4.5 | quality: 4.5 | service: 4.5 | selection: 4.5
4.92
/5
rDev
+2.9%
vibe: 5 | quality: 4.75 | service: 5 | selection: 5
Have family that lives in Woodville which is a 10 minute drive from this brewery and had never heard about this place. Finally found it, and decided to swing in after visiting family. Out in the middle of the country, and it's a perfect setting. Walked down the little hill to the brewhouse and grabbed a flight. Dave served us, and we sat and talked to him for awhile. You can tell he loves brewing. We then took the beers out to the chairs around a fireplace and soaked in the summer sun. I loved all the brews I tried at the time. Dave runs all small batch stuff, and is only open certain weekends of each month. You will probably get an entirely new lineup every time you visit.
I cannot wait to make a trip back on a weekend he's open before he sells it. I definitely recommend going before it is sold.
808 characters
4.88
/5
rDev
+2.1%
vibe: 4 | quality: 5 | service: 5 | selection: 5
Reasonable prices for very delicious small batch brews. Always a new line-up every time I go. Never tried a bad beer.
Great place located between Eau Claire and Hudson off of I94 that is really a hidden gem although not much of a secret!
Would recommend visiting Dave and his Wind-powered Brewfarm any day he is open. Sounds like a new brewery by name of Oliphant will be brewing and serving beer at the farm too. Why not? Sounds good to me!
443 characters

4.8
/5
rDev
+0.4%
vibe: 4.5 | quality: 5 | service: 5 | selection: 4.5
Ah, finally I'm able to review this gem. Well, the atmosphere is smack dab in the middle of the "Labrewatory". This is where the magic happens. A smaller bar setup in the corner with brewing equipment including old dairy tanks comprising the rest of the brewery with tables and chairs setup in between. Nothing fancy, a bit cold feeling, but who the hell cares? I don't because I'm here for the beer!
And you will find the most unique beers out there. Usually around 10 offerings which you can try all with the flight. Usually several different options for growler sales. The list is ever changing and you may find a couple of the same beers from time to time, but there will always be more new options than repeats. The best part is that this is the only place you can try any of these beers. I have yet to find one that I didn't like. Many use ingredients grown right on the farm.
Farmer Dave and the other staff that pitch in to pour these brews are so friendly and personable. They love conversation almost as much as they love the beers I think.
A green brewery as it is powered by the onsite windmill. There is outdoor seating as well for warmer weather. Pricing is very reasonable. Growler prices are a bit spendy for 32 oz., but it's understandable because of the ingredients and small batches to create the beers.
People often bring some food to set on the table to share. A potluck if you will. We've brought our own snacks out there to have with our beers too. Such a laid back atmosphere.
There truly is no other place like this. If you haven't made the trip out yet, do so, it's absolutely worth it.
1,619 characters
Dave's BrewFarm in Wilson, WI
3.91
out of
5
based on
433
ratings.