Vakka-Suomen Prykmestar Savu Kataja
| Vakka-Suomen Panimo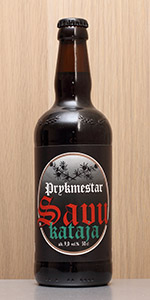 BEER INFO
Brewed by:
Vakka-Suomen Panimo
Finland
vasp.fi
Style:
Sahti
Alcohol by volume (ABV):
9.00%
Availability:
Year-round
Notes / Commercial Description:
No notes at this time.
Added by baggio on 11-03-2009
Reviews: 3 | Ratings: 14
Reviews by Asgeirr:
More User Reviews:
2.31
/5
rDev
-40.2%
look: 2.5 | smell: 2.75 | taste: 2 | feel: 2.5 | overall: 2.25


3.27
/5
rDev
-15.3%
look: 2.5 | smell: 3.5 | taste: 3.25 | feel: 3.25 | overall: 3.25
BOTTLE: 50cl. Brown glass. Generally appealing label art. Branded black pry-off crown cap. Purchased at an Alko in Kuopio, Finland. Best before: 02/27/17.
9.0% ABV.
Served chilled into a pilsner glass at low altitude in Kuopio, Finland. Expectations are average. Reviewed live as a smoked beer per the label.
No bubble show forms as it's poured.
HEAD: Off-white. Okay thickness, I guess. Not full, even, or robust. Recedes within 1 minute, leaving no lacing. Pretty lackluster across the board.
BODY: Caramel-brown. Somewhat dull. Translucent. Nontransparent. Not hazy/cloudy/turbid. No yeast particulate or hop sediment is visible. It certainly isn't the opaque solid black I'd expect in a smoked beer, or the deep amber-black of a good rauchbier, but it's fine for the style.
Appears undercarbonated. Looks okay at best, with no unique or special characteristics. The poor head retention and unremarkable body don't have me optimistic...
AROMA: As a smoked beer, the note that should dominate is...well, smoke. And it does, thankfully. I get some roasted pork meat, smoked malts, hints of the harsher ash-tray like notes of char, burnt character, and ash that turn off so many drinkers to this style, and smokey sugars, but it's never too harsh, rough, or unappealing. In fact, the smoke is undercut by a nice caramel sweetness from the malts as well as a hint of nuttiness.
Aromatic intensity is average. It's a pretty restrained smoked beer.
No booze, off-notes, overt hops, or obvious yeast character are/is detectable.
No juniper (kataja) to be found...
TASTE: The taste delivers on the promises of the aroma - though it's worth noting the flavour profile is rather simplistic (or even plain) for a smoked beer. But thankfully, it delivers the requisite smokiness, with notes of smoked meat (pig, if it matters), smoked malt, beech, and some mild burnt character - but I find no harshness in terms of ashiness or char. There's little bitterness to this beer, with no overt hop profile manifesting in the flavour profile, and (as the aroma suggests) the caramel/caramalt cuts the smoke with a pleasant sweetness. I think there's some Marzen malt in there too...
Not tannic or estery, with a clean taste more redolent of a lager yeast than an ale yeast. In fact, it resembles a Baltic porter in that respect.
Simple though it may be, the balance is nice - which is tough in a smoked beer. I'm glad the smoke isn't too shallow or reticent, but they could push the smoke still further; the caramalts could take even more of a smokey beating, and I'd like more depth and intensity of flavour. By no means an intricate or nuanced smoked beer, but for a Finnish offering it's surprisingly good. I like it.
Average duration of flavour. Has no obvious yeasty notes (e.g. vitamins, clove, banana, phenols), hops, or off-notes.
Not finding any juniper in the taste. Did they smoke the juniper? It's not coming through at all.
TEXTURE: The harsh scratchy rough feel you may expect in a smoked beer is absent here, bolstering drinkability, but I can't help but think that a more traditional (and less approachable) mouthfeel would actually benefit it. Doesn't the subtle coarseness and dryness of most smoked beers help accentuate the principal smoke? Why cater to the hoi polloi if you're sacrificing a fundamental characteristic?
Carbonation is almost ideal. It's medium-bodied where it should be full-bodied. Unrefreshing (to style). Has sufficient thickness, heft, and weight on the palate without coming off syrupy, though it is a bit sticky.
There's not a natural harmony of texture to taste, but this mouthfeel does suit the flavour profile generally well.
OVERALL: Not on the level of Bamberger Rauchbier or a good smoked porter, but respectable for a Finnish offering. I do have to wonder where the juniper (kataja) is; it doesn't come through in the beer in any way whatsoever. Its high price point precludes me from a second purchase, but I'd recommend it to those desperate for a change from Finland's punishing pale lagers. It's more drinkable than it ought to be, but that will appeal to more casual drinkers. I look forward to trying more offerings from Vakka-Suomen, but this isn't world-class. Definitely well above-average by current Finnish standards, though.
Low B- (3.27)
4,305 characters
3.61
/5
rDev
-6.5%
look: 3.75 | smell: 3.25 | taste: 3.75 | feel: 3.5 | overall: 3.75

4.18
/5
rDev
+8.3%
look: 4.75 | smell: 4.25 | taste: 4 | feel: 4.25 | overall: 4.25

3.94
/5
rDev
+2.1%
look: 3.25 | smell: 4.25 | taste: 4 | feel: 3.75 | overall: 3.75

4.21
/5
rDev
+9.1%
look: 4 | smell: 4.25 | taste: 4.25 | feel: 4 | overall: 4.25
4.4
/5
rDev
+14%
look: 4 | smell: 4 | taste: 4.5 | feel: 5 | overall: 4.5
Really good beer and I'm not partial to smoke beer. This was served with a small to medium tan head that settled very slowly. Color is a hazy/cloudy red brown. Aroma is mostly smoke rounded with sweet malt. Flavor is similar plus some spice and cut with a little carbonic tang. It has a full, rich, perfect body and good carbonation. Finish is like flavor, has a major alcohol presence, and slowly tapers in a balanced way. This is a hugely smokey beer that work well in this beer. Perhaps session in the right mood or setting. I feel very lucky that I got to try it here.
572 characters

4
/5
rDev
+3.6%
look: 4 | smell: 4 | taste: 4 | feel: 4 | overall: 4
4.1
/5
rDev
+6.2%
look: 4 | smell: 4 | taste: 4 | feel: 4 | overall: 4.5
[email protected]
pint pub, Helsinki.
A: Dark brownish with a small, white head.
S: Smoked meat, Peat, Roasted malt.
T: Smoked meat, Peat, Wood, Roasted malt, Dark caramel.
M: Very balanced beer and insanely drinkable for being 9%. Alcohol is very well hidden.
This is a really good beer. Could definitely see myself drinking more of this in the future.
362 characters

4
/5
rDev
+3.6%
look: 4 | smell: 4 | taste: 4 | feel: 4 | overall: 4
Vakka-Suomen Prykmestar Savu Kataja from Vakka-Suomen Panimo
3.86
out of
5
based on
14
ratings.