River Market Brewing Company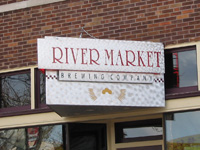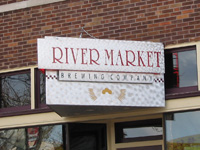 Brewery, Bar, Eatery
500 Walnut St
Kansas City
,
Missouri
, 64106-1209
United States
// CLOSED //
Notes:
Recent ratings and reviews.
| Log in to view more ratings + sorting options.
Ratings by hwwty4:
Reviewed by hwwty4 from Missouri
2.53
/5
rDev
-20.2%
vibe: 3 | quality: 2 | service: 3.5 | selection: 2 | food: 2.5
After hearing about this place, I finally made it down there. Honestly most of what I heard was negative, but I still thought as a beer loving Kansas Citian I should give it a go. It is located in a cool section of Kansas City, with lots of outdoor markets. Makes for really good people watching if your sitting at the bar. Which comes to my first point, sit at the bar. When I came in I sat at the bar for my first couple of drinks and the beertender was great and was pretty knowledgeable of her beers. Service was excellent. Then I sat in the restaurant and it kind of went downhill from there. Service was shotty, food wasn't great, and their beer is horribly generic.

The best thing was the beertender. She told me not to order the Blonde because it had been rushed off the line and not aged properly making it taste funny. I really appreciated the warning. If it wasn't for the beertender telling me that every once in a while they make a double stout aged in Jim Beam barrels, I don't think I would go back.
Jan 02, 2008
More User Ratings:
Reviewed by scoobybrew from Indiana
3.7
/5
rDev
+16.7%
vibe: 4 | quality: 4 | service: 4 | selection: 3 | food: 3.5
My wife and I stopped in here for lunch on a trip to KC just before visiting the Arabia Steamboat Museum nearby (which I do also recommend).

There was a fairly light crowd at lunchtime in the bright sunlight, which with all the windows in the place makes the large open area in the joint pretty bright as well - refreshing.

All the regular beers had decent characteristics. Balanced, but somewhat slightly slanted towards malty. The APA was hoppy, but used European varieties so it was more herbal than citrus-like.

We had burgers - they were good.

Overall, I enjoyed our stop and would stop in again. My expectations were somewhat low because of previous reviews, but I was pleasantly pleased with the overall experience.
May 14, 2008

Reviewed by woodychandler from Pennsylvania
3.68
/5
rDev
+16.1%
vibe: 3.5 | quality: 3.5 | service: 4 | selection: 3.5 | food: 4
Located in the Gillis Building, the former site of the Gillis Opera House, it sat at the corner of 5th and Walnut Streets in downtown K.C., Mo. On a personal note, I really enjoy these corner locations, because they give me the opportunity to watch foot and vehicle traffic pass by and I can sit and contemplate how glad I am to just be sitting and drinking beer.

The front door was perpendicular to the corner, so as I entered, the maitre d' station was at a right oblique; the short, wood-topped bar was at a left oblique; and the extensive restaurant area was off to the right, down a short flight of steps. Above the bar hung the Mug Club mugs and to the right of the bar, as I sat facing Walnut Street, was the brewhouse. The heavy, red velvet curtains along the windows hearkened back to the building's roots. Our bartender was Angie, and she was a hardworking, tough, no-nonsense type who summarily dealt with an abusive customer as I sat and listened. The washrooms were straight back from the bar, through the restaurant, and past the Game Room with two pool tables, a Golden tee machine, and lots of advertising Breweriana. A neon sign pointed the way to "Restrooms and Phones".

As to their beers, besides their standards, (Bomber Blonde, Sodbuster Pale Ale "Straight from the fields", River Market Red, and 8-Ball Cream Stout), they also produce seasonals. During my visit, they had RMBC Wheat, IPA (as a seasonal!), and a Saffron Ale (!). The other seasonal, which was unavailable, was the Aces and Eights Honey Brown Ale. I can attest to the fact that the stout paired nicely with the steak that I had for lunch.
Oct 12, 2006
Reviewed by Dansting from Kansas
3.25
/5
rDev
+2.5%
vibe: 4.5 | quality: 4 | service: 2 | selection: 3 | food: 3.5
I've been here a few times, and the best advice I can give is to go in a small group and try to sit closer to the bar. The further from the bar that I've sat, the worse service I've gotten. Without exception.

As for the atmosphere, RMBC is located in a cool part of KC in a nice building. The inside seems kinda dated, but it's not horrible either.

The beers are okay. Nothing is horrible, yet nothing is outstanding. The food usually is pretty good, and they have daily specials that are usually good and a great deal.

One big negative is the service, and it can be brutal. I went on my birthday once, and we were seated in a back section of the pub and our service was terrible. The place wasn't busy either which made it even more bad.

The only other major problem I've had with RMBC is that they claim to have beer to go, but only once in the half-dozen or so times that I've asked did they actually have them. Not a good average.

So depending on when you go, where you sit, and if the service is up to your standards, beware of going to the River Market Brewing Company. It is never horrible, yet has never been great either.
Jul 24, 2006

Reviewed by jjayjaye from New York
2.75
/5
rDev
-13.2%
vibe: 3 | quality: 3 | service: 3 | selection: 2 | food: 3
I'm going to be brief about River Market because I want to indicate that my experience at the place was 'average' but I don't want to seem overly negative about it. My search led me through web page or what not about the beer and I had higher expectations going in then I realized during my visit. A number of the taps were dead soldiers, included the style I'd read about that led me there. I'm glad that I had the opportunity to check it out while I was on a business trip through KC, but I personally wouldn't seek it out again. The place seems like a good idea, the service was reasonable and there was enough of a crowd, so there is definitely an attraction for some, but I've got to pass. Opinions…hey, everybody has one.
Jun 04, 2006

Reviewed by bditty187 from Nebraska
3.33
/5
rDev
+5%
vibe: 3 | quality: 3.5 | service: 3.5 | selection: 3 | food: 3.5
River Market didn't start off on the right foot with me. First of all, there were four neon BMC signs outside. WTF is a brewpub doing with these? Very lame, IMO. As I entered on Friday evening around 8 pm I was shock at how non-busy it was.

RMB is basically one really big room with the bar to the left as you enter. The bar sets up higher then the restaurant section and as far as I could tell this was the only smoking section. There was a small stage beyond the bar and there was a rock-folk band setting up. Near the bathrooms (which were really dirty) is a small offshoot that has pool tables and a dartboard.

The ceilings are high; the walls are painted red… I don't like red walls in a restaurant, I always feel rushed. The brewing equipment was exposed above and near the bar. Hanging above the bar were mugs for a mug club, it looked popular and most of the few people eating/drinking seemed to be regulars. There were random TVs playing sports, they were too small though to be clearly seen.

On my visit the waitress was friendly but not as attentive as I would have liked. The menu had a few items that sounded pretty good, I got the fish tacos, they were messy and over-seasoned. They weren't bad but they weren't impressive either. My side salad was big and very tasty. Oddly my girlfriend chicken salad was a major dud. The beer, I only had the Pale Ale, was dull and average at best. As this is a brewpub the beer needs to be much better for me to return. As it looks now, RMB was a one-time thing.
May 24, 2005
Reviewed by bahua from Missouri
3.05
/5
rDev
-3.8%
vibe: 3 | quality: 3.5 | service: 2 | selection: 3 | food: 4.5
The strong point is the food, at RMBC. The beers, for the most part, are unexciting, though on occasion they'll have a seasonal that will greatly improve your opinion of this otherwise ordinary bar.

The KC Strip is sensational, and not as expensive as most places(16-oz for about $18), and I agree, the chicken tenders are not to be missed.

It's located in the bustling River Market district, and is within easy walking distance of a dozen or more qualty drinking establishments, making it a perfect stop-off, while waiting for friends, or a pre-going-out dinner location.

But be warned! On odd Saturdays, the brewery plays host to a lounge-style singer with a background-music box. She wanders from table to table, singing campy tunes into a wireless microphone, generally freaking people out. I was there a few months ago, and found out, firsthand, how it is to be serenaded over chicken fingers and fries with "Hey Big Spender." That may be your thing, and if it is, have at it.

Also, if you go, don't expect to get prompt service, and when the waitress asks you if "you guys," need anything else, be absolutely sure if you need something, because she won't be coming back until she's gotten ten minutes of stink-eye from you.

This all sounds rather negative, but the irony is, I love River Market Brewery. Maybe that's why I'm so critical of it. Definitely worth a stop if you're downtown.
Jan 09, 2005

Reviewed by elmocoso from Nebraska
2.78
/5
rDev
-12.3%
vibe: 3 | quality: 2.5 | service: 3.5 | selection: 2 | food: 3.5
The beer here is a let down - atleast the time i was there. They only had 4 house beers on tap. A blond, IPA, Cream Stout and somthing else, i forget. I had the IPA only, because i was driving and i was very dissapointed. This was not an IPA. The hops were less present than in a PA or Bitter, i could go on but this is not the place.

The atmosphere was kind of average also. Woody with too many TV's They had an area above the bar with mugs hanging on it for the locals which was kind of cool, but i didn't like the style of the mugs.

The place didn't seem very interested in the beer aspect of their "Brewpub". Kind of dissapointing. I would give it one more try if i ever get back.
Jul 20, 2004

Reviewed by marc77 from California
2.68
/5
rDev
-15.5%
vibe: 3.5 | quality: 2 | service: 3.5 | selection: 2 | food: 3.5
There were only two beers on tap as of 8/9/2003 because of issues with the brewery. It may close. Hmm... just an insipid red and a pale. Disappointing for sure, 'cause I've had tasty brews here in the past. The layout is attractive and uncluttered, with the upper bar level leading to a spacious dining area with tables. Several small TVs line the perimeter of the ceiling. A token "sports bar" gesture, I guess. THe atmosphere was noisy, but comfortable and unpretentious. Standard, slightly above average brewpub fare, but the veggies I ordered were cold. Oh well. River Market has gone downhill, and is now quite uinimpressive. It seems to more of a sport based restaurant than a brewpub now. Such unfulfilled promise in a prime locale in KC.
Aug 10, 2003

Reviewed by Quaffer from Nevada
3.5
/5
rDev
+10.4%
vibe: 3.5 | quality: 3.5 | service: 3.5 | selection: 3.5
The River Market Brewing Company is not the easiest place to find, considering its location on the extreme northern edge of downtown. And in the evening, after the market has closed, there is not much else going on in the area.

This is a nice big brewpub, so it never seemed crowded any of the times that I was there. There is a large game area in the back with its own bar that attracts a lot of the patrons.

The beers they brew are pretty average. While not bad, none of them stand out in my mind as anything to write home about.
Aug 10, 2003
Reviewed by beernut7 from Massachusetts
3.63
/5
rDev
+14.5%
vibe: 4 | quality: 4 | service: 3.5 | selection: 3 | food: 4
This brewpub is very difficult to find due to the completely messed-up design of the Kansas City streets. The pub is rather large with the bar right through the front door, then the main dining area and a game room with video games and billiards in the back. The menu is varied and pricey, but they have the best chicken tenders I have ever had. The service was friendly if a bit slow. The city around the pub is dead on weekends.
Sep 04, 2002
River Market Brewing Company in Kansas City, MO
Place rating:
0
out of
5
with
11
ratings