Nile Special Lager
| Nile Breweries (SAB)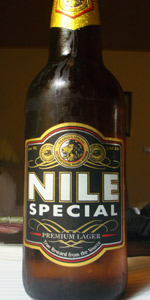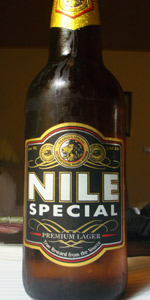 BEER INFO
Brewed by:
Nile Breweries (SAB)
Uganda
nilebreweries.com
Style:
American Adjunct Lager
Alcohol by volume (ABV):
5.60%
Availability:
Year-round
Notes / Commercial Description:
No notes at this time.
Added by GeezLynn on 12-01-2009
HISTOGRAM
Ratings: 13 | Reviews: 6
Reviews by GeezLynn:

3.23
/5
rDev
+3.9%
look: 3 | smell: 2.5 | taste: 3.5 | feel: 3.5 | overall: 3.5
"True Reward from the Source"
Standard yellow brown color with a light golden tint. Atop sits a moderate white head with decent retention. Aroma is malty with a noticeable alcohol presence and a little hop smell. Flavor is a touch of pale malt along with enough hops to give it a slightly sweet, almost fruity flavor with a little bit of bite to it. Well-carbonated for the style, which along with a touch of bitterness results in a nice crisp finish. Not only very drinkable, but in my opinion, the best beer brewed in Uganda.
Despite the fact that this beer is brewed with water from the rather sordid Lake Victoria, it's a pretty solid American Adjunct that would compare favorably to many American contemporaries. Recommended.
732 characters
More User Reviews:
4.15
/5
rDev
+33.4%
look: 4 | smell: 4 | taste: 4 | feel: 4.5 | overall: 4.5
My brother brought this back from a trip to Uganda. 500 mL bottle poured into an antique Czech pils glass.
Pours crystal clear light golden yellow with a finger of decent and creamy looking head. The head sticks around quite well for the style.
Smells like light malts, maybe a touch of sweet corn, and some very appealing smooth fruitiness. For the style this beer really smells quite nice.
First off, there are a few things that set this beer apart. First, I actually taste hops. There isn't just the bitterness that is common in American adjunct-brewed lagers, but I actually taste a little actual leafy noble hop. The other flavors are light and well balanced, and don't include any sulfur, salt, or metallic notes often seen in this style. The grains are sweet, crackery and very light.
The mouthfeel is smooth for the style with perfect carbonation.
Conclusion: For an adjunct-brewed lager (sugar and corn grits added) this is the best I have tasted. This easily beats out my previous favorite Miller High Life for top spot in this category.
1,054 characters
3.25
/5
rDev
+4.5%
look: 3 | smell: 3 | taste: 3.5 | feel: 3 | overall: 3.25
500mL bottle poured into a glass mug. Pours a clear golden hue with carbonation rising throughout the beer's standing time. 1.5 finger white foam head with minimal lacing and good retention. Clean malt nose with a hint of banana. The palate is prominent malt with faint banana and fainter still clove hiding, barely perceptible, in the background. Slight cracked pepper. Medium mouthfeel. Overall, not dissimilar to Tusker, one of the other staple lagers of the region, and undoubtedly a beer enjoying similar European influences in its brewing. This review should be entirely taken with a grain of salt however, as Uganda has given me a perpetual congestion that severely limited the accurate tasting of this beer.
723 characters
2.8
/5
rDev
-10%
look: 3 | smell: 3 | taste: 2.5 | feel: 3 | overall: 3
Blonde beer with a little bit of lacing on the surface and a rim of foam. Some light prickle rising in the glass and it suspends some minor sediment. Malty nose with traces of grain. I don't really detect any of the hops on the nose. Nice flavor at first as it starts out balanced and you can pull the hops, grains and malts out in a nice package. Very quickly however there is a sweet malt sensation that almost reads like sugar in the beer. It just seems a bit sweet for a light beer, almost like it could have fermented longer. My guess is that this beer is served very cold on very hot days. It is just kind of there. Not bad, but not something I will remember. My wife brought me back a few beers from Uganda, and this is probably not the favorite of those I have tried. The best part of the beer is that it is from Uganda. Just a bit below average I feel, even among american adjunct lagers. Some mild saaz hops in the finish and aftertaste I think. I may be thinking saaz and its something else, but it tastes "like" that.
1,029 characters


2.33
/5
rDev
-25.1%
look: 2.5 | smell: 2 | taste: 2.5 | feel: 2 | overall: 2.5
A: Pours a light golden color with a small creamy head and bit of lacing.
S: Aroma of sweet malt and grain.
T: Flavor of malt and grain with a bit of fruit sweetness and a clean finish.
F: Light body, pretty bland.
O: Tropical version of a Pale Lager. Best for lounging by the hotel pool in Kampala. Recommend whiskey for any serious drinking in Uganda.
357 characters
3.31
/5
rDev
+6.4%
look: 3.25 | smell: 2.75 | taste: 3.5 | feel: 3.5 | overall: 3.5
Served from a 500 mL bottle into a pilsener type glass. Sitting outside overlooking the Nile River in Uganda (which may have impacted the score).
Kind of looks like most tropical hot climate beers but maybe a little darker gold. Not much head.
Grainy smell
Actually a nice malty backbone and not much hops bitterness. Enough to keep from being cloying. No skunked flavors here.
Moderately carbonated, not sticky.
Overall a welcome option. Actually reminds me a bit of Yuengling overall. I wouldn't turn it down if offered in Africa. Not really sure I would go after it in the US (not that I could even find). Overall a decent choice in a place without many decent choices.
684 characters
4.99
/5
rDev
+60.5%
look: 4.75 | smell: 5 | taste: 5 | feel: 5 | overall: 5
Favorite beer.
14 characters
2.28
/5
rDev
-26.7%
look: 2.25 | smell: 2.25 | taste: 2.25 | feel: 2.5 | overall: 2.25
Nile Special Lager from Nile Breweries (SAB)
Beer rating:
3.11
out of
5
with
13
ratings