Alpha Blonde
| Morgantown Brewing Company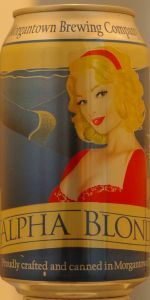 BEER INFO
Brewed by:
Morgantown Brewing Company
West Virginia
,
United States
morgantownbrewing.com
Style:
American Blonde Ale
Alcohol by volume (ABV):
5.10%
Availability:
Year-round
Notes / Commercial Description:
A seductively soft, easy drinking blonde ale, with an emphasis on a fragile and complex malt character. Made with Belgian candi sugar, honey malt and select Belgian and American grain. Slightly sweet and creamy; perfect for the session connoisseur and the timid domestic drinker looking for an introductory craft beer.
This brew was made to please the novice craft beer drinker. Dubbed the "domestic with a kick" it provides a smooth, pleasant flavor throughout. More flavorful than your domestic beers, but light enough that anyone can enjoy.
17 IBU
Added by JamesS on 12-10-2009
Reviews: 8 | Ratings: 49

3.4
/5
rDev
+7.3%
look: 3 | smell: 3.5 | taste: 3.5 | feel: 3.25 | overall: 3.25
I purchased a lot of CANs from a fellow from Pittsburgh during a recent BCCA event in the furtherance of The CANQuest (tm). I am watching the Marshall (WV)/Pitt game right now, so this seemed like a good time to Crack! this one open.
From the CAN: "Proudly crafted and [CAN]ned in Morgantown, West Virginia"; "Cheat [CAN]yon Coopers Rock".
I Crack!ed it open and CANmenced a gentle Glug as the Blonde was having troubles & I did not want to further upset her. Color was a hazy Yellow-Gold (SRM = 4 - 5) with lots of CO2 bubbles in evidence. I got a finger of dense, foamy, bone-white head with great retention. Nose had a biscuity-grassy scent, more akin to a lager, but I was not CANplaining. Mouthfeel was kind of thin, but very effervescent. The taste was rather sweet, more bready then biscuity, with a light grassiness. Finish was semi-sweet with a grassy, honey-like biscuitiness. It was tasty, but there was noting to distinguish it from a large field. This is one of their flagships & if I were forced to attend a WVU game & its attendant tailgating, I would not have a problem with filling my cooler with CANs of this one. Aside from that, I CANnot find anything to reCANmend it.
1,191 characters
1.43
/5
rDev
-54.9%
look: 3.5 | smell: 1.75 | taste: 1 | feel: 1.5 | overall: 1.25
I've had bad beers and I've had horrific beers. The Michelob ultra from last week? Bad. This one? Horrific.
A mildly hazy orange with a large, off white head with good retention and little lacing, this looks OK. The nose is just plain awful. When poured fresh, this has an incredibly unpleasant blend of metallicity and vegetal hops, and as the carbonation dies down, it gains a stale, dull malt character. Nothing could prepare me for the palate, though. My first reaction was to spit it out (haven't done that in a while!). Just awfully metallic and vegetal with notes of garbage juice. It improves greatly once allowed to breathe, but seriously, who decants a blonde ale? Honey, vegetal hops and a weird pungency are present. Watery on the palate, faintly bitter on the finish. Awful.
791 characters

3.4
/5
rDev
+7.3%
look: 3.75 | smell: 3 | taste: 3.5 | feel: 3.5 | overall: 3.5
Poured a nice and clear gold from a growler. Very little head. Just a light aroma of fruits. Moderate carbonation apparent. Starts with a fruity sweet kick and finishes off a little bitter. Well balanced and not overpowering or complex in any way, very light, an easy drinker. This grew on me, just good enough to be a good session beer. Not bad.
353 characters

3.21
/5
rDev
+1.3%
look: 3.5 | smell: 3 | taste: 3.25 | feel: 3.25 | overall: 3.25
A- pours crystal clear pale straw follw with a small creamy white head, a bit of lace left behind
S- grainy, cooked corn, metallic, remeniscent of an adjunct
T- light and malty with some sweet notes, moderately hopped, light fruity esters with a dry finish
M- light bodied, medium carbonation with a crisp finish
O- this is a stp up from an adjunct and a good option for a bmc drinker, but won't do much for creamy beer fans
430 characters

3.52
/5
rDev
+11%
look: 3 | smell: 3.5 | taste: 3.5 | feel: 4 | overall: 3.5
Had on tap at Oglebay resort in WV.
A: Served in a pint glass, Alpha was clear gold with a small white head on top, not much retention or lacing.
S: Not a ton going on in the aroma, a little bit of grainy malt, some bread, and a little bit of fruit, mostly apple.
T: Flavor is a bit more on the bready side and hoppier with a bit of a grassy flavor.
M: Light to medium bodied with moderate carbonation. Refreshing and pretty smooth.
O: Pretty good, was one of the only non big beer choices at the bar at the hotel, and was more than happy to give it a shot.
566 characters

3.2
/5
rDev
+0.9%
look: 3.5 | smell: 3.5 | taste: 3 | feel: 3.5 | overall: 3
On tap at the brewery poured into pint glass on our way to Louisville for the Kentucky Derby back in 2009. Pours clear gold with a small, fizzy white head, low retention with light lacing. Aroma is heavy malt (bread, hay, straw), light hops (earthy), and light hops (apple/pear). Flavor is heavy malt (bread, hay, straw), light hops (earthy), and light esters (apple/pear) with notes of honey. Light body, low warmth and creaminess, medium carbonation with a dry finish.
470 characters
4.23
/5
rDev
+33.4%
look: 4.5 | smell: 4 | taste: 4 | feel: 4 | overall: 5
had this in origional and spicy christmas. spicy christmas was top notch. cool place check it out. smooth pilsner style ales. session beers. good everyday beer similar to BMC products with enough character to stand on its own. nice head and clear appearance. definatly a worth while brew pub to check out in my opinion
318 characters

3.48
/5
rDev
+9.8%
look: 4 | smell: 3.5 | taste: 3 | feel: 4 | overall: 4
Pours a nice deep straw color with some very nice foamy head, and a nice bit of lacing. Sweet malt scent, with a little hop or spice in the nose. Nice crisp taste, good sweet pale malt; thought I detected oats or wheat in the mix, which I don't care as much for in my blondes, but I know it's a fairly common use; finishes with a slight hoppy and slight peppery taste (German hops or yeast?). Goes down very smooth.
415 characters
Alpha Blonde from Morgantown Brewing Company
3.17
out of
5
based on
49
ratings.