Berserker Winter Imperial Stout
| North Peak Brewing Company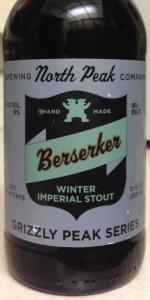 BEER INFO
Brewed by:
North Peak Brewing Company
Michigan
,
United States
northpeak.net
Style:
American Double / Imperial Stout
Alcohol by volume (ABV):
9.00%
Availability:
Limited (brewed once)
Notes / Commercial Description:
No notes at this time.
Added by Zaphog on 12-19-2014
This beer is retired; no longer brewed.
Reviews: 12 | Ratings: 64

4.52
/5
rDev
+12.7%
look: 4.75 | smell: 4.5 | taste: 4.5 | feel: 4.5 | overall: 4.5
Is this beer really retired? That's a shame, because it's incredibly underrated. Here goes:
A: Superb. Pours a massive, slow-to-build chocolate head that leaves a ton of lacing. The beer is also pitch black. Perhaps it could do with a tad less body carbonation, but this is only a minor imperfection for an imperial stout.
S: Ton of burnt malt, giving the scent of coffee. Very chocolatey, too. Also has faint hints of dark fruit, including plum and raisins, and licorice. It's all there, baby.
T: Initial taste of coffee and chocolate followed by dark fruit and sweet licorice at the back of the palate. Taste of dark fruit and licorice linger, but they aren't as overwhelming as they are in Old Rasputin. I personally prefer this, as I like imperial stouts with more of a chocolate/coffee flavor than a dark fruit/licorice flavor.
F: Superb; thick and creamy.
O: A great beer. Would get again.
916 characters
3.93
/5
rDev
-2%
look: 3.75 | smell: 3.75 | taste: 4 | feel: 4 | overall: 4
A - nice pitch black beer with a mocha head that seems to be sticking but it does appear to be at least a little overcarbed for an imperial stout
S - dark roasts malts, burnt marshmallow, dark chocolate, cocoa, slight cinnamon
T - dark roasty malts, burnt marshmallow, cocoa, slight campfire.
M - heavy, alcohol covered, aftertaste roasty/burnt
O - underrated. Closer to Old Raspy than anything else I can think of.
416 characters

4.35
/5
rDev
+8.5%
look: 4.25 | smell: 4.25 | taste: 4.5 | feel: 4.25 | overall: 4.25
Milk chocolate malts with some coffee. Hints of gingerbread and cinnamon. Very dark, not too heavy of a viscosity. It's really smooth and appealing to your taste buds. This is well done, thumbs up.
198 characters
4.02
/5
rDev
+0.2%
look: 4.25 | smell: 4 | taste: 4 | feel: 4 | overall: 4
A North Peak victory! I have loved some of this brewery's work. Add this to the love pile.
It looks nice in the glass, with a great, fine head and thin lacing. Excellent.
The aroma is great. A hoppy stout smell with the malts to go with it.
The taste similarly is quite good. Sweet, but bitter enough to balance the big malt profile. Under all that you can feel that there is yeast to make it happen. It is a nicely bold brew that doesn't try to dazzle with crazy variations.
This is a great drinking imperial stout. Recommended for when you want something unique but not too adventurous.
593 characters
3.99
/5
rDev
-0.5%
look: 4.5 | smell: 4.25 | taste: 3.75 | feel: 4 | overall: 4
Pours black and thick. One finger dark khaki colored head. Nice lacing left behind when the head dissipates. Lacing vanishes fairly quick though.
Heavy chocolate aroma. Cocoa, bakers chocolate, and straight cacao nibs. Roasted malt and licorice.
Rich chocolate on the tongue, dark and bitter. Roasted malt(almost burnt), smoke, peat and charred meat.
Thick mouth feel. A bit creamy with some bitterness mixed in. Moderate carbonation. Oily and lingering.
This was a nice imperial stout. I would like to have had a bit more sweet on the taste to counteract some of the smoky/peaty flavors.
601 characters

3.94
/5
rDev
-1.7%
look: 4 | smell: 4.25 | taste: 3.75 | feel: 3.75 | overall: 4
Very sweet dark cocoa, with malted milk ball notes and booze. There's a bit of cinnamon.
Flavor is roasty and features dark fruit. Fairly bitter, with lots of dark cocoa. Not as sweet as the aroma indicates. Very rich malt profile.
232 characters
3.87
/5
rDev
-3.5%
look: 4.25 | smell: 4 | taste: 3.75 | feel: 3.5 | overall: 4
12 oz. stubby bottle purchased at Copper Vine for $3.19. Bottled on 12/03/14. Poured into a Stone IRS snifter.
A- A normal pour creates 1 finger of brown head that takes it time settling into a light lace in the middle with thin, foam at the side of the glass. The body is near jet, with the darkest brown edges when held to light. Very good sticky webs left on the glass.
S- Rich and slightly sweet. I get lots of roasted malts that are a mix of strong brewed coffee with a dash of sugar and lighter, milk chocolate. There are also hints of raisin or stewed berries. Chocolate aroma becomes more of the dark variety later on, and the coffee scents push out any of the previous fruity qualities.
T- Much as the aroma suggests. Flavorful, but not overly bold. Roasted malts again hint at coffee with sweet flavors of dark chocolate and sugar in the raw. Warmth really enhances the roasted flavor, becoming something of charred grains.
M- Medium-full body, maybe lighter than the visuals would suggest. Lightly carbonated makes for a creamy feel, just short of under-carbonated.
O- A great winter offering from North Peak, and appropriate during today's snow storm. Maybe a touch pricey (a Breakfast Stout may be a better call). I do like that it's offered in a 12 oz. (bombers just seem to be a reason to overcharge most of the time). I'm not going to seek it out, but I'd buy another one to round out a mixed sixer next winter. Definitely a nice break from the spiced winter warmers.
1,503 characters

3.79
/5
rDev
-5.5%
look: 3.5 | smell: 3.75 | taste: 3.75 | feel: 3.75 | overall: 4
Bottled on 12/3/14. 12oz bottle poured into a snifter. Pours black with very little light getting through; small mocha head that leaves decent retention and okay lacing. The aromas are nice. Lots of dark chocolate and vanilla. Hints of caramel as well. Cocoa malts are there. Very subtle coffee notes. The flavors are malty. More chocolate. Hints of espresso. Dark fruits in the mix. Some earthy notes. Flavors are bittersweet. Subtle warmth in the finish, but the alcohol basically goes unnoticed. It's definitely not hot or boozy at all. Mouthfeel is on the lighter side of full-bodied. It's not thin, but it's not heavy. Moderate carbonation.
This is a solid Imperial Stout. I like it. Sure, there are a ton of stouts I like more, but this is a nice example of the style. Very enjoyable.
792 characters

3.81
/5
rDev
-5%
look: 4.25 | smell: 3.75 | taste: 3.75 | feel: 4 | overall: 3.75
I picked up a four pack of North Peak's Berserker Winter Imperial Stout from their Grizzly Peak series last week at the Lager Mill. I missed out on this beer last time I was at Grizzly Peak and I'm looking forward to giving it a try, so lets see how it goes. 2014 Vintage. Poured from a stubby brown 12oz bottle into a snifter.
A- The label looks nice, the colors make it stand out a little and I think it's just a little eye catching. It poured a nice black color that didn't let any light come through and it had a little over two fingers worth of creamy mocha colored head that died down to a thin ring that stayed till the end and it left some nice sticky lacing behind. This is a very nice looking Imperial Stout, I have no complaints at all.
S- The aroma starts off with a higher amount of medium sweetness with the roasted malts being the the first to show up and they impart a dark roasted malt and sweet malt aroma with some chocolate and coffee showing up in the background with no aspect sticking out more than the other. Up next comes a nice fruity aroma which imparts more of dark fruit and light berry like aroma and it makes for an aroma that reminds me a little of a chocolate covered berry. This beer had a pretty nice aroma and it seemed to be a little more fruitier than most.
T- The taste seems to be pretty similar to the aroma and it starts off with a higher amount of medium sweetness with the dark roasted malts still being the first to show up and they impart the same aspects that they did in the aroma with no single aspect sticking out the most. Up next comes the dark fruits which are a little lighter than they were in the aroma and they still have a little bit of that chocolate covered berry aspect to them. On the finish comes a light smokey flavor with just a little bit of hops and a very light amount of bitterness and it roasted malt and slight dark fruit aftertaste. This was a pretty nice tasting beer,just like the aroma it's got more of fruity aspect than most Imperial Stouts.
M- Smooth, a little crisp, fairly creamy, a little warming, on the thicker side of being medium bodied with a lower amount of medium carbonation. The mouthfeel is good and it works well with this beer.
Overall I thought this was a pretty nice beer and I thought this was a nice and fairly unique example of a Imperial Stout, it had a good amount of the aspects that I look for in the style. but the fruit aspect seemed to be much stronger than most and I think that made this beer stand out from a lot of Imperial Stouts. This beer had nice drinkability, it was smooth, a little crisp, fairly creamy, a little warming, not too filling and the taste did a nice job at holding my attention, I think two would be my limit, anymore than that and it might start to wear on me a little. What I like the most about this beer was the appearance and mouthfeel, they were both good and were the highlights of this beer. What I liked the least about this beer was that the chocolate and coffee aspects didn't show up more, I think they needed to be bolder to go up against the dark fruits. I'll get a four pack if they release it next year, but I think a four pack is enough to last me for the year. I would recommend giving this a try especially if your interested in a Stout that's a little unique. All in all I liked this beer, but I didn't love it, it was nice and unique, but I can't say I was a big fan of how bold the dark fruit aspects were in this beer and I found myself wishing that the dark roasted malts were more assertive. So far it's my second favorite in the three beers that have been released in this series and I think it's just a little above average for the style. Nice job guys, this was a solid and fairly unique Imperial Stout, keep up the hard work.
3,816 characters

4.05
/5
rDev
+1%
look: 4.75 | smell: 4 | taste: 3.75 | feel: 4.5 | overall: 4.25
This beer has an exceptional appearance, with an excellent marbling head and spectacularly lucid viscosity. It has the drinkability of a milk stout, yet its IBUs are fairly high and come through especially well in the finish and nose. Berserker has a nice black licorice quality hiding behind its prototypical stout veil as well. It eventually became pleasantly grainy on my last few takes.
390 characters

3.93
/5
rDev
-2%
look: 3.75 | smell: 3.75 | taste: 4 | feel: 4 | overall: 4
Enjoyed from the 12 oz bottle in a pint glass, this fine imperial stout pours a thick blackish brown with a THICK light brown head that dissipates to a thick ring with solid lacing. Nose of dark chocolate, deeply roasted coffee, heavily roasted malts, dark fruits, and some bittering hops. Flavors are chocolate and black coffee up front. Some solid malt sweetness vies for dominance over the deeply roasted malts. A dark fruit characteristic comes through on the back blending nicely with the chocolate and coffee and a bitter hops profile coming through on the aftertaste. Full bodied mouth feel with decent carbonation makes this a great sipper for winter....or if you are me and the little woman, summer time as well. One of the better ones I have had this year as far as an imperial stout goes.
805 characters
4.01
/5
rDev 0%
look: 3.75 | smell: 4 | taste: 4 | feel: 4.25 | overall: 4
12 ounce bottle, bottled on 12/03/14. Served in a snifter, the beer pours dark brown/black with a half inch tan head that stayed around a while. Head retention and lacing are both decent enough. The brew smells like burnt/charred malt, bittersweet and milk chocolate, dark fruit and some nuttiness. It tastes like burnt/charred malt, milk and bittersweet chocolate, nuts, coffee, dark fruit, and a bit of smoke. Mouthfeel/body is medium/full, it's coating and a bit chewy with a good amount of carbonation. I thought this was a good enjoyable brew, might have to end up buying more! $3.25 for a single bottle.
616 characters
Berserker Winter Imperial Stout from North Peak Brewing Company
4.01
out of
5
based on
64
ratings.