Ram Tam
| Timothy Taylor & Co. Limited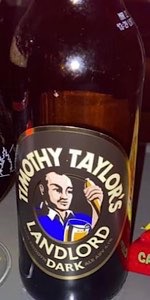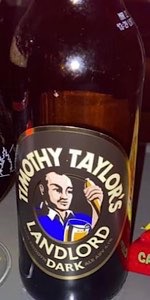 BEER INFO
Brewed by:
Timothy Taylor & Co. Limited
England
,
United Kingdom
timothy-taylor.co.uk
Style:
English Dark Mild Ale
Alcohol by volume (ABV):
4.30%
Availability:
Winter
Notes / Commercial Description:
No notes at this time.
Added by TheLongBeachBum on 08-18-2002
HISTOGRAM
Ratings: 10 | Reviews: 8
Reviews by Cujo65:
More User Reviews:
3.45
/5
rDev
-16.3%
look: 3.5 | smell: 3.5 | taste: 3.5 | feel: 3 | overall: 3.5
Drank in 'The Bricklayers Arms', Putney, London.
Looked good as it sat between a pint of lighter Landlord and a darker Dark Mild, the colour sits between the two as well.
Sweet aroma and taste, caramel and hops, a little too sweet for me, but my wife loves it.
The flavours don't stay to long in the mouth, but it is still a treat to have one of these beers if you ever come across one.
395 characters
4.5
/5
rDev
+9.2%
look: 4.75 | smell: 4 | taste: 4.75 | feel: 4.5 | overall: 4.5
Almost black with a glorious deep brown head. Auburn red against the light.
The smell of sweet toasted malt.
Mild by name and taste. A subtle balance of malt and hop.
Wonderful feel from a cask dispensed beer.
Really enjoyable.
227 characters
4.45
/5
rDev
+8%
look: 4 | smell: 4 | taste: 4.5 | feel: 4.5 | overall: 5
Cask pint in Brigantes Bar and Brasserie, York, June 2010
Poured a deep dark ruby red... Creamy tan head poured fairly thickly then faded to thin layer.... decent light lacing
Aroma - Nice strong chocolate maltiness, good roastiness, caramel and toasted bread, light dusty notes, lots of fruitiness (plums, figs, some blackcurrents), faint liquorice notes, spicy, nice peppery hop bitterness...
Taste - Definite chocolate notes, roasted malts, quite earthy, light coffee, light nutty and caramel sweetness, fruity (blackcurrents, plums), peppery, strong eartiness, nice hop bitterness...
Feel - Pretty smooth.. Medium bodied. At 4.3 % an extremely quaffable and sessionable ale...
Overall - A supreme example of cask beer at it's best and the finest pint of mild i've ever had... if you get the chance try this..
817 characters
4.51
/5
rDev
+9.5%
look: 5 | smell: 4 | taste: 4.5 | feel: 4.5 | overall: 5
Finally I get around to adding some more updated Reviews for my favorite and most dearly beloved Brewery, Timothy Taylor's.
My recent visit to England at Easter 2006 had me launch a Saturday expedition to Keighley with many close friends. Keighley is a town that I used to frequently visit in my BeerHunting youth, but one which I had not visited for some 6 or so years. So to get back here, with a bunch of dearly loved friends, was just fantastic - and the highlight of the visit was a trip back to the LEGENDARY Boltmakers Arms, this is Valhalla for Taylors lovers, it was so good in fact we ended up going there twice during the day!
At the Boltmakers, the Ram Tam was served in its finest form, sheer luxury, the thick creamy head was a delight to see, I'm sure they use ¼ pint Angram handpulls, so think of Guinness on steroids and you'll have an idea of just how ambrosial the creamy head can be from Cask with a lovely tight Sparkler (take that Southerners!). Rich, thick and silky, the dark tan head topped the black body and helped to present what I can only describe as the Perfect Pint. The bartender at the Boltmakers worked this one hard and she slowly worked the quarter pulls to get the perfect presentation with a tight creamy head that lasted forever.
The nose was of caramelized hops and a smooth roasted malt ending, the nose is not high in strength but it is highly recognizable in character, deeply inhaled it imparts a solid comforting feel, like hot chocolate before bed, like a warming hot soup when you feel ill, the nose is not big, but it imparts a very welcoming and comfortable feel.
The taste is an utter delight, deliciously rich and smooth, Taylors on Cask at the Boltmakers can actually look like a Nitro dispensed beer, yet it isn't, but it certainly "feels" like one on the tongue, but its all natural. The dreamy looks soon transcend visual enticement and partially contribute to the satisfying feel. Mouthfeel is rewarding, intensely smooth and orgasmic. Bold malts and rich dark fruity tangents. Slick finish. I want more of this drinkable brew. So much more.
The Boltmakers Arms in Keighley is indeed a sorely and terribly missed delightful little gem that I wish was just around the corner. It is still the crowning glory in the Taylors Pub Estate for me. Quite simply, it is Beer Mecca for Taylors Men of the North, or as one local said during my last visit; "Aye Lad, thaz ne'er supped reet T'hay-lerz….til thaz bin ere!" I cannot fault that. I just read jwholdsworth Review…….what he said. If I seem passionate about this beer I make no excuses, and no it's not bottled, and no it's not heading out all over the World anytime soon, or at least I hope it isn't, and never does. This is one beer that you have to travel to appreciate, but believe me, it is more than worth it. Drink this highly rewarding brew and you will meet your God. Mine just happens to be called Timothy and he is literally from God's Own County; Yorkshire.
Yes, I dearly love this Brewery and especially Ram Tam, and I make no excuses for that. A classic brew, a true Yorkshire Winter Warmer that never disappoints and one that I looked forward to mas the darker nights and colder climes gripped the North of England. You simply have to try this when in Yorkshire….and you have to try it at the Boltmakers Arms in Keighley.
A Ram Tam A Doo Da. Hell Yeah.
A Beer to Die For. And I think I would.
3,449 characters
4.3
/5
rDev
+4.4%
look: 4 | smell: 4 | taste: 4.5 | feel: 4 | overall: 4.5
A very nice beer and the first of the evening at the Chelmsford Winter Beerfest 2011. It was a bit warm due to all the casks being simply mounted on shelves inside where there was heating etc
It was great nonetheless. This was a really 'solid' beer, good in almost every way. I can't remember much else but it was really very good!
333 characters
2.79
/5
rDev
-32.3%
look: 3.5 | smell: 2 | taste: 3 | feel: 3 | overall: 3
Fair ebony-brown, shimmering with a maple amber-red tint. No head. Sweet nose is full of caramel... and nothing else. The flavor is typical of the style, with caramel and toast and a bit of cola, coffee, and burnt grain. There is also a pinch of noble, grassy hops. Very thick mouthfeel, too thick, really, for what it is. A fine and dandy, average mild lacking in depth, dryness, and drinkability - not exactly an exemplar of the style. Disappointing.
452 characters
4.65
/5
rDev
+12.9%
look: 4 | smell: 4 | taste: 5 | feel: 4.5 | overall: 5
Tasted this beer on draught at the White Horse Old Ale Festival last weekend. Simply put, this is the best Mild I've ever tasted. Deeply malty and fruity on the nose with a de...ep aroma of caramel. Packed with flavours of roasted malts and utterly fruity, while sweet elements like chocolate-malts are balanced just idealy with earthy hops and everlasting bitter-sweetness. The body is fuller than 4.3%abv. but remains ever so light and refreshing on the tip and sides of the tongue. Complex and superb brew! Most enjoyable cask-conditioned dark mild when on form and on cask.
577 characters

4.55
/5
rDev
+10.4%
look: 4.5 | smell: 4.5 | taste: 4.5 | feel: 4.5 | overall: 4.75
After years of looking for this it eventually turned up at my nearest pub! It was at a festival, served on gravity.After three days on tap it was absolutely gorgeous.Because of the serving method there wasn't much head but the way the beer had developed was magnificent.
270 characters
Ram Tam from Timothy Taylor & Co. Limited
Beer rating:
4.12
out of
5
with
10
ratings