Kirkland Signature India Pale Ale
| Kirkland Signature / Costco Wholesale Corporation
BA SCORE
74
okay
40
Reviews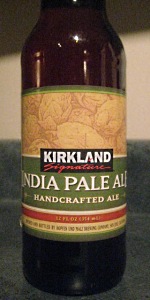 BEER INFO
Brewed by:
Kirkland Signature / Costco Wholesale Corporation
Washington
,
United States
Style:
American IPA
Alcohol by volume (ABV):
6.50%
Availability:
Rotating
Notes / Commercial Description:
No notes at this time.
Added by chinchill on 02-24-2011
Reviews: 40 | Ratings: 163
3.85
/5
rDev
+23.4%
look: 3.5 | smell: 3.5 | taste: 4 | feel: 4 | overall: 4
poured from the bottle into a pint glass
A - Pours a dark copper with perfect transparency. Linear streams of bubbles run to a two-finger off-white head. Head falls apart to a ring of bubbles around the glass about 2/3rd's of the way down. Leaves behind a couple of small splotches of lacing.
S - Cascade hops and some floral notes on biscuity background.
T - Biscuity upfront. Simple, but quite well balanced, the body of this beer is a classic combination of american hops and biscuity malts. A small flourish of hops as the beer passes over the tongue transitions to a bitter and oily finish.
M - Medium bodied with moderate carbonation. Fairly chewy.
By far the best of the Kirkland signature pack. The flavor and mouthfeel are quite good for a beer that costs around $0.75. At roughly $4.50 for a sixer, I would be tempted to buy this beer for a cheap change up, but unfortunately I think that it only comes in the 24-bottle variety pack, which would require wading through Kirklands uninspiring Belgian White and Amber. My father buys these at Costco and doesn't like the IPA (not a fan of hops), so maybe I can convince him to give me all of them when he buys...
★
1,176 characters
1.82
/5
rDev
-41.7%
look: 4 | smell: 2 | taste: 1.5 | feel: 3 | overall: 1
Best by: Oct 23, 2011
A: Pours a amber ale with brilliant clarity. Two fingers of peanut head falls over a few moments to a sheet of the same.
S: Hmmm, malt. Sweet malts. Not really getting any hops on the nose here. Lemme try again...Nope, malt and butterscotch. Fail.
T: So, still really malty. WTF. Damn nearly an amber. The bottle says 67 IBU, I can't believe it. There just must be sooo much residual sugar that the beer tastes like sweet wheat and barley malts. Man, this is the first I've had of the 24 pack my wife convinced me to buy, and I'm not really looking forward to the rest. Okay, a few minutes in and there's a hint of bitterness on the back end.
M: Medium body with moderate to low carb. Dry finish.
O: see above. Not impressive. Not an IPA.
★
765 characters
3.26
/5
rDev
+4.5%
look: 4 | smell: 3 | taste: 3.5 | feel: 3 | overall: 3
A- Pours a dark golden, bordering on copper, with an off white head. Decent retention, some lacing.
S- Smell is pretty timid, but it leans toward spicy and slightly piney hops.
T- The malt notes are more prevalent here, but the predominant character is spicy hop notes. A bit of piney hops come through too. The finish is a bit abrupt, not really in a way I like. Astringent with bitterness coming through more than hop flavor.
M- Light body, almost foamy.
O- I'm a bit disappointed by this. It's got some decent hop notes to it, but it's more or less just bitter without the depth of flavor.
★
592 characters

3.61
/5
rDev
+15.7%
look: 4.5 | smell: 3.5 | taste: 3.5 | feel: 4 | overall: 3.5
A - Poured orange / dark amber. Although the stiff dark ivory head dissipated it left some nice sticky lacing right to the end.
S - Pleasant, but not in your face hop. Malt comes through more than most IPA's would.
T- Pretty dry start to finish. Despite having three different hops and three different malts its pretty straight forward solid beer without too much complexity.
M - Creamy soft carbonation with medium body (as advertised).
O - At 79 cents/bottle anybody expecting this to compete with the major west coast IPAs needs to get their head out of the clouds. But on the flip side of that same argument this really is way better than one should expect for a 79 cent IPA. Its fresh and well done. I'll get it again.
★
729 characters
3.08
/5
rDev
-1.3%
look: 3.5 | smell: 3 | taste: 3 | feel: 3.5 | overall: 3
The Kirkland Hefewiesen was very good, and at a great price, so I was excited to try this IPA.
It pours with a dark colored head that goes the distance and laces the glass appropriately. The aroma is on the faint side. Color of the beer is deep for an IPA, looks like a Double.
But taste is where the rubber meets the road, and here the Kirkland IPA falls behind the best in class IPA's I have sampled this winter. There is a nice malt start, but then it fades into a bitter finish without enough hop to be a truely great IPA. Overall a good beer, and a fair IPA that is on par with some I have tried, but I would spend the extra money on a Great Divide Titan IPA or similar if you are in the mood for an IPA.
★
711 characters
3.28
/5
rDev
+5.1%
look: 4 | smell: 3.5 | taste: 3 | feel: 3 | overall: 3.5
A- Clear copper body with a large dark cream colored head. Lively carbonation. Solid lacing.
A- Citrus aroma. More of a bitter aroma than citrus. Some caramel malt notes.
T- Bitter taste throughout. Slight phenolic flavor. Solid malt backing.
M- Medium body high carbonation. Bitterness sticks to your mouth.
D- Pretty great Costco beer. Probably won't pick it up again, but if offered one I'd drink it.
★
407 characters
3.98
/5
rDev
+27.6%
look: 4.5 | smell: 4 | taste: 4 | feel: 3.5 | overall: 4
Trying a low priced sampler IPA could be a real disappointment, but this one is pretty drinkable. It's on the dark, bitter side. More bitter than hoppy - not very grassy and the finishing hops are not pronounced.
But it's well crafted, looks nice in the glass and it is refreshing and unique (sort of). I wonder how much of a bargain these were - my sister bought them at Costco.
★
380 characters
2.64
/5
rDev
-15.4%
look: 4 | smell: 2.5 | taste: 2.5 | feel: 2 | overall: 3
The beer pours a dark copper/amber/brown, glowing and translucent with a quarter inch of thick off-white foam that leaves considerable lacing down the glass. The aroma is dark fruit, cherries, plums, and caramel malt. The taste follows the aroma and has an extremely bitter, yet somehow watery, finish. There is some tea with lemon in the aftertaste.
The bottle says this is brewed in Utica, New York.
★
403 characters
2.45
/5
rDev
-21.5%
look: 3 | smell: 3 | taste: 2 | feel: 2.5 | overall: 2.5
Serving Type- Served from a chilled 12 oz bottle into a pint glass.
Appearance- A dull dark amber look with a rusted copper undertone. Has about three fingers worth of tanned head that laces quite nicely compared to the other Kirkland ales.
Smell- Has a faint smell of coffee due to the roasted malts. Comparatively speaking it has an overwhelming smell of hops which isn't saying much.
Taste- Again, comparatively speaking, it has roasted malted flavor with the slightest hint of sweetness. The aftertaste is an overwhelming bittering flavor that takes over the experience and leaves a bitter tinge in your mouth.
Mouthfeel- Has a moderate amount of carbonation that dissipates rapidly. Medium bodied, like all IPA's it has a small bite and not a very crisp finish.
Overall- I'm not an enormous fan of IPA's so take this review for what you will. I bought a variety pack from Costco because it looked interesting and, well, I was curious to see what kind of beer Kirkland Signature produced. Considering that it just might be the most inexpensive beer that I purchased in a long time, it led up to my expectations. Compared to most IPA's however, it wasn't all that impressive.
★
1,183 characters
3.51
/5
rDev
+12.5%
look: 4.5 | smell: 3.5 | taste: 3.5 | feel: 3 | overall: 3.5
This pours very nicely. A great looking beer. Great head retention and tremendous lacing all the way down. Slightly above average carbonation. A dark brown/orange color.
Smells hoppy - the fruity variety rather than a pine or herbal variety. Smells include a little citrus and a little bananas.
This is a very mellow, creamy, easy-drinking IPA. There are hops, definitely, but they aren't biting. It's sweeter than most IPAs and not very bitter. The flavors that are there are pleasant, but not mind blowing. Without the hop kick you expect in an IPA I feel like the mouthfeel is just a little watery and boring. But I'm not upset by less-than-average hops in an IPA. Sometimes I prefer a mellower beer.
In the end it's a surprisingly pleasant experience and a great value. Kirkland usually makes good products and they have done a good job with this beer. Don't knock it till you try it!
★
892 characters
3.06
/5
rDev
-1.9%
look: 4 | smell: 3 | taste: 3 | feel: 3 | overall: 3
$18.99 for a mixed case at my local Costco in Carol Stream, IL. All four six packs are pretty good, and something I pick up everytime I stop in to Costco.
Clear bronze color with a light tan two finger head and thick foam. Good bubbling.
The aroma has plain toasted malts that give off a white bread crust aroma. The hops contribute a generic, but satisfying citric sniff to the brew.
Astringent hop blast upfront. Citrus zest and sharp cut grass blast the front of the palate. The middle seems to have a mineraly quality from perhaps the water or a water and hop flavor combo. The finish is dry, and a little musty and astringent on the palate. Pretty citric from start to finish and the palate takes some sessionability away from this beer.
Generic AIPA is a perfect term for this beer. Not bad, but nothing special for the price. Something to satisfy a simple hop bitterness craving.
★
892 characters

2.96
/5
rDev
-5.1%
look: 3.5 | smell: 2.5 | taste: 3 | feel: 3.5 | overall: 3
12 oz. pry off brown bottle served into a pint glass. Pours a clear copper in color with a short lived cap. Does offer enough carbonation to keep a light surface ring, dropping off some lacing here and there.
Nose is somewhat light for the style with some hop spice and a balancing malt underbelly. Almost malt forward on the nose.
Taste is spicy and clean with a fair amount of bitterness on the finish. Not very much depth in the flavor profile yet lacking the negative factors I often find in Northwest IPA's of this relatively dark color. Offers a medium body and a finish that is spicy and almost chalky even, and with a notable orange character.
Decent drink but lacking in hop aroma. This beer was brewed in San Jose, presumably by contract with Gordon Biersch.
Best by 08/18/11
★
790 characters
3.86
/5
rDev
+23.7%
look: 4 | smell: 3 | taste: 4 | feel: 4 | overall: 4.5
This bottle was purchased at Costco in Richmond, VA as a case with 3 other types of beer. Poured into a DFH snifter
Pours a dark amber with surprisingly awesome lacing and massive head. Perfect carb.
Smells good but mild. Faint citrus and earth as well as minty herbal notes.
Surprising amount of bitter hop taste. Good alpha acid usage with a good balance if you're into bitter IPAs.
Great on the mouth, smooth with no burn and good dryness.
Very drinkable.
I wish I could just buy this beer but it's only sold in cases.
If you want to snag a case of decent brew for a gathering and don't want to break the bank go for this. It's seriously good brew and the Amber ale in the case is also decent.
★
701 characters
4.6
/5
rDev
+47.4%
look: 4.5 | smell: 4.5 | taste: 4.5 | feel: 4.5 | overall: 5
As a Connecticut resident I had to search for this new COSTCO branded Ale.. There is only one COSTCO store in our state that has a liquor license, so I made a forty mile round trip to purchase a case.. My trip was rewarded. The four types of ale were all very good and interesting.. The American IPA has a ABV of 6.5% and it was my favorite. The white Ale or wheat ale is unfiltered and a bit cloudy I liked it, but it was my least favorite.. I am sure I will make more trips to the Milford COSTCO in the near future.. The Ale is made by FX Matt in Utica, NY the brewers of Utica Club and the Adirondack brands .
★
612 characters

3.76
/5
rDev
+20.5%
look: 4.5 | smell: 3.5 | taste: 4 | feel: 3.5 | overall: 3.5
Fresh 12 0z bottle, "best by" dated June 18, 2011. Served in pint glass. Brewed by "New Yorker Brewing Co., Utica, NY". Also from bottle: "brewed with generous amounts of American hops, including Cascade, Centennial and Amarillo ... using barley malt, Munich and English crystal malt" IBU = 67
Pours a clear amber color with medium bubbling and enough tan head to nearly reach the lip of the point glass. Head has good retention and leaves considerable lacing.
A - Hop aroma over faint malt backdrop. Pleasant and appealing, but not strong or bold for style.
T - Starts crisp with a substantial hop flavor. The malt component is there, but overpowered by a hoppiness. Hops also dominate the finish and aftertaste, with a lingering hop/grapefruit bitterness. Both citrus and pine in both aroma and flavor of hops.
M - medium/light body with medium carbonation.
D - good for those who like a hoppy and rather bitter beer.
At $19 a case, this is a very good buy ... except: only available in mix packs with 3 other varieties, some of which are likely to be less attractive to the hop-heads to which this beer will most appeal.
★
1,145 characters
Kirkland Signature India Pale Ale from Kirkland Signature / Costco Wholesale Corporation
3.12
out of
5
based on
163
ratings.