Chuli Stout
| Denali Brewing Company / Twister Creek Restaurant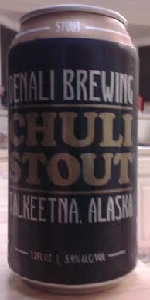 BEER INFO
Brewed by:
Denali Brewing Company / Twister Creek Restaurant
Alaska
,
United States
denalibrewingcompany.com
Style:
Irish Dry Stout
Alcohol by volume (ABV):
5.90%
Availability:
Year-round
Notes / Commercial Description:
55 IBU
Added by sprucetip on 11-12-2009
Reviews: 11 | Ratings: 55
3.63
/5
rDev
-7.6%
look: 4 | smell: 3.5 | taste: 3.75 | feel: 3.5 | overall: 3.5
Near black with large and lasting creamy tannish white head. Roasty, slightly sour aroma. Light tasting for the style -- though still fairly heavy bodied and creamy in comparison to most beers. Coffee and roasted malts stand out in the taste. Not bad.
255 characters
3.45
/5
rDev
-12.2%
look: 5 | smell: 2.5 | taste: 3.5 | feel: 4.5 | overall: 3.5
Appearance: very dark
Aroma: light toast notes but not a love of aroma.
Flavor: full body, very toasty with good malt balance. Hints of coffee notes.
Overall: pretty good would like a bit less roast.
199 characters
4.04
/5
rDev
+2.8%
look: 4 | smell: 3.75 | taste: 4.25 | feel: 4 | overall: 4
I usually think Irish Dry Stouts are a little underwhelming, but I guess that's just what Guinness conditioned me to think. This Chuli Stout is full of flavor. It's a good looking beer, with a mild aroma and a strong mouthful of roasty flavors. I don't get much sweetness, nor the chocolate that some others find. Lots of roasted malts, creamy mouthfeel. Very good stuff.
377 characters

4.04
/5
rDev
+2.8%
look: 4 | smell: 3.75 | taste: 4.25 | feel: 4 | overall: 4
Poured into a Fremont small snifter. Pours a very dark mahogany brown with a nice half finger light brown head with great retention and nice lacing. Aroma of dark toasted malt, cocoa and milk chocolate, hint of vanilla. Flavor follows aroma with toasted malt with light char, cocoa, hints of vanilla and dark chocolate. Medium bodied with nice light creaminess. A very well made and to-style dry stout with great malt flavor with lighter chocolate and vanilla notes. Fairly dry, but but enough mild sweetness to bring out the flavors. Well done.
545 characters
4.17
/5
rDev
+6.1%
look: 4.5 | smell: 4.25 | taste: 4 | feel: 4.25 | overall: 4.25
Got this from Adam in AK with a couple of his home brews. Thanks!!
It's black, the pour brought a 1 finger head of tan foam that lasts and lasts and when I check my glass after sipping, the lacing is good.
The smell is very roasty with notes of dark chocolate and that certain aroma that tells you that this is an Irish Dry Stout.
Very dry tasting indeed. Loads of roasted malt and some chocolate with a rather stinging bitterness that enforces the dry. It drinks a wee bit stronger than the 5.9% to me but no matter. This is bloody excellent!
546 characters

4.04
/5
rDev
+2.8%
look: 4.25 | smell: 4 | taste: 4 | feel: 3.75 | overall: 4.25
Poured from 12oz can into my Schlafly tulip.
Appearance: extremely dark brown with just some brown highlights around the edges when held up to the light. Head pours two fingers of frothy dark-tan foam. Quite attractive indeed.
Smell: nicely roasty aroma with just a little chocolate character and no acidic astringency. Smooth and enticing; quite good.
Taste: roasty and dry, but still smooth and not overly astringent. A tough balance to strike -- this is a quality brew. One of the best dry Irish stouts I've tasted.
Mouthfeel: medium-light body with a decent carbonation and a rough creaminess. I like it.
Overall: an excellent example of the style. Highly drinkable and definitely worth a try if you're into dry stouts.
728 characters
4.41
/5
rDev
+12.2%
look: 4.5 | smell: 3.5 | taste: 4.75 | feel: 4.5 | overall: 4.75
A- Jet black color always has a great creamy head between 1/3-3/4" with great retention and rather thin for the style
S-Rather uninspiring smell of toasty malts, very little else to comment on here, of course this is in line with the style
T- Wow, much better than the smell, a cornucopia of different malty flavors from rich complex dark malts to lighter malts with a more tart, spicy flavor near the finish, much more flavor than the Guinnesses of the world.
M-Light with a slight chewiness that always makes you smack your lips and suck the delicious nitro foam off your upper lip.
O- an excellent example of the style that is always welcome as a final beer of the night when I am out and about throughout Anchorage, Its mouthfeel and appearance is very much in line with Guinness, with a more complex flavor and a little more ABV to back it up.
852 characters
3.84
/5
rDev
-2.3%
look: 4.5 | smell: 3 | taste: 4 | feel: 4.5 | overall: 4
served on nitro-tap on the porch of the brewpub, served in shaker glass.
appears jet black, with nice 1/2" thick creamy head, as expected from a nitro pour. looks great. aroma is typical for the style, roasty malt smell, not particularly strong. the taste has a bit more flavor than most Irish Dry Stouts, it almost has a spicy aftertaste that I like. Mouthfeel is great, nice and creamy and easy to drink.
Forget the Guinness, seek out a pint of this stuff.
462 characters
4.27
/5
rDev
+8.7%
look: 4 | smell: 4.5 | taste: 4 | feel: 4.5 | overall: 4.5
Great color, average stout flavors with a slightly thicker malt backbone than must Irish stouts. Honestly, i prefer this one over most dry stouts I've tried. It definitely gives you that meal in a glass mouth-feel, but is light enough to drink all day. Try this one, you wont be disappointed.
292 characters

4.1
/5
rDev
+4.3%
look: 4 | smell: 4 | taste: 4 | feel: 4 | overall: 4.5
On draught at Humpy's, served in a Nonic, Chuli Stout is dark cola brown with a creamy tan head that leaves scattered lace.
Smell is roasty and chocolate, with a hint of diacetyl.
Taste is good, nice roasty chocolate, fairly full and satisfying, yet very smooth.
Mouthfeel is very smooth and light.
Drinkability was very good, tasty and well made stout.
361 characters

3.85
/5
rDev
-2%
look: 5 | smell: 2.5 | taste: 4 | feel: 4.5 | overall: 4.5
I'm guessing on the exact style of stout here, correct me if I'm wrong. From notes. Nitro-tap at Cafe Amsterdam. Pours black, creamy tan head, great retention, waterfall action, thick lacing. SMELL is very faint and hard to find. Just a bit of roasted barley and malty sweetness. TASTE moderately strong roasty flavors, touch of malty sweetness, mild bitterness in the late middle and finish. Finishes dry. FEEL is luxuriously creamy, med body, mildly bitter and dry finish. OVERALL very flavorful and easy drinking stout. I'd take it over most true Irish stouts any day.
571 characters
Chuli Stout from Denali Brewing Company / Twister Creek Restaurant
3.93
out of
5
based on
55
ratings.