Single Engine Red
| Denali Brewing Company / Twister Creek Restaurant
BA SCORE
83
good
11
Reviews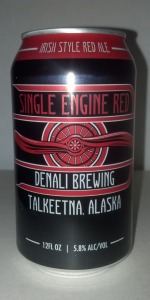 BEER INFO
Brewed by:
Denali Brewing Company / Twister Creek Restaurant
Alaska
,
United States
denalibrewingcompany.com
Style:
American Amber / Red Ale
Alcohol by volume (ABV):
5.60%
Availability:
Year-round
Notes / Commercial Description:
46 IBU
Added by megahurts4 on 08-05-2011
Reviews: 11 | Ratings: 54

3.46
/5
rDev
-4.7%
look: 3.25 | smell: 3.5 | taste: 3.5 | feel: 3.25 | overall: 3.5
Pours a rather attractive coppery auburn color in the German pilsner lager glass. The foam is fair to start, but dwindles down after some sipping. Spritzy and sharp on the tongue. Interesting smell of cocktail bitters and cola.
Quite malty with a big dose of caramel. This is quite winey, with a tart and tannic taste. The next flavor is bitterish, dirty and leafy hops. I don't know how people taste this as "mildly hopped." It seems rather bitter to me, though without much redeeming aromatic flavors.
Not one of my favorite Red Ales. It seems to hit that style, though, with the caramel and dank sensations fighting. From the 12 oz can purchased at Special Brews in Lynnwood, Washington.
693 characters

3.75
/5
rDev
+3.3%
look: 3.75 | smell: 3.75 | taste: 3.75 | feel: 3.75 | overall: 3.75
Poured into a Seattle Beer Week pint glass. Pours a nice medium red amber with a healthy two finger white head that dissipates to a thick film and light lacing. . Aroma of light apple and stone fruits, mild brady malt. Flavor follows with dominant, somewhat estery light fruit and mild biscuit malt, finishes with a light hop bitterness that is slightly astringent. Light to medium bodied. Flavor is somewhat mild, but a pleasant combination of fruit juice and sweet malt. A bit thin and could use some more malt presence. Mildly hopped. Tame for a red ale, but pleasant and refreshing. Glad I tried it, but lean towards more robustly malted and hopped red ales.
662 characters

3.67
/5
rDev
+1.1%
look: 4 | smell: 3.75 | taste: 3.5 | feel: 3.75 | overall: 3.75
Poured from 12oz can into a pint glass.
Appearance: darkish amber-orange hue; this could almost qualify as a nut brown ale in color. Body is haze-free with a pretty strong effervescence and a finger of pillowy tan foam with good retention. Pretty attractive!
Smell: nutty, bready and a little biscuity with a bit of sweetness underneath. Again, we could be looking at a nut brown here. It's nice, though.
Taste: sweetish with a lot of bready and biscuity character. Hops are earthy with a fairly high bitterness. Not bad for the style, but a little too biscuity for my taste.
Mouthfeel: medium body with a good level of carbonation and a pretty decent creaminess.
Overall: this is a good beer for the style and, while it doesn't suit my palate exactly, is pretty drinkable. Definitely worth a try.
802 characters

3.88
/5
rDev
+6.9%
look: 3.75 | smell: 3.75 | taste: 4 | feel: 4 | overall: 3.75
Appearance is tawny brown with a small white head.
Smell is caramel malt, lightly sweet, a hint of herbal hops.
Taste is nice, clean amber. Gold caramel without being to sweet.
Mouthfeel is on the lighter side, just a touch sticky.
Drinkability is pretty solid. The herbal hops trend towards grass compost (faintly), but nevertheless it's solid.
353 characters
3.61
/5
rDev
-0.6%
look: 4 | smell: 3.5 | taste: 3.75 | feel: 3.25 | overall: 3.5
Look : Chestnut brown color with strikes of iced tea coming through. Head is popcorn colored, 2 fingers, billowy. Lace left sparsely. 80% opaque.
Smell : Roast malt; orange and orange peel; cinnamon; plum, granola. Weak to medium strength.
Taste : Plum and fig notes with slight char invade with a scotch-like antiseptic. Malts surround the nucleus and it ends with fermented fruits (banana peel, plum, watermelon rind) and kilned barley. Breaths are charred fermented plums.
Feel : Heavily carbonated, stinging, dry on the finish.
Overall : I felt like I ripped through this one a bit quick, but there's honestly not much to comment on. It's a decent red with some interesting darker fruits suspended in the flavor but completes a textbook red ale formula like all the rest. It's okay, I'd probably drink it again but no way would I go out of my way to find it again.
876 characters
3.65
/5
rDev
+0.6%
look: 3.5 | smell: 3.5 | taste: 4 | feel: 3 | overall: 3.5
A- Red-brown with a thin off white head. Retention is mediocre.
S- The aroma is pretty mild but it is of toast and caramel. Slight nutty presence to it.
T- It's got a little more oomph to it than your average red ale. Good toastyness to it. Malty through and through. For a beer that is allegedly 46 IBUs, very little hop presence is picked up.
M- Body is a little thin and there is some low low carb.
O- It's a good red ale that just needs a little more body and carbonation to it.
482 characters
3.64
/5
rDev
+0.3%
look: 4.5 | smell: 3.5 | taste: 3.5 | feel: 3.75 | overall: 3.75
L: Beautiful amber/red color with a 1-finger ivory head - crystal clear
A: A bit of caramel, some malt, no hops
T: A bit sweet, not much going on, some malt, some bitterness - meh
F: Easy drinker, good carb
O: Denali has better beer in their arsenal
249 characters
3.49
/5
rDev
-3.9%
look: 3.25 | smell: 3.5 | taste: 3.5 | feel: 3.5 | overall: 3.5
Appearance is a brown red color with a one finger head.
Aroma is yeasty and malty but in a good way.
Flavor is bready, malty and watery but also somehow in a good way.
Not complex or balanced by any means but I could probably drink 20 of these and enjoy myself on a hot summer day.
Reminds me of a sophisticated bug light.
Mouthfeel is nicely carbonated. No bitterness or lingering flavors here.
Strange beer but I'm glad I got a chance to try it.
448 characters
3.78
/5
rDev
+4.1%
look: 4 | smell: 3.5 | taste: 4 | feel: 4 | overall: 3.5
Denali Single Engine Red
On tap at The Reluctant Fisherman in Cordova, Alaska
Appearance: light brown, medium head, and some good lacing.
Smell: nutty and malty.
Taste: malty grain, slight nut, and a faint hop.
Mouthfeel: medium.
Overall:
This is a decent brew. The final note is a malty sweetness. It has plenty of body.
348 characters

3.26
/5
rDev
-10.2%
look: 3.5 | smell: 3 | taste: 3.25 | feel: 3.75 | overall: 3.25
Sent to Oklahoma straight from Wasilla, AK.
Poured into an Anchor pint glass this brew is a red-amber with a very fizzy short lived white thin head. Something about this aroma reminds me of some the cheaper adjunct lagers about the grocery store, but there is a sweet nutty caramel malt with apple juice sort of thing going on there. Flavors are pretty subdued and lackluster as well. It's a stretch, but I detect some apple, pear, and sweet bready malt capped by a light wave of spicy hops. Medium to lighter body and pleasantly crisp and dry. Not a terrible beer, but not a memorable one either.
598 characters
2.52
/5
rDev
-30.6%
look: 4.5 | smell: 3 | taste: 2 | feel: 2.25 | overall: 2.5
Pours a nice auburn color, but that's pretty much the best thing about this beer. The taste isn't significant enough to comment on. The smell is okay, but also pretty standard for any amber ale. For the price, this definitely isn't worth it. I'd rather spend a bit less money and get something else that's just as good.
319 characters
Single Engine Red from Denali Brewing Company / Twister Creek Restaurant
3.63
out of
5
based on
54
ratings.