Mr. Huff Pale Ale
| Hop City Brewing Co.
BA SCORE
77
okay
12
Reviews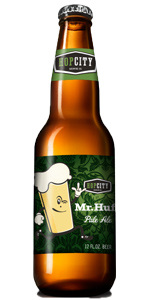 BEER INFO
Brewed by:
Hop City Brewing Co.
Ontario
,
Canada
|
website
Style:
English Pale Ale
Alcohol by volume (ABV):
5.40%
Availability:
Year-round
Notes / Commercial Description:
The only thing we take more seriously than Mr. Huff's head of hair is our beer: flavorful and complex. Mr. Huff is a 5.4% ABV, 40 IBU pale ale brewed using both American and UK hops, and a unique blend of 7 malts. Slightly sweet, with a medium body, and a flavorful and aromatic hop finish.
Malt Varieties: Pale Malt, Carastan, 2 types of Crystal, Munich, Caramel 80L, Black Malt, Torrified Wheat
Hop Varieties: East Kent Golding, UK Fuggle, Cascade, Chinook
Added by Todd on 09-23-2013
Reviews: 12 | Ratings: 76
3.22
/5
rDev
+4.5%
look: 3 | smell: 3.5 | taste: 3.25 | feel: 3 | overall: 3
Decent pale ale (think Alexander Keith's , without the mass-produced tinny-feel). Goes down clean, very refreshing. I'll reserve this one for those hot patio summer afternoons. Cheers.
★
187 characters

2.61
/5
rDev
-15.3%
look: 3.5 | smell: 2.5 | taste: 2.5 | feel: 3 | overall: 2.5
Served in a Lagunitas mason jar.
Am I the only one who thinks this sounds like some guy who's really into getting high off of glue? Anyway, this stuff pours a clear copper-amber topped by a finger of glowing dirty white foam. The nose comprises walnut, light dark greens, and a hint of menthol. The taste brings in more of the same, along with a hint of candied orange peel. The body is a light medium, with a light moderate carbonation and a fluid feel. Overall, this was a downright crappy pale ale. The hop character is nearly nonexistent, and the malts come through strange and muddled. Boo this.
★
608 characters
3.13
/5
rDev
+1.6%
look: 3.5 | smell: 3 | taste: 3.25 | feel: 3 | overall: 3
Pours a deep rusty brown with a medium beige head, some light lacing. Aroma and Taste is mild toasted grains, caramel malt and mild earthy hops bitterness. A medium body palate with moderate carbonation. Finish same as taste. This seems more lager than pale ale. Overall an ok drinking beer.
★
291 characters

3.53
/5
rDev
+14.6%
look: 3 | smell: 3.75 | taste: 3.5 | feel: 3.5 | overall: 3.5
Poured a pleasant clear amber with a half-finger white head that receded quickly and left minimal lacing. A decent looking pale ale, but nothing special. Scents of floral jasmine-like hops, herbal, dank, hops, a hint of citrus, caramel and pine resin. A very nice, floral aroma that is wonderfully aromatic and floral. Flavor begins with a nicely dank and earthy herbal hop flavor with a nice floral hop flavor present as well. The middle leads into a nice, floral hop flavor and a bit of a wet earthy floral hop flavor, a bit of tangerine and a nice backbone of pale malt. Finish is lightly dry with notes of floral hops, wet earthy, herbal hops, a bit of citrus peel and a little hint of pale malt. Aftertaste is floral hops and a bit of biscuity malt. A nice pale ale flavor profile that is wonderfully floral with a nice dankness. Mouthfeel is medium-light bodied with light carbonation and a resinous, slightly drying feel. A nice, easily drinkable feel. Overall this is a nice floral pale ale that also adds some herbal and fruity flavors for balance in aroma and flavor. The mouthfeel is also quite nice. Overall a nice pale ale and well worth trying.
★
1,158 characters
3.37
/5
rDev
+9.4%
look: 3.75 | smell: 3.5 | taste: 3.25 | feel: 3.5 | overall: 3.25
1L howler, at 5% ABV, from Sherbrooke Liquor - sadly hilarious how the only reviews for this Canadian beer thus far are from Americans.
This beer pours a clear, bright pale golden yellow colour, with two fingers of weakly puffy, anemically foamy, and generally wan dirty white head, which leaves some Avatar-homeland lace around the glass as it quickly abates.
It smells of semi-sweet, faintly biscuity pale and caramel malt, sugary white wine grapes, and leafy, floral hops. The taste is bready, slightly doughy, and ethereally crackery pale malt, more demi-sec white wine notes, a hint of innocuous stony minerality, and a certain perfumed floral hoppiness, one weirdly bereft of any sort of alcohol warming.
The carbonation is a bit peppy, and quite zippy in its wild-ish frothiness, the body medium-light in weight, and plainly smooth, nothing else here really possessing the balls to make any particular sort of fuss. It finishes off-dry, the fruity maltiness really still the only game in town, as that neutered floral character finally blows off.
A simple, particularly English-leaning pale ale, i.e. the hops and malt both understated as hell in their assertiveness - though the latter seems the most egregiously so. Nothing all that worth seeking out, unless you're in the market for a meek, but still somewhat crafty ale for your group cabin and/or general seasonal bulk beer needs.
★
1,396 characters
3.82
/5
rDev
+24%
look: 3.5 | smell: 4 | taste: 3.75 | feel: 3.5 | overall: 4
Mr. Huff was a pleasantly surprising Pale. Starting with the appearance, it had a nice amber/ caramel color, a bright cloudy head with awesome retention. The nose was strongly hop forward, with notes of citrus and biscuit. The mouthfeel is quite clean and left me quenched. As far as pales go, this one is a great entry point in the category as it presents a nice pine, floral and biscuity nose and doesn't leave the drinker feeling dried out. Very good pale.
★
459 characters
3.34
/5
rDev
+8.4%
look: 4 | smell: 3 | taste: 3.25 | feel: 3.75 | overall: 3.5
For Hop Heads looking for a good time....I would avoid this beer. For those that enjoy a solid pale ale that is slightly amber....this is for you. The beer poured a clear rich copper with thick white head that is leaving some lace. The scent carries faint alcohol....not much else. The taste is a nice malt with some bittering hops....fairly decent in balance. The mouthfeel is fuller in body with good carbonation. Overall its not bad....but its also non-descripted.
★
467 characters

2.75
/5
rDev
-10.7%
look: 3.75 | smell: 3 | taste: 2.5 | feel: 2.5 | overall: 2.75
Opted to try on draught at Pine Room Tavern in Nashville, IN. Attractive rich and deep amber complexion with fine off white head.  Decent lace.
Aroma malty rather than hoppy. Not sure about this one.
Taste is more akin to a typical amber ale, with a slight skunkiness even. Most certainly an average brew with nothing to offer over or above other pale ales. Will not return to.
★
380 characters
3.27
/5
rDev
+6.2%
look: 4 | smell: 3.75 | taste: 3 | feel: 3.25 | overall: 3
Poured from the bottle into a nonic pint glass.
A good solid three finger tall head, light tan with some creamy and pock marked top. Very good retention hanging out on the pour, sitting on top of a nice amber deep redish orange body, quite clear and minimal carbonation. Solid looking pale ale.
Good sense of biscuit like malts and dough. Some little brown sugar in there and small aromatics of floral character somewhat. Caramel light toffee. Some sensing bread dough and subtle sweetness.
Palate is quite empty. A slightly wet body, but made worse by the fact that there is nearly nothing going on the palate. Minimal malt action, no sense of sweetness or hinting dough that seemed prevalent on the nose. There's a residual small hop bitterness but it comes out as watered down brew with some hops in it. Really lacking, there isn't even an malt definition going on here, I was expecting just a hint of sweetness.
Aside from the fact this beer is really lacking it's not awful or difficult to drink, thus falling in the ok realm, but this needs some work.
★
1,061 characters
2.73
/5
rDev
-11.4%
look: 4 | smell: 3.5 | taste: 2.25 | feel: 2.5 | overall: 2.5
12 oz bottle into a pint glass. From notes, because internet outage.
A: Pours a clear copper color. The head is a three finger off-white shade, featuring plenty of hallmarks I look from a 'hoppy' pale ale: good retention, a rocky texture suggesting a healthy hop profile, and a lot of lacing left on the glass.
S: This seems to be a very floral brew. I actually like how flowery the hops are, to be honest. After a while, the malts come through, and they're pretty standard fare - they're mostly caramel and nuts. Still, this is a genuinely good aroma; I'm reminded of Anchor's Liberty Ale, which is a compliment.
T: The first flavors that hit the tongue are clean caramel malts, with most of the hop flavor arriving on the finish. Actually, there are no hop flavors - it's all bitterness. Bah. The aroma at least suggested some nice floral notes, but they aren't to be found here. In fact, there isn't much flavor to begin with; hell, what flavor there is seems somewhat plasticky and unpleasant.
M: It has a decently dry bite to finish it, but is also too heavy in feel. Carbonation is moderately powerful. Still, this should be very drinkable, and it just isn't.
O: I hoped this would be a pleasant surprise, but nope. It tastes exactly like I feared - a bland, subpar crafty brew. Next!
★
1,295 characters

2.91
/5
rDev
-5.5%
look: 3.5 | smell: 2.5 | taste: 3 | feel: 3 | overall: 3
12 oz. bottle, with no apparent bottled on date present. My second beer from Hop City Brewing Co., I acquired this bottle as part of a mixed six pack at the local beer store.
Poured into a clear balloon snifter.
A - Pours a semi-clear orange copper colored body with just over a finger of fluffy off-white head. Some nice rings of lacing.
S - Smell is really pretty lackluster. Some dry bready malts, some musty yeast, light florals, and just a hint of fruity hops.
T - Taste is mostly of clean crystal & pilsner malts, some mineral water, hint of caramel, and some slight herbal / floral / earthy hop presence, but in all, the taste is pretty weak.
M - Feel is clean, bready, and malty, with only the slightest bit of sticky hop resins on the palate.
Overall, it is by no means bad or undrinkable, it is just a fairly lacking example of the style. When it boasts a blend of four hops, you expect a little more hop than what this delivers. Tame, and weak on the flavor, but still drinkable and approachable. Drinkable, but not recommended.
Hop City Brewing Mr. Huff Pale Ale ---3/5.
★
1,089 characters

3.01
/5
rDev
-2.3%
look: 3.25 | smell: 2.75 | taste: 3 | feel: 3.5 | overall: 3
Bottle > Pint Glass
A - Clear amber color with half a finger of fizzy white head, no lacing.
S - Lager yeast, malt, mildly skunky, light herbal hops.
T - Sweet malts, grains, herbal hops, all kinda lame.
M - Goes down ok, medium feel.
O - This is just a garbage beer that I wouldnt buy again.
★
296 characters
Mr. Huff Pale Ale from Hop City Brewing Co.
3.08
out of
5
based on
76
ratings.