Thor's Sunstone
| Odin Brewing Company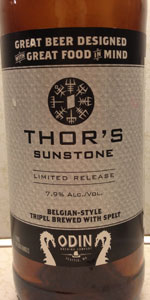 BEER INFO
Brewed by:
Odin Brewing Company
Washington
,
United States
odinbrewing.com
Style:
Tripel
Alcohol by volume (ABV):
7.90%
Availability:
Year-round
Notes / Commercial Description:
No notes at this time.
Added by hopwave on 07-21-2013
Ratings: 14 | Reviews: 5
3.02
/5
rDev
-13.7%
look: 2.75 | smell: 2.5 | taste: 3 | feel: 3 | overall: 3.75
4
/5
rDev
+14.3%
look: 4 | smell: 4 | taste: 4 | feel: 4 | overall: 4

3.45
/5
rDev
-1.4%
look: 3.75 | smell: 3.75 | taste: 3.25 | feel: 3.25 | overall: 3.5

3.42
/5
rDev
-2.3%
look: 3.5 | smell: 3.25 | taste: 3.5 | feel: 3.25 | overall: 3.5

3.5
/5
rDev 0%
look: 3.5 | smell: 3.5 | taste: 3.5 | feel: 3.5 | overall: 3.5
2.93
/5
rDev
-16.3%
look: 3 | smell: 3 | taste: 3 | feel: 2.75 | overall: 2.75
An average tripel, lacking the smooth, velvety texture and fluffy head of the Belgian varieties. Lagerish hop character, slightly hazy gold color. Hop bite detracts from should be some smooth, spiciness.
203 characters

4.35
/5
rDev
+24.3%
look: 4 | smell: 4 | taste: 4.5 | feel: 4.5 | overall: 4.5
Appearance: golden yellowish orange color. just a touch of haze. small off white head that leaves a bit of a lacing behind
Smell: earthy spelt grains, citrusy and hoppy, faint alcohol whiff. spicy phenol smell
Taste: opens up with an earthy spelt, quickly becoming bitter, followed by citrusy flavors, mostly orange maybe a little lemon. ends in a yeasty spice and just a barely there banana. quite complex
Taste: bitter and dry. very dry. good full body. not the most drinkable tripel but a good sipper.
Overall: at the first sip i wasn't so convinced of this trippel, but it grew. the spelt added a taste i don't really associate with trippels but is actually quite nice. a very complex beer and extremely well done. this is a wonderful beer.
748 characters


3.35
/5
rDev
-4.3%
look: 3.5 | smell: 3.5 | taste: 3.25 | feel: 3.5 | overall: 3.25
Very attractive clear, dark gold color with an average head. Plenty of lacing in the Duvel tulip. Sharp, sweet, and full of the Belgian yeasty flavor. Strong flavor of something like chardonnay wine with a dose of cheap firewater.
The overall flavor and the spice is really strong. From the 22 oz bottle purchased at Bottleworks in Seattle. It does seem to improve a little as it warms up, but Interestingly we had dinner at Rogue in Astoria and ate barley with the salmon, but now I'm drinking spelt.
503 characters
3.55
/5
rDev
+1.4%
look: 3.5 | smell: 3.5 | taste: 3.5 | feel: 3.5 | overall: 3.75
Got this from the COOP a week or so ago.. I think I paid about $8ish.. Pours clear dark straw golden... white head rises and dies back almost as quickly.. only okay spotty lacing for the glass.
Nose is decent for an "American Belgian Triple"... husky pale malts are the big player with some lite apricot and pronounced clovey/peppery phenols.. With warmth the spicy notes really light up and go to the front.
Flavor is not as integrated... okay balance between the spicy phenols and fruity notes... should have some citrus esters, instead a bit of apricot... with warmth, the spiciness really dominates... too much... Definitely "American" but is still okay... Dial in the yeasty components and I believe this could be a winner... With warmth the EtOH really blooms... drink it colder for the time being.
Medium/lite body could be a bit lighter with a more refined bubble... the carbonation is good but has a bit of a bite to it that shouldn't be there.
Overall, I love a good tripel, and this hits the mark but needS some refinement... it is pretty harsh right now... Dial it down and see where the things land.
3.5/3.5/3.5/3.5/3.75
1,138 characters

3.27
/5
rDev
-6.6%
look: 3.5 | smell: 3.25 | taste: 3.25 | feel: 3.25 | overall: 3.25
22oz. Bottle poured into a goblet... says on bottle 'Belgian-Style Tripel Brewed With Spelt'
Clear pale yellow, small white head with little lacing, smell is kinda belgian/saison like taste follows nose... a little belgian apple juice followed with a touch of alcohol and quite sweet. very unique as is all these odin beers....
328 characters
Thor's Sunstone from Odin Brewing Company
3.5
out of
5
based on
14
ratings.