Sleepy Dog Tail Chaser IPA
| Sleepy Dog Brewery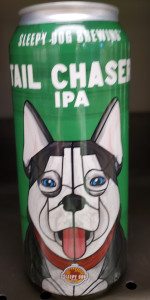 BEER INFO
Brewed by:
Sleepy Dog Brewery
Arizona
,
United States
sleepydogbrewing.com
Style:
American IPA
Alcohol by volume (ABV):
7.50%
Availability:
Rotating
Notes / Commercial Description:
Smooth & perfectly balanced, yet with a cascade hop finish. Makes you want to fight wild animals.
Added by t0rin0 on 04-01-2011
Reviews: 7 | Ratings: 33

4.04
/5
rDev
+21.7%
look: 4.5 | smell: 3 | taste: 4.25 | feel: 4.5 | overall: 4.5
Solid IPA. Had a decent head from the tap. It's more of a looker than a smeller; great color. Excellent taste. Nothing to crazy with a hint of citrus. If you like most IPAs, you'll like this.
191 characters
3.87
/5
rDev
+16.6%
look: 4 | smell: 3.75 | taste: 4 | feel: 3.75 | overall: 3.75
Served from tap at the brewery into a standard pint glass.
Color is a deep golden amber,
Smell is clean and crisp.
Taste is bitter, sans citrus, almost acerbic.
Mouthfeel is rich, fine carbonation, can taste the added sharpness.
The head is supreme, with a wonderful lacing that remains long after the beer is gone.
Nice beer and one I'd recommend to my more bitter
369 characters

3.37
/5
rDev
+1.5%
look: 4 | smell: 3.25 | taste: 3.25 | feel: 4 | overall: 3.25
Sampled on tap at Sleepy Dog; March 2011
The beer arrives with a clear, copper color and is topped by a long lingering, pale tan colored head. There is a tinny, but bright citrus and hop fruit character to the nose; I get a sort of tropical fruit character and some lychee noticeable. There is again something like dishwater aromatics in the nose and there is also a touch of cracker like malt and a hint of crystal malt notes here as well.
This has a bright, hoppy, citrus character as well as some herbal bitterness to it that reminds me of hemp and pine. Sweet notes are accentuated by the fruity hop character. This is light bodied and quaffable. There is some sort of off character here; perhaps a hint of moldy dish-water and a sort of metallic note. This is hoppy enough to not be bad, but it is certainly lackluster. If it was cleaner it would be a nicely light and quaffable and I like that I has some hop character to it.
932 characters

3.3
/5
rDev
-0.6%
look: 3.5 | smell: 2.75 | taste: 3.5 | feel: 3.75 | overall: 3.25
Nice inch thick head of white foam. Amber hued with good clarity. Not a whole heck of a lot of aroma. Just some faint hop aroma. The flavor is very intensely hop oriented and really hits you on the front of the palate. Thinking pacific piney hops. Not much in the way of a malt profile to balance it out, though. Mouthfeel is a bit sticky and warm, which is true to style.
372 characters

3.65
/5
rDev
+9.9%
look: 4 | smell: 3.25 | taste: 3.75 | feel: 3.75 | overall: 3.75
Most impressive attribute of this beer is likely the appearance. Golden amber with a slight haze. Tremendous lacing. Seriously. Thick white (ok, off-whitish) head rhat subsides fairly quick. Not a ton of stuff happening in the nose, but what's there is at least pretty strong with grapefruity goodness. Taste is wicked bitter with grapefruit agaun with a pretty pungent finish which leaves a dry mouthfeel. Overall, this ain't at all too shabby. I've had a lot worse from a lot bigger.
485 characters

3.5
/5
rDev
+5.4%
look: 3.5 | smell: 3.5 | taste: 3.5 | feel: 3.5 | overall: 3.5
Amber color that left some lacing high on the glass that went away as the head dissipated. Nice complex mix of malt and hops with a lingering hoppiness. I am very suprised that this is 7.5% because you cannot taste the alcohol. It is hard to break out the flavors, but it is easy to drink and I would definately drink it again.
327 characters
2.44
/5
rDev
-26.5%
look: 4 | smell: 2.5 | taste: 2 | feel: 4 | overall: 2
Sampled 3/4/2011 at the brewpub.
Pours clear, amber orange, white head, some lace and ret.
Aroma is caramel, pine, and lots of butter.
Flavor does have some redeeming piney hops but that is neutralized by the butter and abundance of caramel and sugar. Medium bitterness.
Body is light/medium and amply carbonated. Not drinkable.
Ƭίcƙ.
355 characters
Sleepy Dog Tail Chaser IPA from Sleepy Dog Brewery
3.32
out of
5
based on
33
ratings.