Rodenbach Vin De Céréale
| Brouwerij Rodenbach N.V.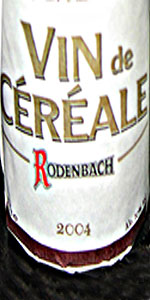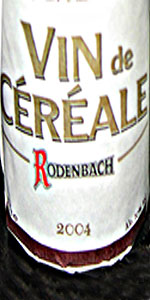 BEER INFO
Brewed by:
Brouwerij Rodenbach N.V.
Belgium
rodenbach.be
Style:
Flanders Red Ale
Alcohol by volume (ABV):
10.00%
Availability:
Limited (brewed once)
Notes / Commercial Description:
Brewed once, but due to success, the brewery is considering making it again.
Added by ggaughan on 12-17-2007
This beer is retired; no longer brewed.
HISTOGRAM
Ratings: 90 | Reviews: 54

4.47
/5
rDev
+4.9%
look: 4 | smell: 4.5 | taste: 4.5 | feel: 4.5 | overall: 4.5
I have caught a double-agent. The owner of "d'Afspraak" in Mechelen told me it was hiding in his cellar. Un-be-liev-able it hadn't yet been discovered there.
It's a wine pretending to be a beer, and a beer posing as a wine. It is neither and yet both.
It doesn't don the expected white hat, nor does it wear the classic frivolous lace. No-nonsense attire, and a nice tan to boot.
Suspicious already, I wanted to sniff it out. And oh, this Rodenbach was good at its job; it confused me even more. Cider, oak, chocolate, grass, malt: it was all there. An eau de toilette that could conceal anything and everything.
Now that I had my teeth into it, I was determined to reveal it as a fraud, but it threw everything it had at me.
Sweet and alluring, sourly contradicting my accusations, flirting and warm, such a smooth operator. Nearly had me calling it honey.
I may have caught it, but I have to admit it seduced me - like you might expect of the goodlooking spies in a James Bond movie. And I don't regret it one bit, nor will I ever turn it in. There are few of them left in the world, and less every day - you'll be lucky if you ever get to see one, let alone catch it.
1,174 characters
4.35
/5
rDev
+2.1%
look: 4 | smell: 4 | taste: 4.5 | feel: 4.5 | overall: 4.5
Chilled bottle purchased and consumed at Delirium Cafe in Brussels. Recommended to me by the bartender after I expressed a lukewarm reaction to the Cantillon 50x4.
A: Pours a brilliant, clear orange / reddish amber that glows faintly in the light. The vigorous pour produces a finger of off-white head with great retention for a 10% ale; Julian (the bartender) seemed surprised and said this beer is normally closer to flat. Well, that's a good sign. No lacing.
S: Apple cider, with hints of vinegar and a grape presence (much like brandy). Green apple and light tannins. I'm not a wine connoisseur by any stretch of the imagination, but I had a sweet dessert wine some years ago that was orange in color, and this reminds me heavily of that (but with a touch more vinegar).
T: Again, the dessert wine comparison is appropriate, but it's not cloying or sugary by any means. A powerful blend of apple cider, brandy, and oak. Hints of tamarind and grain. A restrained acetic character adds complexity and forces this to become a slow sipper with a semi-dry finish.
M: Light-bodied, with airy carbonation. Absolutely no hint of alcohol in the taste, although there is a small, heady warmth on the exhalation. Very smooth, with a semi-dry finish as noted above.
D: I hadn't heard of this beer before having it, as I'm not familiar with the Rodenbach brand. If I had known it was so hard to get this beer, I might have tried to get one to bring home.
1,455 characters
4.43
/5
rDev
+4%
look: 5 | smell: 4.5 | taste: 4.5 | feel: 4.5 | overall: 4
A: A fascinating glimmering reddish orange color. No real head, just a small amount of airy bubbles that quickly disappears. An outstanding appearance.
S: A powerful and mature smell. Rich fruity aromas mix with prominent notes of oak barrel. Mild hints of vinegar. Some yeast, a hint of nougat, green apples and earth. The smell is really reminiscent of white wine. Excellent.
T: The taste is wonderful as well. A tart taste seems to balance perfectly, but just for a hint of second it goes sour. But the sourness is counterweighted by a surprisingly big sweetness, with notes of both malts and honey. The taste is really complex: notes of tart berries, lemon juice, unripe fruits, raisins. It's reminiscent of both white wine and fine apple cider. Plenty of barrel aged character as well with hints of oak and chestnut. The taste of vinegar is present, but subdued, and becomes noticeable not until the finish where the alcohol also makes an appearance.
M: Rather full body, very smooth and soft. Basically no carbonation at all. Rather dry in the finish.
D: A refined and elegant beer, to say the least. I really liked it. It's complex and well balanced, and very tasty. But most of all, it was fun and enjoyable to drink. Recommended.
1,246 characters
4.22
/5
rDev
-0.9%
look: 3.5 | smell: 4 | taste: 4.5 | feel: 4.5 | overall: 4
Thanks to SeaBass for bring this one from the home land!
2004 Vintage Barrel 132 Bottle 2658.
A: Pours a nice golden hue with zero head. You can manage a few bubbles with a swirl but no lace.
S: Big blast of tartness up front. Hints of crushed sweet tarts and green apple.
T: Apple, apple, and more apple up front, all green nothing sweet here. Crushed up sweet tart in the middle with a big blast of acid on the back of the tongue.
M: Nice light and tart. Very dry in the finish.
D: Not one to pound, but an enjoyable refreshing brew.
Thanks SeaBass!
559 characters

4.42
/5
rDev
+3.8%
look: 4 | smell: 4.5 | taste: 4.5 | feel: 4 | overall: 4.5
2004. Pours a light honey copper in color, almost a pinkish hue, clear, barely a skirmish of white bubbles appears and just as quickly is gone. Aroma shows some great malty sweetness, sweet berries and raisins, also some lemons, oakiness, white wine notes, grapes, and mustiness. Taste follows with a decent dose of honey sweetness, sweet raisins are also evident, a good dose of oakiness, grape, lemons, hay, and vinegar rush in and take over the sweet flavors. Mouthfeel is medium in body, a very nice blend of weight from the malts and puckery tartness and drying finish. A very delicious beer, the balance of sweet and tart are very nice, a quite complex aroma and taste are pleasing throughout.
699 characters
4
/5
rDev
-6.1%
look: 4 | smell: 4 | taste: 4 | feel: 4 | overall: 4
Review from notes, thanks to Brad for this one! Currently the last "top 10" Flanders Red left to review...probably the most elusive.
Orange jewel tone coloration with super bright clarity. The bottle looked to be filtered possibly, there was no sediment at all. Still pour, with a few bubbles lingering around the edges. Strong acetone aroma, with a slight wet wood mustiness in the background. Apple butter, cider, white grape, and mineral flavors. Mellow tartness, with the vinous feel of a Pino Grigio. Dry, tart, and acetic. An interesting experiment from Rodenbach, that hopefully continues in some form...
612 characters

4.47
/5
rDev
+4.9%
look: 4 | smell: 4.5 | taste: 5 | feel: 4.5 | overall: 3.5
As our delectable beer tasting to ring in 2009 drew to a close, a mysterious, unlabeled, corked bottle appeared out of nowhere. What's this, I say, hoisting the thing. Looks like a mead or homebrew cider.... not so! proclaims our benevolent, inebriated hostess (her husband had long gone to bed.) She hands me the wrapper she had removed. No way! I proclaim, reading "Rodenbach, Vin De Céréale" on the white paper. But she already had the corkscrew out...
This was one of the stars of the evening, and defies easy description. Céréale is a weird hybird, a flat, sour-sweet delight that is in turns reminsicent of barleywine, cider, and the Flanders red they do so well. It's flat, no head at all, and still. Straw-gold, picturesque, and gorgeous; but the last thing you'd expect from such a beverage is the what follows....
The aroma is sweet, much sweeter than normal Rodenbach, and has a fine caramel sugar overture that then turns into cherries, both sweet and sour, and wood-oak grassy notes that are carried away on the wings of a sour, earthy and mildly boozy finish. Well blended, old smelling, and rich - think a Rodenbach dessert wine and you are on the right track. Delicious and charming.
The taste is at first a return to normalcy, there's the sour vinegar cherry we're all used to. But it's a lot sweeter, with a depth of character that grows and grows on the palate. Eventually I'm tasting crisp apples, wood, honey, oranges, warming alcohol, a touch of spice and even some dirty wild yeast. Everything comes together fantastically well. The beer is thin and flat, yet devilishly smooth, and finishes tingly and warming. The sourness lingers on in my mouth and the whole experience is delightful and relaxing.
Vin De Céréale is not a beer to drink much of, but made a wonderful morningcap and is the best thing I've had from Rodenbach. Refined, warm, beguilingly easy, this is excellent, special beer. Highly recommended.
1,945 characters

4.37
/5
rDev
+2.6%
look: 3.5 | smell: 4 | taste: 5 | feel: 4 | overall: 4
Quite an unusual beer for Rodenbach. Big alcohol that left a very warm feeling. Golden color. Must have been aged in white wine barrels. Almost no head. A slightly tart sourness but not to the extent of a traditional Rodenbach or Rodenbach Grand Cru.. I loved this beer.
270 characters
4.32
/5
rDev
+1.4%
look: 4 | smell: 4.5 | taste: 4.5 | feel: 4 | overall: 4
Thanks to FMetzger for sharing this one. Pours with little foam at all. Amazing deep gold color, very clear, with faint carbonation. White wine aroma, buttery, with dried apricots and a oakey sour funk. Faint alcohol fume.
Vinegary sourness dominates the flavor with an intense fruity character. More sour than I expected, with primarily tart apple and pear. Very acidic, lightly drying. Alcohol kept in check well for 10%. The mouthfeel is mostly thin, geting only a tiny bit syrupy at the finish, holding onto the tastebuds. The carbonation is a bit low but good enough for this beer.
Overall a great sour beer. Was afraid it would get too strong being much higher ABV for the style, but it didn't. Recommended...
719 characters
2.96
/5
rDev
-30.5%
look: 2 | smell: 3.5 | taste: 3.5 | feel: 2 | overall: 2
Bottle, Ma Che Siete Venuti a Fà, Rome, Italy. Light golden. Mildly aromatic, with hardly any depth, some sour fruits. Mild malts, some sourness. Not sweet like the grand cru. Very little depth, tastes dead and unpure. Ok taste. A bit dull. Just an ok beer.
258 characters

4
/5
rDev
-6.1%
look: 4 | smell: 4 | taste: 4 | feel: 4 | overall: 4
Foeder 132, Bottle #004711, 2004 Bottle Date; Sampled April 2008
Served lightly chilled in a 25cl tulip glass. As expected the beer pours completely headless, only a slight ring of bubbles forms on top of a brilliantly clear, honey copper colored beer. A close inspection actually shows a slow, persistent generation of bubbles rising up from the bottom of my glass, so there is a touch of CO2 here. The aroma is tart, fruity and warm from alcohol. Reminds me a bit of a mix of apple cider-vinegar and brandy. Acetic & lactic acid aromatics up front yield to soft apple and perhaps a touch of plum aromatics. It is actually quite sour smelling throughout and other than this it is not overly funky. A chewy malt character seems to lay just underneath the surface here, never particularly noticeable, but its presence is somehow sensed in the aroma.
Quite tart tasting, and very dry up front, but it does pick up some very slight sweetness towards the middle and beginning of the finish that accents a soft cider-like flavor. Very light for a beer of this strength, and the alcohol is quite well hidden in the flavor by the dominant tartness. Mainly a lactic acidity is found in this beer, though a touch acetic essence is here as well. Dusty, stale malt flavors (like some crushed malt that has been left out for a couple of weeks) seem to inject themselves into the finish. Definitely not completely flat, the carbonation is quite slight, but contributes an extra texture to this beer. This really does have an apple cider essence to it that is quite nice and provides a slight balance to the tartness. This beer is not overly sour, at least compared to a hard Lambic, but is certainly quite tart tasting. Flavors of tamarind, slight sherry and some grassy, lightly toasted (to the aromatic point with not browning) grain.
This is certainly a sipping beer, though given a couple hours a 375ml bottle is not unmanageable. A very interesting take on a Barley Wine (or literally Grain Wine). I definitely am enjoying this brew, it is quite the experience. I find it interesting that the alcohol is only noticeable as a nose warming sensation in the nose, but not in the flavor. All in all this is quite soft tasting, the malt has certainly mellowed over all this time and the acidity, while substantial, is not harsh at all. Quite an experience.
2,345 characters
4.22
/5
rDev
-0.9%
look: 3.5 | smell: 4 | taste: 4.5 | feel: 4.5 | overall: 4
I was able to get a bottle of this. It pours flat. There was basically no head. It looked just like apple juice. It had a smell of apple cider vinegar. I could tell it was going to be sour before even drinking it. The taste of it was sour and not in the bad sense. It was a very smooth sour that went down real easy. It was easy for me to drink and I'm not big on sour beers. It's one that I would love to get again and enjoy.
426 characters
5
/5
rDev
+17.4%
look: 5 | smell: 5 | taste: 5 | feel: 5 | overall: 5
I was fortunate enough to buy a case of these from Belgium. I opened bottle #10593 today. It poured with no head and looked like apple cider in the glass. The smell was very strong. As it poured into the glass at arms length I could smell the sweet vineger aroma. The taste was not too sour but stronger than the Rodenbach Grand Cru. The complexity in the beer was so impressive that it hid the 10% alcohol. I could not tell the beer was so strong until I felt the buzz half way down the glass. Drinkability factor is off the chart if you like Flander ales.
557 characters
4.32
/5
rDev
+1.4%
look: 3.5 | smell: 4 | taste: 4.5 | feel: 4.5 | overall: 4.5
Drank from a 40cl chalice in Copenhagen. Sampled at Nørrebro Bryghus with fellow enthusiasts...
Appearance: pours from a wine corked 375ml bottle..virtually flat. what head existed dissipated almost immediatly. a very pale, almost completely translucent apple juice like color. gorgeously brilliant. 3 years or so will do that, i suppose...
Aroma: horsey brett - with lactic tones - fresh lambicesque aroma - some characteristic acetone rodenbach scent.
Taste/Mouthfeel: first sip: typical [ok, on it's best day] rod. grand cru with VERY lingering warm buttery cognac-esque oak character - wow. so incredibly well crafted... my god. some subtle acetic but much less than many bottles of the grand cru that i've had.
tasting onward as it warms: does have essence flavor of ancient warming oak - refreshingly tart and uniquely their own. this brewery can make beer this good? damn. reminds me a bit of Cantillon's 50ºN-4ºE - buttery rich oak presence. diminished hop. awesome. better than alexander.
a single foeder? wow. i could drink this beer on a daily basis. am hoping that this will become a more frequent experiment from these folks. if it held a head, it would be damn near perfect [oh, acid...]. glancing over at the other examples of this style - flanders red [can we call this red?] it is above and beyond all of them [with the exception of the under rated de dolle oerbier reserva 2005...and possibly Panil Barriquée when the 2005 was at its peak]. profoundly better than anything from Verhaeghe and more immensely immaculate than any bottle of La Folie. this beer deserves to be sought out...
1,614 characters

4.67
/5
rDev
+9.6%
look: 4 | smell: 4.5 | taste: 5 | feel: 4.5 | overall: 4.5
As best I can make out from the bottle, as it is in Flemish and French, this is a limited production beer made from foeder number 132 and is limited to a little over 22,000 bottles or so from what I can tell. The bottle is presented wrapped in white paper with a gold cover on top. Each bottle is stamped with the bottle number and has 2004 on the front.
I got this bottle at Oud Aresenal in Antwerp, Belgium. The beer was served in a nice Rodenbach glass. The beer pours with absolutely no head at all. The beer poured a pale orange color. The nose was a bit acidic and had some vineous qualities to it, very pleasing. The taste was pretty intense. This is definitely a Rodenbach beer but there is more sourness to this baby than the Grand Cru or Red. It is similar in taste to the Alexander Rodenbach of days gone by but a bit more sour and this had some definite wine qualities that were enjoyable. You don't get hit over the head with the high abv but it definitely shows itself at time. This is a very well rounded beer and worth picking up if you can find it.
1,069 characters
Rodenbach Vin De Céréale from Brouwerij Rodenbach N.V.
Beer rating:
4.26
out of
5
with
90
ratings