Maurer's Market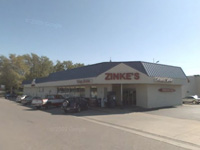 PLACE INFO
Type:
Store
216 Washington Ave
Wisconsin Dells
,
Wisconsin
, 53965-1535
United States
(608) 254-8313 |
map
maurersmarket.com
Notes:
Formerly Zinke's Village Market & Liquor
Added by emerge077 on 12-04-2009
Ratings: 25 | Reviews: 21

4.14
/5
rDev
+5.3%
vibe: 4 | quality: 4 | service: 4 | selection: 4.5
Stopped in here while on vacation in the Dells. I was looking mainly for some New Glarus since I'm from out-of-state, but ran across so much more I wished I had the budget to buy.
At first, the beer selection looks very small and overpowered by the wine and liquor. However, I then noticed the walk-in cooler that customers are given access to, and was blown away. they had everything I was looking for, and more. I was hoping to not have to make choices, but I had to.
The only negative I have with regard to Zinke's is the lack of ability to buy singles. I really wanted to grab two of every New Glarus available, but was unable to do so. To get everything I wanted, I would have been forced to buy many, many six packs, so I had to pick what I wanted most.
Still, a great place for local brews as well as other things you may be looking for. Definitely a recommended stop if you're in the Dells for a day or two.
918 characters

4.58
/5
rDev
+16.5%
vibe: 4 | quality: 4.5 | service: 5 | selection: 4.5
Zinke's village market is a must stop Wisconsin Dell's destination. It's easy to find with plenty of signage to help you get there. This village market is a nice local grocery store with a full size liquor department. The selection was great in there well stocked walk in cooler. Plenty of the usual Wisconsin brews as mentioned in other reviews. Pricing was very reasonable. If Derrick is available, be sure to ask for him. He's extremely helpful and great to chat with.
If your in the area or plan on going out of your way, you will not be disappointed.
Highly recommended!
578 characters
4.75
/5
rDev
+20.9%
vibe: 3 | quality: 5 | service: 5 | selection: 5
Just got back for a weekend in the Dells and looked this place up on BA before going. Loved this place and Derrick was incredibly friendly and helpful (thanks again for helping me out with some rare stuff and facilitating my beer babble). Selection was exceptional with Wisconsin brewers (New Glarus, Central Waters, Tyranena, etc.) and also contained several seasonal items from FFF, Founders, Bruery, Nebraska, etc. Will definitely go back whenever I'm in the Dells. A few beers of mention...
- Founders Blushing Monk and Devil Dancer
- Several Tyranena Brewers Gone Wild variants
- New Glarus Raspberry Tart, Belgian Red, Unplugged Cran-bic, Unplugged IIPA, Unplugged Abt, Unplugged Imperial Weizen
- FFF Dreadnaught, Behemoth
- Bruery Cuir
- Nebraska Black Betty Reserve
- Centrals Waters coffee stout, BA barleywine, BA imperial stout, BA cherry stout, Peruvian Morning, Illumination IPA
893 characters
4.66
/5
rDev
+18.6%
vibe: 4.5 | quality: 5 | service: 4.5 | selection: 4.5
I was on a beer hunt while in the dells for New Glarus beers. They can actually be found in most gas stations and stores through out WI. However the prices range widely from one part of Wisconsin to another. Tourist towns tend to be a little pricier than regular towns. When I walked into Zinke's , they have a walk in beer fridge and they have quite a complete selection . Three floyds alpha king, new glarus regular beers and some unplugged items that will make you sing they are so good . I didn't have to drive to new glarus because I found some treasured beer there that the brewery was out of. And their prices are about a buck cheaper / six pack than many places in town. I found beers that we cannot get in champaign Illinois. Needless to say I did some retail therapy
The store staff was friendly , it's clean and well stocked with food products as well. I bought only beer though. I seriously believe they had the best beer selection in the dells at a reasonable price .
981 characters
4.01
/5
rDev
+2%
vibe: 3 | quality: 4 | service: 4.5 | selection: 4
Headed up to Wisconsin Dells for a weekend of relaxation and some alone time with my girlfriend...oh and also to get some local Wisconsin brews that I cannot get down in IL! Jumped on BA to see if there were any local bottle shops that have been reviewed for this location and saw that Zinke's Village Market got some nice reviews.
Those just passing though get off at Exit 87 from I94 and head East on state route 13 (Stand Rock Road) which turns into Frontage Rd. Go up a hill and you'll cross a damn and go under a set of train tracks. Once you do that you will be in downtown Wisconsin Dells where you'll see plenty of restaurants, bars and other shops. Make a right onto Superior Street and go a block or so until you reach Washington St. Zinke's Village Market will be on your left.
Drove up to the place, which is very conveniently located in the downtown area of Wisconsin Dells. It's not just a liquor store but a small neighborhood grocery store, so it's nice if you area staying a few days and this can be a good place to get some nice snacks to go with your beer that you pick up. Walked through the west end of the store and noticed that the beer/wine/liquor was at the east side of the store. Made beeline to the goods. Once there I noticed that there is a huge (15x15 ft ??) walk in cooler which all of the craft brews along with the BMC's brews were located. I would say that the 33%-40% of the space in the cooler was dedicated to craft breweries. Once in, I saw a good selection of FFF's (Behemoth, Gumball Head, Rabbid Rabbit, & Robert the Bruce to name a few), plenty of Founders, Bells, Goose Island, Central Waters (great Wisconsin local) and of course New Glarus (another great Wisconsin favorite). I picked up Coffee Stout and a couple 750 ml's by New Glarus. I also picked up 3 4-packs of Central Waters...more specifically the newly released Illumination (IIPA), Peruvian Morning (IS) & Brewer's Release Bourbon Barrel Stout (IS). Prices were reasonable and what I expected to pay. FFF bombers were about $10, Gumball Head $11 for a 6'er, $7-$10 for the Central Waters 4-packs (depending on if "Brewer's Release series").
Overall, I was very pleased with the selection and I would advise you stop in an treat yourself to some nice local craft brew. You will not be sorry!
Cheers!
Doug
PS. A BA member's family, Derek (DP34), owns the joint so send him a beermail and let him know you will be stopping in. I didn't get a chance to meet him this time around but will plan things better next time...at the very least say hello.
2,555 characters

4.58
/5
rDev
+16.5%
vibe: 4 | quality: 4.5 | service: 5 | selection: 4.5
Heard about this place here on BA. Read the previous two reviews, so I beer mailed Derek (DP34) about their selection/current offerings, etc. and he emailed me right back with all the info. I was very surprised when he said they had Bitches Brew.
Its the only grocery store in Wisconsin Dells and Derek's family actually owns it. The grocery store had a nice small town/ family owned feel, didn't look around much or buy any food, but they have a good selection of wine and spirits. When you get there, ask for Derek and see if he has anything special. He did hook me up with two Central Waters shaker glasses. Zinke's has plenty of Three Floyds bombers, New Glarus, Central Waters, Goose Island and they still had Hopslam, Batch 1000 and one six pack of Bells 25th anniversary that I snatched up.
If you go to Moosejaw Pizza and Brewing, the Killbourn Hop Ale is brewed with hops from Derek's relatives hop farm.
916 characters

4.7
/5
rDev
+19.6%
vibe: 4.5 | quality: 4.5 | service: 5 | selection: 5 | food: 4
Based on a recommendation I stopped in to look for some beers that are already sold out in the Milwaukee area. Upon my arrival to the cooler low and behold I see Batch 10,000, Hopslam 6 packs and barrel, plenty of Three Floyds (Behemoth, Rabbide Rabbit, Arctic Panzer Wolf, among others). I was also happy to see the Wisconsin beers well represented from New Glarus to Tyranena, Central Waters, Lake Louie, and Rush River.
Many thanks goes to DP34, who works at Zinkes, he helped me out, in fact set aside beers for me just in case any sold out. I am planning on heading to the Dells are again in September and will definitely stop in hoping to be pleasantly surprised.
When in the area this is a must stop in my opinion.
Update:
10/03/11
After e-mailing DP34 I was able to obtain a 6 pack of Oracle, which was very much appreciated. Again the beer choices and service are great. Must visit when in the area.
911 characters
4
/5
rDev
+1.8%
vibe: 4 | quality: 4 | service: 3.5 | selection: 4.5 | food: 4
Stopped in here last weekend, hoping to find some good seasonals on my way back to Chicago. The beer section is tucked way in the back but it is all a walk-in cooler.
They had the full line up of all the big local breweries. Central Waters had a full barrel aged rack, Tyranenna had several Brews gone wild, New Glarus had a good lineup, along with lots of midwest breweries. I was shocked to find many cases of Batch 10,000 and lots of Three Floyds seasonals that have all disappeared in the Chicagoland area.
This is a great little grocery store. As I was checking out I told the cashier that the sign said I get a free pint glass with each 6-pack of central waters but she had no idea what I was talking about, and the manager wasn't avalable.
If you are in the area it is well worth the stop in to see if they have some gems to take home.
848 characters

4.5
/5
rDev
+14.5%
A rather unassuming beer haven for those who can't make an easy trip to the TC, Madison, or Milwaukee/Chicago. While the walk-in cooler holds mostly macros, they have a surprisingly good selection of various WI beers including Central Waters, New Glarus, Lake Louie, Ale Asylum, Capital, and others. Some other gems that are normally stocked are Founder's, FFF, GI, and Bell's. Not many imports, but in the past I've snagged (a lot of) CWBBBW, GI BCS, GI BCBCS, FFF Arctic Panzer Wolf, Bell's Oracle, Old NG Unpluggeds, GI Nightstalker, Founder's Devil Dancer, and Bell's Hopslam... I will continue to make many trips there for future rareities not found in rural WI!
667 characters
4.21
/5
rDev
+7.1%
vibe: 3.5 | quality: 4 | service: 5 | selection: 4
EDIT: Stopped in here again last week and damn was it awesome! Tons of big bottles to choose from along with sixers of some heavy hitters. This will be a must stop when I'm in the area for now on.
Stopped in here while in the area and gave it look.
From the glowing reviews on here I expected something great. Well sometimes you just have to see for yourself. They have a walkin cooler with a modest craft selection. Nothing special save for one bottle of CW Y2K. Which I snagged of course. Other than that I saw nothing to ever consider going back for. Most gas stations in Milwaukee have similar selections.
Maybe I have a different perspective since I live in a beer mecca but I was not impressed. A simple grocery store with a small craft beer cooler. Meh!
765 characters
4.3
/5
rDev
+9.4%
vibe: 4 | quality: 4.5 | service: 4 | selection: 4.5
2013: Full case of Hanssens Oude Gueuze on the shelf. What other grocery store has that?
Cases of Wild Sour and Strawberry Rhubarb, vintage CW BBW, 6-8 Bruery, full Founders lineup, full Tyranena lineup, full Ale Asylum lineup, several FFF options. That alone justifies the scores. Look where you are... nothing remotely like that in a 50 mile radius outside of Madison. Not to mention they actually have relatively fresh beer and move through their stock, unlike other local stores selling Winter Warmer in July...
I've been here over a half dozen times and will keep coming back.
Summer 2010:
Walk in cooler with big representation of Founders, FFF, Central Waters (BB Barleywine, Illumination), Great Lakes, New Glarus (2x Unplugged & Dancing Man), Ale Asylum (Satisfaction Jacksin), Goose Island, Lake Louie, not many imports though. Nice selection available cold.
This is a small town grocery store that is supported by the residents of the Dells. It's not a high volume store, and they tend to get "cleared out" on the weekends. Nevertheless, it's a big improvement from my last visit, and i'd consider it a beer destination now. If you've only been here once, give it another shot.
Original review 10/09:
I've stopped in here a few times when the family drags us to the Dells. This is the only place in town with any decent selection of craft beer, believe me i've searched elsewhere to no avail. It's certainly not a destination store, more of an emergency beer supply store. With that in mind...
The beer aisle is relatively small but holds several local craft gems. When i'm in WI, I like to drink local, and i'm glad Zinke's delivers the local brews. They have Lake Louie, current New Glarus Unplugged and seasonals, limited Ale Asylum seasonals, Central Waters, Capital, Sprecher, etc. It's not a huge selection, but it's all about convenience here. Yes, it's mainly a grocery store, but considering the tourist trap hell it's smack dab in the middle of, it's pure gold. You will always get a friendly person at the checkout, and get rung up quickly.
The closest decent beer stores are 30 minutes outside of town (Viking Market in Baraboo/Reedsburg, Liquor Baron in Sauk City), and at the height of tourist season that can mean over an hour in traffic. For that, Zinkes is my shining beer beacon in the kitsch-laden darkness of Wisconsin Dells...
2,368 characters
4.05
/5
rDev
+3.1%
Hidden Gem. Central Waters BBBW, Dreadnaught, Night Stalker, BCBS, CW, Illumination, CW Y2K, New Glarus, and more. They have a lot of all of these, too. I also was able to snag some Hopslam, (last 6er on the shelf). They have mostly macros, but there are some very solid ones in addition. The prices are a bit high but for what you're getting, it's hard to complain. They It's 95% grocery store, so service is friendly, but most employees aren't beer geeks. If you're in the Dells for the weekend or driving through on the interstate, it's a must stop.
552 characters

5
/5
rDev
+27.2%
I live in Madison Wi, but I often go to Wisconsin Dells to visit family. Zinkes has done a complete reset of the selection offered. They now have Founders, Bells, Three Floyds, Goose Island, Central Waters, Lake Louie, Great Lakes, Rogue, and many others. On my visit I picked up Founders Dirty Bastard, GI Coffee BCS and 3 Floyds Dreadnaught. Do yourself a favor and stop in if your in the Dells. Great Stop!
Also, If anyone from outside Wisconsin wants to take home some New Glarus beer this is the stop. They have pretty much whatever you want of NG warm or cold. When I was in today someone was buying 6 cases of Spotted Cow to take home. Another Happy New Glarus Customer.
678 characters

4.35
/5
rDev
+10.7%
Wow, stopped into my local store today on my annual pilgrimage to fill up the fridge for the family for easter and was blown away to see the cosmic change. The craft section was tripled in size and the offerings where just what the dells needed. Founder's, Bell's, Rogue, Three Floyd's, Great Lake's, Two Brother's, Central Water's, Lake Louie, Tyranena, Furthermore, Ale Asylum and every New Glarus a guy needs. It was great to see and we're not talking one facing of each of these. Most were three or four.
It was great to see a local store that has catered to the masses of tourists, cater to what people are really drinking.
629 characters

3.05
/5
rDev
-22.4%
Stopped here after a failed attempt to pick up some New glarus Unplugged Iced Barleywine at Discount Liquor in Milwaukee...
The place is located close to 90/94 which is convenient. Walking in, it has the feeling of a very old grocery store which is a bit past its prime.
The majority of the beer is located in a walk-in cooler. Offerings included a bit of Capital (no Autumnal Fire or Eisphyre) some NG unplugged (Olde English Porter and Cran-bic) Ale Asylum (Hopalicious and Satisfaction Jackson), Lake Louie (Milk Stout and IPA) and a little Magic Hat...
A few other craft brews, which were dwarfed by the macro-offerings.
Not knowing what to expect, I was a little put off by it--probably won't stop there again.
721 characters
Maurer's Market in Wisconsin Dells, WI
3.93
out of
5
based on
25
ratings.