Breakout Stout
| Jailhouse Brewing Company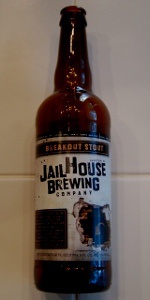 BEER INFO
Brewed by:
Jailhouse Brewing Company
Georgia
,
United States
jailhousebrewing.com
Style:
American Stout
Alcohol by volume (ABV):
7.80%
Availability:
Winter
Notes / Commercial Description:
No notes at this time.
Added by BeerAdvocate on 04-08-2010
Reviews: 65 | Ratings: 187

4.15
/5
rDev
+7.2%
look: 4 | smell: 4 | taste: 4.5 | feel: 3.5 | overall: 4
Poured into my new Brooklyn Tulip glass, it poured a dark black with an amazingly fluffy 1 inch head with little to no lacing. the head stuck around for the duration of the session
Smell- astrong odor of roasted coffee beans and malty undertones. smelled like fresh ground beans at the grocery store
Taste-delicious. coffee and chocolate at the beginning and ends with a mild coffee and malt finish
Mouthful- alarmingly light in body with a mild alcohol finish, it may be caused by the coffee. This one hides its ABV well
Drinkability- well balanced, a nice and not over the top Stout. would definitely drink again.
4.0/4.0/4.5/3.5/4.0
★
640 characters
2.96
/5
rDev
-23.5%
look: 4.5 | smell: 3.5 | taste: 2.5 | feel: 2.5 | overall: 3
Bottle thanks to Grant, drank from a tulip... Pours a light black color, some dark brown and amber on the fringes. The head is a nice medium mocha, creamy, looks good if not for the soft black... The aroma is decent, lots of roasted coffee which is pretty nice, but not really balanced with anything else, so a touch boring. I want to like this, gotta me give more... The taste is borderline bad as that coffee comes out in full force, this is extremely bitter stale coffee. Some light alcohol and vanilla come through.... The mouthfeel is off, bitter and overcarbonated... The group quickly moved on from this, not very good. I was excited to try this, very disappointed.
★
672 characters
3.83
/5
rDev
-1%
look: 4 | smell: 3.5 | taste: 4 | feel: 3.5 | overall: 4
Got this from Rbald42, cheers Ryan!
Pours mahogany with 3 fingers of fluffy mocha colored head. Sheets & sheets of lacing & average head retention
S: Chocolate & coffee
T: Coffee & charred grain, herbal hops, dryness&, & a touch of Baker's chocolate up front. Coffee, dryness, & herbal hops dominate as this warms, plus just a whisper of vanilla, plus some boozey notes. Finishes with wet charred grains, a touch of coffee & dryness
MF: Smooth, medium bodied, slight boozeyness once warm
Drinks easy, an assertive American stout that warmed me on a cool February evening. If you like your stouts leaning towards coffee, you'll like this one
★
647 characters
4.07
/5
rDev
+5.2%
look: 4 | smell: 4.5 | taste: 4 | feel: 3.5 | overall: 4
Dark brown body with ruby highlights when held up against the light. The head was two fingers thick, and khaki in color. The beer smelled very roasty, and I could detect coffee quite easily. There was also a background aroma of caramel toffee. The taste was sweeter than I expected, as the first sip had a bit more chocolate in it. Later the taste became more astringent, with burnt grain dominating. If there was a bone I would pick about this, it would be the rather thin body. The alcohol content was well hidden. A very approachable beer despite approaching imperial stout level strength. A nice addition to the local scene, and looking forward to sampling more of your fine craft.
★
685 characters

4.18
/5
rDev
+8%
look: 4.5 | smell: 4 | taste: 4 | feel: 4.5 | overall: 4.5
On tap at a bar in some upscale suburb of Atlanta. Appearance was completely opaque black with an adequate head and nice lacing. Smell was toasted caramel and slight hops. Mouthfeel was smooth chocolate with a hint of bitter hops. Taste was nicely balanced between malts and hops with a delicious lingering toastiness. Definitely a good brew for the style. Worth buying and drinking on frequent occasions.
★
405 characters

3.96
/5
rDev
+2.3%
look: 4.5 | smell: 3.5 | taste: 4 | feel: 4.5 | overall: 4
22oz bottle, unknown date (probably 3-4 months old). Served at cellar temperature.
Pours dark brown/black in the glass with a three finger beige head that is very foamy, recedes to a light cap and leaves some pretty lacing behind.
Aroma is roasted malts, smoke, some chocolate and coffee, some herbal hops. Moderate strength.
Flavor is roasted, almost burnt malt, drip coffee, chocolate, some smoke and dark fruits, a bit of hop bitterness at the end along with mild sweetness.
Mouthfeel is medium bodied yet fairly creamy with low to medium carbonation.
Pretty good Stout, a little on the burnt side, nice mouthfeel, improves as it warms.
★
649 characters

4.23
/5
rDev
+9.3%
look: 4.5 | smell: 4 | taste: 4.5 | feel: 4 | overall: 4
Got this one courtesy of gford217. Thanks man! Always excited to try up and coming new local breweries. Pours a dark brown color that is pitch black in the glass. Dense 1/2 inch head that stuck around for some time which eventually fell to a nice cap that left sheets of lacing on the glass. Very nice! Lovely aroma of charred grains, roasted coffee and a touch of chocolate. Taste is about the same. Very roasty, which I happen to like a lot, lightly bitter from some earthy hops, faint notes of chocolate and molasses on the velvety finish. This is exactly what an American Stout should taste like! Dry, roasty, a touch of dark chocolate, and a satiny mouthfeel. I also tried Jailhouse's wheat beer but forgot to review it. Both were VERY solid examples of their styles. I'll look for more from this brewery as they grow.
★
823 characters

4.2
/5
rDev
+8.5%
look: 4.5 | smell: 4.5 | taste: 4 | feel: 3.5 | overall: 4.5
22oz bottle. My first Jailhouse brew.
Pours almost completely black with only some faint light passing through the edges. There's a huge thick beige head that recedes very slowly to a hefty cap. Really good looking stout.
Aroma is heavily roasted malts, chocolate and a bit of hops.
The taste is not quite as impressive as the nose. It's roasted black malts, cocoa powder and some earthy hops. Bitter, roasty finish.
The mouthfeel is light to medium bodied and maybe a tad thin. The body keeps this from being a superb beer.
Really nice first effort from Jailhouse. Very drinkable standard stout that lacks just a bit of body from being a great beer.
★
655 characters

4
/5
rDev
+3.4%
look: 4 | smell: 4 | taste: 4 | feel: 4 | overall: 4
Pours a dark, near-black body just shy of opaque and a cream head. My first pour yielded little head, but subsequent pours yielded as much as 3 fingers. Moderate amount of lacing.
Smell is mainly of roasted malt, with piney hops. Not much else going on. Taste is largely the same. Roasty bitterness, with a dash of hops. There may be a hint of cocoa at play, but this is largely just roastiness on display. Fairly straight-forward flavor profile. Probably a good transitional beer for Guinness lovers. Not a lot of craziness or complexity going on - just an amped up stout.
Mouthfeel again is good. Appropriate carbonation and fairly thick, almost chewy.
All in all, this is just a solid, well made stout. There's nothing tremendous about it, and there's nothing particularly complex or interesting. "Simple" may be the key word. I'd love to see the brewer do a rendition with a focus on coffee or chocolate, or even bourbon barrel aging. That said, this is a well-made no frills stout. I'd be inclined to call this an imperial stout, actually - bottle says it weighs in at 8% ABV (which could be an increase from when it was orginally added as a draft-only brew).
★
1,168 characters
4.35
/5
rDev
+12.4%
look: 4 | smell: 4 | taste: 4.5 | feel: 4.5 | overall: 4.5
Drinking in a 20 oz Taco Mac mug.
This is more of an imperial stout than say a Guiness. It has a bittersweet/cocoa and coffee after taste. But I like it. If you don't, you need to stick to porters. I think this is an excellent stout from one of our newest breweries. Coffee flavors are king in this one.
★
304 characters
4.02
/5
rDev
+3.9%
look: 3.5 | smell: 4 | taste: 4 | feel: 4.5 | overall: 4
On-tap at Cypress St. Pint and Plate during a local beer takeover.
Pours one shade from black with a 1.5-finger tan head. The head recedes into a thin layer on top leaving solid lacing.
Smells of dry roasted malts with hints of even darker black malts.
Tastes similar to how it smells, though more complex. Strong roasted malt flavors kick things off and are joined quickly by hints of lighter, and sweeter, toasted malts. Midway through the sip unsweetened chocolate flavors work their way into things along with slight amounts of roasted coffee flavors. The roasted malt flavors dry out as they carry through to a solidly bitter ending. As the beer warms hints of sharp citrus hop flavors drift in and out of the flavor profile.
Mouthfeel is very good. It's got a smooth thickness with grainy carbonation.
Drinkability is good. I finished my glass quickly and could have another.
Overall I was surprised with this beer and how it opens up as it warms. A nice example of the style that fits a lot of flavor into a small ABV. Well worth a shot.
★
1,052 characters
4.41
/5
rDev
+14%
look: 5 | smell: 4 | taste: 4.5 | feel: 4.5 | overall: 4.5
Pours a deep, opaque sable with a fine-bubbled light tan head. Smoky, chocolaty aroma has an overtone of quality coffee and demands a taste. Mouth-filling mocha flavor is smoky, slightly bitter and also slightly sweet. Tingly, fizzy texture leaves a finish that is smoky and slightly hop-bitter.
★
295 characters
4
/5
rDev
+3.4%
look: 4 | smell: 4 | taste: 4 | feel: 4 | overall: 4
Appearance: Dark brown, near black body with modestly-sized, khaki-colored head. Fair degree of retention.
Smell: Breakout presents a scent of richly roasted barley giving an impression of espresso paired with baker's chocolate.
Taste: Decidedly roasty, with strong tones of coffee and charred barley. Roundly sweet bittersweet chocolate. Puff of acrid smokiness. Earthy bitterness with just a teensy bit of citrus hop character bubbling up out of the maltiness. Roasty, bitterish finish.
Mouthfeel: Medium-bodied. Medium carbonation.
Drinkability: Not bad for an inaugural line-up beer. Breakout is a solid, firmly roasted stout. Best of luck to this fledgling brewery out of sleepy little Hampton, GA.
★
707 characters

4.03
/5
rDev
+4.1%
look: 4 | smell: 3.5 | taste: 4 | feel: 4.5 | overall: 4.5
Served on tap at The Porter 6/05.
A: Deep black with a nice tan head that was well-retained.
S: Aroma was a little hard to pick up but what I got was mainly dark malt that was a little burnt, with some chocolate and coffee.
T: Lots of chocolate and roasted coffee flavors. Slight touch of smokyness with just enough hops to give a nice balance between bitter and sweet. Pretty standard stout flavor but well done.
M: Above average thickness and medium carbonation. Not the smoothest mouthfeel, but I definitely liked the ample body of the beer.
I went into this first beer from Jailhouse with a pretty open mind, and was impressed with it. Hope to see it around more often.
★
678 characters
3.89
/5
rDev
+0.5%
look: 5 | smell: 3.5 | taste: 3.5 | feel: 4.5 | overall: 4.5
Aroma- Very roasted with some malty support but not exactly sweetness. Some muted hop aroma that was defiantly put in place by the coffee and robust character of the malt profile
Appearance- Black-brown (around 35 SRM) with a gorgeous creamy tan head that persisted to the last drop. Couldn't have looked better.
Flavor- Big Munich roast that presented itself as a DARK black coffee, cocoa, and possibly some toffee. Lots of roasted grain flavor that assisted in the drying affect that was accentuated by the American hop varieties. Hops waited until the end to give an unexpected but pleasant drying that kept you drinking. Only complaint is that the coffee character had some burnt characteristics.
Mouthfeel- Creamy medium-full body with moderate carbonation. Carbonation and dark roast came together with the hops to give a drying finish. Carbonation was just right. Body could be a little bigger but might over do it for a premiere beer for a brewery.
Overall Impression- A great premiere beer for any brewery. This is an odd time for a stout but it fits in their lineup very well and separates them from the other GA breweries. Very well done and obviously displays the home brewing background of the brewer. Reign in the coffee flavors to exemplify a rich European coffee rather than starbucks burnt and you've got what it takes to run with the big boys.
★
1,366 characters
Breakout Stout from Jailhouse Brewing Company
3.87
out of
5
based on
187
ratings.