Smokey
| Jailhouse Brewing Company
BA SCORE
84
good
25
Ratings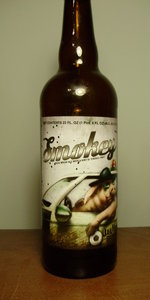 BEER INFO
Brewed by:
Jailhouse Brewing Company
Georgia
,
United States
jailhousebrewing.com
Style:
Dunkelweizen
Alcohol by volume (ABV):
5.50%
Availability:
Fall
Notes / Commercial Description:
No notes at this time.
Added by glid02 on 01-27-2011
Reviews: 12 | Ratings: 25
3.8
/5
rDev
-0.5%
look: 4 | smell: 4 | taste: 3.5 | feel: 4 | overall: 4
A very solid smoked beer, where the smoke aromas and flavors are subtle enough to not overwhelm everything else or tire the palate, but present enough to make a statement. Pours a nice very dark brown with a head that lasts for a bit. There is a nice malty background here layered with what tastes like alder smoke. A bit light- I wouldn't think of a dark wheat first when thinking of smoke, but the tastes are clean and there is a touch of light graininess that marries well with the somewhat light smoke. A nice effort.
521 characters

3.98
/5
rDev
+4.2%
look: 4.25 | smell: 3.75 | taste: 4.25 | feel: 3.25 | overall: 4
A: Black at first glance when poured into a tulip glass but still transparent when looked at carfully. Almost no laceing on the brownish off white half finger of head.
S: Slightly sweet with hint of smoke.
T: A hint of smoke with a nice easy drinking wheating charector that makes you wish for warm weather.
M: Light body with moderate carbination
O: I picked this up out side of atlanta after looking up the brewery and wish I would have had more of there beers. This was a nice easy drinking wheat beer with enough complexity to keep the beer nerds interested. Jailhouse... I'll be back!
594 characters
3.22
/5
rDev
-15.7%
look: 3 | smell: 3.5 | taste: 3 | feel: 4 | overall: 3
A 22oz bottle purchased from Green's in Atlanta
A - A dark brown, with little head and lace
S - It smells like a chocolate porter, with maybe a touch of spice creeping in
T - Chocolate, smokey, malty. Quite a bit of smoked malts in the aftertaste.
M - Full bodied, well carbonated.
O - An average beer. I don't think the smoked malts adds to much to the beer. Glad to try it, but I am one and done.
403 characters
3.65
/5
rDev
-4.5%
look: 4 | smell: 4 | taste: 3.5 | feel: 3.5 | overall: 3.5
Purchased at Green's Beverages in Atlanta, GA. $7.20 for a 22oz bottle.
A: deep, dark color, dark reddish-brown, clear, head poured but minimal for style
S: deep roasted malt, chocolatey, minimal smoked malt
T: well-balanced beer, good roasted malt up front, some cocoa and chocolate mid-palate and hop bitterness to style, needed more CO2 for style, needed a bit more clove and banana to be closer to style
M: more like a doppelweizen in mouthfeel than a dunkel weizen, pushing the deep roasted malt quality, chewy
O: I really like the beer but the lack of true dunkel weizen qualities (CO2, banana, cloves) made me knock it back a 0.5 rating in taste, mouthfeel and overall rating
683 characters

3.95
/5
rDev
+3.4%
look: 4 | smell: 4 | taste: 4 | feel: 3.5 | overall: 4
Served in a Dogfish Head snifter.
Thanks to Lillie1128 for this bottle!
I think I've seen the cop from the label before... Anyway, this stuff pours a very dark black-brown (closer to the former than the latter) topped by a half-finger of dirty off-tan foam. The nose comprises toasted malts, light beech smoke, light char, and a few pinches of black pepper in the background. The taste holds notes of toasted wheat, light smoke, black pepper, and a nice wave of banana in the finish. The body is a light-leaning medium, with a light moderate carbonation and a lightly grainy feel. Overall, a nice brew, proof that even dunkelweizens can be successfully smoked.
662 characters
4.15
/5
rDev
+8.6%
look: 4 | smell: 4 | taste: 4.5 | feel: 3.5 | overall: 4
It pours a dark-chocolate brown. Slightly transparent with thin some light passage around the edges. Has a wheat to grain aroma with a very slight smoky undertone. Flavor is more like a mocha port with a a smoky overtone. Clear can distiguish the hefe flavor. Very drinkable. Very smooth texture and just a slight fizzy head.
Serving type: bottle
348 characters
4.2
/5
rDev
+9.9%
look: 4 | smell: 4 | taste: 4.5 | feel: 4 | overall: 4
Wheaty aroma has a firm yeasty note and a smoky undertone with a hint of molasses. It pours a barely transparent dark-chocolate brown that lets light in only at the edges, looking more like a porter than a wheat. Yeasty, wheaty flavor has a smoky overtone with a touch of caramel - sort of like a decent porter blended with a good hefe. Distinctive and very drinkable! Smooth texture has above-average body and just a little fizz, leaving a nice wheaty and smoky finish.
470 characters
3.77
/5
rDev
-1.3%
look: 3.5 | smell: 4 | taste: 3.5 | feel: 4 | overall: 4
Thanks for this one Grant. Poured into a tulip. This one pours a very dark brown with a finger of light tan head. It settles leaving some sticky lace.
Smokey chocolate in the aroma with a little bit of a banana aroma in the background. I dig it. Nice wheat flavor with a good smoked aroma in the background. More subtle on the pallet with a little bit of chocolate sweetness finishing it out.
Medium body with good carbonation. Overall a solid offering. Real easy to drink.
475 characters

3.7
/5
rDev
-3.1%
look: 3.5 | smell: 3.5 | taste: 4 | feel: 3.5 | overall: 3.5
Thanks to gford217 for the extra!
22 oz bomber poured into NERAX tasting glass (multiple times...).
A: Pours an opaque chocolate-brown with cherry highlights. 2-finger tan head dies rather quickly into a thin cap, leaving no lacing.
S: Wheat and banana up front, followed by roasted malts, chocolate and a hint of smoke.
T: Bitter roasted malts are in the forefront, followed by chocolate-covered banana. Finish is just slightly smokey, and a bit sweet.
M: Medium carbonation and body. Definitely drinks like a wheat beer.
O: I have somewhat of a hard time with smoke in my beers, and while I applaud this as an interesting attempt, I'm not sure the smoke compliments the style very well. The banana characteristics coupled with the sweetness of the malts make this just a tad less drinkable than I expected.
Overall, a decent attempt that just didn't really speak to me so much.
886 characters

3.83
/5
rDev
+0.3%
look: 4 | smell: 3.5 | taste: 4 | feel: 3.5 | overall: 4
Tried it a few times on the brewery tour, took some light notes. This is a one-off beer.
A- The brew was a dark gray-brown color with a barely tan head.
S- The first thing that came to mind was "bacon". This beer smells like it.
T- Turns out it tastes like bacon too. There is a caramel-malt sweetness as well as a smoked malt taste, and they come together to make a maple smoked bacon flavor. It's not off putting, but it's the main thing I got from it. Hop flavor is minimal, bitterness is low/moderate.
MF- Nice, relatively thick but not really thick.
560 characters
4.1
/5
rDev
+7.3%
look: 4 | smell: 4 | taste: 4 | feel: 4 | overall: 4.5
16 ounce pint - $6.25 at Taco Mac in Woodstock, Georgia.
Listed as being 5% on beer menu but, well, this establishment is known for rounding up, rounding down, or just being plain wrong when it comes to alcohol content percentages. An inquiring e-mail sent to the brewery was flat-out ignored.
Appearance: Very dark brown body with nearly an inch of light beige-colored foam.
Smell: Moderate smoke tones over notes of chocolate, toast, caramel, and the namesake wheat with a little bit of fruitiness tucked quietly underneath.
Taste: It's definitely smokey, though the effect is not overblown, and moderately sweet, with easy-going roasty-type tastes of milk chocolate and sugared mild coffee. Tangy malted wheat brushed with a thin veneer of golden syrup. Hints of golden raisins and banana. The smoke character sustains throughout the taste, even as a modest amount of bitterness wriggles in. Sweetish, malty finish.
Mouthfeel: Medium-bodied. Medium carbonation.
Drinkability: A nice beer, and a nice surprise, in that I hadn't heard even a peep about this beer prior to stumbling across it at a nearby Taco Mac.
1,120 characters
4.22
/5
rDev
+10.5%
look: 4 | smell: 4.5 | taste: 4 | feel: 4 | overall: 4.5
On-tap at Cypress St. Pint and Plate in Atlanta. I've seen this pop up around town at a few places and it's own tap handle reads "Smokey". A smoked wheat beer.
Pours a hazy dark brown color with a 1.5-finger tan head. The head recedes into a thin layer on top leaving decent lacing.
Smells of dark malts and solid amounts of smoked malts. The smoked malt aromas are made up of leather and smoked meat without much campfire. Also present are slight amounts of wheat twang and even lighter amounts of roasted malts.
Tastes similar to how it smells, though a bit less complex. Dark malt flavors kick things off and are joined quickly by mild amounts of wheat twang. Shortly thereafter the smokiness overtakes everything else - leather and smoked meat as in the aroma. Hints of roast come into play near the end of the sip, fading out into a moderately bitter ending. Earthy hops make an appearance midway through the sip as the beer warms.
Mouthfeel is good. It's got a nice thickness with solid carbonation.
Drinkability is very good. I finished my glass quickly and could easily have a few more.
Overall I was hesitant to expect much from a smoked wheat but I was impressed with this beer. A nice balance between a dark wheat (maybe some roasted malts?) and a rauchbier. Well worth a shot.
1,306 characters
Smokey from Jailhouse Brewing Company
3.82
out of
5
based on
25
ratings.