Conjugal Visit
| Jailhouse Brewing Company
BA SCORE
84
good
18
Reviews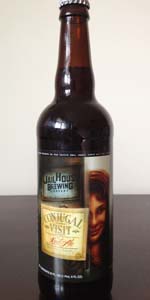 BEER INFO
Brewed by:
Jailhouse Brewing Company
Georgia
,
United States
jailhousebrewing.com
Style:
American Amber / Red Ale
Alcohol by volume (ABV):
6.00%
Availability:
Summer
Notes / Commercial Description:
No notes at this time.
Added by gford217 on 08-03-2011
Reviews: 18 | Ratings: 40
3.71
/5
rDev
+0.3%
look: 4.5 | smell: 3.5 | taste: 3.5 | feel: 4 | overall: 4
Got this as an extra from Grant. Thanks homey. Poured into a tulip. Pours dark amber with about an inch of creamy beige head. Leaves a ton of sticky lace.
Powder cocoa in the aroma with some hints of citrus orange zest. Pretty unique on the aroma; a lot more malts than I would have imagined in the aroma. Toasty malts on the pallet with hints of cocoa with a nice bitter hop finish.
Nice medium body here with good carbonation. Overall this one isn't bad. Glad to have tried it; so far I've enjoyed everything I've had from Jailhouse.
537 characters
3.53
/5
rDev
-4.6%
look: 4 | smell: 3.5 | taste: 3.5 | feel: 3.5 | overall: 3.5
Big thanks to Bhalter8 for providing this. Long time fantastic trading partner.
The head is tight with a light pinkish/rust colored hue. Collapses and becomes more creamy. The beer is a deep amber color with tons of garnet tones. Looks like a barleywine actually. Lace clings all inside the glass.
Aroma is thick and rich. Malty with some dark fruit and perhaps a touch of prune.
Ok, this is a straight forward malty red. Initial bitterness that appears to be from roasted malt gives way to a moment of fruit and then a dark caramel flavor. The lingering bitterness comes in after a pause. Very interesting. Quite a delay.
Fairly thick body. smooth
It's a decent little red but not something I would chase. As always, very glad to have had the opportunity to try it.
773 characters
3.77
/5
rDev
+1.9%
look: 3.5 | smell: 4 | taste: 4 | feel: 3 | overall: 3.5
22 ounce bottle - $8.49 at Olde Crabapple Bottle Shoppe in Alpharetta, Georgia. Hopefully, each of these subsequent future one-offs won't see the incremental price boost of the releases so far.
Appearance: Pours an opaque, amber-brown body with a tall, sudsy, ecru head.
Smell: Malty aroma, both bready and toasty and with some slightly sweetish, nutty butterscotch notes on the perimeter. Grassy, lightly citrusy hops.
Taste: Bready, deeply toasty malts with just a sliver of roast to start things off. Modestly sweet. Earthy, citrusy hops with a punchy though not overbearing bitterness. A bit of growing grassiness as it beings to warm up a tad. Also some more nuttiness and a hint of diacetyl showing as it goes along. Drying, earthy finish with some bitterness enduring into the aftertaste.
Mouthfeel: Medium-bodied. Medium carbonation.
Overall: It's decent enough, both amply hoppy and malty (though not particularly sweet). I'm not so certain it's nearly nine bucks decent, but still.
996 characters

4
/5
rDev
+8.1%
look: 4 | smell: 4 | taste: 4 | feel: 4 | overall: 4
Poured into a pint glass, aggressive pour yielded a 2 finger head. Nice copper/ dark red color. Good amount of lacing.
You can smell the malt, a little caramel and the hops throw in a slight floral scent.
Up front malt flavor balanced well with the hops in the finish.
Well carbonated, medium mouthfeel.
Overall a very drinkable, very solid red ale.
353 characters
3.73
/5
rDev
+0.8%
look: 4 | smell: 3.5 | taste: 4 | feel: 3.5 | overall: 3.5
Comes out of the bottle a deep, somewhat coppery reddish brown with a thick and frothy pale tan head. Malty aroma has an earthy, yeasty overtone and just a touch of spice. Earthy flavor is quite satisfying with malty, nutty and caramel tones and just a whisper of cloves. Texture is smooth, a bit dirty (how else can I describe it?), and only a little fizzy but still pleasing. Overall, a good, if not great, ale that is worthy of at least a try - and probably downing the whole serving. Keep up the good work, JailHouse, and may you soon make lots of beer lovers your prisoners! ;)
582 characters
3.82
/5
rDev
+3.2%
look: 3.5 | smell: 4 | taste: 3.5 | feel: 4.5 | overall: 4
Bottle purchased from Green's on Ponce in Atlanta.
Pours a dark brownish-amber color with a tan head that leaves solid lacing.
Smells of rich caramel malts with good amounts of toastiness. Also present are slight amounts of medium fruits and leafy and herbal hops.
Tastes similar to how it smells, though more one-dimensional. Moderately sweet caramel malts with heavy toasted malt flavors up front are joined quickly by slight medium fruits. Midway through mild amounts of leafy and earthy hops come into play, fading out into a mildly bitter ending. Mouthfeel is very good, with grainy carbonation.
Overall this was probably my least favorite of the one-offs from Jailhouse, I would have liked more emphasis on the hops and lighter malt influence. Still, a solid beer that's worth a shot.
798 characters
3.53
/5
rDev
-4.6%
look: 4 | smell: 3.5 | taste: 3.5 | feel: 3.5 | overall: 3.5
A nice pour on this beer, with a dark orange/garnet color and a fine head that settles to a thin head. It does leave some sloppy lacing as well. I'm not as huge red ale fan, but the ones I like are either heavily malted, approaching a scotch ale in flavors, or heavily hopped where the big hope play off some firm malt. This is neither, the hops are too slight and a bit too grassy for my taste, but there is a lingering bitterness that seems a little out of place without the more forward hop flavors. The malt is also lacking a bit and could definitely use a boost. I've really enjoyed the other offerings from this brewery, but this one is a miss for me.
657 characters

3.83
/5
rDev
+3.5%
look: 4 | smell: 3.5 | taste: 4 | feel: 3.5 | overall: 4
22oz bomber.
Pours a nice deep copper with a creamy beige head that sticks stubbornly to the sides and leaves great lacing.
Aroma is a mixture of citrus and herbal hops, which are definitely the most prominent feature. The other main characteristic is the roasted caramel malts which have little sweetness to offer.
The taste may offer a tad more sweetness up front with hints of caramel coming through but it's quickly swept away by the bitterness of the hop profile which doesn't bring a ton of flavor, but does leave an astringent roasty finish.
Mouthfeel is medium bodied but seems a tad thin and has soft carbonation.
I've been largely impressed by Jailhouse stuff thus far and this is no exception though I would rate this toward the bottom of the portfolio. That's more a compliment of the other beers than a condemnation of this beer, which is a little too bitter and lacks the malty body that I like to back up the hops.
934 characters
Conjugal Visit from Jailhouse Brewing Company
3.7
out of
5
based on
40
ratings.