Equinox
| Eagle Rock Brewery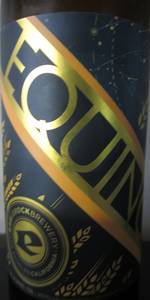 BEER INFO
Brewed by:
Eagle Rock Brewery
California
,
United States
eaglerockbrewery.com
Style:
American Wild Ale
Alcohol by volume (ABV):
6.60%
Availability:
Spring
Notes / Commercial Description:
No notes at this time.
Added by SShelly on 03-20-2010
Reviews: 14 | Ratings: 46

3.03
/5
rDev
-19.4%
look: 3.5 | smell: 3 | taste: 3 | feel: 3 | overall: 3
On tap at the Eagle Rock Brewery.
Pale straw body with a white single finger of head.
Sour, musty nose with a noticeable vinegar scent, and some lemon.
On the taste the sides of the tongue are very stimulated. Body is a little too full. Much sweeter on the taste than the nose would have you think. Faint citric flavor.
Medium body, decent lingering. Not a bad sour, just needs some age to create some added complexity.
425 characters

3.23
/5
rDev
-14.1%
look: 3.5 | smell: 3 | taste: 3 | feel: 4 | overall: 3.5
On-tap at Sour Fest
A: The pour is a pale straw color with a white head.
S: Smells more like an adjunct lager than a wild ale. Lots of straw, grass, and a bit of...corn? Sour lemon and random spices with a bit of oak and leather.
T: The flavor doesn't impress me either. Acidic and lemony with a bit of bread and musty funk. A light oak and green apple character. Not really too much going on.
M: Light in body with a medium level of carbonation.
O: This was very disappointing. I thought that Yearling was decent, but this really missed the mark.
552 characters

3.37
/5
rDev
-10.4%
look: 3.5 | smell: 3.25 | taste: 3.25 | feel: 3.25 | overall: 3.75
Some white foam on vigorous pouring. Light body with modest carbonation. Quite salty. A fruity acidic nose rather than the vinegar smell. Tart rather than sour on the tongue. A touch of malt.
Some fruity pear flavor followed by a mineral taste. Not as much of the Brett character as most beers that use the fungus. Quite drinkable but I don't see the attraction for this, especially at fifteen bucks. From the 22 oz bottle purchased at Beer Revolution in Oakland.
465 characters

3.5
/5
rDev
-6.9%
look: 3.5 | smell: 3.5 | taste: 3.5 | feel: 3.5 | overall: 3.5
1301st Review on BA
Bottle to Tulip
750ml C/C
30th Birthday Party
Shared by UclaBrewN84
App- A lighter yellow with some small fizzy bubbles on the top. Didn't leave much in terms of cling if at all.
Smell- A little all over the place on the flavors. On one sip you get some Brett intermixed with fruit and on the next you get some pressed wood flavors. A little spotty but tasty none the less. It was good and I want to rate higher but with the quality of sours on Fri. Hard pressed to raise it.
Mouth- A bit of a dry medium body with a medium carbonation level. A little bit of the pressed wood and the fruit remains.
Drink- Wasn't the worst sour nor the best. Pretty run of the mill. I think some time would do this one well.
732 characters

3.53
/5
rDev
-6.1%
look: 4 | smell: 3.5 | taste: 3.5 | feel: 3.5 | overall: 3.5
6/26/2011
Draft at Stone Sour Fest 2011.
A: Very light in color, a transparent apple juice color. Big white head.
S: Lots of Brett, imparting musty and leather notes. Some light fruits such as apple and lemon. The aroma is mellow but enjoyable.
T: Lemon and apple with a little Brett. As with the aroma, the flavor is mellow. There's a little wood. Lightly tart in the fruity finish with a little vinegar. 
M: Light in body with moderate carbonation. Mouthfeel is dry and sticky.
Overall: Light, mellow, drinkable, and enjoyable on a warm summer day such as this.
570 characters
3.65
/5
rDev
-2.9%
look: 3.5 | smell: 3.5 | taste: 3.5 | feel: 4 | overall: 4
On-tap at 38 Degrees, on to the beer:
In a tulip, this beer features a pale pee yellow color. There's some solid lacing sticking around the glass. Its nose features a great deal of vinegary notes mixed with white wine.
Like the nose, the taste steers into a lot vinegar notes. There are some unique green apple notes which add a little extra fun. The tartness is sharp, even for a sour ale. And who knew vinegar could be refreshing? Well, this beer is refreshing, easy to approach...that's good enough for me, even if it isn't the most complex wild ale around.
563 characters
3.76
/5
rDev 0%
look: 4 | smell: 3 | taste: 4 | feel: 4 | overall: 4
Poured in my erb mug at the brewery.
Light yellow, very cloudy, big thick poofy white head.
Tart and lactic, little bit of hops in the nose. A little bit of barnyard creeps into the nose as it warms.
Light tartness with some phenolics, I guess you can call this a sour saison. Nice yeasty character at the end. Aroma is getting more funky as it warms.
Interesting, funky, tart, I kinda wish it was bottled to age out.
429 characters
3.85
/5
rDev
+2.4%
look: 3.5 | smell: 3.5 | taste: 4 | feel: 4 | overall: 4
Pours a hazy, though very very pale, yellow. Has a thick white head that quickly recedes into nothingness. No lacing either.
Sour and funky aromas, but in a good way. Perhaps some citrus and apple on the nose as well.
Slightly sour on the palate, as well as a bit of yeast. Nice and mild for a sour beer. Light and crisp as well, with just a tiny bit of bitterness on the finish. Refreshing.
Very drinkable.
410 characters
3.88
/5
rDev
+3.2%
look: 4 | smell: 3.5 | taste: 4 | feel: 4 | overall: 4
Poured at the brewery.
Appearance is on the paler side of yellow, with some cloudyness and a foamy, lumpy head.
Smell is fine -- a bit of funk, some cool brine, a little straw. Not much malt to speak of. Certainly decent.
Taste is surprisingly complex; I wish I could give a 4.25. There's not deep, resonating funk, but the flavor in here has some true blue complexity, not just one-dimensional sourness. This being said, it is a quite mild, lemony funk, and it floats over a very quaffable, very solid, very nice base brew; if there's one thing that Eagle Rock does really well, it's quality control, and attention to detail. Every beer they present is polished, measured, and focused.
Mouthfeel is fine; there's some nice stiff bubbles here, quite in line with the style.
Drinkability is quite good, but I don't think this would make a great sessioner; it deserves more careful examination and consideration from its drinker. It's a curio, a miniature model, a blueprint. Make yourself an appointment with this one. Color me intrigued.
1,042 characters
3.94
/5
rDev
+4.8%
look: 3 | smell: 4 | taste: 4 | feel: 4 | overall: 4
Bottle shared at FosterJM's birthday celebration that I brought myself.
Pours a murky light yellow with a tan head that fades to nothing. No lacing on this one. Smell is sour and tart with a slight amount of funk and some mineral and slightly sulphur-like aromas. Taste is much the same with a nice lemon-like flavor as well. This beer has a good level of carbonation with a crisp mouthfeel. Overall, this is a good sour with a better taste than smell.
454 characters
4
/5
rDev
+6.4%
look: 4 | smell: 4 | taste: 4 | feel: 4 | overall: 4
On tap at Eagle Rock Brewery
Poured a golden color in a tulip glass. Light citrus smell. The taste of grapefruit is noticable on the first sip. Nice mouthfeel with a light sour taste. Good drinkability with a mellow sour taste. Overall, a good beer to try for a light sour.
274 characters
4.05
/5
rDev
+7.7%
look: 4 | smell: 4 | taste: 4 | feel: 3.5 | overall: 4.5
On tap at the brewery. Nice to see that someone is making a sour literally 5 minutes from my house.
Pale gold with some fuzzy lacing and a little bit of white head to cap it off. Has a nice unfiltered ruggedness to it.
Smells like under ripe white grapes and has some funkiness to it. Pretty nice! Subtle but present.
Nice smooth thin and slightly tart. They called this a "Young sour" which is very true. It could use some time but it was just so damn refreshing I gave it a 4.
Was a little thin for my liking but all the well, it was a refreshing little beer with some bight to it.
I could drink this all day. Cheers, ERB!
629 characters

4.12
/5
rDev
+9.6%
look: 3.5 | smell: 4 | taste: 4 | feel: 4.5 | overall: 4.5
Thanks to jedwards for opening this one. Well, the initial appearance does not really instill confidence - urine yellow is what immediately comes to mind, minus any foam or bubbles. Nose expresses a tart and slightly funky character as well as some hints of cork. Taste reveals light, tart fruits and a slightly salty character. Mouthfeel is light, lively and refreshing with a slight astringency. Overall, I was surprised at how good this beer was. A truly palate cleansing and refreshing offering. Perhaps not the most complex or funky American Wild, but well worth trying this beer if the opportunity presents.
613 characters

4.2
/5
rDev
+11.7%
look: 4 | smell: 4 | taste: 4 | feel: 4 | overall: 5
This is a great young sour beer from Eagle Rock Brewery. It's great cause the brewery is right down the street from my house, and it's exactly what we needed in this area!
A: 4
Pale, cloudy yellow, looks like golden straw. just beautiful to look at
S: 4
Fairly complex nose, with strong vinegar notes. also some citrus and barnyard notes
T: 4
Sour and delicious! I'm new to the style, but this beer really seems
416 characters
Equinox from Eagle Rock Brewery
3.76
out of
5
based on
46
ratings.