St. Arnoldus Triple
| Brouwerij Riva S.A.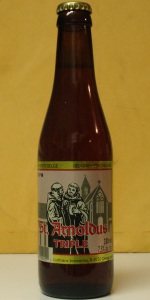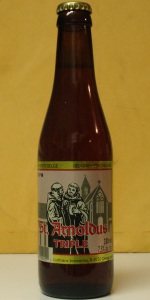 BEER INFO
Brewed by:
Brouwerij Riva S.A.
Belgium
Style:
Tripel
Alcohol by volume (ABV):
7.50%
Availability:
Year-round
Notes / Commercial Description:
No notes at this time.
Added by BeerAdvocate on 07-05-2002
This beer is retired; no longer brewed.
HISTOGRAM
Ratings: 10 | Reviews: 10
Reviews by dogfooddog:
3.18
/5
rDev
-8.1%
look: 4 | smell: 3.5 | taste: 3 | feel: 3 | overall: 3
Pours a deep copper-orange, half-inch head, some carbonation active in the glass.
Nose is yeasy, typical belgian triple yeast/bready odors, though any pronounced hop character seems absent.
Taste - has an odd sweet cherry note which dominates the taste, verges on metallic though it is not bad, just odd. This is present throughout the beer, and aside from that there isn't much else. A bit yeasty, but no other pronounced flavors I can pick up.
Decent beer, though not a good example of the style.
508 characters
More User Reviews:
3.73
/5
rDev
+7.8%
look: 4 | smell: 3.5 | taste: 4 | feel: 3.5 | overall: 3.5
A decent Belgium brew available in supermarkets in Montreal. Very foamy pour. Vanilla, and sweet syrupy sugar malt yeast. Highly carbonated. Reddish brown. Alcoholic acid. Pepper and spice and orange and coriander. Floral aroma. Medium tonguefeel and alcohol burn aftertaste. Dry sweet aftertaste.
297 characters
3.55
/5
rDev
+2.6%
look: 3.5 | smell: 3.5 | taste: 3.5 | feel: 4 | overall: 3.5
Pourred a white foamy head that didn't disapear too quickly. Lack of bubble once pourred into glass and has foamy look. Very sweet with a light roasted taste. Not the best tripel that's on the market right now, but very pleasing. In line with other Riva product distributed in Canada.
284 characters

3.13
/5
rDev
-9.5%
look: 3.5 | smell: 3 | taste: 3 | feel: 3 | overall: 3.5
A deep limpid amber beer with some good carbonisation. Not much of smell except malt and spices. Unfortunately the taste is about the same as the smell, spicy but with no character, smooth and creamy. Not a great beer, quite below average in term of belgian brew.
263 characters
3.6
/5
rDev
+4%
look: 4 | smell: 4 | taste: 3.5 | feel: 3 | overall: 3.5
Appearance: Medium golden color, with a large white head, with scattered, excellent lacing.
Aroma: Sweet caramel and spices dominate, with coriander quite prominent, but there are also light fruits.
Taste: Spicy, sweet caramel at the open, followed by earth and coriander, finishes with a lingering, mild bitterness.
Mouth feel: Smooth, with zesty champagne-like carbonation.
Drinkability/notes: Quite solid competent example of the style, pleasant.
Many thanks to BA HardTarget for sharing this uncommon example.
528 characters
3.5
/5
rDev
+1.2%
look: 3.5 | smell: 3.5 | taste: 3.5 | feel: 3.5 | overall: 3.5
It poors an amber colour, with a good head that holds on for a little while. Floral smell, with some molasses, a bit of spices and some sulphur. In the mouth, floral tones keep noticing, alongside some prune, a sulphuric harsness and some acidity in the end. Nothing special that I long to repit.
296 characters
2.89
/5
rDev
-16.5%
look: 4 | smell: 2.5 | taste: 3 | feel: 2.5 | overall: 3
330 ml bottle from the local IGA. Best before June 2007 stamped on cap.
A- Nice foamy belgian style head. Orange-amber colour. Cloudy.
S- Dusty, faint yeast. Faint smell of orange.
T- Weaker flavour than expected for a strong belgian beer. Yeast, alcohol and a very faint taste of spice. Alcohol more noticeable as beer warms.
MF- Alcohol and carbonation very noticeable. Leaves mouth slightly pasty.
SD- Fairly light and easy to drink despite alcohol level. Loses points for slightly off mouthfeel and blandness.
Not a bad beer, but I probably won't bother buying it again.
593 characters
3.98
/5
rDev
+15%
look: 4.5 | smell: 4 | taste: 4 | feel: 3.5 | overall: 4
This beer poured a beautiful dark amber. Almost brown. Very dark for a triple. It had an absolutely ridiculous amount of sediment, most of which was stuck in the neck. I'm guessing it must have spent quite a bit of time upside-down during shipment.
A very strong floral character is prevalent in both the smell and the taste, along with some dark fruits. There was also a hint of anise in the taste.
Overall, quite a good triple.
435 characters

3.57
/5
rDev
+3.2%
look: 3.5 | smell: 4 | taste: 3.5 | feel: 3 | overall: 3.5
Hand carried back from Montreal. Lists 7.5% abv. and June 07 on the cap (sampled Dec 06).
Aroma: Light Belgian yeast and spiced appropriately to style (peppery).
Appearance: Great lace from a hazy yellow amber glass.
Flavor: Nice citric orange peel note. Spicy yeast character.
Mouthfeel: Medium body, slight prickle.
Overall Impression: Easy drinking! A very session-able tripel. Apologies for the short review, I was brewing.
444 characters
3.42
/5
rDev
-1.2%
look: 2.5 | smell: 3 | taste: 3.5 | feel: 3.5 | overall: 4
The colour is quite dark for a trpel, almost copper.
Godd foam, compact, but not very much, and quickly falling. After a minute, it leaves just a veil on the surface of the beer.
Fresh favours, floreal, with spices (pepper), with the alcoholic in evidence. Good, even if not in the style for a tripel.
The taste is lighter, meybe more in the guidelines than the smell, rich and floreal, with pepper again.
Light-medium body, with a good drinkability.
454 characters
St. Arnoldus Triple from Brouwerij Riva S.A.
Beer rating:
3.46
out of
5
with
10
ratings