St. Augustine's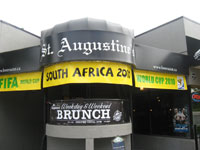 PLACE INFO
Type:
Bar, Eatery
2360 Commercial Dr
Vancouver
,
British Columbia
, V5N 4B7
Canada
(604) 569-1911 |
map
staugustinesvancouver.com
Notes:
Weekly cask tapped on Mondays.
Added by StAugustinesVan on 12-14-2009
Reviews: 9 | Ratings: 24
4.95
/5
rDev
+21.3%
vibe: 4.75 | quality: 5 | service: 5 | selection: 5 | food: 4.75
Both bar tenders were super friendly, helpful, and most importantly knowledgable about beer. I believe many of the bartenders are cicerone certified servers. They carry 50-60 beers on tap, and skew heavy on local BC beer, although there were some California beers as well. The website actually tells you how much is left in each keg although I didn't see anything indicating this at the bar. For food, I had the lamburger and side salad which were both delicious. The food is not cheap, but not overpriced for the quality. The beers are very reasonably priced. The bartenders seems to know everyone else at the bar, so I guess there are a lot of regulars here since St. Augustine's isn't located in downtown Vancouver (although its only a few stops on the Skytrain) but I certainly felt welcomed. I plan to return soon!
★
827 characters
4.15
/5
rDev
+1.7%
vibe: 4.25 | quality: 4 | service: 4 | selection: 4.5 | food: 4
Great place to sample beer and eat. They regularly rotate over 60 taps, offer sampler trays and have some very good quality food. They have a board that shows approximately what's left on every keg. If you want a good place to sample lots of beer and grab a bite to eat, I recommend this one!
★
292 characters
4.15
/5
rDev
+1.7%
vibe: 3 | quality: 4 | service: 4 | selection: 5
Beer selection? Fucking awesome. SO MANY GREAT BEERS ON TAP. Staff? No complaints. Atmosphere? Not my kind of place. It's noisy, and forget about getting a table when hockey's on. Can't I have beer without the hockey? I guess not - beer and hockey are Canada's two national sports. Still, though, excellent beer selection, and I love that they have an up-to-date list online and on a screen by the bar of what's on tap and how much is left.
For those who've said this is a rough area of town, I disagree. Sure, there might be some homeless folks around the skytrain bumming for change, but that's true of any part of the city with enough traffic, and it doesn't mean it's dangerous.
★
683 characters
4.19
/5
rDev
+2.7%
vibe: 3.75 | quality: 4.25 | service: 4 | selection: 4.5
Outside of the city core, but extremely easy to get to on public transportation. Just make sure you don't get directions to St. Augustine's Church - what a bummer that would be.
For some reason, the picture on BA filled my head with an expectation of what this place would be like, which proved to be very off. It's fairly nice on the inside - quite sanitary.
Huge selection of BC beers - driftwood, storm, central city, howe sound, parallel 49. Also a nice stash of west coast american brews. Strong focus on seasonals and rotating offerings. Also - major props for the awesome website which links an up-to-the-minute taplist including the % capacity left in the keg.
Like others, I prefer the vibe and ambiance of the Alibi Room, but won't be likely to skip a stop here when visiting Vancouver.
★
800 characters
4.4
/5
rDev
+7.8%
vibe: 4 | quality: 4.5 | service: 4.5 | selection: 4.5 | food: 4
This place is not a tourist spot. Its not near your hotel. With that said, some great things are worth seeking out. My wife and I purchased daily skytrain passes and spent most of the day on the other side of Vancouver. Well, we decided to head over to St. Augustine's in the evening by taking the skytrain (kind of like BART if you are from the Bay) to east Vancouver.
The Good: its roughly two blocks from the skytrain station. Hop off, get some brews and food, get back on the skytrain and before you know if you are back in downtown.
The Bad: its not in the best of neighborhoods to be in at night-- certain parts of the East Bay come to mind (not rough, but just know whats going on around you-- got it? ok!).
I read that this was the other place to check out while in Vancouver (the other being The Alibi Room). Both have similar selections, but this place is more of a trendy sports bar environment. We barely got a table, because of the Canucks playoff game. This is definitely a LOCALS type of place (odds are no people from the convention center are going to be here).
Service was good, but the waitress was definitely all over trying to keep pints full and people fed. Beers were great, food was better than most pub grub fare that I have had.
All in all, a good place to get a beer. I prefer The Alibi Room, but only because it was much more chill. You can't go wrong with either- try them both like I did and decide for yourself. If I had to choose one, it would be The Alibi Room.
★
1,499 characters
3.8
/5
rDev
-6.9%
vibe: 3.5 | quality: 4 | service: 3.5 | selection: 4
Somewhat underrated place, visited with Rutager.
Lots of taps, and a good cask was tapped while visiting on a Monday. Good cross-section of B.C. and a few U.S. taps such as Deschites and Bear Republic. Reflecting some good choices. Very unique flashing video of what percentage of each beer was still available. Away from the downtown core, and not far from the best private stores. Service was instant and then not at all. The only way around this is to know what you want the second you sit down, or Ask & Wait. Quiet midway, very busy late aft when Vancouverites get off from work.
★
584 characters
3.98
/5
rDev
-2.5%
vibe: 3 | quality: 4 | service: 3.5 | selection: 5 | food: 3.5
A: Kind of like a wide open school cafeteria atmosphere with big screen televisions everywhere. Not a lot of money went into decorating this place. Avoid this place at all costs during UFC nights if you are not a fan.
Q: The quality has been consistently good.
S: The service isn't always the best here as the female servers can be inattentive and lazy at times.
S: Great selection of beer, although it is not as consistent as The Alibi Room. They now have screens which show what percentage of beer is left in each keg which I have yet to see anywhere else.
F: The food I have had here has been okay. But my girlfriend says the meals she has had here have been good.
V: Value is not bad all things considered.
★
716 characters
4.21
/5
rDev
+3.2%
vibe: 3.5 | quality: 4 | service: 4 | selection: 5
Next to the Alibi Room for sheer awesomeness in beer selection this is tops. However it's definitely a much different vibe. In an odd location, with it's fair share of sketch's hanging around the neighbourhood (similar to the Alibi). The bar is geared more towards the sports crowd with the large number of big screens, and cavernous set up. Not my thing, but it sure sits well with many others.
We were there late in the afternoon, so it was not crowded and no problem getting a seat at the bar. Excellent and knowledgeable service, talkative and friendly locals, and a tap list that (almost) makes me willing to move to Vancouver and put up with the rain and traffic.
Monday's are Cask Night - with this one featuring a blend from Crannog. The tap list on this particular day looked something like this:
Rogue XS IPA
Lost Coast 20th Anniversary
Lagunitas Hairy Eyeball
North Coast Scrimshaw
Upright Five
Crannog Insurrection IPA
Red Racer IPA
Elysian Red
Storm Brewing Lambic
Central City Oatmeal Stout
Noble Pig Belgian Ale (an excellent new brewpub in Kamloops)
Plus 30 other taps - how the hell can you not come here. This is a must stop while in town, and worth the effort to get to even if you're staying downtown.
As noted below the glassware could use a step up, and apparently on nights that either hockey or the UFC is on you'll be hard pressed to find a seat.
Vancouverites you are sure lucky.
★
1,412 characters
4.01
/5
rDev
-1.7%
vibe: 3 | quality: 4 | service: 4 | selection: 4.5
It's the tap number. It's got to be the tap number. With over 40 beers on-tap, mostly from the Pacific Northwest, St. Augustus leads the way for draft beer selection in Vancouver. And for good measure, there are also 15 bottles. Now that I've grabbed your attention...
It still looks like a little bit of work is going on with the interior, as part of it was empty and filled with construction tools, and without tables for people to sit at. The inside is nothing really to shout out about anyway, a small bar as you walk in, and a lot of tables scattered around. I suppose the outdoor patio would be a better place to sit.
Oh yes, the beer. Among the brands on-tap are Howe Sound, Tree Brewing, Pyramid, Tin Whistle, Rogue, Dogfish Head, Central City, Storm, Phillips, and Anchor. In the bottle are brands like Anderson Valley, Bear Republic, North Coast, and Phillips. Both my beers were fresh, and one of the beers I had was freshly tapped when I got there. However, glassware is rather simple, with "cheater" shakers (14 ounce glasses) and 10 ounce goblets a few of the drafts. $6-7 for most drafts, but the fact taxes aren't included and those damn cheater pints make the value sink a little.
The bartender helped get me familiar with a few of the beers offered, and she was rather friendly. She even "warned" me about the lambic they had on-tap from Storm! Don't worry, I like sour stuff.
St. Augustine's has the potential to be one of the better beer bars in Vancouver. Just make the interior more exciting, and maybe offer fancier-looking glassware. That being said, it already is a pretty good spot for beer.
★
1,623 characters
St. Augustine's in Vancouver, BC, Canada
-
out of
100
based on
9
ratings.