Side Bar & Restaurant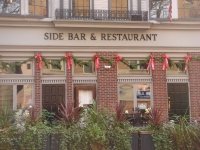 PLACE INFO
Type:
Bar, Eatery
10 E Gay St
West Chester
,
Pennsylvania
, 19380-3145
United States
(610) 429-8297 |
map
sidebarandrestaurant.com
Notes:
No notes at this time.
Added by SideBar on 12-15-2009
Reviews: 10 | Ratings: 32
4.46
/5
rDev
+20.2%
vibe: 4 | quality: 4.75 | service: 4.25 | selection: 4.5 | food: 4.5
Always fantastic draft selections, as well as bottle selections. They constantly rotate and always have local crafts on tap or in bottle. The food is fresh and imaginative. The service always does a fine job and are very attentive. One of my favorite places to go!
264 characters

4.5
/5
rDev
+21.3%
Best craft beer happy hour ever. Tons of exceptional beers for $3. Lots of variety, including hard to find beers. Gets a little pricey if it's not happy hour.
158 characters

2.73
/5
rDev
-26.4%
vibe: 3 | quality: 3 | service: 1.5 | selection: 4 | food: 1.5
They charge way too much for mediocre beer here. My biggest problem with the service is that they have a tough time keeping the taplists updated - I often order, only to have the server leave, then come back and say that beer has kicked without knowing what took its place. They do a very poor job with happy hour too, some beers are discounted and some aren't, and it's very hard to determine which is which. Often get strong product though, however, they charge too much for drafts and WAY too much for bottles. Oh, and the place turns into yet another West Chester loud DJ college bar on weekends. Not worth it, drive the extra distance to go to TJ's if you live in the West Chester area.
691 characters
4.68
/5
rDev
+26.1%
vibe: 4.5 | quality: 4.75 | service: 4.75 | selection: 4.75 | food: 4.25
This place is an hour away from home...but in order to stop in, I make it a weekend, and stay overnight at the hotel across the street! THAT'S how good this place is. Really.
It's a clean, classy bar. The staff is professional and knowledgeable. They are craft beer connoisseurs, and the selection is always interesting and unusual. The bartenders are talkative, attentive and fast. They have educated opinions, which is hard to find anywhere.
The food is served in a timely manner and is very good. The prices are (maybe) a tiny bit above average, but in a place where you are content and served with a smile, who looks at the few dollars here and there!?
Beer is fresh and is served in clean and appropriate glassware, and the music is good...they even change it during the day depending on what the customers want to hear! Imagine that.
They continue to impress time and time again.
Can't wait to spend tomorrow there! Hoping Brandon is bartending! Looking forward to the monthly chat about beer, music, sports and other random things.
1,042 characters

4.04
/5
rDev
+8.9%
vibe: 4.25 | quality: 4.25 | service: 4 | selection: 3.75 | food: 4
One of my go to spots for fresh craft beer. Had many nice crafts here including my most recent outing to acquire Pliny The Younger...Twelfth in line had its benefits, even if it meant standing in line shortly after my children were dropped off at school at 8:45 am. Had a Pliny The Younger, Sucaba, dry-hopped Dirtwolf and Sour in the Rye. Peanut Butter and bacon wings are crazy good!!
386 characters
4.26
/5
rDev
+14.8%
vibe: 4 | quality: 4.25 | service: 4.5 | selection: 4.25 | food: 4
This is the first and last stop stop for any beer lover. Over 20 craft brews and tap on an ever rotating lineup. Great bar food. Haven't had full dinner there though. Johnnie Barkeep and the other bartenders are very knowledgable about the beer selection. Overall, a great place to put down a couple of great brews.
315 characters
3.94
/5
rDev
+6.2%
vibe: 3.5 | quality: 4 | service: 4 | selection: 4
Went here recently after hearing about it through the great vine. I've lived in SEPA for 30 years and I've never been in West Chester ever, so I did a mini bar crawl.
Sidebar is located in the happening part of town, a lot of foot traffic on the weekends and a lot of businesses in the neighborhood. Sidebar looks big from outside and it is pretty big inside as well. A nice outside seating area with plenty of tables and boy was it packed on Friday night.
Inside there are two bars downstairs, asmaller one to the right seating around 15 or so, while the bar on the left seats about 20 or so, in between are the bathrooms and the general busy area where the food is being run, so watch your back, a lot of employee/patron interaction and only about 5 tables or so, not a lot of places to stand around on a busy night. Upstairs, there is another bar and it seems chiller up here, as I guess not everybody knows about it. A big seating area upstairs with nice dark decor. There is a hosting area if you want a seat. Side Bar kinda reminds me of a smaller version of Kildares in Manyunk with the multiple bars in a single building theme, but with better beer.
Back downstairs, the vibe is nice, a lot of people drinking good beer, I don't think they serve BMC here. The decor is modern and dark with dim but appropriate lighting. A good amount of Brewery signs on the walls not too much though. Some art on the walls, I saw a nice painting of Lincoln's House, with some others as well. The bathrooms were pretty clean for a busy night but the thought put in to them was more like an afterthought as the bathroom is pretty plain Jane.
Beer list is posted on a chalkboard, and I believe there is a bottle list as well, although at the front bar as you walk in the choices are pretty easy to find as there is a cooler full of beer with the top choice selections sitting above the cooler. About 20 taps or so and Im not sure if they have a cask system. Some beers are not offered at all the bars in Sidebar, so you may order something and get a response saying that's on upstairs or something. They should let you know what's on at every bar in the building, my only gripe really. I wound up getting a Round Guys Triple (Meh), A Hopsickle (delicious) and a Heady Topper (Yum!!)
Service was there and prompt, There was a lot of foot traffic and patrons and employees on a Friday night, so the staff is big. The bartender was prompt and the bartenderess was also nice, and seemed to know a thing or two about the beer she was pouring, so that's always a big plus.
I hope to be back here soon, and possibly eat.
2,609 characters
4.65
/5
rDev
+25.3%
vibe: 4 | quality: 4.5 | service: 5 | selection: 5 | food: 4
This has quickly become my go to spot in West Chester. Side Bar routinely has a solid line up on tap. Want to get that rare beer? Then get there Sunday around 11. Put back a bunch of Pliny the Elder, Blind Pig and Damnation last time I was there. They typically tap them then and they last through the week. Great way to spread it out and not get swarmed. I LOVE the Inferno Burger, but warning. This stuffed burger tends to squirt out both sides and hit your friends. Just sayin. The service has always been good. The Side Bar is small and seating is limited so keep that in mind.
581 characters

3.98
/5
rDev
+7.3%
vibe: 3 | quality: 4 | service: 4.5 | selection: 4 | food: 3.5
Interesting place....bar itself is very small, but there is a second bar off to the left, and we sat at a table nearby. Of course, this is apparently where the rowdy college kids hung out, as they pounded their shots and Stellas back while watching the NFL game. Anyway. Tap list was good, though the sheet the girl handed us didn't match the chalkboard very well...I ordered what I remembered being on both places. Selection was good, got a Victory at Sea and a Rodenbach, while the girlfriend got a Dugana. If we were able to sit at the main bar where the chalkboard was, maybe we could have mixed it up a little more. 7.50 for 10oz of each of my beers seemed a little pricey, but then again, it is Philly. Service was good, our server was very attentive and didn't make any mistakes, checked in on us a lot. Food was ok. Girlfriend got a broccoli soup and a Caesar salad, and wasn't satisfied with the "bad parts" of the Romaine in the salad. She loved the soup though. My ravioli was fine, but not outstanding. I'd like to come back again when there isn't football going on, and maybe get a better feel for the place. On first visit, it seemed to be more of a bar with a good tap list than a good beer bar, if you know what I mean.
1,235 characters

4.44
/5
rDev
+19.7%
vibe: 4 | quality: 4.5 | service: 4.5 | selection: 4.5
Went in on a slow Thursday afternoon, was pretty much the only person at the bar. Service from the bartender was quick and friendly, and everything was served in appropriate glassware.
Selection was easily the best I found in West Chester (much better than what Ram's Head was offering that day), lots of interesting taps, including Founder's Breakfast Stout which I was happy to try, and the bartender mentioned that they had some good stuff coming up like Blind Pig, Abner, and Bourbon Angel's Share. The bottle selection is also pretty excellent, and you can buy singles to go.
I'm not from the area so I can't comment too much on the beer prices, I didn't find them outrageous compared to other places though.
Overall this is a great place to visit if you're in West Chester, and I'm surprised that this is it's first review.
832 characters
Side Bar & Restaurant in West Chester, PA
3.71
out of
5
based on
32
ratings.