Vicaris Winter 12
| Brouwerij Dilewyns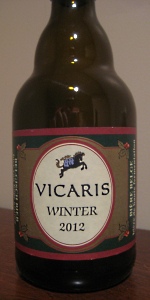 BEER INFO
Brewed by:
Brouwerij Dilewyns
Belgium
vicaris.be
Style:
Belgian Strong Dark Ale
Alcohol by volume (ABV):
10.00%
Availability:
Winter
Notes / Commercial Description:
No notes at this time.
Added by JerzDevl2000 on 01-24-2013
Reviews: 4 | Ratings: 19
3.77
/5
rDev
+1.6%
look: 4 | smell: 3.75 | taste: 3.75 | feel: 3.75 | overall: 3.75
330ml squat bottle, recently arrived to we here in Alberta, but aged for a whole year for us beforehand. What a deal, thanks Mike! I suppose it remains to be seen if that matters a whit.
This beer pours a very dark, reddish-brown colour, with a teeming tower of puffy, silkenly foamy beige head, which leaves some dramatic elongated cloudy lace around the glass as things slowly sink away.
It smells of heavy caramel malt (one well toffee-accented), milk chocolate, gritty stale nuts, muddled black fruit, and a light red wine informed booziness. The taste is bready caramel malt, somewhat concentrated and centered, with a dried-up dark fruitiness - prune, black raisin, and mild fig undertones - a persistent, but mild chocolate-ensconced nuttiness, the suggestion of the earthy yeast that was, and rather shy earthy, musty hops.
The carbonation is fairly tame, after that initial frothy outburst, the body on the wan side of medium weight, and generally quite smooth, no hops around to muss with things, and the alcohol already established as a behind the scenes operator. It finishes on the sweet side, the caramel malt, fading baker's chocolate, fleshy black fruit, and well-masked booze encountering little opposition, as such.
A decent strong dark Belgian ale, but not as heady or densely pleasurable as the headliners of the style. Everything, every metric just comes up a bit short, but only that - there's nothing disagreeable overall about this offering, other than the basic lack of seasonal spices one might expect for a beer with this one's given name. Perhaps that extra bit of age wasn't such a good idea after all.
★
1,636 characters

3.2
/5
rDev
-13.7%
look: 4 | smell: 3.25 | taste: 3 | feel: 3.25 | overall: 3.25
Served on-draught into Mitchells of Lancaster stemware at a SoCal bar. Reviewed from notes.
A: Pours a one finger head of nice khaki colour. Creamy. Good thickness. Retention is good for the ABV - about 4 minutes.
Body colour is a rich nontransparent brown. Unlike any beer I've seen; it's brown like brown bread. Clearly Belgian in appearance. I like that. Understated and appealing. Solid and opaque. No yeast particles are visible. No bubble show.
Sm: Caramel, milk, biscuit malt, caramalt, chocolate, and muted nutty notes. I don't get any hops. An average strength aroma. No yeast character or alcohol is detectable.
T: Caramel, milk, light neutral nuts, chocolate malt, biscuit malt, and timid biscuity yeast. Balanced, if simple. Nicely executed, with some subtlety. No alcoohl comes through.
Mf: Smooth and wet. Pretty good carbonation. Thick. Good body. Suits the flavour profile nicely.
Dr: Drinkable and enjoyable. Not at all what I expected. Nutty and milky notes go well together here. Hides its ABV well. A solid brew in its style, but one that strays from the norm - and maybe that's not for the best. I might get it again if I'm in the mood for it.
C+
★
1,181 characters
4.02
/5
rDev
+8.4%
look: 4.25 | smell: 4 | taste: 4 | feel: 4 | overall: 4
On-tap 2/7/2013 at Julian's in Providence, RI, served in a tulip glass.
A: The beer is a deep black color, with a short off-white head that fades slowly and leaves a thick lace on the glass.
S: The aroma contains fruit, spices, coffee, Belgian yeast and caramelized malts.
T: The taste starts out with strong flavors of spices, licorice and molasses up front. Then some breadiness comes in from the Belgian yeast and a hearty malt character. The hops presence is mild but complementary and brings some balance. The after-taste is sweet.
M: Crisp and smooth, medium body, medium carbonation, finish is slightly sticky.
O: Tasty, goes down easily, not too filling, strong kick, good representation of style, this is a good stout-like Belgian–style beer worth drinking for a while.
★
787 characters
3.72
/5
rDev
+0.3%
look: 3.75 | smell: 3.5 | taste: 3.75 | feel: 4 | overall: 3.75
Finally had a chance to check out Beer Authority in New York yesterday, having walked by it dozens of times to get the Bus Terminal. This was one of the few beers that they had on tap there that I hadn't tried, so I plunked down $10 and had one of these. Yes, it was served in a wine glass and the bartender told me because this was rare and they didn't have glassware for every different style served there. They had enough pint and tulip glasses floating around, so that wasn't a big deal to me as I took a sip of this and gave it a go.
The hue was a dark brown with a nice chocolate head and spider web-like lacing that clung down the sides of the glass. Not a lot of aroma here but the taste more than made up for it. The strong malt base was countered nicely by a good mix of raisin, plum, a hint of cocoa nibs, and lots of crystalline sugar. Sure enough, there was lots of booze here too and thankfully, this was able tow arm me up quite a bit as I savored it slowly. The aftertaste had a strong currant feel to it as the alcohol held on for quite a while, even after I finished off my glass.
While this wasn't a quick sipper, this was worth savoring over the long session I had yesterday. If I hadn't had one of these before, this would not be my introduction to the style as the dark fruits are strongly present and I couldn't have a whole lot of this at a time. However, this was a great example of the style and a great beer to enjoy during the Winter. Worth a go if the time allots!
★
1,501 characters
Vicaris Winter 12 from Brouwerij Dilewyns
3.71
out of
5
based on
19
ratings.