Dismiss Notice
Old Soulstice Winter Ale
| Half Moon Bay Brewing Company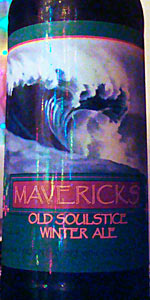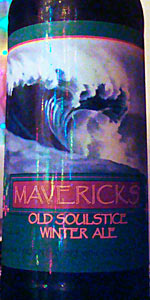 BEER INFO
Brewed by:
Half Moon Bay Brewing Company
California
,
United States
hmbbrewingco.com
Style:
Winter Warmer
Alcohol by volume (ABV):
6.70%
Availability:
Winter
Notes / Commercial Description:
No notes at this time.
Added by BeerAdvocate on 01-21-2005
HISTOGRAM
Ratings: 15 | Reviews: 13

4.03
/5
rDev
+23.2%
look: 4.5 | smell: 4 | taste: 4 | feel: 4 | overall: 4
01/21/05- On tap at the HMB Brewery.
Presentation- 4 oz sampler part of a 2 day 4 sampler binge.
Appearance- Nice off white head, deep amber-brown coloring and nice lacing.
Smell- A sweet fruity smell. Maybe some dates, plums? Dark smelling.
Taste- Roasty, crisp, minor coffee notes with a sweet fruity background. Raisins and figs maybe.
Mouthfeel- Average carbonation, fuller mouthfeel.
Drinkability- Nice winter warmer. I've had many better, but I could go for a pint of this one next holiday season.
521 characters
3.83
/5
rDev
+17.1%
look: 4 | smell: 3.5 | taste: 4 | feel: 3.5 | overall: 4
22oz brown bottle with no freshness date.
LOOK: Rudy amber, mild chill haze. More than sufficient lacing
SMELL: Caramel, fresh baked bread, walnuts, orange pith, ghost like smoke, spicy rye, ripe plums
TASTE: Rye thickness, smooth, spice, buckwheat honey, brown bread, herbal hops, hint of orange peel, grassy, toasted biscuits, nutty, faint alcohol, malty semi-sweet finish
Thick and chewy Winter Warmer with enough alcohol and hops to spice it up. Solid all around and well balanced which only adds to the drinkability. Good times with this one.
551 characters
3.76
/5
rDev
+15%
look: 4 | smell: 3 | taste: 4 | feel: 3 | overall: 4.5
Poured from a 22 ounce bottle into a snifter.
A: Light-creamy head with good lacing, but poor retention. Opaque, dark reddish.
S: Mediocre malts, subtle but distant fruit, and remarkably even-handed spiciness (part of which may well be floral hops).
T: Fairly tasty. Not bad as an ale, pretty darn good for the style. Well-made, well-balanced, and very drinkable. It strikes a remarkable balance between dark, dry fruit and bitter spices/hops. The endtaste is dry and lingering.
M: A bit thin, but also spicy. Lightly dry.
O: I enjoyed this beer immensely, far more than I expected or even feel that I should. Still, my favourite winter warmer I've had, that gains even more character as it warms. Maybe it's the Chinook hops that do it for me. I might not want to drink an entire bomber every time, but I would definitely have another -- I'd love to try it on tap. Recommended.
883 characters

3.7
/5
rDev
+13.1%
look: 3.5 | smell: 3.5 | taste: 4 | feel: 3.5 | overall: 3.5
My wife got me this for Christmas.
Appearance- dark brown color, thin head that dissipates quickly
Smell- roasted malt
Taste- caramel malt,, earthy hops towards the middle and end
Mouthfeel- medium bodied
Drinkability- I thought it was pretty good. I enjoyed it very much and would love to have it again.
309 characters
3.63
/5
rDev
+11%
look: 4 | smell: 3.5 | taste: 3.5 | feel: 3.5 | overall: 4
Purchased from Total Wines in Roseville CA in their seasonal section.
Dark brown in color, off white head that quickly recedes.
Lots of mildly sweet malt and roast on the nose
Easy on the palate, mild sweet and milk chocolate leads to a pleasant roasty finish at the end.
Honestly, this is a pretty decent easy drinking beer. Not an awful lot to it besides the roast character, but I think it would be a good beer to introduce non craft drinkers in to the fold.
465 characters

3.63
/5
rDev
+11%
look: 4 | smell: 3.5 | taste: 3.5 | feel: 3.5 | overall: 4
A - Pours a dark red-brown color with a finger of frothy tan-chocolate colored head atop. The head fades down fairly slowly leaving behind some good lace.
S - Aroma is a mix of sweet roasted caramel malts, raisin and other dark fruits, and some earthy hops.
T - Starts off with some dark fruit sweetness including some raisin and date flavor alongside some caramel malts and a touch of rye spiciness. Through the middle, some earthy hop flavor starts to come through with a bit of bitterness. As the beer finishes, the earthy hop flavor grows a bit more with a bit more spiciness that lingers alongside the sweet dark fruit flavors.
M - Medium bodied with moderate carbonation. Smooth with a sweet and spicy finish.
D - Very drinkable. Nice balance of flavors, but the beer could have used a bit more body to help balance out the feel.
839 characters

3.5
/5
rDev
+7%
look: 3.5 | smell: 3.5 | taste: 3.5 | feel: 3.5 | overall: 3.5
Had this beer from a 22oz., at just a little bit cooler than room temperature. This beer overall was fine, but nothing special. It's dark brown in color with little to no head, it had a malty aroma along with a malty flavor, but was lacking in depth beyond the initial flavor, and the mouthfeel was a bit watery. It's pretty drinkable, but I think I would look to try a different beer with a little more going on before getting another one of these.
449 characters
3.48
/5
rDev
+6.4%
look: 4 | smell: 3.5 | taste: 3.5 | feel: 3 | overall: 3.5
Pours a ruby red, with a thin white head that didnt stick around very long. Smell is of malt, some christmas spiciness (ginger and/or nutmeg). The mouthfeel is pretty thin for the style. The taste is pretty standard for the style, sweet upfront with some ginger/nutmeg spiciness. A decent beer that I was happy to find while driving around Half Moon Bay.
354 characters
3.3
/5
rDev
+0.9%
look: 3.5 | smell: 3.5 | taste: 3 | feel: 3.5 | overall: 3.5
22 ounce bottle with a new design.
Pours a bubbly brown color with a pretty nice off white head, decent lacing too.
Aromas are nutty, grainy, with some caramel. Smells pretty nice, not really like winter warmer though.
Taste is caramel like, with some cola sweetness. Malty, with some brewed tea, nuttiness, and an earthy, lightly bitter hoppy finish. Flavors are certainly not bad, but they are tame and kind of fleeting.
Mouthfeel is smooth, decent body, and pretty good snappy carbonation.
Overall, a decent beer. I wonder if the recipe got reworked recently. Not nearly as bad as I feared when I first read the reviews.
629 characters

3.28
/5
rDev
+0.3%
look: 3.25 | smell: 3.25 | taste: 3.25 | feel: 3.5 | overall: 3.25
2.61
/5
rDev
-20.2%
look: 3.5 | smell: 2.5 | taste: 2.5 | feel: 3 | overall: 2.5
22 oz bottle poured into Sam Adams beer glass.
Pours a deep copper color with a small 1 finger deep bubbly head.
Big malty aroma, some holiday spice, sweetness.
Sweet caramel malt, quickly overcome with the spice used, ginger? nutmeg? not sure, slight smokiness or peatiness.
Medium bodied, low carbonation, syrupy.
A bottle was a chore for me. Flavors just didn't click for me.
I love going to Half Moon Bay Brewing Co, and typically enjoy their beers. This one was a miss for me.
489 characters

2.53
/5
rDev
-22.6%
look: 3 | smell: 2.5 | taste: 2.5 | feel: 2.5 | overall: 2.5
1 pint 6 fl oz brown glass bottle with standard pressure cap served into a Disneyland thimble glass in low altitude Los Angeles, California. Reviewed from notes. Served refrigerator cold and allowed to warm as time went on. Not paired with good. No best before date visible. Expectations were above average; I fancy winter warmers.
Side-poured at a 45 degree angle; I didn't anticipate carbonation issues.
A: Pours a one finger head of nice cream, fair thickness, and average (~two minute) retention. Colour is a solid black; lots of bubbles are visible but I don't think it'll be overcarbonated. No yeast particles are visible. A standard appearance for a winter warmer; nothing grabs my eye.
Sm: Rich toasted malts, perhaps some chestnut, vanilla, and rye. Rye seems a poor choice for a winter warmer; I'm hoping I'm wrong about its presence. A moderately strong aroma, and not a pleasant one - especially considering the style.
T: Some chocolate is present with rye as the base. Caramelized malts are overdone; the toasted malts don't come through. No dark fruits as per the label. No chestnut. No spices. A poorly built winter warmer. Imbalanced and emphatic of the wrong notes. This bothers me, but it's not terrible.
Mf: Smooth and wet. Too thick for the relative lack of flavours, simple build, and style. Not sharp. Not creamy enough. Doesn't complement the flavours of the body.
Dr/Ov: Drinkable. I don't know what they were thinking with this flavour profile, but it doesn't suit the style well at all. The spices need to be more forward, and they need to really up the ante with the toasted malts. 86 the rye and the chocolate. I wouldn't have this again, except maybe on nitro.
C-
1,706 characters
2.27
/5
rDev
-30.6%
look: 4.5 | smell: 2.5 | taste: 2 | feel: 3 | overall: 1.5
22 ounce bottle bought in Gilroy. On to the beer:
This one forms a very thick head on top on the pour. The color is hazy autumn brown, with hues of orange and yellow. Outstanding head retention. The nose ain't too bad initially. The maltiness is very doughy and nutty in aroma. A whisper of phenolic action does worry me about what I'm about to taste. (As it progresses, balnd graininess takes over).
For a beer of this strength, there isn't as much flavor coming out as one would hope for. There's some raw doughiness, touch of plasatic, husky grain. Each sip becomes more and more underwheling, and harder to drink as more raw graininess invades the paalte. There might be some spruce underneath it all, but my palate is begging me to stop.
Não obrigado, at least from the bottle. Must be better at the source!
817 characters

2
/5
rDev
-38.8%
look: 2 | smell: 2 | taste: 2 | feel: 2 | overall: 2
Appearance - Dark reddish-amber with good transparency; pours with almost no head. Retention is poor.
Smell - Sweet and syrupy - smells like an amateur homebrew. Slightly metallic.
Taste & mouthfeel - Caramelly and metallic with noticeable alcohol. Has a thin malt extract quality to it. Very bitter in the finish, but without any real hop character. Thin and watery mouthfeel. Overall it's a pretty sorry excuse for a winter warmer - grab a Jubelale instead.
461 characters
Old Soulstice Winter Ale from Half Moon Bay Brewing Company
Beer rating:
3.27
out of
5
with
15
ratings