Mavericks Budgetary Alement
| Half Moon Bay Brewing Company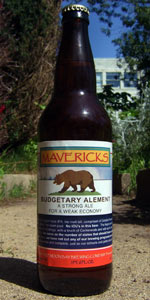 BEER INFO
Brewed by:
Half Moon Bay Brewing Company
California
,
United States
hmbbrewingco.com
Style:
English India Pale Ale (IPA)
Alcohol by volume (ABV):
6.10%
Availability:
Limited (brewed once)
Notes / Commercial Description:
No notes at this time.
Added by popery on 04-09-2010
This beer is retired; no longer brewed.
Ratings: 7 | Reviews: 6
Reviews by gleemonger:

More User Reviews:
4.08
/5
rDev
-2.9%
look: 4.5 | smell: 4 | taste: 4 | feel: 4.5 | overall: 4
Bomber direct from the brewery, $4.15. Served in a stemless wine glass.
Deeply saturated copper orange, creamy sticky foam that leaves tick sheets of lace inside the glass. Slow upward streams of visible carbonation. Retention is solid, the head takes a good while to settle.
Aroma of dried orange peel, papaya, funky overripe fruit, ale yeast.
Grapefruit rind and earthy herbal hops hit first, moderately bitter, but fitting into the English IPA mold with an americanized west coast twist. Smooth feel, nutty malt complexity in the middle, reminding that this is in fact an English IPA. Flowery, resiny, and herbal hop notes linger in the aftertaste.
This was really good, and a steal considering a pint at the brewpub is $6. They had a few good beers on tap, but the extravagant restaurant prices made the beer seem like an afterthought.
846 characters

4.19
/5
rDev
-0.2%
look: 3.5 | smell: 4.5 | taste: 4 | feel: 4 | overall: 4.5
A - Pours a bright golden yellow. Slightly hazy, but not cloudy. Tight white head.
S - Delicious citrus hops. Tangerine, clementine, grapefruit, lemon grass. Very enticing. Smells hoppy, but also sweet. There must be a decent malt backbone, but the nose is completely dominated by the hops (not a bad thing).
T - A very nice, citrusy, balanced IPA. The ripe sweet citrus hits the tongue first. There is a biscuity/ bready/ malt blanket that comes over you and finally the after taste is subtle and slightly bitter. Definitely fits the bill of an English IPA, not in your face at all. Everything comes and goes smoothly and gracefully.
M - Nice body, medium to full, with moderate carbonation. Very nice. The tongue is coated well while sipping and eventually is dried out, but not as quickly as you would expect from a west coast style IPA.
D - Nicely done. Not what I would always reach for when I need an IPA fix, but this is a damn tasty beer that was executed beautifully. The flavors have been developed carefully and the transitions happen smoothly. At 6% this is very drinkable.
1,089 characters
4.2
/5
rDev 0%
look: 4 | smell: 4 | taste: 4.5 | feel: 4 | overall: 4
I'll have to agree that this is an American Style IPA than English, but perhaps we've gotten to the point where anything not aggressively West Coast (on the West Coast) is deemed too tame to be an American Style IPA and so the English moniker is applied. This is not overly aggressive, but the hops are a little too piney and citrusy for the English style. Pours a darker amber, with a fairly nice creamy white head that sticks aound. Both the smell and taste are dominated by those nice balanced hops, equal parts pine/herbs and citrus. Nice supporting structure from a relatively firm biscuity malt profile. No diacetyl that I can detect, just a long, clean, bitter finish with the firm malt underneath. Crisp, without being sharp, and not the slightest bit buttery. Quite a nice beer, and my first from this brewery.
819 characters
4.22
/5
rDev
+0.5%
look: 4 | smell: 4.5 | taste: 4 | feel: 4 | overall: 4.5
I've passed up trying beers from this brewery since I knew many of them were not so well made. I picked this one up on a "oh shucks, why the heck not" kind of whim and for once, called it right on which random beer to try.
I'll agree with what others have said that this is more American IPA than English. More in your face here and not so subtle on the hop characteristics. Very citric and floral too, which is not something I can recall ever catching off an English IPA. Regardless of the style classification, this is a very nice IPA. I like it since it's nice and consistent and carries a good flavor profile and is not overly harsh or abrasive. I highly suggest this beer. (Dear Brewery: make more stuff like this.)
721 characters

4.5
/5
rDev
+7.1%
look: 5 | smell: 5 | taste: 4 | feel: 5 | overall: 4.5
Thanks to colonelforbin for providing this beer as an extra in a trade!
Aroma:Moderate to high hop aroma, heavy on the grapefruit. Sweet, aroma with a little malt.
Appearance:Golden amber, very slightly hazy.
Taste:High hop flavors kick your tongue forcefully upon first taste, then become distinctly grapefruit. The English malts do come through on the aftertaste, but very lightly.
Mouthfeel:The carbonation has a nice kick initially, and pairs well with the hops. The hops also give it a mild astringency in keeping with the style.
Drinkability:I thoroughly enjoyed this beer, although I think it has more in common with an American IPA than an English IPA. The grapefruity hop flavor was very refreshing.
713 characters

3.53
/5
rDev
-16%
look: 4 | smell: 3.5 | taste: 3.5 | feel: 3.5 | overall: 3.5
Bottle, home. Good beer but I probably would have enjoyed it more ratcheted down a bit. Half Moon Bay was shooting for an English style IPA, but this comes off more like an ESB, if that makes any sense. The beer is relatively hoppy, definitely an American take on an English style, but it's well done for the strength. The aroma is mostly grassy hops with some definite American hop bitter grapefruit notes from the Centennial. The biggest problem with the beer is that the malt is just a bit too big for its own good. There's an unfortunate diacetyl note and it just doesn't quite taste right. I love a low abv bitter and have no idea why American breweries always need to up the alcohol content when they make English styles. Feel is a bit slick and a bit watery but not bad. It's really not a bad beer and I appreciate the attempt at an English style.
854 characters
Mavericks Budgetary Alement from Half Moon Bay Brewing Company
4.2
out of
5
based on
7
ratings.